Are you ready for the DisneyLists Attraction Challenge? Looking for a challenging way to conquer the attractions at Disney World? Yes? Then these articles are for you. Simply ride all of the attractions on this list and you will earn bragging rights and your friends will be jealous. Well, maybe not, but you'll have a fantastic time. How many challenges can you complete? For extra credit, conquer them all in one day! (Be on the lookout for more Attraction Challenge articles coming in the next few weeks).
Who doesn't like cruising in a boat through enchanted scenery or getting splashed when the thermometers start rising? Fortunately, Walt Disney World provides plenty of attractions featuring water and boats, and that's without even considering the water parks. When the Florida sun starts scorching you, it's time to search for water. See if you can meet the water ride challenge by experiencing the following ten attractions.
10 – Splash Mountain
You'll easily notice this copper-colored mountain rising above Frontierland in Magic Kingdom. Jump into a hollowed-out log and take a ride inspired by the Disney film, Song of the South, with Br'er Rabbit, Br'er Bear, and Br'er Fox playing chase. Your log boat carries you through the story of a witty rabbit leaving home to find his "laughing place" while the fox and bear hunt him for dinner. Though dips and drops show up throughout the ride, it doesn't feature any splashing until the end. The log drops fifty feet into a shallow pool, spraying passengers to varying degrees. Many say that sitting towards the back reduces the downpour, but others consider this a myth.
9 – Liberty Square Riverboat
The Liberty Belle, Magic Kingdom's authentic working steamboat, departs from Liberty Square and follows the Rivers of America around Tom Sawyer Island. The tour carries you back to life on the Midwest frontier, when Mississippi riverboats provided ample adventure for the likes of Tom Sawyer and Huckleberry Finn. While relaxing aboard this gentle cruise, you'll receive lessons from the classic American author, Mark Twain, who brings to life nineteenth century travel.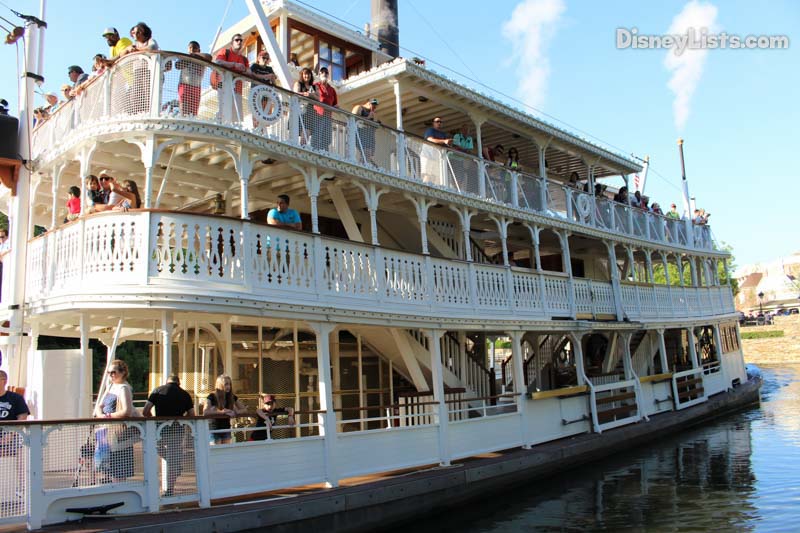 8 – Pirates of the Caribbean
"Yo ho, yo ho, a pirate's life for me." The lyrics resound throughout this memorable voyage in Magic Kingdom's Adventureland. You may not get drenched on this journey through pirate territory, but you'll pass through a soft mist at the beginning of the ride and may feel a wayward splash during a cannon fire exchanged between a ship and a Spanish fortress. This popular ride provides lots of amusement as a host of thieves, pirates, and knaves hunt Captain Jack Sparrow in order to steal his treasure.
7 – It's a Small World
Just inside Fantasyland, near Liberty Square, children of the world gather to sing choruses of the song for which this ride is named. Slow-moving boats carry you along as you watch childlike animatronic dolls perform a variety of actions and activities that reflect the cultures and languages of the world. You'll witness everything from high-kicking French dancers to drum-pounding Polynesian tribesmen. In addition, the attraction showcases replicas of architecture, objects, and animals from the nations represented. Near the end of this ten-minute ride, all the children come together, dressed in white, to reflect unity in song and celebration.
6 – Gran Fiesta Tour
At the Gran Fiesta Tour Staring the Three Caballeros, your boat will pass by the Aztec pyramid inside the Mexico Pavilion in Epcot and meander through several cultural exhibits. During your tour, animations of José Carioca and Panchito pop up as they search for their singing partner, Donald Duck, who manages to stay one step ahead of them. Animatronic figures dance, play, and sing along the route, creating an atmosphere similar to It's a Small World, though distinctly Mexican. In the end, the Three Caballeros finally unite for a humorous musical performance.
5 – Living with the Land
Inside The Land Pavilion at Epcot, this boat tour presents Disney's astounding and innovative farming and aquiculture techniques. You'll see an ever bountiful tomato tree, marvelous produce from around the world, and amazing aeroponics technology that grows plants without soil and with roots hanging in the air. Because of the high level of learning experienced during this boat ride, smaller children may lose interest, although the Mickey-shaped pumpkins will surely catch their attention!
4 – Casey Jr. Splash 'N' Soak Station
Technically, this isn't a ride, but Disney classifies this wet playground as an attraction, so we'll include it on the list. Located on the backside of Fantasyland, near the railroad station, the Casey Jr. Splash 'N' Soak Station provides an area where kids can run loose and cool down on a hot day. Circus animals douse the children in creative ways and Casey Jr. showers them with "steam" from his smokestack. This attraction provides the perfect place for parents to rest while the little ones expend their extra energy.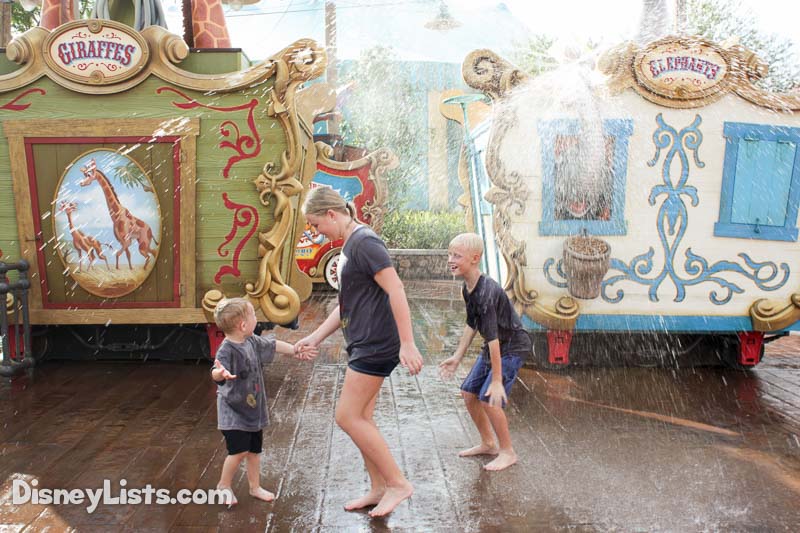 3 – Jungle Cruise
Soon after boarding a boat on the Jungle Cruise, you'll realize that you're experiencing more than a typical adventure ride with amazing foliage, animatronic creatures, and interesting structures. Disney Imagineers did a great job designing the animals, natives, and jungle explorers that appear during your river expedition, but the fact that this is a floating, stand-up comedy show really makes it memorable. As you navigate through the jungle scenes of Asia, Africa, and South America, your boat captain and tour guide entertains you with one-liners, puns, and jokes. Regular riders who return often may remember the staple jokes, but the captains create fresh humor that always makes the tour worthwhile. That's why a visit to Adventureland is never complete without a Jungle Cruise tour.
2 – Frozen Ever After
The newest boat-themed attraction, Frozen Ever After, can be found in the Norway Pavilion in Epcot's World Showcase. A Viking longship carries passengers on a journey through Arendelle to meet the beloved characters from Disney's Frozen. Your longship sails through a magical, winter wonderland filled with ice, snow, trolls, and your favorite living snowman, Olaf. The music and characters from Frozen transport you into the story, building up your excitement until you hear the familiar tune, "Let it go," and try your hardest not to belt out the lyrics. Small children will find the urge irresistible.
1 – Kali River Rapids
Known as the wettest ride outside of Disney Water Parks, Kali River Rapids begins its voyage in the Asia section of Disney's Animal Kingdom. A river raft transports you through a lush jungle that has been destroyed by rampant deforestation. Though this whitewater raft attraction certainly succeeds in educating passengers about an important environmental concern, the riders face the immediate threat of being drenched by splashes, waterfalls, and squirting elephants. Make no mistake about it…you will get wet. Fortunately, the raft provides a waterproof compartment to stow away your possessions, because your new camera or tablet may not survive the downpour. Some passengers wear ponchos to keep them dry, as well, but what's the fun in doing that?
For a no obligation, FREE Quote on a Disney vacation package, please contact our travel partner Magical Vacation Planner at 407-442-0227 (407-442-0215 for Spanish). You can also request a FREE quote online by Clicking HERE.