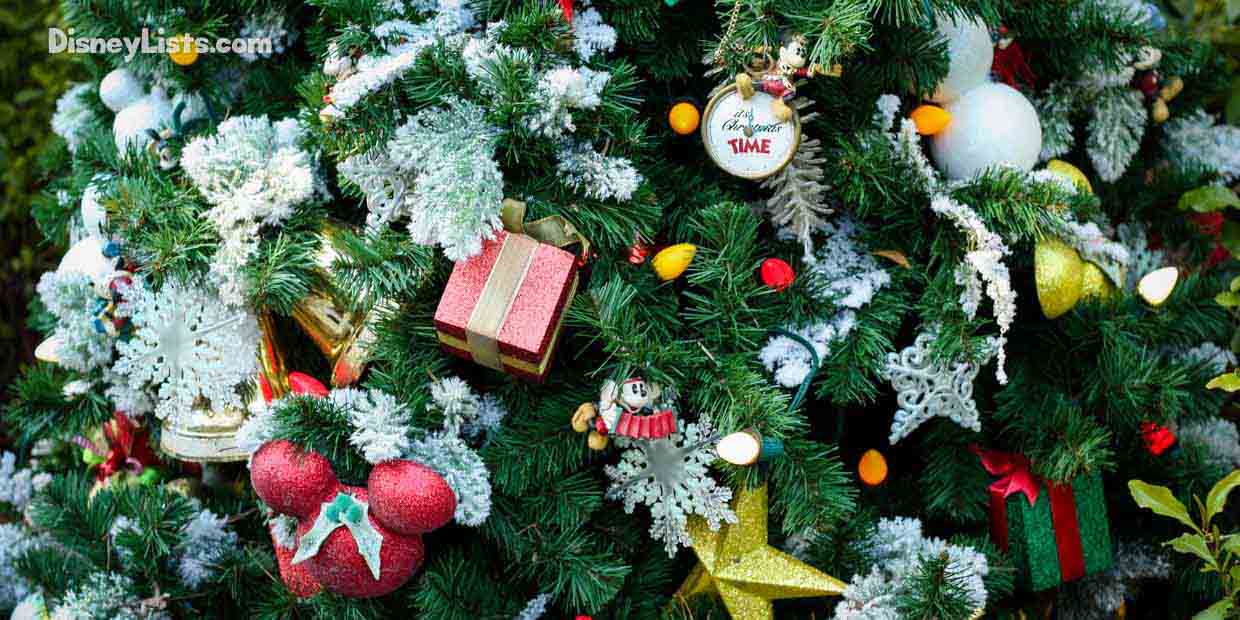 Like many families over the holidays, putting up the tree has always been a favorite tradition in our family. We first debate over if we should have a real tree or a fake tree if we want white lights or colored lights, and finally, where to place it in the house. When all the bickering, laughing and decorating is complete – the tree is the focal point of our holiday gatherings. We can only imagine Disney's Cast Members going through the same steps as they prepare to illuminate Disney World with remarkable Christmas trees! So, what better way to get in the Christmas spirit than share our 7 favorite Christmas trees found at Disney World? Here you have them!
1 – Animal Kingdom Tree & Animal Kingdom Lodge Tree
Our top pick for our favorite Disney World Christmas tree would have to be two very similar trees… the Animal Kingdom Theme Park tree and the Animal Kingdom Lodge tree. As soon as you pull in on a bus or ride in on a tram, the Animal Kingdom Theme Park tree stands tall welcoming guests with remarkable ornaments. We especially love the character details at the base of this tree, where you might spot characters like Chip and Dale and Winnie the Pooh! These two trees are the most unique Christmas trees we've ever seen with their Animal Kingdom theme from top to bottom. The Animal Kingdom Lodge tree takes over the Jambo House lobby beautifully. Towering with the already incredibly detailed architecture of the lodge, this tree fits in wonderfully with its African ornaments and décor.
2 – Magic Kingdom Main Street U.S.A. Tree
Of course, Magic Kingdom's tree makes this list! Not much else says Christmas at Disney than seeing the ornate lights and fun ornaments glow from the Main Street U.S.A. tree. Our love for this tree goes one step further when we can see it at night during one of Mickey's Very Merry Christmas Parties when it is snowing on Main Street. The tree, the snow, and the Cinderella Castle glittering in the background – it's like walking into a Christmas card!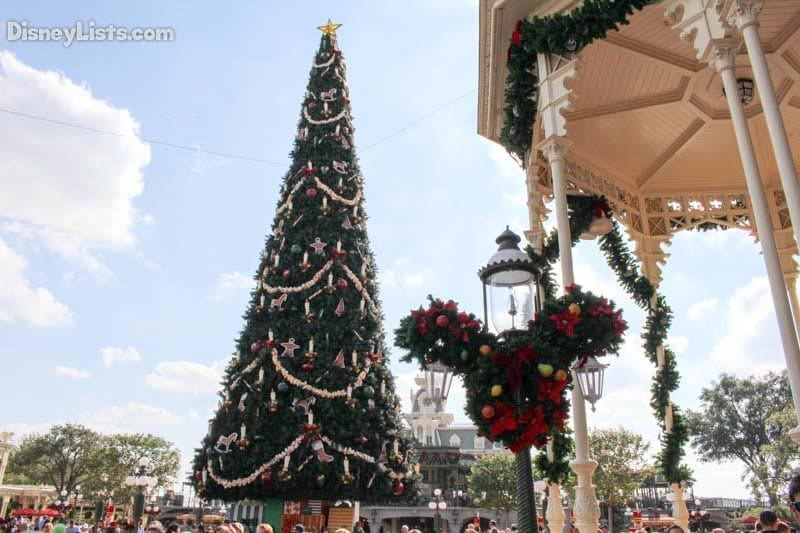 3 – Epcot World Showcase Tree
If you haven't taken a moment to study Epcot's World Showcase Christmas tree, now is the time! Featuring many countries from around the world, and especially the 11 pavilions found in the World Showcase, Epcot's tree offers an opportunity to recall what peace around our world looks like. The angel tree topper on this tree is by far our favorite tree topper on Disney World property.
4 – Grand Floridian Resort Tree
When staying at Disney's Grand Floridian Resort and Spa, you can expect to have a "grand" experience. Visit during Christmas and you and expect something even grander in the lobby. Overwhelming the space with beauty, the Grand Floridian tree takes lighting a tree to a whole new level. We aren't sure if it's the ornaments, the ribbon, and bows, the rich green of the tree, or the elegant surrounding that is the Grand Floridian lobby – this tree sparkles as if it's full of life. Such elegance!
5 – Wilderness Lodge Tree
Standing as sturdy at the Wilderness Lodge's totem poles, the Wilderness Lodge Christmas tree fills the lobby with a bold stature of warm green and pops of red and gold colors. Spot the teepees, hunt down the wildlife, search for the detailed drums, and be inspired by the Native American spirit mixed in with the joy of Christmas. We woke very early one morning near the holiday season while staying at the Wilderness Lodge for one reason or another. It was close to 3am and to our amazement we found a very quiet and yet very busy crew of Cast Members erecting and putting decorative touches on this unbelievable tree. Needless to say, watching this remarkable feat take place is one Disney memory we'll never forget.
6 – Hollywood Studios Tree
The Hollywood Studios tree might pull in last on this list, but it is still above many more Disney World trees that we don't have enough time to brag about! To us, the Hollywood Studios tree exudes all things a Christmas tree would traditionally boast, including tinsel, an assortment of bright colors, and festival ornaments. It's like our family Christmas tree on steroids! The kicker, however, is the base of this magical tree with the unrolling film tape to give tribute to the "lights, camera, action" that Hollywood Studios offers.
7 – Christmas Tree Trail at Disney Springs
Editor's Note: During the phased reopening of Walt Disney World, the Christmas Tree Trail has been modified. Twelve trees are spread out throughout Disney Springs along with a scavenger hunt to help you find them. Click here to view our Instagram Story of the 2020 Disney Springs Christmas Tree Trail for photos of this year's trees!
The Christmas Tree Trail at Disney Springs boasts 25 Disney-themed Christmas trees. The themed trees include Mickey and Minnie Mouse, Villains, Moana, Beauty and the Beast, The Little Mermaid, Cinderella, The Princess, and the Frog, Alice in Wonderland, Frozen, The Jungle Book, Mulan, 101 Dalmatians, Tangled, The Muppets, Mary Poppins, Sleeping Beauty, Fantasia, Lady and the Tramp, Snow White, Disney Springs, Peter Pan, Robin Hood, Pinocchio, Dumbo, and Disney's Days of Christmas. We especially like the Villains and Tangled trees. 
For a no obligation, FREE Quote on a Disney vacation package, please contact our travel partner Magical Vacation Planner at 407-442-0227 (407-442-0215 for Spanish). You can also request a FREE quote online by Clicking HERE.