Are you ready for the DisneyLists Attraction Challenge? Looking for a challenging way to conquer the attractions at Disney World? Yes? Then these articles are for you. Simply ride all of the attractions on this list and you will earn bragging rights and your friends will be jealous. Well, maybe not, but you'll have a fantastic time. How many challenges can you complete? For extra credit, conquer them all in one day!
Finally – height is no longer an issue for you or your young one, and you can ride every attraction at Disney World! Well, height might not be the issue anymore – but how is that fear factor treating you?! Check out these "Golden Oldies" on this Attraction Challenge where you must be 44" or 48" to ride.
The 44s'' – There are 3 attractions that fall in the must be 44'' or taller to ride. They are the perfect way to warm up to our next level.
1 – Expedition Everest – Legend of the Forbidden Mountain
Animal Kingdom doesn't call it a "forbidden mountain" for nothing! Riders on Expedition Everest not only have to conquer the Himalayan mountain but one angry Yeti that is causing all sorts of trouble as he rips up the track right in front of your eyes. Those brave enough to ride this steel rollercoaster will experience dips and turns, along with a forward then backwards train tearing through the mountain.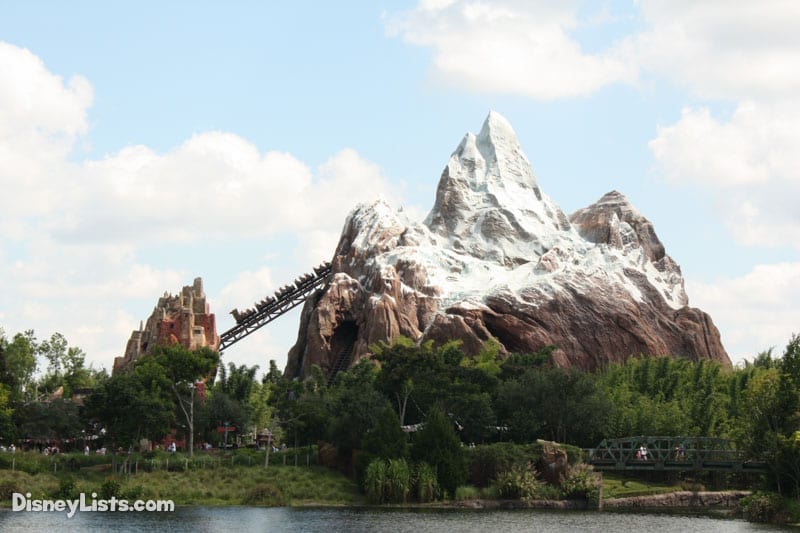 2 – Mission: SPACE
Ok, so typically if an attraction comes with barf bags in your shuttle simulator, you can expect an intense experience! Riders get the opportunity to experience a NASA-style training space launch within a shuttle simulator. Thankfully, Epcot offers two "levels of insanity" for this ride – the Orange Team and the Green Team. The Orange Team spins so much that G-forces hold you to your seat while the Green Team is much, much milder.
3 – Space Mountain
A classic at Magic Kingdom! Be prepared for a very dark rollercoaster with non-stop, unexpected twists and turns throughout the ride. It's nearly impossible to figure out which way you'll go next! This coaster actually isn't going all too fast but with the darkness and strange noises buzzing by you'll feel like you are blasting into space for sure.
The 48s" – Here they are – the big kahunas! All 7 of them will keep you on your toes and/or possibly air born. You may have defeated the three attractions above, but can you knock these 7 out to complete the attraction challenge?
1 – Crush 'n' Gusher
Is it a water ride or a roller coaster? Going together better than peanut butter and jelly, this water raft/coaster ride is 400-tubed feet of non-stop surges of water at Typhoon Lagoon. Grab a buddy and have a seat in the double rider raft and get ready to be propelled by powerful jets up hill and back down again over and over.
2 – Downhill Double Dipper
If you have a competitive streak, this Blizzard Beach ride is perfect for you! Get ready, get set, and GO down a 50-foot enclosed inner tube. The best part is you can have a buddy racing against you in the parallel tube. Who will reach daylight first and earn the bragging rights?
3 – Humunga Kowabunga
Just the name of this attraction is awesome! But, the name isn't the only great thing about it. Humunga Kowabunga is the fastest and steepest waterslide at Typhoon Lagoon with a near vertical 5-story, 60-degree angle drop in the dark. If you are up for being spit out of Mount Mayday, Humunga Kowabunga will do the trick.
4 – Primeval Whirl
Don't be fooled by this rollercoaster's innocent appearance at Animal Kingdom. The cute sights and sounds that radiate from this attraction might make you wonder why you really need to be 48" or taller to ride. But, once aboard this crazy mouse trap feel of a rollercoaster, you'll understand with all the twirls, twists, spins, and dips why the height requirement. Such a fun attraction – you'll be cracking up the whole way through!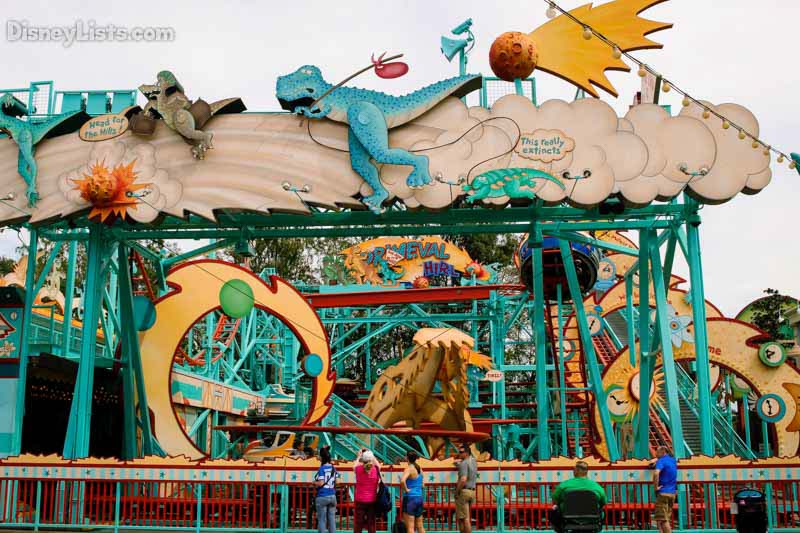 5 – Rock 'n" Roller Coaster
The street light turns green and in the blink of an eye Aerosmith's coaster at Hollywood Studios will have you going from zero to 60mph. You'll forget you are riding in a huge stretch limo and instead find yourself focusing on the glowing traffic signs, awesome music, and smooth turns and flips. Hold on tight for this rockin' ride!
6 – Slush Gusher
The Slush Gusher at Blizzard Beach sounds somewhat like one of those slurpees you can buy at the gas station – but don't let the innocent name trick you. Catch air as you rocket down a 90-foot open tube waterslide that offers a double dip allotting for double the air. And this is just the precursor for the next attraction.
7 –  Summit Plummet
Insert scary music in your mind now. Blizzard Beach's Summit Plummet is no joke and definitely fitting for our last spot on this challenge as it might be one that prevents you from defeating our list! This is actually one of the tallest, fastest freefall body slides in the WORLD. You got this – it's only a near-vertical plummet, 120-feet down the mountain side!
This "Golden Oldie" Attraction Challenge is calling your name. Do you accept the challenge? We'd love to hear your experience!
For a no obligation, FREE Quote on a Disney vacation package, please contact our travel partner Magical Vacation Planner at 407-442-0227 (407-442-0215 for Spanish). You can also request a FREE quote online by Clicking HERE.