Epcot's Festival of the Holiday is amazing.  It is awesome to have the opportunity to learn more about the traditions, culture and events during the holiday season in so many other countries.  Disney created unique experiences and ways to discover and learn this information by using storytellers and entertainment at each of the countries.  There are also select food and beverage items as well as merchandise that varies from pavilion to pavilion for the holiday season.  Here is a look at what each of the pavilions offer during Festival of the Holidays:
1 – Future World
As you make your way to World Showcase be sure to catch Joyful! A Celebration of the Season musical show located at the Fountain View Stage. The Joyful! singers celebrate the two holidays of Christmas and Kwanzaa with R&B, pop, and gospel renditions of classic holiday music.
2 – Festive Center at the Odyssey Center
Be sure to stop at the Odyssey Center on your way to Mexico. You'll find the all new Cookie Nook featuring amazing holiday treats and beverages. There is a small merchandise location and you'll find a Festival of the Holidays backdrop for a family picture with a Disney PhotoPass photographer standing by ready to take your picture. There are many tables and places to rest up. Disney cartoon holiday classics are also playing on a screen making it a great place for families to rest up a bit if needed.
3 – Mexico
The reds and greens in the flag and other décor for the pavilion help set the tone for the Christmas season.  At this pavilion you'll find Las Posadas Celebration, with dancers, pints and the music of Mariachi Cobre that will have you dancing in the streets and leaving full of the holiday spirit. New this year is the Las Posadas Holiday kitchen featuring Tostada de Tinga, Tamal de Chilorio, and Bunuelos Navideno, as well as 3 different margaritas.
4 – Norway
Sigrid comes out throughout the day and shares various stories about Norwegian Christmas traditions and stories, including one about Julenissen, a very mischievous gnome.  Julenissen continuously interrupts the stories and causes a lot of laughs for guests of all ages.  This is a very funny show and all ages will really enjoy this one. You'll find the show beyond the seating area for the Kafe, in front of the store, The Wandering Reindeer.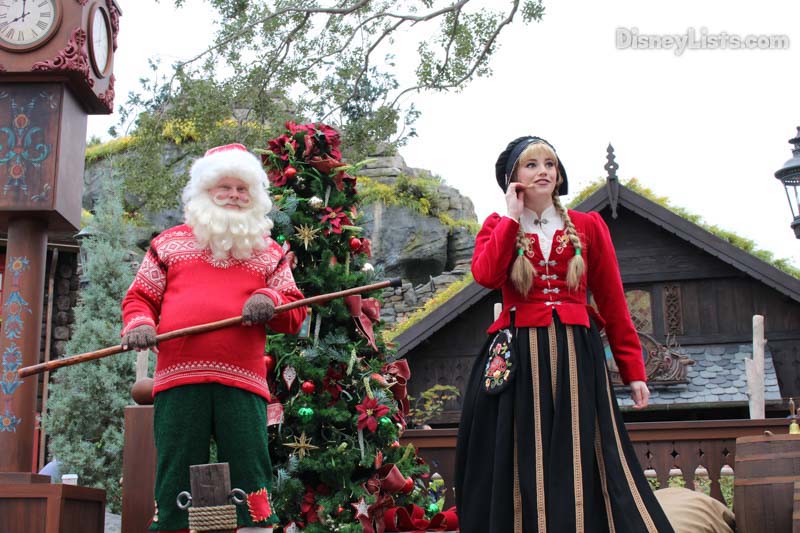 5 – China
The entertainment at the China pavilion never ceases to amaze guests time and time again.  During the holiday season, the Lion Dances perform a dragon dance that is meant to ring in the Chinese New Year in a way that completely captivates the audiences.  It gives guests a feel of the Chinese culture through dance. New this year is the Shanghai Holiday Kitchen featuring a Mongolian beef bar bun, a barbecue pork rice bowl, and pork and vegetable egg rolls.
6 – Germany
The pavilion has a Christmas store that is open year 'round, so you will definitely be able to buy neat ornaments and nutcrackers from the shop.  Germany offers the Margret Almer and the Bavarian Band that celebrates a German Christmas. Check the Times Guide for show times. New this year is the Bavaria Holiday Kitchen featuring a german artisan cheese plate, sauerbraten, cheese fondue in a bread bowl, and stollen (holiday fruit cake), along with some apple ciders.
7 – Italy
La Befana, an old woman in Italian folklore that delivers gives to children, tells the story of Epiphany. This is when La Befana would deliver toys to children on Epiphany Eve.  She also tells other stories and traditions about the holiday in Italy that are very interesting to hear and learn more about.  Definitely try to catch this one if you can. New this year is the Tuscany Holiday Kitchen featuring pastas, 2 different fruit cakes, and plenty of wine.
8 – Japan
At this pavilion, you will learn more about the Japanese new year, O-Shogatsu.  The Drauma doll is an important part of the story.  The event is very educational and may not be as entertaining as some of the other performances.  We find that it is still worth a listen at least once so that you can learn a lot of neat history about the Japanese new year. New this year is the Hokkaido Holiday Kitchen featuring a soba noodle hot soup and a cinnamon mocha cake.
9 – American Adventure
There are so many amazing things going on at this pavilion, and you will definitely want to make sure to catch them all.  Here is where you can meet Santa and Mrs. Claus together (the only place on Disney property that has Mrs. Claus). Also you'll find many amazing foods and beverages at the American Holiday Table.  The Voices of Liberty singers are dressed in Charles Dickens-styled attire and sing holiday classics and favorites at the pavilion.  If that weren't enough, the Candlelight Processional is performed at the amphitheater on most evenings throughout the season. This is the narration of the story of Christmas that is accompanied with performances from the choir.  It is an extremely popular event and definitely one that you don't want to miss.
10 – Morocco
In Morocco you'll find Musique Aramenco a lively Moroccan band and belly dancer that recreate the fun of street festivals and holidays across Morocco. New this year is the Tarabaki Holiday Kitchen featuring a lamb kofta, a chicken drum and a triangle honey briwat.
11 – Between Morocco and France
New this year is the high-energy indie band, Mostly Kosher. Enjoy the Hanukkah and Klezmer music with this unique band.
12 – France
This is where you get to meet Pere Noel, the French version of Santa Claus.  He tells you about French traditions.  Children in France leave out their shoes for goodies to be left in them.  It is very interesting and we love the opportunity to see him in person.  You make recognize his likeness on various holiday décor since he closely resembles Santa. Also new this year is the Alsace Holiday Kitchen featuring treats and beverages from France.
13 – United Kingdom
Here is where you get to meet Father Christmas, the United Kingdom version of Santa Claus.  He likely looks familiar to many guests, and appears in his green suit.  He tells stories about the various traditions and history of Christmas in the United Kingdom.  It is educational and entertaining, and we definitely feel like this one is worth a stop to see.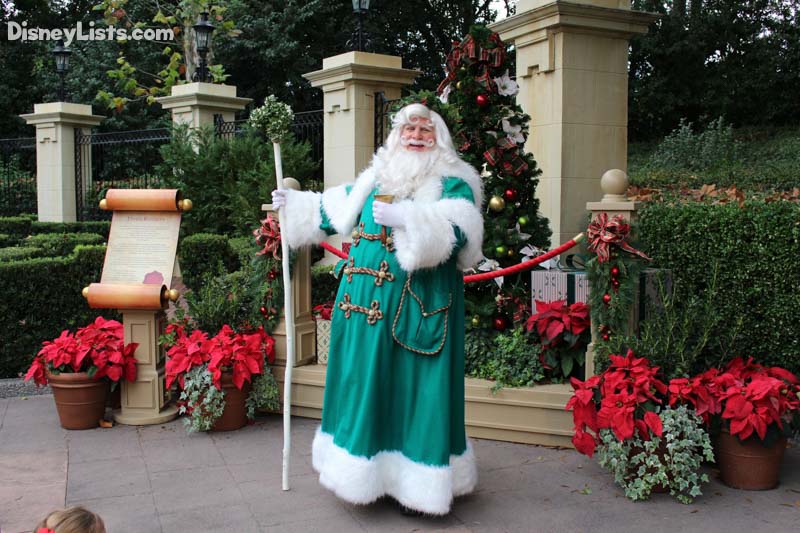 14 – Canada
Here you kick things up a notch with holiday musical entertainment.  The band plays music that is inspired by Canadian holiday traditions that keep guests on their feet and ready to move.  We don't normally stay for the entire set, but like to hear the music as we meander through the pavilion and look around at the shops and merchandise. New this year is the Yukon Holiday Kitchen. We highly recommend the Maple Buche de Noel, a maple mousse rolled in gingerbread chiffon cake with cranberry sauce. It was delicious! Be sure to check out other great treats here too!
For a no obligation, FREE Quote on a Disney vacation package, please contact our travel partner Magical Vacation Planner at 407-442-0227 (407-442-0215 for Spanish). You can also request a FREE quote online by Clicking HERE.