Editor's Note: Illuminations will have its final performance on September 30, 2019. While this has been our personal favorite nighttime show for years and we're sad to see it come to an end, we're excited to see what new magic Disney will delight us with in the future.
Illuminations is the fireworks show that is performed nightly at Epcot.  This is a show that is very different from Wishes or other Disney shows you might have seen, but is just as incredible.  If you haven't seen it you need to make sure it is a part of your next trip!  Even if you have seen it, here are 8 facts and secrets that you may not already know:
8 – There is a bridge that opens up to let all of the barges through.
Close to the Mexico pavilion is a bridge that completely opens up so that all or barges can make their way through.  The show consists of several barges with fireworks and effects that are perfectly placed in the lagoon.  These barges are stored each night and during the day and have to make their way to take their position hours before the show starts.  If this bridge didn't open, the barges wouldn't be able to clear under the bridge, so it had to be built in to accommodate!
7 – It cost how much?
It has been reported that to put on the show each evening it costs Disney around $25,000 per show.  This means that the cost per year for the show is around $9,125,000.  That is crazy to think that these are the costs for only one show.  It makes you appreciate the show more than we already did!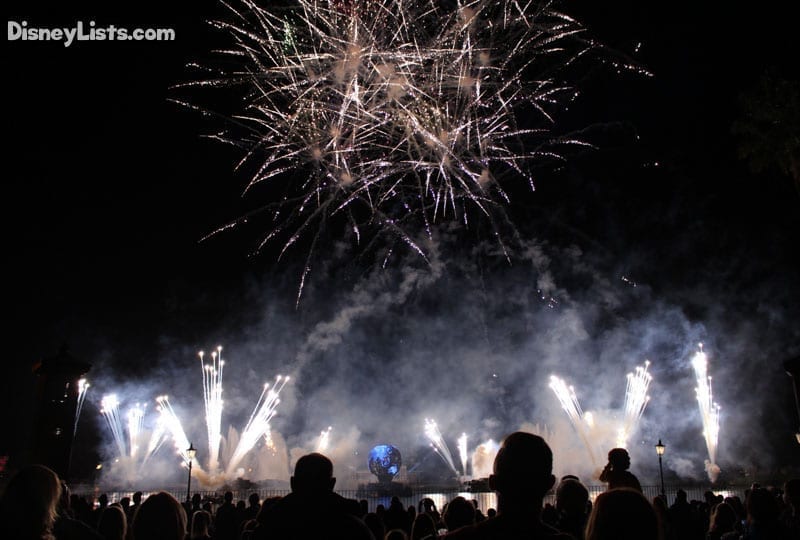 6 – You don't have to watch it from inside the park.
Many guests don't realize that there are other locations to watch Illuminations from than just within the park.  These haven't been as publicized as many of the Magic Kingdom firework viewing locations, but they definitely exist.  You can watch Illuminations from Disney's Boardwalk, which is a great location to watch from.  You can also enjoy one of the fireworks cruises which is a great way to watch the fireworks without actually being around the World Showcase.  You may not get to see the globe and all effects of the show, but the fireworks alone are still amazing!
5 – The globe is 3 stories tall.
I never realized just how tall the globe is that you see as part of the show.  It would make sense since it projects images for thousands of guests to see at once, but I just never realized it.  The globe does actually stand at 3 stories tall, which is exactly why it can't clear any of the bridges in Epcot without the special bridge that was built to get it in place.
4 – There are variations to the show for holidays.
If you happen to be visiting during the 4th of July, Christmas or New Year's then you actually get an extra treat.  There are variations and additions to the show during that time to help add to your holiday celebrations and enjoy themed fireworks for the holidays.  This is extra special and definitely a great way to end your day during these beloved seasons.
3 – The lights that outline the countries would be long enough to stretch the length of the Golden Gate Bridge 6 times.
Crazy, right?  The total length of the lights is around a full 26,000 feet of lights. The lights are turned on during the show to illuminate each of the pavilions during Illuminations one at a time.  That is a TON of lights and more than I would have guessed.  I could make an amazing Christmas display that would put the Griswold's to shame if I could have that many lights!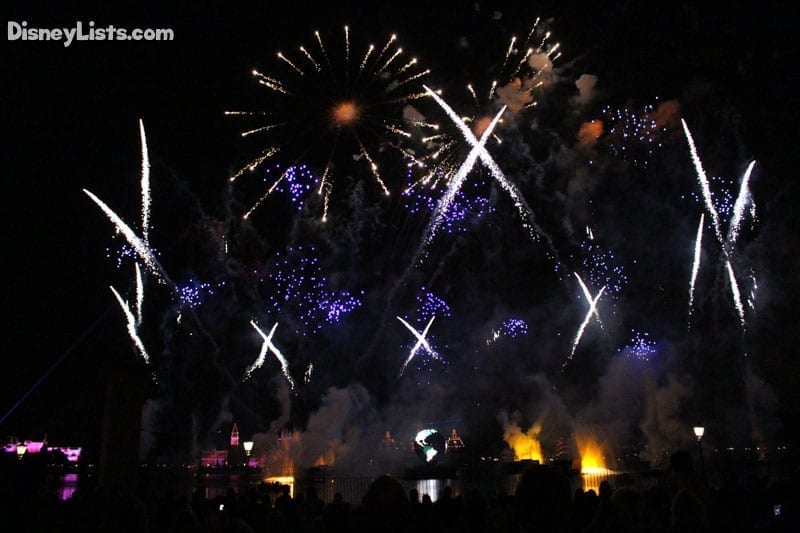 2 – You could see multiple fireworks shows at once.
If you are standing out in the World Showcase, especially where you are facing the direction of Hollywood Studios, you are very likely to see fireworks from that park going on at the same time.  It could be the Star Wars fireworks that are now done nightly or the fireworks from the Fantasmic show that goes on each night.  It is pretty cool to watch a fireworks show and have extra fireworks going on in the background.  It is also very surprising to see just how close Epcot and Disney's Hollywood Studios actually are to each other.
1 – Key facts:
Here are a few key facts about the show:
Opening: October 1999, and been a popular event ever since
Duration: 12 minutes
Experience: Included torches, fire, fireworks, pyrotechnics, images, water and much more.
For a no obligation, FREE Quote on a Disney vacation package, please contact our travel partner Magical Vacation Planner at 407-442-0227 (407-442-0215 for Spanish). You can also request a FREE quote online by Clicking HERE.
Photo Credit: Disney Photo Snapper