While Disney World hosts the wildly popular Food & Wine Festival every year and alcohol is freely available in most Disney Parks, resorts and restaurants, there has traditionally been one place on Disney property that was intentionally alcohol free, Magic Kingdom. However, big changes are coming and alcohol service will be expanding into four more restaurants.
A prohibition on serving alcohol in the Magic Kingdom dates to 1955 at Disneyland and was set in place by Walt Disney himself. This policy extended to the Florida project when Disney World opened in 1971 and continued until 2012 when Be Our Guest opened. Up until now, Be Our Guest was the only location in Magic Kingdom to offer alcohol primarily with a limited selection of wines.
Disney World plans to substantially expand alcohol service in the Magic Kingdom at four more table service restaurants. On December 19, 2016, Tony's Town Square, Liberty Tree Tavern, Skipper Canteen and Cinderella's Royal table will all begin serving a variety of wines, beers and ciders.
At this point, there are no plans to sell alcoholic beverages beyond dining locations such as available at other parks.
REATED ARTICLE: Why We Love the Table Service Restaurants at Magic Kingdom Park
by Lauren Repei
Dining at Disney is an integral part of a visit to Disney World. Disney's meticulous attention to detail and theming extends into each of their table service restaurants creating a distinct world and dining experience for guests. Here is why we love each of the table service restaurants at Magic Kingdom.
1 – Be Our Guest Restaurant
Be Our Guest transports diners into the film of Beauty and Beast, making them a part of their favorite story. The Beast's castle is so intricately themed from the snow outside the window, to the cherubs adorning the ceiling, to the enchanted rose in the West Wing. The Beast himself even makes an appearance as host of the evening, rounding out the immersive experience of being invited to dinner by the Beast himself.
2 – The Crystal Palace
Dining at The Crystal Palace is full of whimsy, and a large part of that is thanks to Winnie the Pooh and his friends who are there to meet and greet guests as they feast on the buffet. The design of the restaurant was inspired by the beautiful Crystal Palace Exhibition in England in 1851. It's clean and bright with large windows and lush plants throughout the restaurant. It's a great place to start your day off at Magic Kingdom by making an early breakfast reservation. The buffet and characters make it an ideal location for families with young ones who might be picky eaters.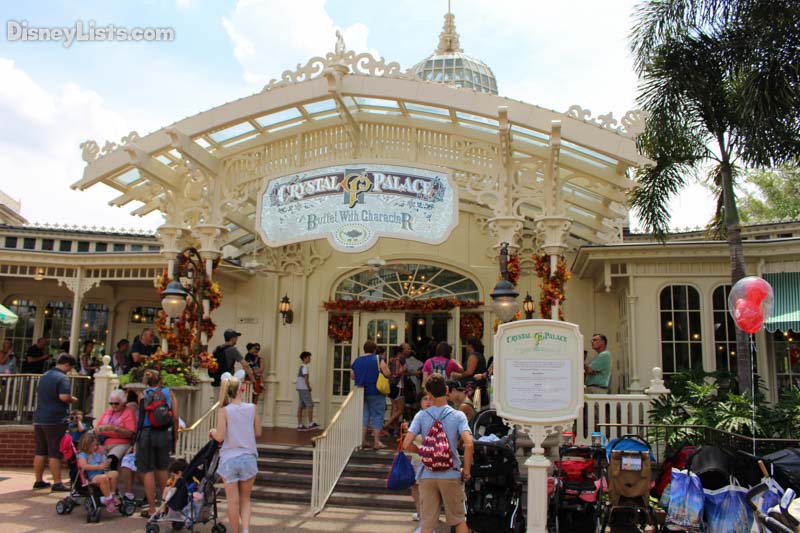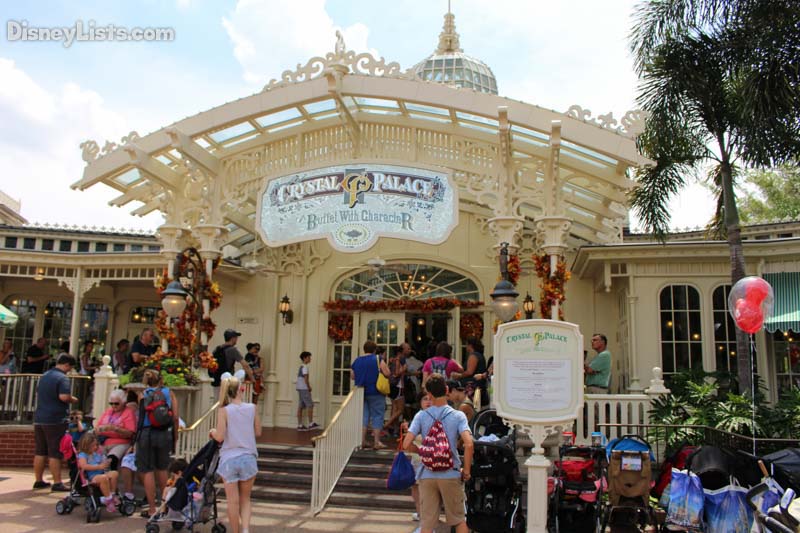 3 – Cinderella's Royal Table
Cinderella's Royal Table offers the most magical dining experience in the Magic Kingdom. Guests can dine inside the castle, in a royal banquet hall and meet Disney princesses. Young guests are encouraged to dress up for the occasion. A souvenir photo is included in the dining experience, which will be taken with Cinderella as she greets guests before they ascend to the banquet hall. It really does feel as if you have stepped into a fairytale when dining at the castle.
4 – The Diamond Horseshoe
Although The Diamond Horseshoe has been a restaurant in the Magic Kingdom for years, it has only recently become a table service restaurant. The saloon is open for lunch and dinner and features an, 'all you care to enjoy' feast. What we love about this dining location is the music hall atmosphere, and the two levels that allow guests to admire the stage and show from down below, or up above. The theming remains true to that of the wild west and Frontierland, but with a touch of sophistication in the décor.
5 – Jungle Navigation Co. Ltd. Skipper Canteen
The Skipper Canteen is the most recent addition to the table service restaurants at Magic Kingdom, and we're so glad Disney took a classic attraction and built upon it. The puny and corny Skippers of The Jungle Cruise are a big part of what makes the attraction what it is, and it's no different over at the Canteen. The restaurant has three dining rooms, each with its own theming and details that contribute to the overall story of the Falls family. What's great about this restaurant is that it offers something for the more adventurous diner. Many of the menu items are unlike anything that have been offered at Magic Kingdom before. Instead of the usual American fare found around the park, Skipper Canteen has menu items inspired by African, Asian and South American cuisine. If you love adventure and the Jungle Cruise, make sure you have reservations here!
6 – Liberty Tree Tavern
For some delicious and satisfying comfort food, head over to Liberty Tree Tavern in Liberty Square. The restaurant is themed as a colonial style inn, with rich wood adorning the rooms everywhere you look. Each of the 6 dining rooms is named for a pivotal figure in American History and each room has details and props that pertain to that particular individual. The restaurant serves a traditional Thanksgiving feast family style at dinner. We love that you can get stuffing and gravy here all year round! Lunch is a different menu, but features just as many delicious items, such as the Colony Salad and a pot roast. And don't forget about dessert, that Ooey Gooey toffee cake is simply divine!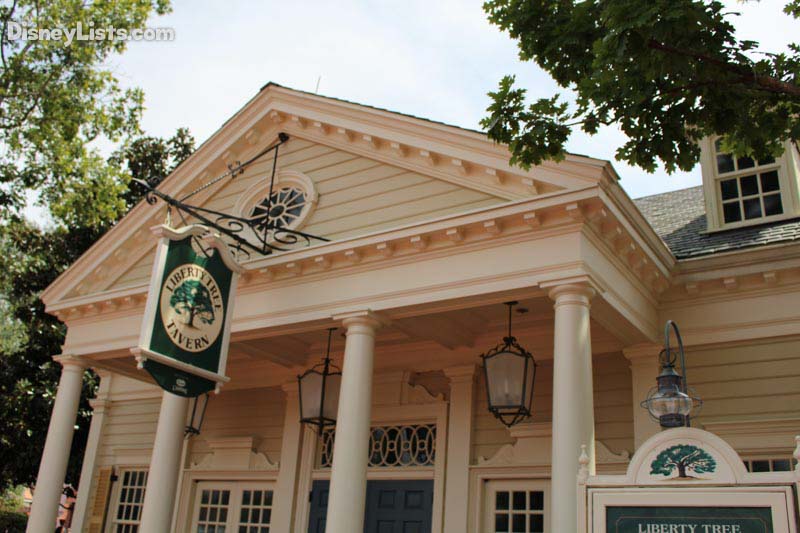 7 – Plaza Restaurant
The Plaza Restaurant sits just at the end of Main Street, and definitely carries on with the atmosphere of the street. It's quaint and comfortable, yet elegant. It's perfect for families, and those who enjoy the simple pleasures of life. If you find yourself near a window, you can just gaze at people passing by and watch the excitement on their faces as they head toward the castle. If you love the idealistic era of Main Street, stop for a bite to eat at the Plaza Restaurant.
8 – Tony's Town Square Restaurant
If you're a hopeless romantic, Tony's Town Square Restaurant is for you. It is after all the restaurant where the most famous dinner scene in all of Disney film history took place. Lady and the Tramp even have their own statue and fountain here. Tony's serves traditional Italian cuisine, such as spaghetti, cannelloni, steak, pizza, and calamari. It's great fun to think of the romantic and cute spaghetti-eating scene in Lady and the Tramp and feel as if you're eating in the restaurant where it all happened. This restaurant takes a classic Disney film and allows the guests to be a part of the story. And don't forget to try the zucchini fries, they're delicious!