As usual, it's a busy time at Disney World. A lot of dining news and a brand new express bus service is being introduced that is getting mixed reviews. We were surprised to see a past April Fools article of ours is actually coming true (sort of). Changes at Wilderness Lodge, details released on two Epcot festivals and a lot more below.
1 – Disney Making Park Hopping Faster and Easier, For a Price
Disney is adding Express Bus Service that will provide guests transportation directly from park to park with bus stops inside the parks. With this new service, guests will not need to exit the park and then go through security and admissions again at the next park. This will save a bit of time walking and standing in lines and make park hopping a lot easier. The express bus service will cost $15 per day per guest, or $24 for length of stay, and can be added to your ticket along with the park hopper option.
Read complete details here.
2 – Spaceship Earth at Epcot to Become Giant Star Wars Death Star During After-Hours Event
On December 5, 2016 Spaceship Earth will be transformed into the Death Star during a special after-hours event. The Disney Parks Blog is celebrating the upcoming film Rogue One: A Star Wars Story. The event will feature Spaceship Earth magically transforming into the Death Star through Digital projections. The invitation only event will also include updates on current and upcoming Star Wars experiences at Disney's Hollywood Studios. Fortunately, the Disney Parks Blog will be Live Streaming the event for those who are not lucky enough to attend. The stream will begin at 10:25 pm. Disney has stated that this is a one-time only evening, but many Star Wars fans are hoping that Disney will offer more events like this in the future! Guess our news story from April 1 wasn't so "foolish" after all!
Read our April Fools article here.
Update–Here is the full video of the event from Disney:
3 – Epcot Food & Wine Festival Expanded to Record Length for 2017
Disney has announced the dates of the 2017 Epcot International Food & Wine Festival! This is one of most favorite times to visit Epcot. The festival will begin August 31 through November 13, 2017. That is a record 75 days for the festival. In 2016, the festival began on September 14. In 2017, an August 31 opening date will give an extra two weeks at the beginning of the festival, during some of the hottest weeks in Orlando. As locals, we tend to wait until mid-October to enjoy the festival because it's just hard to enjoy the food and wine when it's 96 degrees, with a heat index of 105. Festivals are a big draw for Epcot and it will be interesting to see the turnout during those crazy hot weeks.
Read about the 9 things you will love about Epcot's International Food & Wine Festival here.
4 – New Highway in the Sky Dine-Around Launches this Weekend at Disney World
The monorail lounge crawl is a popular experience among guests to Disney World. Guests visit Disney's Polynesian Village Resort, Disney's Grand Floridian Resort & Spa, and Disney's Contemporary Resort to sample food and drinks at the various lounges at each resort. Disney has picked up on this popular guest experience and now offering a special event, "Highway in the Sky Dine-Around," which makes it even easier to take a fabulous tour around the monorail. Here are all the details from Disney:
Your Dine Around adventure begins at Disney's Contemporary Resort, where you'll check in at The Wave… of American Flavors restaurant. Relax and mingle with your fellow diners enjoying a welcoming appetizer and specialty cocktail before setting off on your epicurean odyssey. Bon voyage and bon appétit!
First stop: Disney's Polynesian Village Resort—where you'll feel as if you've arrived in a far-flung tropical paradise. Celebrate the spirit of the South Pacific and luxuriate in the charm of this exotic retreat, with an enticing variety of island-inspired libations and appetizers.
Then it's time for a change of scene and cuisine—as the monorail transports you a world away: to the opulent Victorian-style Disney's Grand Floridian Resort & Spa. Step inside and step back into a bygone era of elegance and gracious hospitality. You'll be escorted to the award-winning Cítricos restaurant where we invite you to settle in amid the refined ambience as you're treated to a special Chef's main course selection. Afterward, gather in the splendidly appointed lobby to sip champagne and savor a selection of artisanal cheeses.
Board the monorail once more to return to Disney's Contemporary Resort for the culmination of your evening. Here, you and your Dine Around companions will retire to a private patio to enjoy an indulgent assortment of desserts, cordials and coffee. From this exclusive location, watch in wonder as the Wishes nighttime spectacular fireworks light up the night over Cinderella Castle—a musical, magical grand finale to your one-of-a-kind dining adventure.
Highway in the Sky Dine-Around is offered Tuesday, Friday and Saturday beginning December 2, 2016. Cost is $150 gratuity included, tax is additional. Valet parking is included. For reservations, 407-WDW-DINE or here. At this time Disney Dining Plan entitlements may not be redeemed for this event and no discounts or promotions are valid for this event.
5 – New Disney PhotoPass Studio at Disney Springs
Now that Guest Relations has moved to the Town Center area in Disney Springs, Disney has expanded its Disney PhotoPass Studio that previously shared the space. A brand-new studio area has recently opened and is a great place to snap a family portrait. Here are all the details from Disney:
At the Studio, guests can choose from the original standard background or new virtual backgrounds that place you front and center at some of your favorite Disney scenes. A Disney PhotoPass Photographer will be on hand to find the perfect virtual background for your portrait.
Along with additional portrait spaces, new view stations have been installed for you to easily preview, purchase and print all your vacation memories linked to your Disney account with the assistance of a Disney PhotoPass Photographer.
Reservations are not needed to visit the Disney PhotoPass Studio, and photos taken at this location will be linked to your My Disney Experience account. Studio photos are also included as part of an active Memory Maker entitlement.
6 – New Additions Coming to Epcot International Flower and Garden Festival
While the holiday season is in full swing at Disney World, Disney is already preparing for spring flowers. Disney's Epcot International Flower and Garden Festival will run from March 1-May 29, 2017. Here are some of the things we can look forward to per Disney Cast Member Victoria Lim:
A 6-foot-tall topiary Figment balancing on a floral ball will be just one of the firsts that will delight you during this spring's Epcot International Flower & Garden Festival at Walt Disney World Resort. Ninety days of bright blooms and whimsical creations for all your senses begin March 1.
Mickey Mouse, Minnie Mouse, Daisy and Pluto will greet Epcot guests at the Epcot front entrance in a new topiary garden inspired by a vintage Walt Disney short film. Belle from the Oscar-winning Disney film "Beauty and the Beast" is getting a major topiary makeover, joining Snow White, Elsa and Anna as the next-generation "princess" topiary. In the "Cars"-themed interactive play garden: a new character topiary from the upcoming June 2017 release of "Cars 3" will join the gang.
If you get inspired, you can take advantage of the expanded operating hours of the Festival Center opening week, Wednesday, March 1 to Sunday, March 5, and pop into a gardening seminar or DIY workshop. During the remaining weeks of the Festival, the center will be open Friday through Sunday.
Leave room to try two new Outdoor Kitchens, and grab a seat when performers will rock America Garden Theatre stage four days a week. The Garden Rocks concert series will run Friday through Monday, with three concerts a night.
 The Garden Rocks Concert Series acts have not been announced. We will be sure to post this information as soon as it becomes available. Sign up for our newsletter for up to date Disney news and information!
Read the 10 things you will live about Epcot's Flower and Garden Festival here.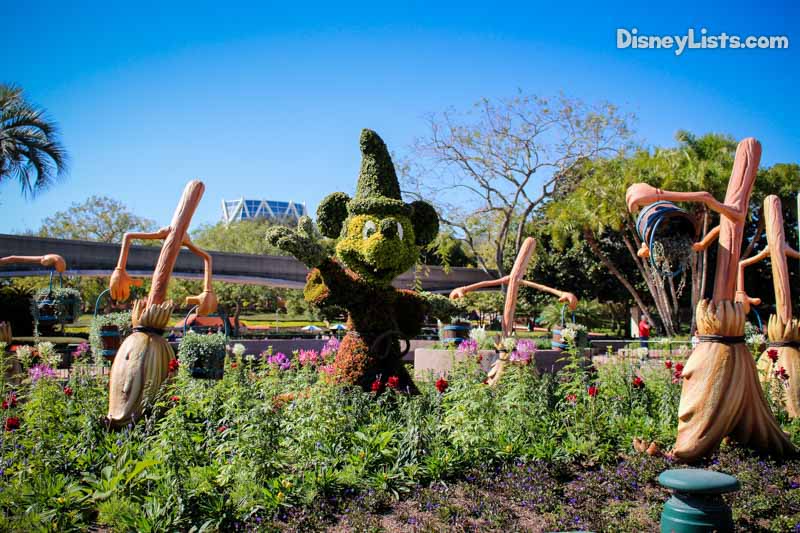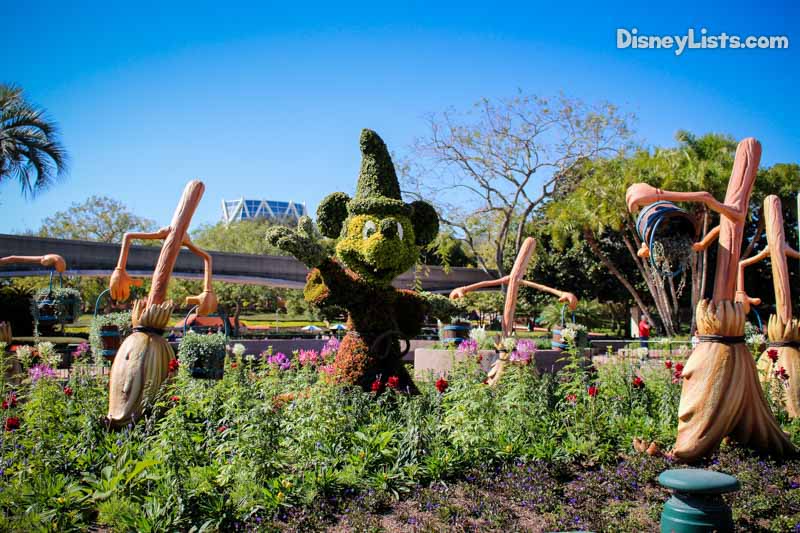 7 – Bus Stop Pizza Kiosks at All Star Resorts
One of the negative aspects of staying at a Value Resort at Disney World is the fact that the resorts are so large, creating very long lines at quick-service restaurants at the resorts. Lines for pizza at the All Star food courts were a very big problem. Thankfully, Disney has responded to the need by unveiling two new quick service kiosks at both All Star Movies and Music that offer pizzas curbside. This curbside service allows guests to skip the busy lobby and food courts when returning to their resort after a long day. The kiosks will be open between 7:00 -10:00 pm. The two locations have been named "Intermission Express" at All-Star Music and "World Premier Express" at All Star movies. Both locations offer a basic menu with cheese and pepperoni pizzas only. No word yet on how this works with the Disney Dining Plan.
8 – Dole Whip Now Available at Disney Springs
Fans of Disney's Dole Whip will be pleased to hear that Disney is now offering its signature pineapple soft serve at the Marketplace Snacks in Disney Springs. While the menu lists the offering as "pineapple soft serve" and not Dole Whip, Disney Cast Members at Aloha Isle told us that Dole Whip could now be found in three locations in Disney World: Aloha Isle, Pineapple Lanai at Disney's Polynesian Village Resort, and Marketplace Snacks in Disney Springs. Fans of the Dole Whip floats should note that at this time floats are not available at the Disney Springs location.
9 – New Ice Cream Social with Parade Viewing now at Magic Kingdom
A new type of dessert party with reserved viewing for the Disney's Festival of Fantasy Parade is now available in the Magic Kingdom Park. Tiana's Riverboat Party Ice Cream Social will offer guests hand-dipped ice cream, toppings, and soft drinks while they visit with Princess Tiana and Naveen at the docks of Liberty Square Riverboat. Guests will then board the riverboat to enjoy a birds-eye-view of the "Disney Festival of Fantasy Parade" and a cruise around Tom Sawyer's Island. Princess Tiana and Naveen will join the group on the Liberty Belle Riverboat after the parade ends for photos. (Note: during the holiday period Dec. 23-31, guests will view the "Mickey's Once Upon a Christmastime Parade" instead). Tiana's Riverboat Party Ice Cream Social & Parade Viewing is available for $49 per adult and $29 per child age 9 and under (includes tax). Reservations can be made now by calling 407-WDW-DINE or online.
10 – Princess Elena Joins Princess Fairytale Hall
Princess Elena, the newest Disney princess, has now joined Cinderella at Princess Fairytale Hall in Disney's Magic Kingdom Park. FastPass+ service is available for this meet and greet experience. Rapunzel and Tiana are the other princesses available to meet at the Hall. Elena is the princess from the Disney Channel series, "Elena of Avalor." Elena was officially welcomed as a Disney princess on August 11, 2016 at the Magic Kingdom. You can still see daily performances of "Princess Elena Royal Welcome," daily at 9:05 am, 10:00 am, 12:15 pm and 1:35 pm at the Castle Stage.
11 – Planet Hollywood Opening Announced
The lengthy refurbishment of Planet Hollywood at Disney Springs is coming to an end on January 3, 2017. The transformation the building from tacky and dated giant globe to tasteful observatory brings the location theme-wise in line with the rest of the new Disney Springs. Besides obvious new look on the exterior, the refurbishment involved a complete gutting of the interior and a full overhaul of the menu as well. We have high hopes that the Planet Hollywood reboot will be a major improvement over what had become a very tired dining venue on every measure.
12 – New Amenities & Restaurant Coming to Disney's Wilderness Lodge
Recently, the area formerly known as The Villas at Disney's Wilderness Lodge have assumed a new name: Boulder Ridge Villas at Disney's Wilderness Lodge. The new name reflects the railroad theming of the lodge and compliments the storyline of the resort. Disney also announced a reimagining of the former Hidden Springs Pool area and is scheduled to open in summer 2017. The new swim area will be named Boulder Ridge Cove and will feature an expanded sun deck and zero-depth-entry pool in what will appear to be an abandoned rock quarry. Here are some more details from Disney:
Such rejuvenating transformations were common in the Pacific Northwest following the mid-20th-century fading of the Transcontinental Railroad, as locals turned rails into trails – repurposing everything from bridges and tunnels to cranes and quarries. A nearby "Boulder Ridge Railway and Mining Co." water tower will be among the pool area's landmark reminders of its pioneering past, while a vintage mine cart supports the mining theme with an affectionate nod to Disney history.
Beyond the new pool space, scheduled enhancements to the resort are "chugging along" and include a brand-new bar & grill, in addition to a quick-service restaurant. Geyser Point Bar & Grill will be located in the heart of the feature pool area of Disney's Wilderness Lodge, where Members and guests can grab a bite to eat as they lounge by the resort's main pool. The rendering for this area highlights ample outdoor seating and architecture that looks right at home with that of the existing Lodge, as well as Boulder Ridge Villas.
13 – Disney's Atlantic Dance Hall to offer Themed Music Nights
During the month of December, the Atlantic Dance Hall on Disney's Boardwalk, will be hosting throwback themed nights. Tuesday night is 90's, Wednesday is 2000s, and Thursday is electronic dance. Operating hours are 9:00 pm – 2:00 am. Each night will also offer draft beer for $3. Guests must be a minimum age of 21. There is no cover charge.
Check out more great things about Disney's Boardwalk Resort here.
14 – Internal Shuttles Added at Port Orleans Resort
Port Orleans Resort, comprised of Riverside and French Quarter, is huge. Whether heading up to one of the main buildings for a meal or hopping between pools, getting around the resort can be difficult. Good news for guests staying at Port Orleans. Internal resort shuttles are being added similar to what is found at Fort Wilderness Campground. Previously, guests needed to board one of the park buses to get around which caused unnecessary crowding. It should also shorten lines for the water transportation between Riverside and French Quarter.