The stockings were hung by the chimney with care, in hopes that DISNEY SOUVENIRS soon would be there! To put us in the Christmas spirit, we thought we'd share our favorite souvenirs that boast the Christmas theme at its' best – Disney style. These are 15 gifts we would be happy to see under the tree!
15 – Christmas Treats
The perfect stocking stuffer or small gift for just about anyone would have to be Disney's Christmas treats. Disney themed chocolate bars, Mickey shaped rice crispy treats, Disney hot cocoa, M&M filled Mickey ear ornaments, festive cookies – the list goes on of all the Christmas goodies overflowing at Disney World right now!
14 – Christmas Apparel
Dress to impress this Christmas with Disney's Christmas apparel. Whatever the occasion may be, chances are you'll find that perfect Christmas outfit that shouts Disney. We especially love the sleepwear, sweatshirts and t-shirts.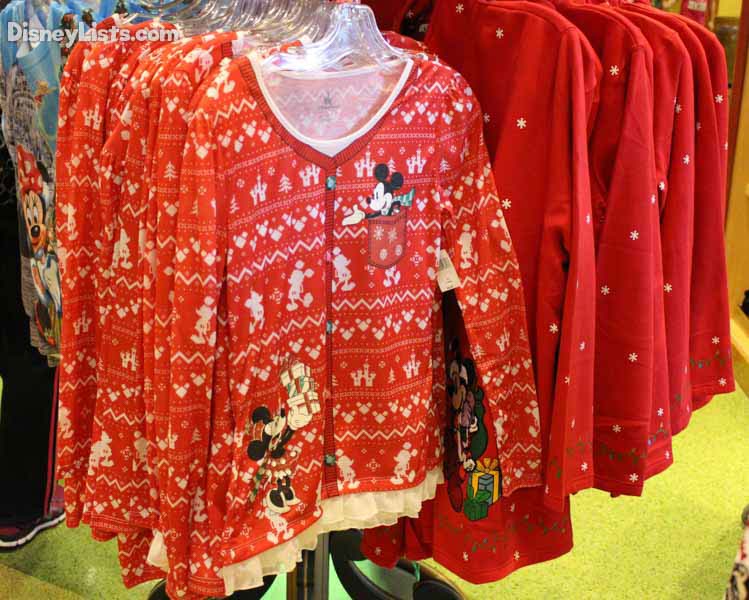 13 – Christmas Apron
A great gift for that family member that loves to cook and bake, the Disney Christmas apron caught our eye in multiple locations. Goofy, Pluto, Minnie, Donald, and Mickey make an appearance on this winter themed apron with bright Christmas red accents.
12 – Mickey & Minnie Tree Skirt
What better place to set the gifts under the tree than on a Mickey and Minnie Mouse Victorian Holiday Tree Skirt. The rosy red and elegant details add a pop of Disney spirit while keeping a sophisticated tone. Plus, who doesn't love seeing Mickey blush when being kissed by Minnie!
11 – Cookies for Santa Set
Santa is sure to come, so let's surprise him with a Mickey and Minnie cookie plate and milk glass set. The plate shows a picture of Minnie with "Cookies for Santa" in the middle. Surrounding the edge of the plate are "Snowflake Kisses", "Warm Winter Wishes", and "Happy Holidays". The glass has Mickey on one side and "Milk for Santa" on the other.
10 – Mickey & Minnie Christmas Tree Teapot
This teapot stood out to us right away as a great gift for teapot collectors with a unique design… or just anyone that loves Disney and Christmas! In the shape of a Christmas tree with a star on top and what looks like wood for the handle and spout, Minnie is holding up some mistletoe ready to give Mickey a kiss. Detailed with snow and some furry animal friends, this gift will make someone very happy!
9 – Days Until Christmas with Mickey and Minnie
The Christmas countdown has begun and what better way to be reminded that we are sneaking closer to Christmas than with a Mickey and Minnie "Days until Christmas" countdown. With the same Victorian style as the tree skirt mentioned above – these two would make a great combo gift.
8 – Christmas Bowls, Plates, Mugs, Cups
Each year Disney comes out with new Christmas designs for some of the most useful household items in the kitchen. We love this year's Disney Christmas themed bowls, plates, mugs, cups, and trays! Perfect for family gatherings or daily use, enjoy seeing the Disney crew play in their winter wonderland setting with these souvenirs.
7 – A Merry Christmas Cookbook
Throw on your Disney Christmas apron and get ready to bake and/or cook some fantastic Christmas masterpieces with the Merry Christmas Cookbook. This is the best cookbook we've found to use when working with a child in the kitchen. It's friendly photos, easy instructions, and difficulty rating system have won us over!
6 – Mickey's Door Wreath
Invite guests over this Christmas and let them be welcomed by a Mickey ear Christmas wreath hanging on your door. Green leaves with a bold red bow and red buttoned Mickey shapes provide a perfect dose of Christmas and Disney all in one.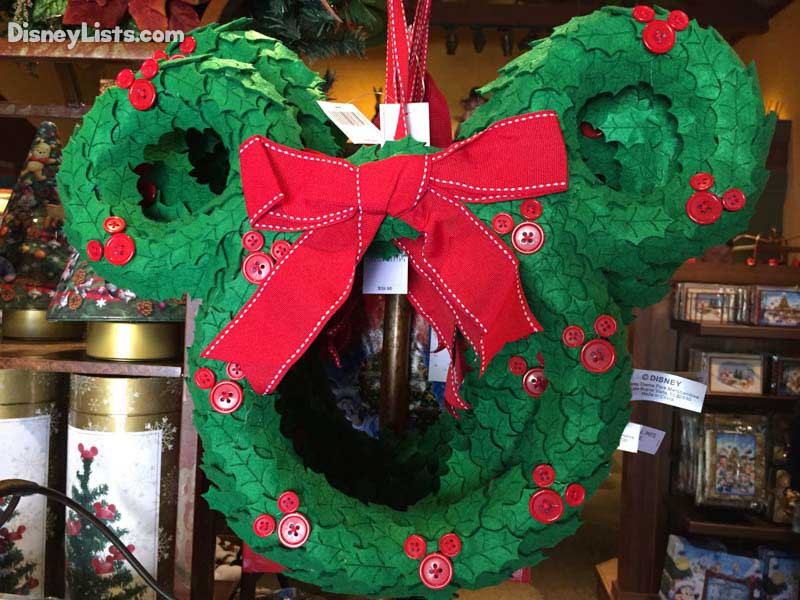 5 – Mickey/Minnie Ears & Christmas Light Up Necklace
We mentioned apparel above, but how about the accessories to go with it? You can't step foot into a Disney park right now without seeing a cute set of Christmas themed Mickey or Minnie ears. We also love the Christmas light up necklace which looks like a string of lights turned into a necklace.
4 – Christmas Ornament
What would a Christmas themed list of gifts at Disney World be without the mention of a Disney ornament? This is possibly the most popular souvenir purchased around the holidays and for good reason with the vast variety of ornaments, personalization abilities, and a great array of price points.
3 – Mickey Nutcracker
Coming in different shapes, sizes, and Christmas themes are the Mickey Nutcrackers. Our favorite selection of nutcrackers can be found at the Ye Old Christmas Shoppe located at Magic Kingdom. Minnie is even available as a nutcracker! This makes for a great collection piece to add to over the years.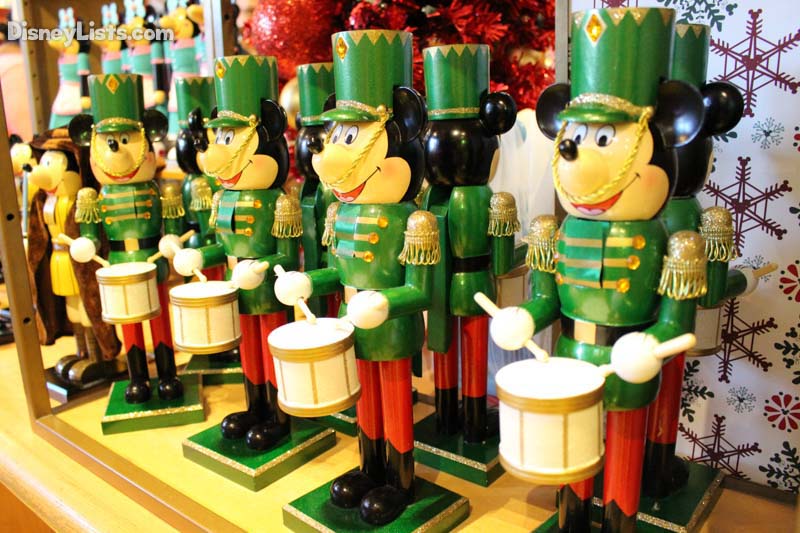 2 – Christmas Train Set
Walt Disney himself would surely be pleased with the Christmas Train Set available in gift shops all over Disney property. A 30-piece train set awaits to be set up in your home (possibly around your tree) with its remote-control abilities and classic Disney characters along for the ride. This is one gift you will use year after year!
1 – Disney Christmas Experience
Peaking at number one on our list is a Disney Christmas experience! A visit to Magic Kingdom for Mickey's Very Merry Christmas Party; a night at Hollywood Studios for the Jingle Bell, Jingle BAM show; endless Christmas shopping at Disney Springs with a walk through the Christmas Tree Trail and topping the night off with the Starbright Holiday Show; a visit with Santa himself throughout Disney Property and maybe a hug or two from Disney characters in their holiday gear. Christmas experiences at Disney provide magic with an even stronger presence of joy for the season!
There you have our top 15 Christmas themed gifts/souvenirs at Disney World. For all our Jewish family out there, don't forget to check out the Hanukkah items located in places such as the Ye Old Christmas Shoppe at Magic Kingdom or at the Days of Christmas shop at Disney Springs. Happy Holidays!
For a no obligation, FREE Quote on a Disney vacation package, please contact our travel partner Magical Vacation Planner at 407-442-0227 (407-442-0215 for Spanish). You can also request a FREE quote online by Clicking HERE.