Taking place every January, the Walt Disney World Marathon Weekend is a celebration of health and running. This five-day event is one of the largest running events in the US and draws over 100,000 runners and spectators to Disney World every year. Events include Kids Races, the Walt Disney World 5k, the Walt Disney World 10k, the Walt Disney World Half-Marathon (celebrating its 20th anniversary and cancelled this year-we'll get to that), and culminates with the Walt Disney World Marathon. Add to the list of accomplishments runners tackling the Goofy Challenge (completing the half and full) and Dopey Challengers (5k, 10k, half, and full), as well as the Cast Away Cay Challenge. There is a way for just about anyone to participate in this amazing weekend.
We (Chad and Cindy) have been participating in Marathon Weekend since 2009. It's a weekend we look forward to every year. This year marked our 5th straight Goofy Challenge and 4th consecutive Dopey Challenge. Yes, we're that dopey over this weekend. 2017 saw many firsts and unfortunately weather challenges disrupted the weekend's event. Here is our full review of the 2017 Walt Disney World Marathon Weekend.
1 – Health & Fitness Expo
The Health and Fitness Expo at the ESPN Wide World of Sports kicked off the weekend on Wednesday, January 4. This year, rather than fighting the crowds right at opening, we decided to let a few hours pass until we tackled the very busy event. If you've read our Marathon Weekend Survival Guide or have been to a runDisney race Expo, then you know just how crazy busy these things get. Opening day is always packed. I (Cindy) arrived around 2:30 pm and left about two hours later. I was happy with that. In 2016, it took me three hours to get everything done.
I went straight to the packet pickup and was pleased that I did not have to wait in any line for my bib or race shirts. However, I did stand in about a ten-minute line to enter the Josten's Center where the main exhibitors and the main runDisney store are stationed. The line looked long, but we moved quickly. I heard reports that at 12 noon (opening time) the line to get into the Josten's Center was over one hour long. I was glad my wait was only ten minutes. I went straight back to the runDisney merchandise store where I waited about another 15 minutes to enter the store. In 2016, this new process of limiting the number of people in the store area was instituted. While it's never fun waiting outside the store in a line, the shopping experience is so much better. You can actually move about in the aisles and look around. I was thankful that at around 3:30 pm I was still able to purchase what I wanted. Nothing seemed to be sold out at that time. The wait for checkout was a quick five minutes. Overall my shopping experience was better than I expected. I also took time to walk the expo floor and pick up some other items I needed. The floor was very crowded, but not impossible to move around.
2 – Walt Disney World 5k
We really enjoyed this year's 5k run. The weather was a perfect 60 degrees a race start. New this year was the introduction of "mini-waves" for the 5k and 10k races. For these races, there are six corrals: A-F. Rather than just sending out each corral 10 minutes apart like they have in the past, they separated each grouping into mini-waves and ran those about 2-3 minutes apart. This really helped with the crowding issues in the first mile of the course. Well done, runDisney.
The course runs through World Showcase and Future World of Epcot. We saw a lot of families with young children running together. We first did that with our young kids back in 2010. It was an amazing family experience and it's a great way to include the kids if they are not participating in the one mile Kids Races.
One of the most inspirational things we witnessed that morning was running past Adam Gorlitsky. Adam is a paraplegic runner who with the aid of an exoskeleton machine, a robotic suit that enables him to stand and walk, has dedicated his life to waking in races and sharing his story. Many runners cheered and encouraged him as they passed it. It was emotional and inspiring! Learn more about Adam below.
3 – Walt Disney World 10k
Friday morning's temperatures were a bit cooler with the temps around 54 degrees at race start. For this race, our sixteen-year-old daughter joined us. She and I enjoyed dressing up in Minnie Sparkle Skirts and Bondi-Bands. We enjoyed a nice run/walk. Most character lines were about 10-15 minutes long. The real treat of the morning was seeing Mickey, Donald and Goofy in their Colonial American outfits outside of the American Adventure. This line looked to be about 20-30 minutes long so we did not wait for pictures. Running around World Showcase is always special.
The Disney World 10k is usually the first race to sell out. The 6.2 miles is a nice step up from a 5k, but not so daunting as tackling a half-marathon. If you're looking for a fantastic 10k, then be sure to put this race on your bucket list!
4 – Walt Disney World Half-Marathon – 20th Anniversary
The unpredictable and crazy weather Central Florida dashed the plans and goals of many half-marathon runners this year. As early as Thursday, we started receiving updates from runDisney about extreme weather that might impact the half-marathon on Saturday morning. By Friday afternoon the forecast was alarming. Rain was not the problem. We can run in rain. The potential problem was the expected lightning. We knew the stated policy. For the safety of runners, volunteers and staff, in the event of lightning the race would not go on. We wondered and waited. Would the race proceed? Would we get to run? Around 7:00 pm Friday evening, the question was answered. We received emails, texts and Facebook notifications that all read the same thing. The race was canceled.
But Disney made the right call. Absolutely. Above you'll see the radar of the line of storms (headed southeast) that passed over Disney property in the early morning of Saturday, January 7. (The blue dot is Fort Wilderness Campground.) These storms brought heavy rain and lots of lightning. Many people don't realize that support staff, police, medical teams and volunteers are out on the race course as early as 2:00 am. Those early hours of the morning had dangerous weather as well. Most parts of the course simply do not have the proper cover for protection. Again, Disney made the right call.
Above you'll see the second line of storms that came through around 7:45 am on Saturday morning. (Blue dot Fort Wilderness Campground; storms headed southeast). Again, more lightning. At that time, had the race started, runners would be on the open road of World Drive returning to Epcot. There simply isn't any cover in that area and it would have been a dangerous situation.
Many runners were shocked and upset that the race was cancelled. It's understandable. After months of training, planning and spending money to come to Disney, you want to run the race you trained for. However, two amazing things happened after the cancellation, (1) runDisney shows just how amazing they can be, and (2), how the running community can rise up and do some pretty amazing things!
First, late Friday night Disney announced how exactly they would handle the cancellation. It should be noted that when anyone registers for a Disney race they agree to the terms and conditions that clearly say a race can be cancelled for any reason and refunds WILL NOT be given. When runners go to pick up their race bib, they sign waivers that state they will not receive any refund for a cancelled race. We were not expecting anything from Disney. They didn't have to do anything, but they did. They went above and beyond what any of us expected.
Disney outlined four different refund options for runners. Here is a copy the official statement from runDisney from Friday, January 6, 2017:
As previously shared, in an abundance of caution, the Walt Disney World Resort has cancelled all running events on Saturday, Jan. 7, 2017 due to weather conditions. This includes the Walt Disney World Half Marathon and the runDisney Kids Races and a delayed opening of the runDisney Health & Fitness Expo until 11 a.m.
All registered 2017 Walt Disney World Half Marathon runners will receive their half marathon medal and may choose from one of the following options:
Option 1: A full refund for their race registration in the form of a Disney Gift Card.
Those participating in the Walt Disney World Half Marathon, runDisney Kids Races, ChEAR Squad and Race Retreat will receive a refund in the form of a Disney Gift Card in the amount equal to their registration. Those participating in the Goofy's Race and a Half Challenge and/or Dopey Challenge will receive a partial refund in the amount of the half marathon registration.
Walt Disney World Half Marathon, runDisney Kids Races, ChEAR Squad and Race Retreat participants: Bring a valid photo ID and race bib or wristband to the ESPN Wide World of Sports Complex on Saturday, Jan. 7 between 11 a.m. and 4 p.m. Disney Cast Members will be there to guide you.  
Goofy's Race and a Half Challenge and/or Dopey Challenge Participants: For your convenience, there is no need to visit the ESPN Wide World of Sports Complex. Medals will be awarded on Sunday, Jan. 8, after the full marathon. Your refund will be automatically sent to you via electronic Disney Gift Card.
Option 2: Two One-Day Park Hopper tickets.
Only available to those registered for the half marathon, runners should bring a valid photo ID and race bib to the ESPN Wide World of Sports Complex on Saturday, Jan. 7 between 11 a.m. and 4 p.m. Disney Cast Members will be there to guide you.
Option 3: Transfer registration to another runDisney half marathon race in the U.S. within the next 24 months, subject to availability.
Runners interested in transferring their registration to another runDisney half marathon in the U.S. within the next 24 months should contact runDisney beginning Friday, Jan. 13, 2017.
Please email your future race preferences to rundisney@disneysports.com with your name, bib number, phone number and mailing address so we can mail your medal to you. A Disney Cast Member will follow up with a phone call to discuss availability of future half marathon races.
For convenience, those who choose this option will have their 2017 Walt Disney World Half Marathon medal mailed to their home address so there is no need to visit the ESPN Wide World of Sports Complex.
Option 4: There is limited availability to run the full marathon on Sunday, Jan. 8, 2017 during the regularly scheduled race.
To transfer a 2017 Walt Disney World Half Marathon registration to the 2017 Walt Disney World Marathon, runners may register at no additional charge at com with the following link: http://disneyurl.com/WDWMarathon
Registrations will be accepted on a first come, first served basis until all available spots are filled or until 10 a.m., Saturday, Jan. 7, 2017. Runners will receive a confirmation email with further instructions.
For any Guests who are unable to visit the ESPN Wide World of Sports Complex on Saturday, Jan. 7 to choose their option should contact rundisney@disneysports.com. Please include your name, bib number and phone number within the email.
We were very surprised at the lengths runDisney went to compensate participants. Of course, we were still disappointed we couldn't run, but thankful that Disney stepped up and offered a variety of options for runners. In what was an extremely difficult situation, runDisney helped the more than 26,000 half-marathon runners make the best out of it.
Saturday morning, after the storms had passed, more lemonade was made from the bad lemons that were thrown at us the night before. Thousands of runners didn't want to just be handed a medal when they had not run the 13.1 miles they had trained for. Goofy and Dopey Challengers didn't want their challenge totals to be diminished. Is Dopey 35.5 miles? Nope, it's 48.6 and to reach that you need to run 13.1 miles and so that's what thousands of runners did. Impromptu meet ups were arranged on social media all around the Disney property. Runners ran around the BoardWalk Resort, Swan & Dolphin, Pop Century Resorts, many more resorts and Disney Springs. Runners on social media reported unofficial water stops from the Fit2Run store at Disney Springs and at the EPSN Club on the BoardWalk where cast members enthusiastically cheered on and gave water to runners. Other runners reported Disney guests coming out with signs and cheering on runners. I witnessed hundreds of runners, many with the race bibs and in full costume, running through Fort Wilderness Campground as I ran my own 13.1 miles. It was awesome to see so many runners not be kncoked down, but turning a sour thing into a positive experience. Many runners reported that those 13.1 miles run unofficially on Saturday were some of the best they've ever experienced. It was very special to be a part of that!

5 – Walt Disney World Marathon
After dealing with the thunderstorms from Saturday, the weather threw another curve ball at us. Cold dry air crept into Central Florida Saturday afternoon. Temperature just kept dropping and dropping. We woke up to temps in the upper 30s with wind chills in the lower 30s. I hate the cold. Really, I hate it. We've lived in Florida for almost seven years now and I've officially become an absolute wimp when it comes to cold weather. Now some of you northerners might be laughing, but that is COLD. Windy and cold are not what dreams are made of. But 26.2 miles lay ahead of us, so we bundled up and headed out, although a little grumpily.
I'm happy to say that the cold weather was the only negative thing we experienced on Sunday. After missing out on Saturday, there was high excitement in the air as we waited for the race to start. We were thrilled to be able to run! The course had its normal runDisney challenges. Crowded, yes, but not the worst we've seen. There was only one spot on the course where I had to stop running and that was where we always stop: running through Cinderella Castle. The course entertainment was great with lots of rare characters: Big Bad Wolf, the penguins from Mary Poppins, Jack Skellington and Sally, Clarabell Cow and Horace Horsecollar. Other notable characters include Mickey and Minnie in their soccer outfits, and Donald, and Chip and Dale in Referee outfits.
The Disney Marathon, in its 24th year in 2017, is a very special marathon. It's the only marathon Disney puts on and it's the only race that goes through each of the four theme parks. Many runners run this as their first marathon. It's not easy running 26.2 miles, but at Disney it is magical. Brutal, yes, but magical all the same. You arrive at Magic Kingdom around mile 5. Energy is high, excitement and magic is in the air. Running towards the castle on Main Street USA, running through Fantasyland, through Cinderella Castle and Frontierland are all wonderful to experience early in the race. After Magic Kingdom, runners take a right onto Bear Island Road. This year Disney added more entertainment to this section including putting out retired attraction vehicles from 20,000 Leagues Under the Sea, Mr. Toad's Wild Ride, Snow White's Scary Adventures, Skyway, and Star Jets. Then it's onto Animal Kingdom for the half-way point.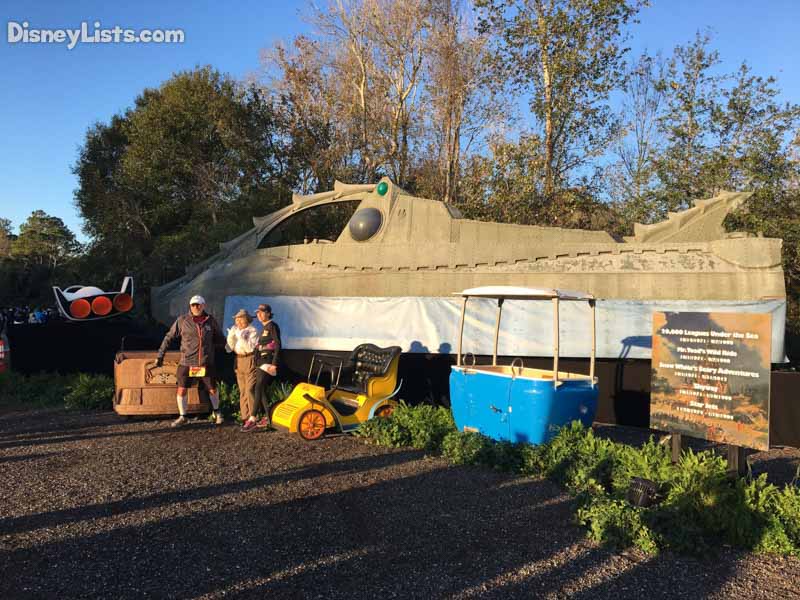 The hardest part of the course is from mile 13-22. From miles 13-17 you run from Animal Kingdom Park to ESPN on Osceola Parkway. While Disney does what they can with course entertainment, it's not all that exciting. Miles 17-22 are what many consider the worst part of the course that runs through ESPN Wide World of Sports. It's not that running through there is terrible, it's just that you weave back and forth and the time there seems never ending. It also coincides with miles 18-20, the dreaded "wall" where some runners struggle to keep going. They had some great characters this year at ESPN and running around the baseball diamond is always fun, but we'll be happy when the two new lands at Hollywood Studios (Toy Story Land and Star Wars Land) are open and will allow for much more exciting scenery during those tough miles.
The great thing about reaching Hollywood Studios at mile 22 was that you knew you were so close. After a quick run through the Studios, runners run along the BoardWalk and onto World Showcase in Epcot. This last mile around World Showcase is the most magical of the entire course. You're exhausted, you want to be done and Disney knows it. They ramp up the music, fire up the torches and the course is lined with cast members and guests cheering runners on through that last tough 1.2 miles. I tear up every year when I get to World Showcase because it's such an amazing experience! I got a quick photo with Snow White and then headed to the finish line where I got a quick selfie with Pluto. Even though I was tired and in pain, it was a fantastic 5th straight Disney marathon.
6 – Overall Thoughts and Recommendations
runDisney races are not perfect. There can be problems, less than perfect weather, unforeseen cancellations, rude runners, and not so perfect races experiences. But more often than not, there is magic, encouraging runners beating the odds, and inspiring stories. Even though 2017 saw a cancellation, overall we enjoyed this year's marathon weekend very much. The improvements with the mini-waves during the 5k and 10k, the way runDisney handled the half-marathon cancellation, being a part of the amazing running community that rose to a challenge and met it, and a fantastic, albeit cold, marathon on Sunday made for a great weekend. If you're looking for an amazing race experience for any of the four distances: 5k, 10k, half, and full or are looking to challenge yourself by either going Goofy (39.3) or Dopey (48.6) then look no further than Disney's Marathon Weekend.
Registration for 2018 is early this year and will open on February 14, 2017 at 12 pm EST. We expect more interest this year due to it being the Marathon's 25th Anniversary and the 10k's and Dopey Challenge 5th Anniversary. While only the 10k sold out last year, if you want to run either the marathon or Dopey in 2018 it's best to register as soon as possible. Good luck!