In a galaxy far, far away, (or rather Disneyland Park) thousands of runners and spectators set their sights on the Star Wars Half Marathon – The Light Side in early January. This year, I was one of those runners eager to conquer my first Disneyland runDisney race. This Light Side race is relatively new, having first run in 2015 as simply the Star Wars Half Marathon. Many were surprised that a Star Wars race was hosted at Disneyland instead of Disney World. However, in 2016 the Star Wars Half Marathon – The Dark Side was added to the runDinsey line up and the Disneyland race earned the Light Side designation. Now whether east coast or west, or light or dark, there are two opportunities to run the galaxy!
1 – Star Wars: The Light Side
Three races make up The Light Side race weekend. The Star Wars 5k on Friday, the Star Wars 10k on Saturday and the Light Side Half Marathon on Sunday. Those completing both the 10k and half marathon complete the Rebel Challenge. Those who plan to run the Dark Side race in April in Disney World will complete the Kessel Challenge and will receive a very special and coveted medal in the form of the Millennium Falcon. runDisney reported that there were 13,000 runners for the 10k race and just over 18,000 runners for the half marathon on Sunday. That is just about the same size as the Dark Side race. In April 2016, the Dark Side races had 19,500 for the half and 12,000 runners registered for the 10k.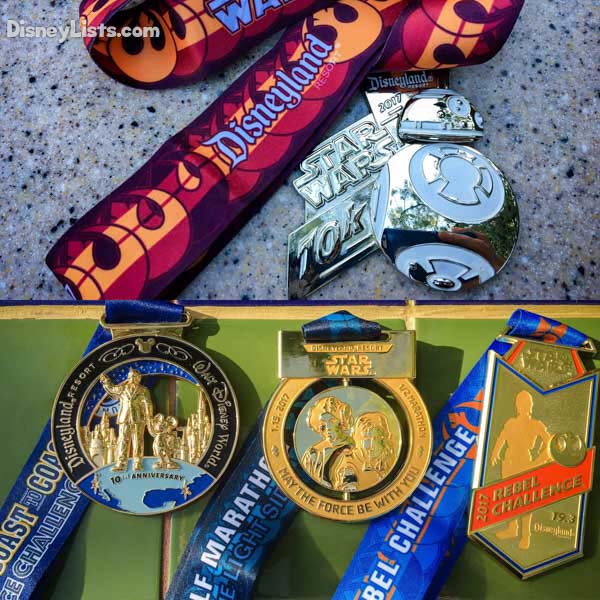 2 – runDisney Health & Fitness Expo
I arrived for the weekend with 29 runDisney races under my belt, so I've been to a lot of runDisney Expo's. However, this was my first Disneyland experience and I was interested to see how it would be different. Unfortunately, the weather was chilly and raining and certainly put a damper on the experience. The expo opened at 10 am on Thursday, January 12. We were there right when it opened. The biggest challenge that Disneyland has is lack of space and this was definitely evident in the set up here. While the main expo is in the Disneyland Hotel Exhibit Hall, we picked up our bibs outside in a parking garage that had been converted (green felt grass put down) for the packet pickup. I was pleasantly surprised there were no lines. I quickly got by bib, wristband (for my Coast to Coast Challenge) and had my picture taken because I was doing the Rebel Challenge.
We then went upstairs to the Exhibit Hall and got my race shirts. I knew the merchandise line would be long, but I was in for a shock when I found out how long. Two hours! I love runDisney and Star Wars merchandise as much as the next runner, but we were eager to get into the parks. So, we opted not to purchase anything on Thursday. I did go back on Friday afternoon and am happy to report that I only waited about 15 minutes to get into the store and as far as I could tell only a few items had sold out. I was still able on Friday to get everything I had planned on purchasing. This was unexpected, as at Disney World many items sell out on the first day. In the future, you'll need to decided how important the race merchandise is to you and how long you are willing to wait in line for the best opportunity to purchase it.
3 – Staging: Pre-Race/Family Reunion Area, Start & Finish
All races begin and end in the same location. We began the morning by arriving at the Lilo Parking lot which had been transformed into the "Pre-Race/Family Reunion Area." This area is where you'll find gEAR bag drop off and pick up, runner group tents, portable restrooms, and beverage stations. Entertainment is offered before and after the race. It's a relatively small space, but it was adequate. It was crowded, especially on Sunday, but not so terrible you couldn't move around. Lines for the bathrooms were not terribly long and moved quickly.
Note that just like at Disney World, all runners and spectators must go through a security checkpoint before entering the race area; this includes bag checks. Unlike Disney World though, at Disneyland, everyone needs to go through either a metal detector or be scanned by a wand. My time through security was short, only about five minutes, but I arrived to the area around 4:30 am on both mornings and it wasn't very busy yet. If you are arriving later in the morning, be sure to give yourself enough time to go through security. Even those without bags must be scanned.
There were also three separate photo areas that were open for runners before and after the event with Disney PhotoPass photographers. First, many lined up for a picture with the Star Wars Half Marathon – The Light Side banner. Second, was a scene Star Wars fans knew as the garbage compactor from A New Hope. Finally, runners could pose in a scene from Empire Strikes Back: the Wampa Cave on Hoth. Both Star Wars movies scenes were also at the Dark Side race weekend in Disney World in 2016.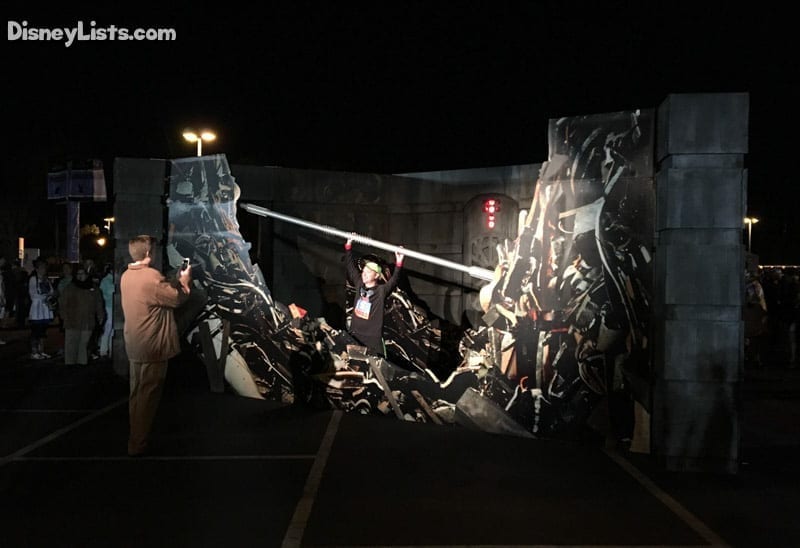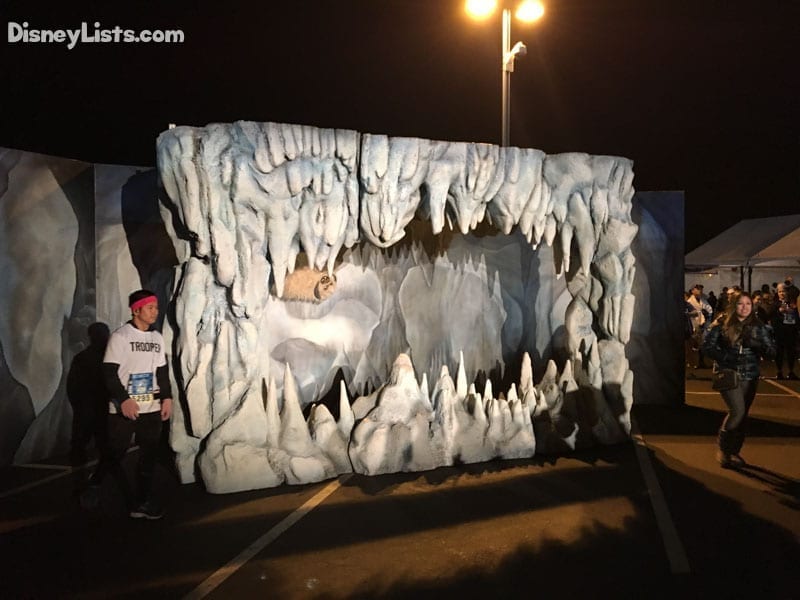 The start for the races is located on Disneyland Drive, which is a very short walk from the Lilo Parking Lot. It's such a short walk that there are only a few portable bathrooms near the race start and some are only accessible from the corrals they are placed in front of. I highly recommend using the restrooms in the Pre-Race area before heading to the start line.
I found that I had more than enough time on both mornings to get everything done. In fact, next time I plan to arrive a bit later. I was in my corral by 4:45 am on both mornings and very near the front (I'm usually in the back). The pre-race entertainment included movie clips, singing by the emcee's and even a cool Star Wars rap (see video below). Before I knew it, I was blasting off into hyperspace – the race had begun!
4 – Star Wars 10k
The Star Wars 10k was a fantastic race. It's by far my favorite runDisney 10k race! The great thing about this race is that it is almost entirely in the parks. In fact, you have more time in the parks than you do in the Star Wars Light Side Half Marathon. You'll be in the Disney California Adventure Park even before you hit one mile. The one mile marker is just after a brief run through Cars Land, then you'll have over a mile run in the park. You'll have a short break backstage after you leave California Adventure and you head onto Disneyland. There you'll enjoy another mile and then some through Disneyland, including of course running through Sleeping Beauty Castle. After you leave Disneyland, you'll have one mile to the finish. It's a fantastic set up with breaks in all the right places and so much to see in both parks.

Like any runDisney race, we expect lots of photo opportunities. During this race, I saw many fantastic photo-ops. First up, was a spot to pose with C3-PO and RD-D2. Next, was a very popular BB8. When I went through the line was crazy long. Sure enough they were telling us it was a 50-minute wait for the adorable droid. There was a spot for a Dark Side character, although when I ran by, it was empty due to a shift change. Finally, along Main Street USA, runners had the opportunity to get a picture with Chewbacca. These photo-ops had long lines. If you plan to stop at some or all of them, plan accordingly. Keep an eye on the pacer bikes. You don't want to miss out on your medal because you stopped to take too many pictures!
The on-course support was also fantastic. Between the volunteers, Cast Members, and spectators cheering us on there was hardly a dull moment. Below check out our highlight video of the 10k race.
5 – Star Wars Half Marathon – The Light Side
The Star Wars Half Marathon – The Light Side course that runs through Disneyland and the streets of Anaheim was not the most exciting course I've run. I understand the challenges though. Unlike Disney World, Disneyland has a space issue and the only way to get in 13.1 miles is to leave the park areas and run on the streets. The first five miles are similar to the 10k, however, unlike the 10k you do not run through Adventureland or Frontierland in Disneyland Park. Seems odd that they would cut miles out of the parks and add it to the city streets. It was also mentally challenging to go through the excitement of the parks and then be faced with 9 miles of city streets. However, on the streets Disney provided high school bands and cheerleaders and many spectators came out to liven up the course. There were also many Star Wars fans in full costume that came out to offer photo-ops and encouragement on the course, particularly through mile 9. The Rebel Legion Sunrider Base, the 501st Legion, Mandalorian Mercs Costume Club and other clubs sent out support. Their support was definately appreciated! It really helped pass the time!
The official photo-ops were the same as the 10k. Again, they were inside the parks and at the finish line. Overall it was a fine half-marathon and I enjoyed it. I finished and was very pleased to have completed the Rebel Challenge, half of the Kessel Run Challenge, and I picked up my first Coast to Coast Challenge medal since I had run the Dopey Challenge a week before at Disney World! The video below highlights the sights, sounds and support found in the race! Enjoy!
6 – Overall Thoughts and Recommendations
A note on the crowding. I'm used to crowded runDisney races. I've read other reports of these race being over-crowded and that crowding ruining the experience. I thought the 10k and the half weren't any more crowed than Disney World races. In fact, both days I was able to run, through Sleeping Beauty Castle, something that can rarely be done when running through Cinderella Castle.
I'm obviously a huge runDisney fan. I keep going back and back. I'll finish my 35th runDisney race in April and complete my 16th runDisney challenge as well. I've got a few more races and challenges to check off the list and then I'll have completed them all. runDisney combines two of my loves running and Disney. Add in Star Wars and it's three loves. These races are not for everyone, but if you are considering runDisney, be prepared for a fun, runner-packed course, with lots of entertainment and support. It's a great time and I really do enjoy them.
I really loved my first race weekend at Disneyland Resort. I'm a huge Star Wars fan and this was a perfect race for me. This was also my first trip to Disneyland. It was very thrilling running through both Disney California Adventure and Disneyland. If you plan on running the Dark Side Half Marathon at Disney World, then this is a great race to choose to earn not only your Coast to Coast medal, but also the Kessel Run challenge medal. (Just be sure to run both Star Wars races in the same calendar year to earn the Kessel Run medal). I'm going to be sharing my thoughts on some important differences between Disneyland runDisney races Disney World races in another article. If you're a Disney World runDisney regular and you're thinking about taking on the Coast to Coast Challenge, be sure to sign up for our newsletter!