Ready, Set, SHOP… oops – we mean Action! Disney's Hollywood Studios may be known as an action-packed theme park, but don't forget about the fantastic shopping as well. Looking for that memorable souvenir unlike any other? You've come to the right place! While Hollywood Studios has a plethora of souvenirs in their many gift shops – there are some especially unique souvenirs that for the most part can only be found at Hollywood Studios. Here's our top 12 best and most unique souvenirs you'll want to be on the lookout for on your next trip to Hollywood Studios.
1 – Director Mickey Mouse
Located on Hollywood Boulevard at the Mickey's of Hollywood gift shop, you'll spot this timeless souvenir unique to Disney's Hollywood Studios – Director Mickey Mouse Statue. What looks almost like a trophy in gold, Mickey has his movie director hat on and is leaning on a megaphone such as one a director might use, plus he is standing on a film reel. Mickey Mouse featured with the Hollywood Studios flare make this souvenir a favorite!
2 – Hollywood Studios Clapperboard
Have you ever had the urge to say "Ready, Set, Action!" and snap down on one of those clapperboards from the movies? Now you can with the Hollywood Studios Clapperboard souvenir also located on Hollywood Boulevard at the Mickey's of Hollywood gift shop.
3 – Minnie Mouse Hollywood Studios Bag
Alright ladies, don't pass this one by! Strut your stuff with the lovely Minnie Mouse Hollywood Studios Bag at Mickey's of Hollywood gift shop. This bag is all about glamor from Minnie in her red carpet dress, to gold stars, and of course Minnie's red flower hair piece. Too cute to pass by!
4 – Hollywood Tower Hotel Memorabilia
One of our favorite gift shops on Hollywood Studios property is Tower Hotel Gifts located at the exit of the attraction, The Twilight Zone Tower of Terror. Here you will find multiple Tower Hotel souvenirs. Some feature the Tower of Terror attraction while others are Hollywood Tower Hotel memorabilia. We especially love the elevator operator hats as a unique souvenir and wonderfully spooky discussion piece.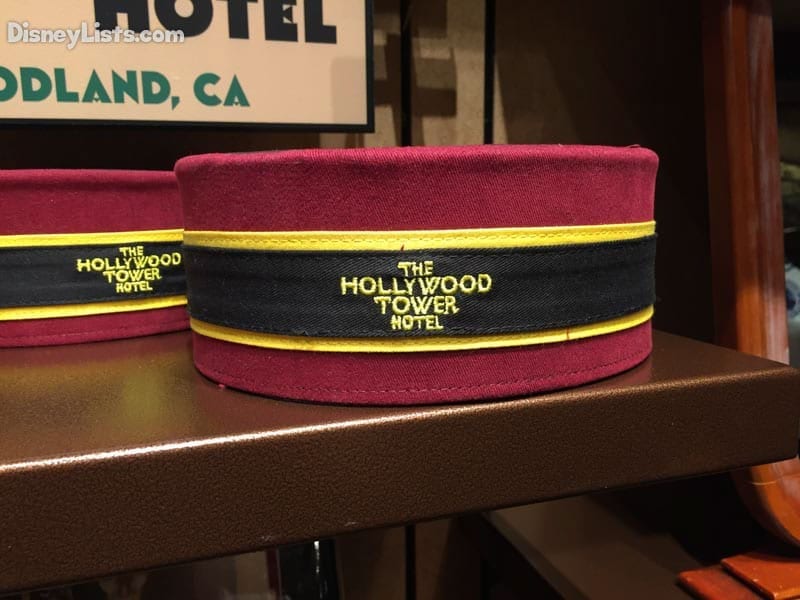 5 – Star Wars Launch Bay Figurines
If you are a Star Wars fan and set foot in the Star Wars Launch Bay, chances are you'll need a moment to catch your breath! Among walls and shelves of incredibly awesome Star Wars memorabilia, you might find something that seems to pull you in as if "the force" is among you. We were especially draw to the shelving cases of unique Star Wars figurines that included some of our favorite characters such as Darth Vader, Princess Leia, and R2-D2.
6 – Indiana Jones Mickey
Hands down, this Indiana Jones Mickey Mouse statue is a must have for any Mickey Mouse and Indiana Jones fans out there! Located at the Indiana Jones Adventure Outpost gift shop, Mickey Mouse is dressed in the appropriate Indiana Jones outfit (including the awesome hat) and holds a tiny Mickey Mouse golden treasure. His body language says he is as sure of himself as Harrison Ford comes across in the movies!
7 – Star Wars Keys and Medal
Heading back to the Star Wars Launch Bay, we found Star Wars themed collectors' keys and a medal that were definitely a unique souvenir to snag for that Star Wars display case at home. The keys are extremely detailed and feature characters such as Storm Troopers and even Kylo Ren. You'll also spot a large medal which is the Medal of Yavin IV. The Medal of Yavin was awarded to Luke Skywalker and Han Solo by Princess Leia as a testament to their bravery and heroism, bringing freedom and hope to the galaxy. You know you want one!
8 – Rock 'n' Roller Coaster Guitar Purse
Ok, so we didn't intend to have a second purse/bag on this list, but this Rock 'n' Roller Coaster purse from Rock Around the Shop gift shop is too cool to pass up. It's a purse in the shape of a guitar! Plus, it has the unique "Rock 'n' Roller Coaster" verbiage to show off where it was purchased. The black and silver colors pop and we especially love that the handle for the bag strap is like a guitar strap. Guys – any ladies out there that like guitars would love this purse as a gift.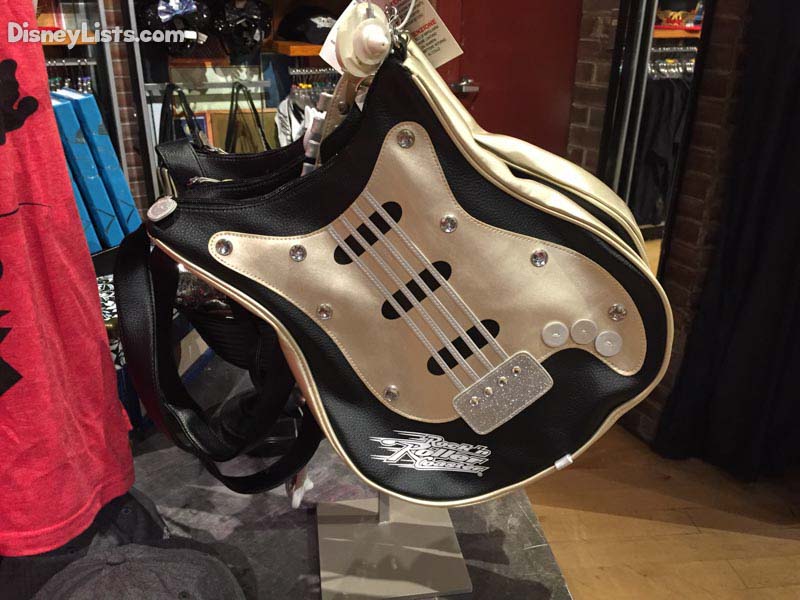 9 – Rock-N-Roller Coaster Drum Sticks
We make another stop at the Rock Around the Shop gift shop at Rock 'n' Roller Coaster to find another one of our favorite Hollywood Studios souvenirs – the Rock 'n' Roller Coaster Drum Sticks. You can't miss them as they are displayed in a fresh way with drums as their baskets. Even if you aren't a drum player, these are simple souvenirs that don't cost too much and don't take up too much space.
10 – BB-8 Souvenir Stein
Sometimes the best souvenirs can be found in the simplest of places. For example, our kiddos especially love the fun BB-8 Souvenir Steins or the TIE Fighter Popcorn Holder which can be found at several of the popcorn and drink stands throughout Hollywood Studios. Not only do you get a fountain drink or popcorn from this souvenir but you get to take them home and refill them again and again.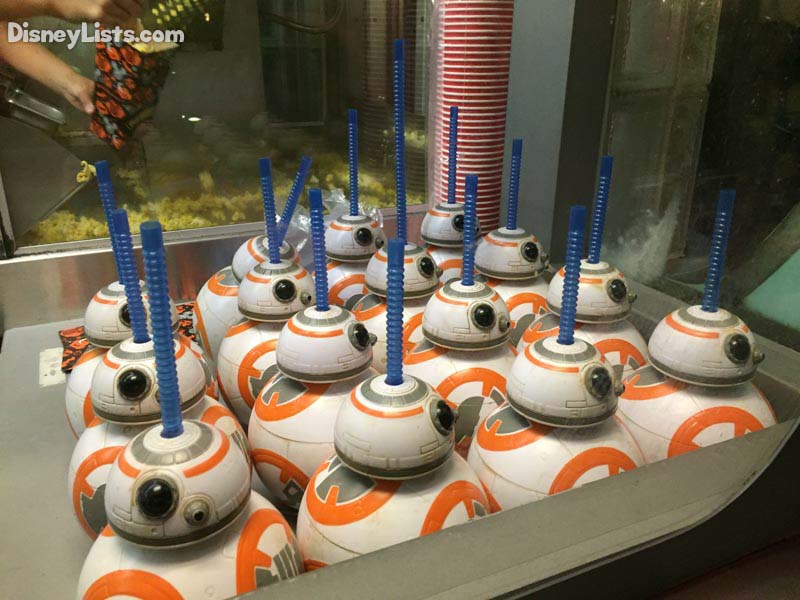 11 – Indiana Jones Map
On display at the Indiana Jones Adventure Outpost gift shop, you'll spot on the wall a framed image of the Indiana Jones Map. The detail on the map is incredible. Just look at for a treasure chest near the framed picture on the wall to spot the map for purchase rolled in a tube form. Decorating a room with the adventurous theme? This is an inexpensive way to show off your love for Indiana Jones.
12 – Planet Hollywood Orlando Jacket
If you are on the hunt for some great Planet Hollywood memorabilia, you'll want to take a stroll down Sunset Boulevard where you will find the Planet Hollywood Super Store gift shop. Among their many items, we seem to be drawn to the Planet Hollywood Jacket featuring the special location of the store which is Orlando in this case.
It's hard to select our top 12 best/unique souvenirs among all the Hollywood Studios shops, but here we have them! What is your favorite Hollywood Studios souvenir? We'd love to hear from you!
For a no obligation, FREE Quote on a Disney vacation package, please contact our travel partner Magical Vacation Planner at 407-442-0227 (407-442-0215 for Spanish). You can also request a FREE quote online by Clicking HERE.