News
NEWS: Disney Announces Opening Date for Rivers of Light at Animal Kingdom
After months of anticipation and delays, Disney has finally announced the opening date for its new nighttime spectacular, Rivers of Life at Disney's Animal Kingdom. Reports from the Cast Member previews were very encouraging with high praise of the show's technological advances and imagery. Details below:
From Disney Cast Member Jennifer Fickley-Baker:
Today, we're happy to announce one of the park's newest nighttime experiences, "Rivers of Light," will make its official debut on February 17.
Continuing the grand Disney tradition of innovative, after-dark entertainment, "Rivers of Light" combines live performance, floating set pieces, a soaring musical score, fountains and more in a celebration of animals and nature. The story magically unfolds on the broad natural stage of the Discovery River, conveying the uplifting spirit of an ancient and timeless lantern ceremony and filled with symbolism, storytelling and plenty of heart.
In addition to FastPass reservations opening up today, two dining packages have also been announced if you are looking for reserved seating for the show. There are two options available at Tiffins and Tusker House Restaurant. Here are the details from Disney Cast Member Pam Brandon:
Similar to the popular "Fantasmic!" Dining Packages at Disney's Hollywood Studios, the "Rivers of Light" Dining Package includes reserved seating at the new show. At all-you-care-to-eat Tusker House, you can choose the breakfast, lunch or dinner buffet on the day of the show (but you have to dine at least 2 ½ hours before the show). Breakfast is $37, $23 ages 3 to 9, plus tax and gratuity; lunch and dinner, $49, $30 ages 3 to 9, plus tax and gratuity. Tusker House Restaurant is on the Disney Dining Plan and counts as one table-service meal.
At Tiffins, "Rivers of Light" Dining Packages are available at both lunch and dinner. Choose your favorite appetizer, entrée, dessert plus a non-alcoholic beverage. Dining must take place at least two and a half hours prior to showtime. Cost is $67, $32 ages 3 to 9 plus tax and gratuity. Tiffins accepts the Disney Dining Plan, and counts as two table-service meal entitlements.
Reservations are now open and can be made by visiting DisneyWorld.com/dining or calling 407-WDW-DINE.
Other Details from Disney:
The show will take place on Discovery River between Discovery Island and Expedition Everest – take a close look and you can you see the Tree of Life in the background. In "Rivers of Light," a pair of mystical hosts come to the river bearing gifts of light. During the show, the hosts set out from the shore on elaborate lantern vessels for a dramatic dance of water and light to summon animal spirits. With the storytellers as your guides, the wonders of "Rivers of Light" builds to a stunning crescendo.
In addition to the show, you'll also notice the park's iconic Tree of Life will undergo an amazing awakening as the animal spirits of the tree are brought to "light" by magical fireflies, revealing moments of wonder and enchantment.
To create "Rivers of Light," Imagineers and Creative Entertainment partnered with the talents of master puppet designer Michael Curry, composer Mark Mancina and the filmmakers at Disneynature. According to Imagineer Joe Rohde, the addition of "Rivers of Light" to the park's offerings will serve as that huge "wow" moment that ends a guest's visit to the park.
Below is a behind the scenes look at this amazing show:
RELATED ARTICLE: 7 Must-Do Night Experiences at Disney's Animal Kingdom
by Mike and Jamie Sylvester
Animal Kingdom's additions of night experiences proves that wilderness and exploration never cease! You can head to Animal Kingdom now and enjoy night experiences that will bring out your adventurous side in so many wild ways! Here are our 7 must-do night experiences at Disney World's Animal Kingdom theme park.
1 – Expedition Everest
If you were terrified to ride Expedition Everest before, chances are riding it in the dark will step up that notch of fear in the pit of your stomach. When riding Expedition Everest at night, it feels like you are experiencing a completely new attraction versus riding it during the normal daylight hours. With the dark surrounding you, you'll feel like you are going higher, faster, and well – slightly more out of control, as you try to gather your bearings. Plus, no one put the Yeti to bed so he is still angry and on the loose, tearing up the track!
2 – Tree of Life Awakenings
You may have seen the projection show on the Cinderella Castle at Magic Kingdom known as "Celebrate the Magic". Well, now Animal Kingdom boasts a projection show on the iconic Tree of Life known as "Awakenings". After night falls, be sure to look to the Tree of Life for a beautiful display of vibrant colors and incredible animal artistry. Thankfully, this show takes place every 10 minutes until the park closes so you'll have several opportunities to see the Tree of Life awaken if not just once – but twice!
3 – Kilimanjaro Safaris
Take a ride in an open-air vehicle to spot majestic animals of all sorts. The bumpy ride and exotic surroundings will make you forget you are in the Animal Kingdom theme parks and not off exploring Africa! At night however, Kilimanjaro Safaris turns into a nocturnal hot spot. The animals seem to enjoy the late hours at Animal Kingdom as well, as they are very active in the dim, yet illuminating lighting provided. Catching the Safaris before the animals are tucked into bed for the night is definitely a nighttime must-do at Animal Kingdom!
4 – Discovery Island Carnivale
When the sun goes down, the party begins! You might try to stop those hips from swaying, but we suggest you don't fight the urge! Join in this lively street party with dancing and excellent entertainment located close to the Tree of Life on Discovery Island. Musicians, stilt-walkers, and vibrant costumes will have you snapping pictures and joining in the fun jamboree. There are usually a couple of street parties per night so be sure to check the times guide to catch the party.
5 – Nomad Lounge
All that dancing likely made you thirsty! Head to one of the newest additions to Animal Kingdom – Nomad Lounge. This lounge is known for their specialty cocktails and exotic appetizers from around the world. Neighboring the newest restaurant, Tiffins, Nomad Lounge is the perfect way to enjoy some of the great selections at Tiffins in a lounge style, small plate, atmosphere. With non-alcoholic beverages, cocktails, wine, beer, small plate appetizers, and the incredible "Taste of Tiffins" dessert – there is something for everyone at this popular new lounge.
6 – Kali River Rapids
Are you ready to end your night with a big splash? Then you'll want to take a ride on the Kali River Rapids! In the dark, this ride is dimly illuminated but still leaves a sense of wonder for what's ahead. Travel down the water in the massive river raft and expect that you'll be the one that gets drenched or at least mostly wet! Just think – you won't need a shower before bed after all.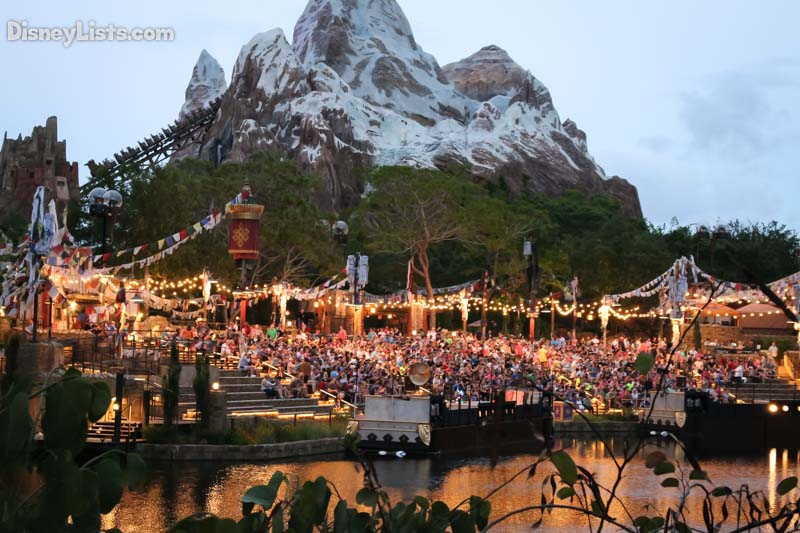 7 – Rivers of Light
Rivers of Light is set to debut on February 17, 2017. It is said to be a remarkable water show with incredible floats, lights and lasers displaying the beauty of all things living! Animal Kingdom can't bring fireworks to the park for the sake of the animals present, but the lighting effects are said to rival that of Illuminations at Epcot. We simply can't wait!
What is your favorite must-do night experience at Animal Kingdom? We'd love to hear from you!