Two big opening announcements came out of the February 7 Walt Disney Company Earnings call. Disney Chairman and CEO Bob Iger announced the opening date forPandora: The World of Avatar and for the first time gave a time frame for the opening of the Disney Parks Star Wars Lands. Details below.
Bob Iger announced that Pandora: The World of Avatar will open at Disney's Animal Kingdom on May 27, 2017. Here are some highlights of the new park from Disney Cast Member Thomas Smith:
This new land will transport guests to the visually stunning world of Pandora. Here, guests will wonder at floating mountains and bioluminescent plants, and can join the Na'vi on two excursions that take adventure to the next level.
First, the family friendly Na'vi River Journey will send guests through a bioluminescent rainforest. Their journey will end in an unforgettable encounter with a Na'vi Shaman, a figure who has a deep connection to the life force of Pandora. And second, Avatar Flight of Passage will offer guests the jaw-dropping experience of exploring the world of Pandora atop a Banshee.
Guests will also be able to dine at Satu'li Canteen, grab a drink at Pongu Pongu or shop for Na'vi cultural items, toys, science kits, and more at Windtraders.
No information regarding FastPasses for Pandora have been announced. Be sure to sign up for our newsletter to receive news updates!
Additionally, Star Wars fans will be pleased to learn that Star Wars Lands in both Disneyland Park and Disney's Hollywood Studios will be opening in 2019. The Star Wars themed lands are the largest-ever, single-themed land expansions at Disneyland and Walt Disney World Resorts. At each location, guests will be transported to a never-before-seen planet – a remote trading port and one of the last stops before wild space – where Star Wars characters and their stories come to life. We are thrilled to learn that we only need to wait another two years for this opening! That being said, Disney has a history of major projects stretching longer than anticipated, so be prepared for this date to get pushed back.
RELATED ARTICLE: Disney Releases New Pandora Details and Concept Art
by Chad and Cindy N
This weekend the Contemporary Resort at Disney World in Orlando, Florida is hosting D23: Destination Amazing Adventures. Anytime Disney hosts a D23 event we sit at the edge of our seats waiting for news. We didn't have to wait long and we weren't disappointed. Attendees were treated to an update on the (extremely) long awaited Pandora expansion at Animal Kingdom. Walt Disney Parks & Resorts Chairman Bob Chapek shared new details and concept art. Artwork and details below.
From Disney writer Jennifer Fickley-Baker:
Just moments ago at the D23's Destination D: Amazing Adventures presentation, Walt Disney Parks & Resorts Chairman Bob Chapek gave a construction update on Pandora – The World of Avatar and shared the exciting news that the new land is set to open at Disney's Animal Kingdomin summer 2017.
Bob also shared a look at a recent construction milestone -scaffolding has just been removed from the entry bridge into the new land (near Tiffins restaurant), officially connecting the land with the rest of the park.
According to the storyline developed by Walt Disney Imagineering and Lightstorm Entertainment, this bridge was built during a time when a destructive company called the RDA came to Pandora. Now that they're long gone, nature is breaking down evidence of their presence. This bridge will soon serve as an entry into the base camp of Alpha Centauri Expeditions, the eco-tour group that is preparing Pandora for future explorers and adventure seekers.
The story of the bridge is just our first look inside this land, which fulfills the original mission of Disney's Animal Kingdom of being a park that honors animals and natural environments "real, ancient and imagined."
The entire Pandora – The World of Avatar land is set to open in 2017, and will transport guests to a visually stunning world complete with floating mountains and bioluminescent plants. Here, guests will be able to experience two excursions that will truly push adventure to the next level. First, the family friendly Na'vi River Journey will send guests down a sacred river hidden within a bioluminescent rainforest. Their journey will end in an unforgettable encounter with a Na'vi Shaman, a figure who has a deep connection to the life force of Pandora. And second, the Avatar Flight of Passage excursion will offer the jaw-dropping experience of riding on a Banshee over the world of Pandora.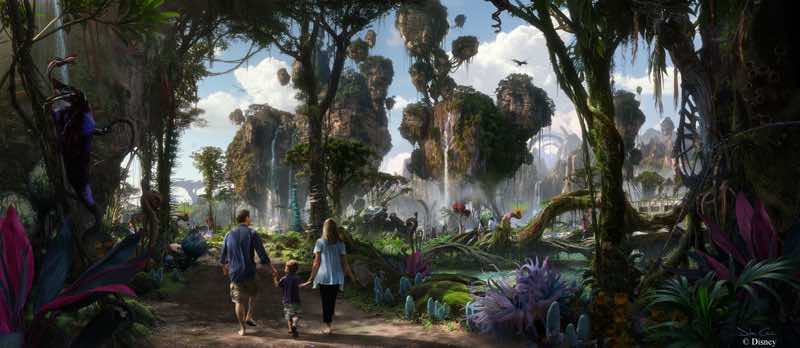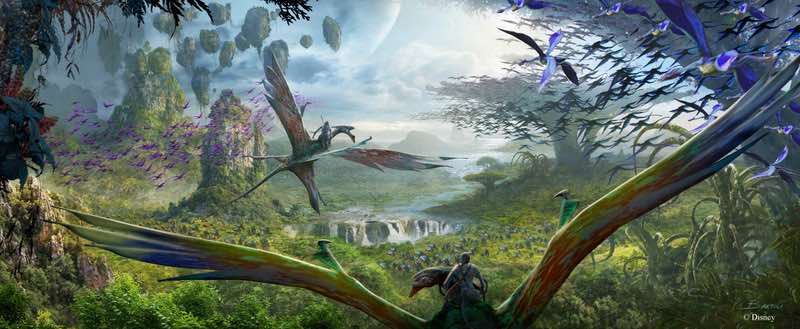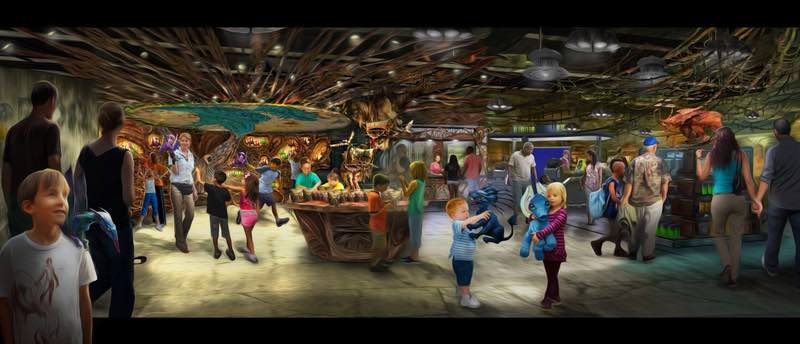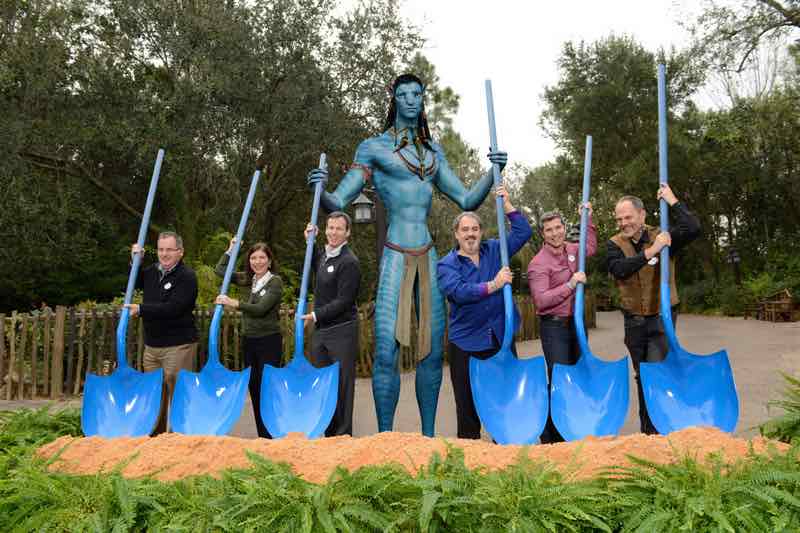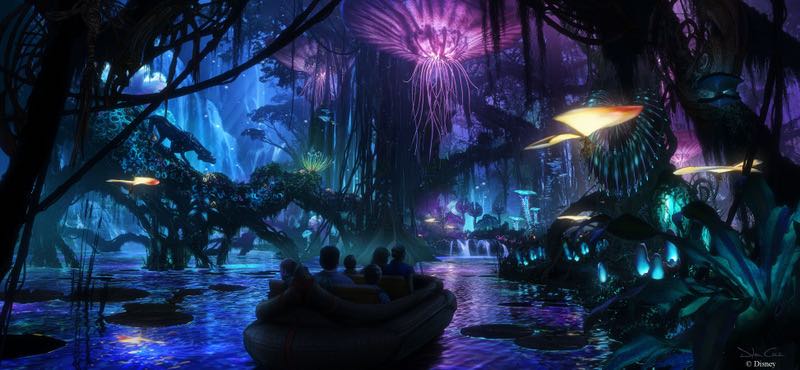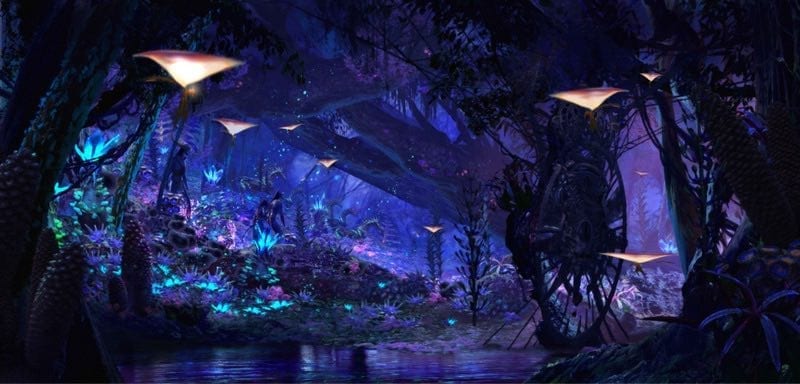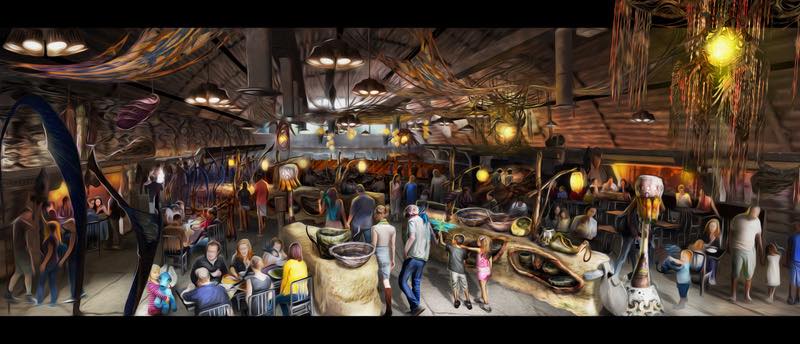 RELATED ARTICLE: 7 Must-Do Night Experiences at Disney's Animal Kingdom
by Mike & Jamie Sylvester
Animal Kingdom's additions of night experiences proves that wilderness and exploration never cease! You can head to Animal Kingdom now and enjoy night experiences that will bring out your adventurous side in so many wild ways! Here are our 7 must-do night experiences at Disney World's Animal Kingdom theme park.
1 – Expedition Everest
If you were terrified to ride Expedition Everest before, chances are riding it in the dark will step up that notch of fear in the pit of your stomach. When riding Expedition Everest at night, it feels like you are experiencing a completely new attraction versus riding it during the normal daylight hours. With the dark surrounding you, you'll feel like you are going higher, faster, and well – slightly more out of control, as you try to gather your bearings. Plus, no one put the Yeti to bed so he is still angry and on the loose, tearing up the track!
2 – Tree of Life Awakenings
You may have seen the projection show on the Cinderella Castle at Magic Kingdom known as "Celebrate the Magic". Well, now Animal Kingdom boasts a projection show on the iconic Tree of Life known as "Awakenings". After night falls, be sure to look to the Tree of Life for a beautiful display of vibrant colors and incredible animal artistry. Thankfully, this show takes place every 10 minutes until the park closes so you'll have several opportunities to see the Tree of Life awaken if not just once – but twice!
3 – Kilimanjaro Safaris
Take a ride in an open-air vehicle to spot majestic animals of all sorts. The bumpy ride and exotic surroundings will make you forget you are in the Animal Kingdom theme parks and not off exploring Africa! At night however, Kilimanjaro Safaris turns into a nocturnal hot spot. The animals seem to enjoy the late hours at Animal Kingdom as well, as they are very active in the dim, yet illuminating lighting provided. Catching the Safaris before the animals are tucked into bed for the night is definitely a nighttime must-do at Animal Kingdom!
4 – Discovery Island Carnivale
When the sun goes down, the party begins! You might try to stop those hips from swaying, but we suggest you don't fight the urge! Join in this lively street party with dancing and excellent entertainment located close to the Tree of Life on Discovery Island. Musicians, stilt-walkers, and vibrant costumes will have you snapping pictures and joining in the fun jamboree. There are usually a couple of street parties per night so be sure to check the times guide to catch the party.
5 – Nomad Lounge
All that dancing likely made you thirsty! Head to one of the newest additions to Animal Kingdom – Nomad Lounge. This lounge is known for their specialty cocktails and exotic appetizers from around the world. Neighboring the newest restaurant, Tiffins, Nomad Lounge is the perfect way to enjoy some of the great selections at Tiffins in a lounge style, small plate, atmosphere. With non-alcoholic beverages, cocktails, wine, beer, small plate appetizers, and the incredible "Taste of Tiffins" dessert – there is something for everyone at this popular new lounge.
6 – Kali River Rapids
Are you ready to end your night with a big splash? Then you'll want to take a ride on the Kali River Rapids! In the dark, this ride is dimly illuminated but still leaves a sense of wonder for what's ahead. Travel down the water in the massive river raft and expect that you'll be the one that gets drenched or at least mostly wet! Just think – you won't need a shower before bed after all.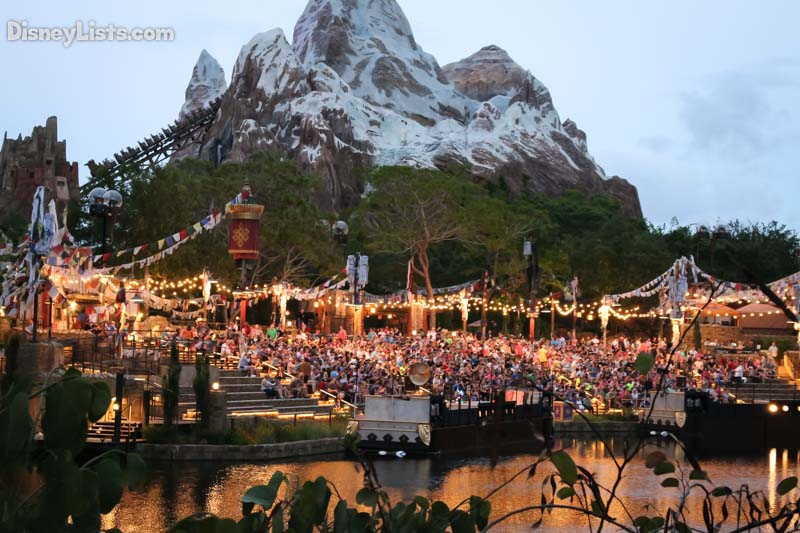 7 – Rivers of Light
While at this present moment, Rivers of Light has yet to have an opening date announced, we still had to add it to our must-do list because we have a feeling opening day is just around the river bend! This long awaited nighttime entertainment was scheduled for the summer of 2016 but had some hold ups. We think it will be well worth the wait however, as it is said to be a remarkable water show with incredible floats, lights and lasers displaying the beauty of all things living! Animal Kingdom can't bring fireworks to the park for the sake of the animals present, but the lighting effects are said to rival that of Illuminations at Epcot. We simply can't wait!
What is your favorite must-do night experience at Animal Kingdom? We'd love to hear from you!