News
NEWS: New Unique Character Breakfast to Debut at Disney's BoardWalk
If you are looking for more opportunities to dine with Disney characters then we've got some exciting news! Today, Disney announced an all-new character dining experience that will debut this spring at Trattoria al Forno at Disney's BoardWalk. This one has a very special unique twist that has us excited. More details below.
While details are currently scarce, here is what we do know. This character breakfast will included "adventurous royal couples" from Disney films. The theme of the breakfast is a "hearty bon voyage" celebration, featuring popular characters from favorite Disney stories like "Tangled" or "The Little Mermaid." This new dining experience will begin in late spring. No word on menu, pricing, or other characters.
Reaction has been mixed. Some are thrilled to have a chance to dine with some princes, particularly Eric and Eugene. Others are not so thrilled to have yet another princess themed breakfast! Parents of boys are looking for meals that could appeal to them, even with the addition of the princes. Parents of both boys and girls are asking for meals that appeal to both.
We'll keep you up to date with more information as it is released. Be sure to sign up for our newsletter so you don't miss any announcements!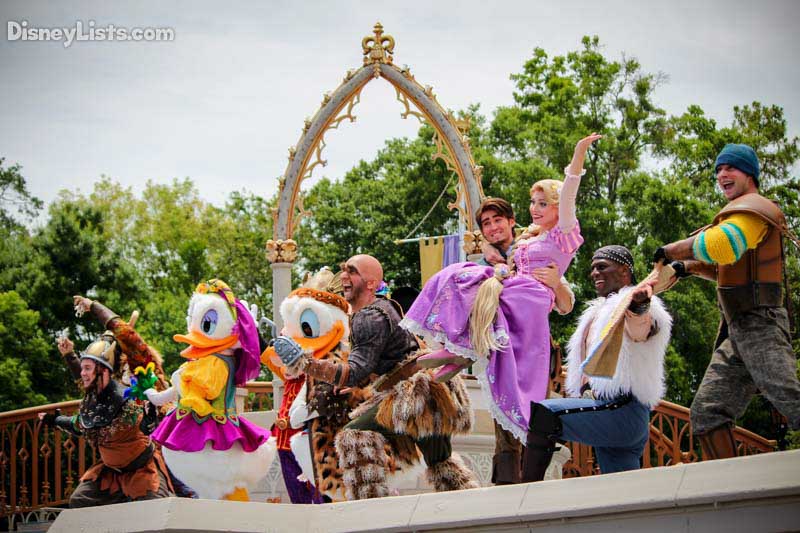 RELATED ARTICLE: 9 Reasons to Experience Character Dining at Least Once on Your Disney World Vacation
by Mike and Jamie Sylvester
If you haven't experience Character Dining at Disney, we have to be honest – you're missing out! Here are 9 reasons we think you need to experience Character Dining at least once while on your Disney World Vacation!
1 – Of course, the Characters!
Dining in our household is a time for family and friends to come together and enjoy one another over a meal and great conversation. You're at Disney, you have to eat anyway – so we figure why not add a touch of magic and select a Character Dining location. Character dining feels like you've invited a variety of characters over for a meal! Plus, where else can you dine and see characters? And no, we're sorry, but Chuck E. Cheese's does not even come close to counting. We also must mention the variety of characters each Character Dining location offers. For example, instead of meeting one princess at a time – you can meet several of them. Or instead of meeting just Minnie, you get to meet Donald and Goofy as well! Take a break from the standard meals and shake it up a little. Try dining with characters walking around and chances are strong you'll leave wanting to experience it again! Be sure to read Top 10 character meals at Disney World, to help you decide where you want to dine!
2 – Excellent Food
Since most character dining locations are buffets, we've heard it before – the food must be gross! While buffet food typically isn't our favorite either, we must say of all the Character Dining experiences we've tried, we love the food. We enjoy the selections, the variety, and the taste. Plus, with Disney you know top of the line Chefs are providing your meals and that the behind the scenes are as clean as the front. Allergy issues? No problem – Disney is excellent at providing alternative meals for folks with allergies. They will let you know what is and is not ok on the buffet or from the menu. So loosen those belt buckles and dig in!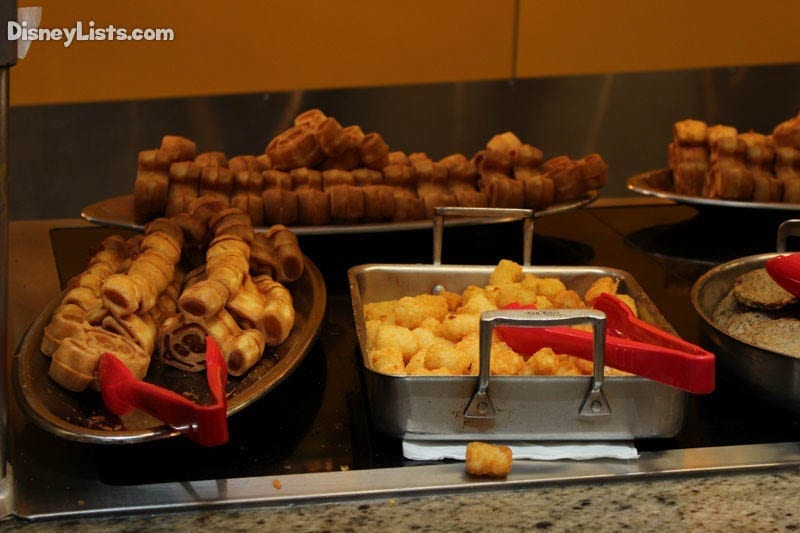 3 – The Kids Behave
You think your children simply can't behave at a restaurant so why bother? Take them to a character dining location and a switch seems to flip. An almost creepy quiet will come over the kiddos as they have an overwhelmed expression as Mickey comes up to their seat to give them a hug! They'll even put down the macaroni and cheese and leave their sister alone for an approaching character. Keep in mind, for us manners are top on our list and our children know that. If misbehavior at restaurants isn't an issue you for you, you can still dine at a Character Dining location as a thank you to your child! Plus, no matter how well behaved your child may be, there is always an increase in noise level when dining with children. At Character Dining locations you'll notice the noise increase is expected and sometimes encouraged!
4 – No Lines or FastPasses
There may be a specific character your child (or yourself!) is just dying to meet but you don't want to have to stand in a long line or worry about using one of your FastPass selections for their Meet and Greet within the park. No worries! See if they are available to meet at one of the Character Dining locations. Not only do you get to avoid the long meet and greet lines, but you also get to enjoy a meal while you're at it.
5 – Unique Characters and Outfits
Above, we mentioned Characters as being an excellent reason to try Character Dining at least once but we feel we should add the unique characters you can dine with that you might not see anywhere else. While characters are subject to change and do fluctuate, here are some examples: The Mad Hatter at 1900 Park Fare, Ariel (with legs!) at Akershus Royal Banquet Hall, Eeyore and Piglet at The Crystal Palace, Beast at Be Our Guest Restaurant (during dinner), or even possibly Prince Charming and/or the Fairy Godmother at Cinderella's Royal Table. You might just get to see some unique characters that you may not otherwise be able to meet in the parks. Plus, some of the characters' outfits change slightly at each location. For example, check out Goofy's beach gear at Cape May Café or Mickey's chef hat at Chef Mickey's!
6 – Autographs
Get those autograph books out and ready! Most characters at the Character Dining locations do in fact sign autographs. This is an easy and fun way to collect several great autographs to fill those autograph books up with! And just as we've stated above, you don't have to wait in line for the autographs. Plus, this is a once in a lifetime chance to grab some of those unique character's autographs if they sign. For our daughter, collecting autographs has been one of her favorite things to do. She especially likes those autograph books that have a page for the autograph and a page for her picture with the character to go side by side. Speaking of pictures…
7 – Great Photos
Get those smiles ready! Take your time posing with the characters when at Character Dining locations. Everyone in the family is welcome to pose with the character greeting you. This is especially great for good photos because typically you're refreshed, not sweating, and full with tasty food which makes smiling for the camera much easier! As we mentioned above, sometimes the characters are in different outfits which makes photos unique and memorable.
8 – Location
We love some of the Character Dining locations that we probably wouldn't go exploring if we didn't have a dining reservation at that specific place. For example, Mickey's Backyard BBQ is located over in Fort Wilderness. While on your way to dine, check out the sites! Or maybe you've never seen the monorail run through the inside of the Contemporary Resort… well dine at Chef Mickey's and be amazed! You'll enjoy the time getting to and from your dining location as you check out a resort or specific area you may have never seen otherwise!
9 – The Disney Experience
Whether you are planning to go to Disney just once in your lifetime or 99 more times, Character Dining is worth the extra cost to experience Disney as a whole. All sides of Disney are so unique and special that it's hard to narrow down what one should spend their limited time on while vacationing at Disney – but Character Dining is an easy one to say, YES, it should definitely be on your list of must-dos. You'll understand the extra touch of magic once you've dined at one of the Character Dining locations. So many to select from! Here's a handy list of all the Character Dining options at Walt Disney World: 1900 Park Fare, Akershus Royal Banquet Hall, Cape May Café, Chef Mickey's, Cinderella's Royal Table, Club Villain at Hollywood Studios, The Crystal Palace, Disney's Perfectly Princess Tea, Hollywood and Vine, The Garden Grill, Garden Grove, Garden View Tea Room, Good Morning Breakfast with Goofy and his Pals, Mickey's Backyard BBQ, 'Ohana, and Tusker House. Be sure when reviewing dining options at the locations above to you check to see if characters are available at all meals or only for specific meals. Enjoy!