Alert all commands – Star Wars: A Galactic Spectacular Dessert Party at Disney's Hollywood Studios is blast! Go ahead and hit the repeat button of the Star Wars "Imperial March" music on your electronic device as you read this article for the full effect. Why are we such huge fans of Galactic Spectacular Dessert Party? Check out these 5 points below for all your need to know!
1 – Runs Better than the Millennium Falcon
We all know Han Solo's awesome yet unpredictable ship, the Millennium Falcon. Well, the Star Wars: A Galactic Spectacular Dessert Party runs as one well-oiled machine with no hiccups unlike what one might find on the Millennium Falcon! The check-in stand for the party is located just outside of the Star Wars Launch Bay where guests are handed a Galactic Spectacular Dessert Party lanyard. The tag on the lanyard holds a map of the Star Wars Launch Bay on the back so guests have their own personal guide through the Launch Bay to the party location which is just down the stairs near the Kylo Ren's meet and greet. High top tables (and low tables reserved for handicap party goers) are draped in black linen with the red glow of a Galactic Republic's crest symbol candle on the table top. No chairs are available around the tables, but there is a section with booth-like seating along the wall of one area within the dessert party space. Cast Members are staffed at all stations and strolling throughout to bus tables and see if assistance is needed. The lanyard allows guests to come and go as they please which we were especially thankful to move about freely through the launch bay and even the park if we chose to do so.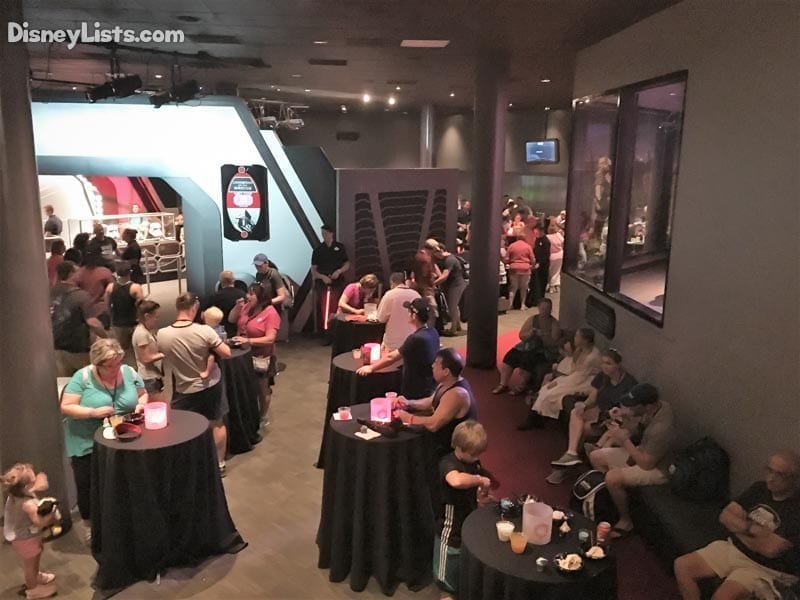 2 – The Dark Side's Endless Desserts and Drinks
The best part for us would have to be the delicious desserts and drinks! There are multiple food stations which include the Freeze-Fried Nutella Truffle Station, Main Food Table, Ice Cream and Bread Pudding Table, Coffee and Soda Station, and the Bar. We weren't sure about the Freeze-Fried Nutella Truffle but it was actually a favorite for us and fun to watch the Cast Member make. The main food table is long and FULL of both desserts, fruits, cheese, and unique items such as pita slices and black bean dip or hummus dip (which helps with the sugar rush)! The fruit and cheese options are served on toothpicks which are called "lightsabers". On this table you will also find the incredible themed cupcakes such as the Chocolate Peanut Butter Darth Vader cupcake (our favorite), Vanilla R2-D2 cupcake, and even a lemon cake BB-8 cupcake. Themed cookies, brownies, rice crispy treats, and just about everything else one could load up a table with seems to be present! At the ice cream station, a Cast Member is dishing out ice cream while you can top it with all the regular ice cream toppings you'd like to enjoy. There is also some out of this world bread pudding that is warming at this station that shouldn't be passed up! The coffee station also has tea items available as well as canned Coke products and water. The bar is a popular spot with specialty drinks like the Light Speed Margarita and Galactic Punch among others. The bar also has some fun non-alcoholic drinks for those interested. Food is replenished regularly on the tables. Stand in the bar line to have another refreshing adult-beverage. A word of advice, don't eat a heavy meal for lunch or dinner before this Galactic Spectacular Dessert Party. Save the appetite for this galactic spread!

3 – Storm Trooper and Jawa Visits
Guests are welcome to wait in line to meet Chewbacca and Kylo Ren, but we recommend doing this at a different time so the time frame set for the Galactic Spectacular Dessert Party can be enjoyed. Don't be surprised however if Storm Troopers make an appearance to check up on things at the party! We saw a couple of times when Storm Troopers charged through, barking commands, and ensuring the Dark Side was being respected. Just upstairs from the dessert party, guests may also spot a couple of interesting Jawas scurrying around the Launch Bay. These Jawas are on the search for shiny and unique items that they are willing to trade for. We had a small color changing cube and were offered a trade from the Jawa for this item. When we offered money or other metal type objects we were turned down. Pack something glowing or very shiny and see if it will work for a trade! While our traded item from the Jawa was a small droid piece, we felt it was worth it just to say we made a trade with a Jawa!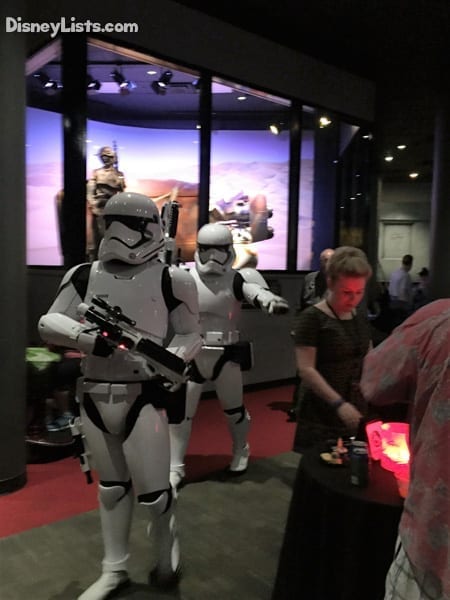 4 – Imperial March to the Fireworks
Once the food and drinks from the Dark Side have been enjoyed, guests are guided in a Galactic Republic style march out of the Star Wars Launch Bay into the reserved area outside for fireworks. If facing the main stage in front of the Chinese Theater, the reserved space for Star Wars Galactic Spectacular Dessert Party guests is slightly to the left. Far enough back to catch the projections on the buildings during the show and a full sky above for fireworks, this is a fantastic stop! In this area, guests will be allowed to pick up an awesome Chewbacca souvenir mug and a bottle of water. When the fireworks come to an end, guests exit as the other park guests do.
5 – "Do or Do Not, There is No Try"
We highly recommend the party and are looking forward to enjoying it again in the future! We were especially glad that despite a Celiac allergy, the Chef came out as a guide around the stations and provided multiple gluten-free treats. The cost of the party ($69 ages 10+ and $39 ages 3-9 plus park admission) was worth it in our opinion. Particularly if you drink adult beverages, the money is worth it. Plus, tax and gratuity are included in the set cost. Carefully plan for which day you will be at Hollywood Studios as the Galactic Spectacular Dessert Party is not available every night. Our number one tip is that while you are welcome to roam the Launch Bay and/or the park, take your party time to enjoy the food and drinks as well as the visits from the Storm Troopers and Jawas! Awaken the Force and have an out of this world time!
For a no obligation, FREE Quote on a Disney vacation package, please contact our travel partner Magical Vacation Planner at 407-442-0227 (407-442-0215 for Spanish). You can also request a FREE quote online by Clicking HERE.