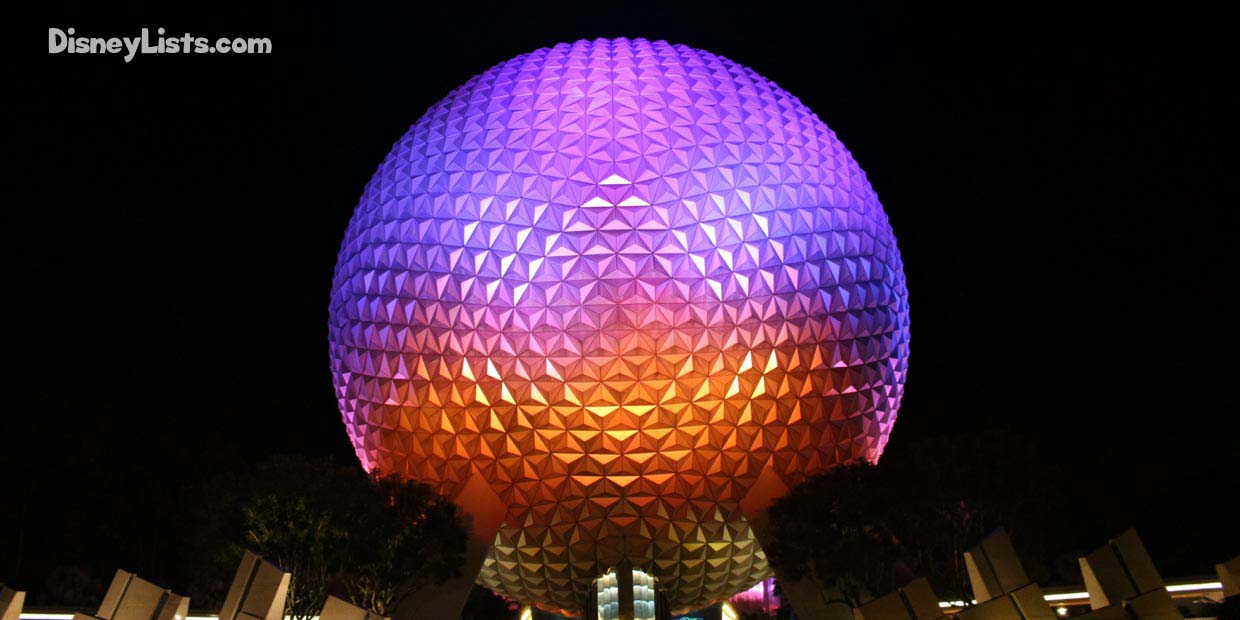 The sweltering Florida sun is finally at rest… but that doesn't mean you should do the same! In fact, if you think Walt Disney World is the place to be during the day – wait until the sun sets and get ready to watch these awesome places that come alive at night!
9 – Tomorrowland at Magic Kingdom
Out of all six lands at the Magic Kingdom theme park, Tomorrowland is our favorite place to be at night. With the neon-colored lights, techno/space style music, and attractions that seem to glow – we purposely make sure we spend time in Tomorrowland at night. We especially recommend riding the Tomorrowland Transit Authority PeopleMover to catch all the nightly sights!
8 – Electrical Water Pageant Outside Magic Kingdom
Glowing sea creatures and bright boats make their way across the lagoon outside of Magic Kingdom with a musical tune setting the stage… or the "water stage" we suppose! This boat parade can be viewed from multiple areas including the Polynesian Resort, Grand Floridian Resort, Contemporary Resort and Bay Lake Towers, Wilderness Lodge, and Fort Wilderness. It's a fun, family activity watching the lagoon come to life! 

Editor's Note: During the phased reopening of Walt Disney World in 2020, the Electrical Water Pageant will not be operating.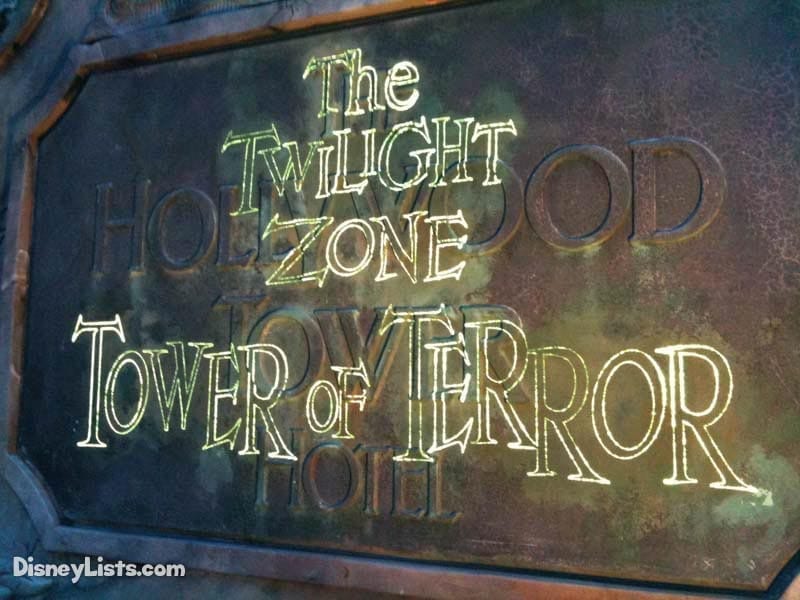 7 – Tower of Terror and The Haunted Mansion
For one reason or another, we feel like Disney World's creepy attractions seem even creepier at night! Watch as night falls and Hollywood Studio's Tower of Terror illuminates with a frightening appearance. The screams seem louder and the flashes of light as the elevator opens and closes can be spotted from down below. Magic Kingdom's Haunted Mansion is another attraction we recommend at night. The ghosts in the graveyard are even creepier and the darkness just sets the tone for what's inside the mansion. These "spirited" attractions come "alive" even though you might prefer for them to stay asleep!
6 – World Showcase at Epcot
Stroll around the World Showcase at night and be in awe of the way each country turns into magnificence in the dark! Lively music and activities are at hand, especially at bar/lounge locations such as Rose and Crown Pub in United Kingdom or near the margarita stand in Mexico. Plus, of course, Epcot Forever must be mentioned as it fills the World Showcase lagoon with impressive fireworks, lasers, and projections.
5 – Theme Parks – In Front of Iconic Symbols
Disney World's four theme parks all have an iconic park symbol to boast about. Magic Kingdom's Cinderella Castle is probably the most alive at night with the different colors that light up the Castle before, after, and during the projection show and fireworks. Epcot's Spaceship Earth can't be missed with its elegant lighting. Hollywood Studios goes all things Star Wars as the Chinese Theater that hosts Mickey and Minnie's Runaway Railway seems to turn into a big-screen TV with accessories like fire and lasers! Animal Kingdom's Tree of Life was feeling left out but is kicking it up a notch now with the Tree of Life Nighttime Awakenings which exudes a natural, calming vibe that matches the theme park perfectly.
4 – Disney's Hollywood Studios
Hands down, one of our favorite places to visit at night is Disney's Hollywood Studios to catch either of its fantastic nighttime shows: Fantasmic and Star Wars: A Galactic Spectacular. Fantasmic at Hollywood Studios is a great show that fills the nighttime air in a fantastic, Mickey-filled way! It's a classic and fan favorite of many. Star Wars fans are in for a spectacular treat with the newer show, Star Wars: A Galactic Spectacular.  A Galactic Spectacular is almost like a mini-movie with highs and lows that are portrayed through the projected battle scenes, favorite Star Wars character conversations, and famous character one-liners. Most importantly, the fireworks, lasers, fire, and especially the music make the Star Wars saga come to life. Catch glimpses of Tatooine's twin suns, battle droids, an asteroid field, the Death Star – plus all the favorite Star Wars characters.
Editor's Note: During the phased reopening of Walt Disney World in 2020, nighttime spectaculars, including fireworks shows, are temporarily suspended.
3 – The Boardwalk
Whether you prefer a quiet stroll or an active atmosphere, the night at Boardwalk is an awesome place to be! Stroll hand in hand with your loved one along the beautifully lit Boardwalk while enjoying an ice cream. Or, get ready to dance and drink the night away at the Atlantic Dance Hall! Need a happy medium? Check out Boardwalk's Jellyrolls to catch the lively dueling pianos or stop by to sip on some tasty magic at the Abracadabar.
2 – Animal Kingdom Nighttime Experiences 
Animal Kingdom's additions of night experiences prove that wilderness and exploration never cease! You can head to Animal Kingdom now and enjoy night experiences that will bring out your adventurous side in so many wild ways! At night Pandora – The World of Avatar transforms into an entirely new experience. The bioluminescent plants of Pandora illuminate the land at night, giving breath-taking views of the Pandora landscape that are completely different from the daytime experience. You don't want to miss Pandora after dark! Rivers of Light is a remarkable water show with incredible floats, lights, and lasers displaying the beauty of all things living! Animal Kingdom can't bring fireworks to the park for the sake of the animals present, but the lighting effects are amazing. Finally, Animal Kingdom boasts a projection show on the iconic Tree of Life known as "Awakenings". After night falls, be sure to look to the Tree of Life for a beautiful display of vibrant colors and incredible animal artistry. Thankfully, this show takes place every 10 minutes until the park closes so you'll have several opportunities to see the Tree of Life awaken.
1 – Disney Springs
Between floating in the night sky on a massive balloon known as Aerophile, bowling with friends at Splitsville, catching the Drawn to Life at Cirque du Solei, lounge hopping from one desirable restaurant to another, or getting your fill at one of the food trucks… Disney Springs is the place to be at night! The entertainment, the shopping, and our favorite part – the eating and drinking, we actually prefer visiting Disney Springs at night versus the day!
For a no obligation, FREE Quote on a Disney vacation package, please contact our travel partner Magical Vacation Planner at 407-442-0227 (407-442-0215 for Spanish). You can also request a FREE quote online by Clicking HERE.