Now through May 29, 2017 you can enjoy Disney World at its most beautiful at the Epcot Flower and Garden Festival. There are so many reasons we love visiting this festival. There is so much to see and do! Here are 9 fun facts, along with some pretty impressive numbers, about this year's Epcot Flower and Garden Festival!
1 – Flowers, Plants, Trees
As you might expect, there are a lot of flowers, 30 million blooms to be exact! To sustain all those flowers, two complete crop rotations are needed to keep floral displays fresh and seasonal. You'll also discover more than 500,000 plants, trees and shrubs are planted for the festival. 250,000 of those are annual blossoms installed specifically for the festival. There are 60 different species of trees, 47 types of palms, and 48 varieties of bedding plants.
2 – Topiaries Galore!
In addition to the many flowers, there are over 100 topiaries to discover throughout Epcot! There are at least 25 different plants, grasses and mosses of various colors used to define facial and other features of festival character topiaries. These plants include pink and red begonias, dusty miller, palm fiber, and palm seeds, ficus and lichen. Wonder how they keep they create the topiaries? The topiary teems uses about 200 one-pound boxes of hairpins to attach plants and flowers to the topiaries!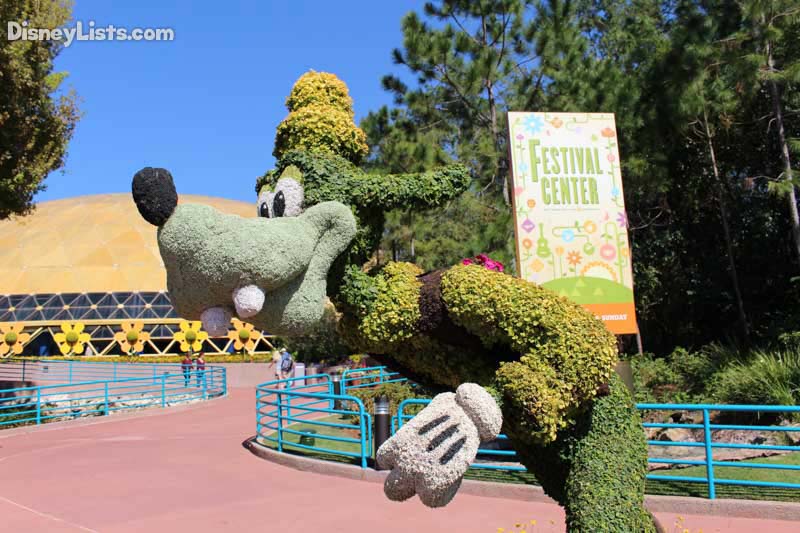 3 – New Topiaries!
You don't want to miss the 5-foot-tall Figment topiary, the dragon(ish) mascot of the Imagination! Pavilion, found behind Spaceship Earth. Sitting atop a bright yellow floral ball of Joseph's Coat, Figment offers the perfect photo spot to snap a quick picture. Also, new this year, is a next-generation Belle topiary that joins Beast in France. Her yellow ball gown is comprised of Joseph's Coat and Creeping Jenny plants. You also don't want to miss a brand-new Cruz, one of Pixar's characters from Cars 3 in the Road to the Florida 500 section!
Here is a checklist of a few of the most popular topiaries to discover:
Anna and Elsa fromFrozen, Located at Norway Pavilion
Bambi & Friends, Featuring Bambi, Flower and Thumper, Located at the Canada Pavilion
Beauty and the Beast, Located at the France Pavilion
Belle – NEW!, Located at the France Pavilion
Bromeliad Dragon, Located at the China Pavilion
Buzz Lightyear from the Disney•PixarToy Storyfilms, Located near Mission: SPACE
Cruz Ramirez from the Disney•PixarCars films, Located near Test Track
Donald, Daisy, Huey, Dewey and Louie, Located at the Main Entrance
Fantasia, Located at Future World West
Festival Blooms, Located near Future World East and West Lake
Figment – NEW!, Located behindSpaceship Earth
Lady and the Tramp, Located at the Italy Pavilion
Mickey, Minnie and Pluto, Located at Showcase Plaza
Panda, Presented by Disneynature, Located at the China Pavilion
Peter Pan, Tinker Bell & Fairy Houses from Pixie Hollow, Located at the United Kingdom Pavilion
Phineas and Ferb – NEW!, Located near Odyssey Bridge
Ranger Mickey & Friends, Located at Future World
Snow White and the Seven Dwarfs, Located at the Germany Pavilion
Stitch, Located on the fountain side ofMouseGear
The Lion King, Featuring Mufasa, Pumbaa, Rafiki, Sarabi, Simba and Timon, Located at The Outpost between the Germany and China Pavilion
The Three Caballeros – NEW!, Located at the Mexico Pavilion
Winnie the Pooh & Friends, Located at the United Kingdom Pavilion
Woody from the Disney•PixarToy Story films, Located at The American Adventure

4 – One Very Large Playground
The Music Garden Melodies playground with its musical note topiaries returns this year. This is one of the largest festival gardens at nearly one-third acre. This themed playground features innovative play systems featuring interactive musical gadgets and a collection of plants with features that resemble musical instruments. Now that the playgrounds are illuminated and open through park closing, children have 240 extra playground hours to enjoy them.
5 – Gardens Galore
Around the festival, you'll find forty 8 to 9-foot-tall, multi-hued "flower towers" that add greatly to the festival landscape. There are also 200 floating mini-gardens, each three feet in diameter, of multi-hued New Guinea impatiens providing splashes of color on the two ponds that border the walkway between Future World and World Showcase. You'll also find nearly 500 container gardens of flowers, herbs, plants and vegetables in clay pots, barrels and urns.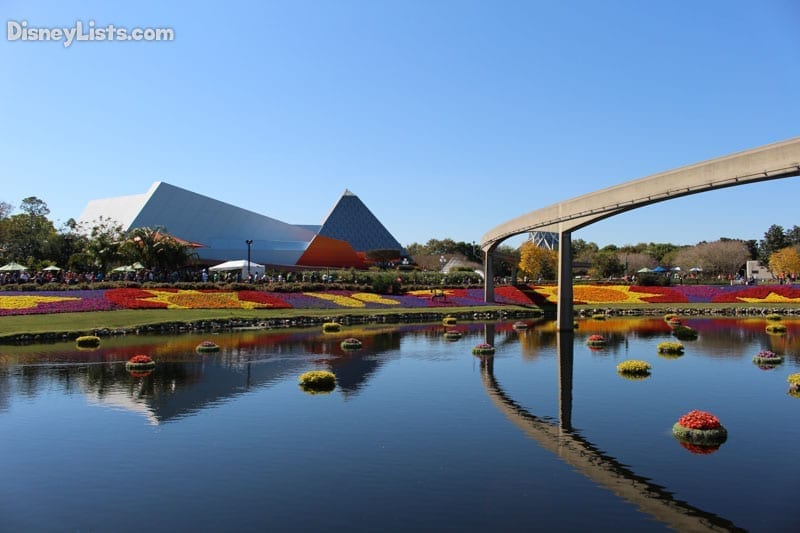 6 – Mickey Welcomes Spring!
Every year we look forward to the front-entrance festival display. This year the display features a Welcome Spring Fun, Food & Flowers topiary maypole scene, celebrates a rite of spring with Mickey Mouse, Minnie Mouse, Daisy and Pluto. The scene is inspired by a vintage Walt Disney short film. To create the scene, more than 30 varieties of flowers, plants, and other garden materials were used!
7 – Butterflies
One of the most popular sections of the festival is the Butterfly house near Showcase Plaza. Here you can find over 1000 native butterflies that represent up to 10 species. You'll also find over two dozen nectar plants including passion flower, coral honeysuckle, lantana, butterfly bush, blue porterweed, scarlet milkweed and canna lily.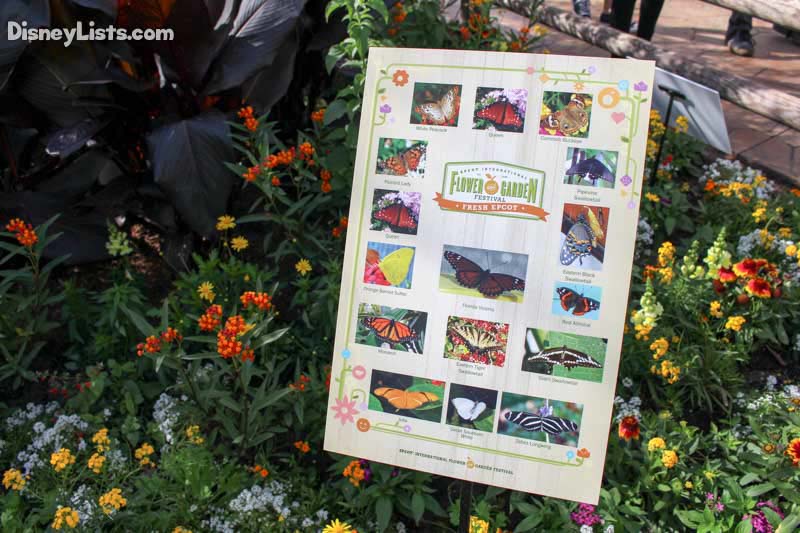 8 – Good Eats!
This year there are a total of 15 outdoor kitchens (that's two more than last year). The new kitchens include the Northern Bloom and The Berry Basket kitchens and gardens. Bauernmarkt: Farmer's Markets is back at the Germany pavilion and La Isla Fresca has returned for a second year. There are plenty of new food and beverage menu items among the overall 70 beverage choice and more than 40 food items. Each marketplace also features a garden planted with select produce and herbs.
9 – A Team Effort
400 Walt Disney World horticulturists are needed to install the festival landscape, topiaries and many exhibits. 100 Epcot horticulturists maintain the topiaries and other festival displays. It takes more than one full year and about 24,000 cast member hours to prepare for the annual festival!
For a no obligation, FREE Quote on a Disney vacation package, please contact our travel partner Magical Vacation Planner at 407-442-0227 (407-442-0215 for Spanish). You can also request a FREE quote online by Clicking HERE.