In March 2017, Typhoon Lagoon, one of Disney's water parks, opened a new raft style water ride with a fun story and lots of splashes of fun. We've had a chance to ride the new ride and loved it! Here are the 7 things you need to know about Miss Adventure Falls at Disney's Typhoon Lagoon water park.
1 – Disney Water Parks
If you've never been to the Disney water parks you are missing out. Disney's Blizzard Beach and Typhoon Lagoon are two amazing water parks that you should try to experience during your Disney World vacation. Blizzard Beach, which is close to Disney's Animal Kingdom, is a 66-acre park inspired by a snow ski resort that doesn't quite fit the warm climate of Central Florida. Typhoon Lagoon is a 61-acre water park inspired by an imagined typhoon that struck the area creating an inland sea with breaker waves and a towering watershed mountain, Mt. Mayday, where you'll find a stranded shrimp boat, the Miss Tilly.
2 – Miss Adventure Falls fits into the Story of Typhoon Lagoon
The story behind Typhoon Lagoon sets the stage for this new attraction and Miss Adventure Falls fits right in! As mentioned above, what once was a tropical paradise was struck by a typhoon, resulted in the jungle filled, shipwrecked environment known as Typhoon Lagoon. Miss Adventure Falls brings to life the story of Captain Mary Oceaneer, a treasure-hunting heroine and world-famous oceanographer, who made it her goal to sail the seven seas and collect treasures to share with the rest of the world. Captain Mary and her parrot got stranded at Typhoon Lagoon years ago by the rogue storm. Her ship, along with some of her artifacts were swept to shore. Locals then repurposed the goods and statues to create this fun, family raft adventure.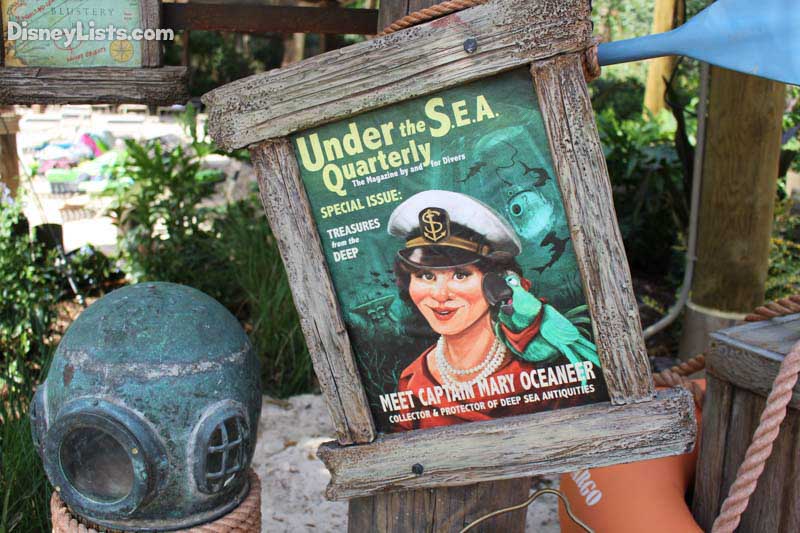 3 – Neighbor to the Crush 'n Gusher
Miss Adventure Falls is located next to the Crush 'n Gusher water coaster. Once you enter the water park you'll see restrooms on the right side. Go past those and you'll find Miss Adventure Falls. There is plenty of sandy seating in this area if you want to go straight there and drop your things down before you ride.
4 – Virtual Queue in Testing
When we visited, Disney was testing out a virtual queue waiting system for the attraction. The virtual queue system is similar to the old FastPass system that was used at Disney before FastPass+ was instituted. You need to go the attraction and there you'll receive a plastic ticket that has a wristband for wearing. The ticket has a return time allowing you to bypass the line and ride during the stated time. When we arrived, there was no need for the pass because the wait time was so short. However, during the busier times during spring and summer, these passes will be a great way to avoid standing in a long line. We will update this article when Disney has confirmed a virtual queue for this attraction.
5 – Look, Mom! No Stairs!
Guests who are familiar with Teamboat Springs at Disney's Blizzard Beach know that to reach the entrance of the attraction they need to climb a lot of stairs. A ton of stairs. On sweltering hot days, that can be quite a challenge. The other alternative is for guests to ride the Chairlift, although long wait times can make this un-appealing option as well. Most other water attractions, including Crush 'n Gusher, also require guests to climb lots of stairs to reach the top while carrying their rafts. Disney seems to have taken this under consideration when designing Miss Adventure Falls. In a first for a water attraction in Florida, guests are transported in their rafts to the top of the slide. While traveling up to the top, guests will pass Mary's wrecked ship where her parrot talks alongside their treasures. This allows for a longer ride time (a total of two minutes) and it saves guests from climbing to the top of the attraction. We really appreciated the no climb and the ride to the top past the Scottish speaking parrot is relaxing and fun!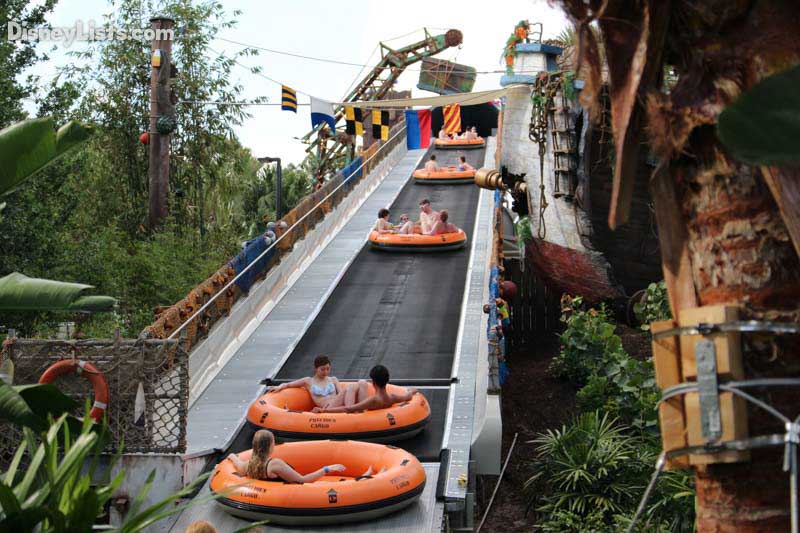 6 – Smaller Rafts
The rafts for Miss Adventure Falls fit two to four people. Two to three adults in a raft fit comfortably. Four regular sized adults would find the rafts very cramped. Two adults and two smaller children will fit just fine. Depending on the size of your party, you may want to split up into groups of two to three. You'll find you will be more comfortable during the ride.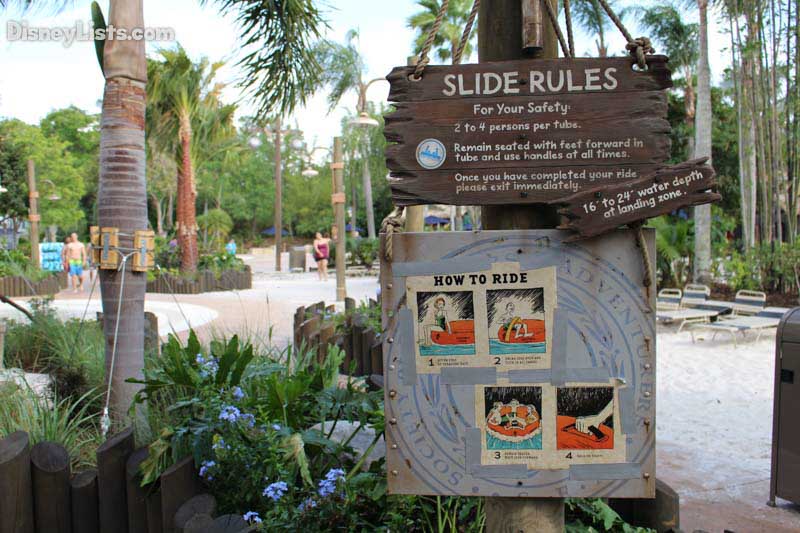 7 – A Fun Family Attraction You Don't Want to Miss!
So, does the ride deliver? The answer is yes! We rode the attraction multiple times and enjoyed it very much. Portions of the attraction are covered in tubes, open with waterfall splashes, and there are plenty of twists and turns to keep you guessing. The attraction is well worth a ride and is a great addition to the line-up at Typhoon Lagoon. With the perks of no climbing and not having to transport the raft yourself, it's very guest friendly and very enjoyable. Be sure to check it out during your next visit to Typhoon Lagoon.
For a no obligation, FREE Quote on a Disney vacation package, please contact our travel partner Magical Vacation Planner at 407-442-0227 (407-442-0215 for Spanish). You can also request a FREE quote online by Clicking HERE.