Last month Disney announced a special summer engagement of a brand new show, "The Music of Pixar Live!" that will be taking place at Disney's Hollywood Studios. Dining packages are now available for guaranteed seating. Check out all of the details below.
From Disney Cast Member Rachel Bshero:
Reservations are now available for "The Music of Pixar LIVE!" Dining Package, a delicious way to reserve your seats for the new "The Music of Pixar LIVE!" a limited-time concert event featuring memorable music from beloved Pixar films, which will take place three times nightly at Disney's Hollywood Studios beginning May 26. With the Dining Package, guests will receive a voucher for reserved seating to redeem at the theater.
Make your evening even more magical by combining "The Music of Pixar LIVE!" and "Fantasmic!" Dining Package, which will include reserved seating for both the concert as well as the popular "Fantasmic!" nighttime spectacular.
Participating locations include Hollywood & Vine (Disney Junior Play 'n Dine and Minnie's Seasonal Dine), The Hollywood Brown Derby and Mama Melrose's Ristorante Italiano. Dining must occur no later than 2.5 hours prior to show time or 1.25 hours after show time; vouchers can be picked up at the restaurant (if dining prior to show time) or at the theater (if dining after the show). "The Music of Pixar LIVE!" Dining Package is Disney Dining Plan eligible and counts as one (1) table-service entitlement for Hollywood & Vine and Mama Melrose's Ristorante Italiano, two (2) table-service entitlements for The Hollywood Brown Derby.
Reservations are now available for dates beginning May 26 for The Music of Pixar LIVE! Dining Package, and can only be made by calling 407-WDW-DINE.
The Disney website also has some more information on the show. Here are more details:
Celebrate over 20 years of lyrical brilliance with music that's made cinematic history!
Mike, Sully, Woody, Buzz and the gang are back! Beginning May 26, the Theater of the Stars at Disney's Hollywood Studios welcomes The Music of Pixar, a philharmonic retrospective highlighting Pixar's most memorable music—and with special appearances by the stars themselves, it's sure to have attendees hitting the high notes!
This all-new, nightly concert series showcases a selection of unforgettable soundtrack favorites from Cars, Finding Nemo, Monsters, Inc., Toy Story and UP—all performed by a live orchestra. As the symphony plays, giant screens will feature a movie montage, outtakes and interview excerpts with the folks behind Pixar's captivating music. And don't be surprised to see some of the studio's funniest characters stop by to steal the spotlight with their own brand of comedic relief. It's an immersive, family-friendly experience fans won't want to miss!
During the concert, video clips will provide insight into the creative process as Pixar filmmakers and composers collaborate on spot sessions, demos and orchestral recordings. Guests will gain a new understanding of why these beloved songs have the ability to spark memories and whisk movie-goers through a rollercoaster of emotions.
Event Details
Theater of the Stars at Disney's Hollywood Studios
Nightly performances
Length is approximately 40 minutes
Early arrival is recommended as seating fills up quickly
Valid theme park admission required
Please note: all entertainment and appearances are subject to change without notice.
We can't wait for what we're sure will be a fantastic show! Will you be going?
RELATED ARTICLE: 17 Pixar Themed Experiences We Love at Disney World
by Mike and Jamie Sylvester
ixar Animation Studios and The Walt Disney World Company go together better than Dole Whips and Mickey Ice Cream Bars! These mind-blowing animation entities officially joined forces in 2006, when the Walt Disney World Company purchased Pixar. This enormously beneficial relationship has made the animation experience jump leaps and bounds! Thanks to the partnership, we know have a whopping 17 (that's right 17!) Pixar themed experiences to enjoy at Walt Disney World.
1 – Finding Nemo The Musical @ Animal Kingdom
Simply incredible – Finding Nemo The Musical in DinoLand U.S.A. at Animal Kingdom should be on your must-see list! We absolutely love this musical where a talented cast sing and present a theatrical experience through puppetry of the Pixar/Disney film, Finding Nemo.
 2 – Toy Story Mania @ Hollywood Studios
An attraction so popular Pixar Place at Hollywood Studios had to add an extra ride track! Toy Story Mania is a must-do of ours that we simply can't get enough of. Ride along while blasting targets and wearing 3D glasses to get the most of this 4D attraction. It's fun to see all your favorite Toy Story characters cheer you on as you rack up the points arcade style. Get a FastPass+ for this one! We just can't wait until Toy Story Land opens at Hollywood Studios!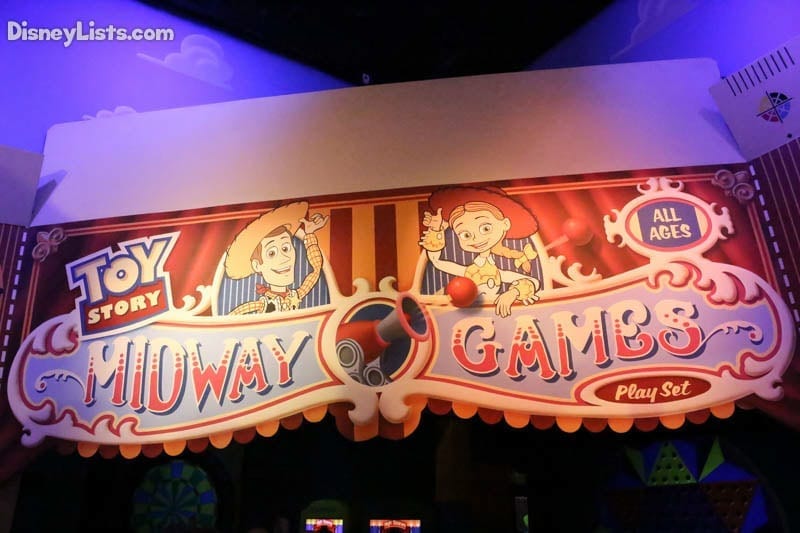 3 – Disney's Art of Animation Resort
Stay at Disney's Art of Animation Resort and be prepared to watch animation come to life! With Disney/Pixar films Cars and Finding Nemo taking spotlight as well as Disney's Little Mermaid and The Lion King – this is one of the more affordable resorts and is an awesome place for all Disney/Pixar fans! Stay in one of the Cars or Finding Nemo themed rooms to get the full Pixar experience. Throw off your flip flops and take a swim in Finding Nemo "Big Blue" Pool (largest pool on Disney property!) or in the Cars themed "Cozy Cone" Pool.
 4 – Meet Buzz and Woody @ Hollywood Studios
Meet best buds, Buzz and Woody from Disney/Pixar film, Toy Story, in Hollywood Studios Pixar Place. We especially love that the photo taken here is on Andy's bed!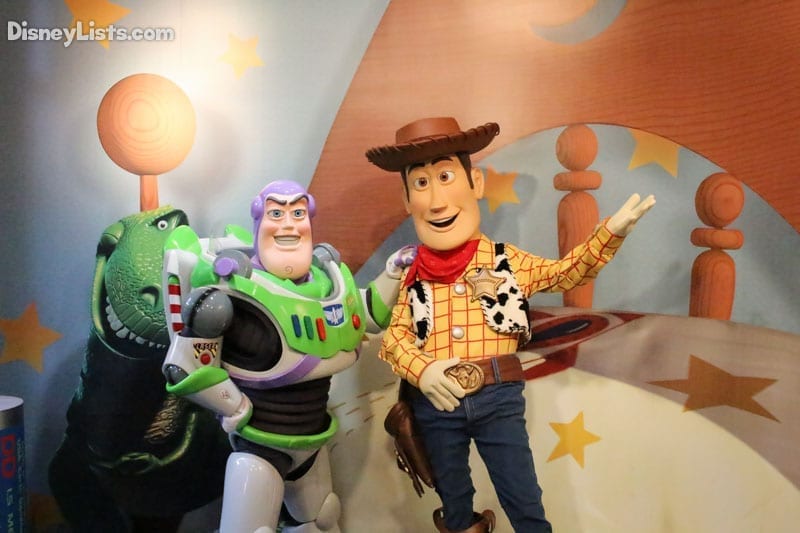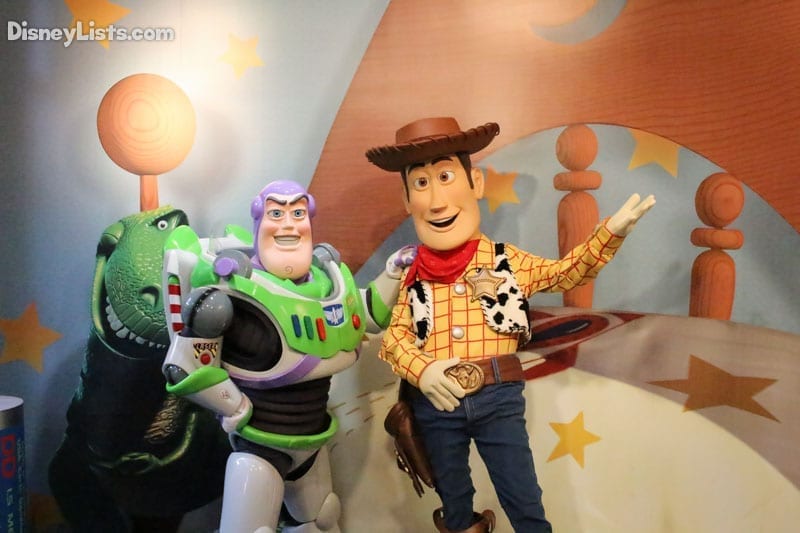 5 – Buzz Lightyear's Space Ranger Spin @ Magic Kingdom
Head over to Tomorrowland in Magic Kingdom to defeat the Evil Emperor Zurg by shooting targets to gain points while taking a ride (and controlling) a spaceship of your own! This attraction has the same concept as Toy Story Mania but doesn't pull in the 4D effect. Still totally worth the wait or snag a FastPass+ later in the evening if one is available.
6 – Meet Buzz @ Magic Kingdom
Buzz flies solo over to Tomorrowland at Magic Kingdom where he meets guests just outside of his Buzz Lightyear Space Ranger Spin attraction.
7 – The Seas with Nemo and Friends @ Epcot
Who's ready for an adventure with Nemo and Friends? Climb aboard a clamshell to ride through a slow-moving tunnel filled with REAL sea creatures, plus our favorite Pixar fish friends! This attraction ends as you are dropped off in what is known as Sea Base – a beautiful 5.7-million-gallon saltwater aquarium. We could spend all day here!
8 – Turtle Talk with Crush @ Epcot
Dude! Crush, one righteous turtle from Disney/Pixar, Finding Nemo, talks to you at Sea Base in Epcot! That's right, Crush takes center stage of his aquarium in this attraction where we see into his world and he sees into ours. Kiddos sit up front and have a chance to interact with Crush by asking him questions and answering questions he might have as well!
9 – Monster, Inc. Laugh Floor @ Magic Kingdom
At this attraction, you have one job – to laugh! That's right… head into this Comedy Club in Tomorrowland at Magic Kingdom to interact through jokes and laughter with some of our favorite monsters from the Disney/Pixar film, Monsters, Inc. Our favorite part of this attraction is that guests have the opportunity to text in their funny jokes before the show for a chance to have them shared during the show.
10 – It's Tough To Be A Bug @ Animal Kingdom
The Tree of Life at Animal Kingdom isn't just for looks! In fact, inside the Tree, you'll find a bunch of bugs that have decided to put on a show! Head into the bug theater for a 3D experience where friendly (and not so friendly) bugs from Disney/Pixar's A Bug's Life film ask you to become an honorary bug for the show. This is a fun one and typically isn't crowded – but you'll want to think twice before taking little ones into the theater as it does get loud and dark at certain points.
11 – Incredibles Super Dance Party @ Magic Kingdom
Located in Tomorowland at Magic Kingdom, get ready to shake your hips with the stars from the Disney/Pixar film, The Incredibles. A DJ spins some great tunes while guests have a chance to dance with characters such as Mr. and Mrs. Incredible (Elastigirl) and Frozone.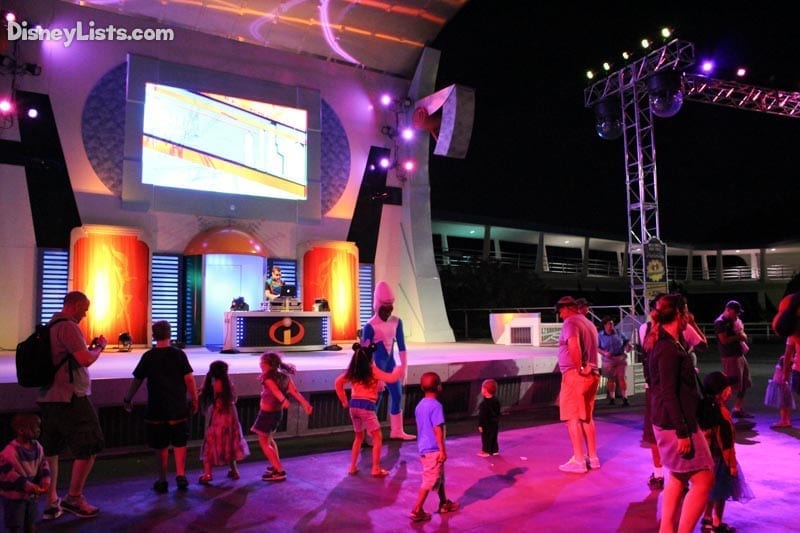 12 – Disney and Pixar Short Film Festival @ Epcot
Nestled in Future World at Epcot, in the Imagination Pavilion, you'll spot the Magic Eye Theater (former Captain EO location) which now holds the Disney and Pixar Short Film Festival. Slap on some 3D glasses and get ready to experience an 18-minute festival with three great Disney/Pixar Short Films in 4D!
13 – Meet Merida @ Magic Kingdom
Check out this playful meet and greet in Magic Kingdom's Fairytale Garden in Fantasyland where our favorite redhead princess, Merida from Disney/Pixar's Brave film, greets all her fans! Full of energy, Merida is a burst of excitement and a blast to meet. While you wait, you might want to try shooting a bow and arrow!
14 – Meet Flik @ Animal Kingdom
Flik, our favorite, daring ant from Disney/Pixar's A Bug's Life film is at Discovery Island for a meet and greet at Animal Kingdom. Flik is a unique character and a fun one to meet! Check your Times Guide when arriving at the park to know Flik's meet and greet schedule.
15 – Meet Joy and Sadness @ Epcot
Joy and Sadness are hanging out in Future World at their meet and greet inside Epcot's Character Spot location. The two are the stars of the Disney/Pixar film, Inside Out, and draw a sizable crowd with their joyful and sad personalities!
 16 – Meet Russell and Dug @ Animal Kingdom
Located in Discovery Island, Russell from the Disney/Pixar film, Up, is as cute as ever! This Wilderness Explorer is energetic and excited to take a picture with guests. Dug, his loyal dog, is sometimes at his side.
17 – Ratatouille Hide & Squeak @ Epcot's Food and Wine Festival
At the most recent Food and Wine Festival, Epcot had Remy's Ratatouille Hide and Squeak which was an interactive scavenger hunt that took guests around the World Showcase in search for ingredients for none other than Remy's signature dish, Ratatouille. This experience was a fun way to remember the Pixar/Disney Film, Ratatouille, and the cost was just under $10. Will this experience be back for the next Food and Wine Festival? We hope so!
For a no obligation, FREE Quote on a Disney vacation package, please contact our travel partner Magical Vacation Planner at 407-442-0227 (407-442-0215 for Spanish). You can also request a FREE quote online by Clicking HERE.