Disney Springs has been transformed into an amazing shopping and dining destination that can't be missed! We've been eagerly awaiting the opening of a new restaurant in The Town section of Disney Springs, The Polite Pig. We love barbecue and can't wait to try it out. Looks like we don't have to wait much longer. Disney has announced the opening date for this new quick service restaurant. Having been fans of other local restaurants by husband and wife team James and Julie Petrakis, we can tell you this is something to be excited about!  More details below.
Here are all the details from Disney Cast Member Pam Brandon:
Finishing touches are being made for the April 10 opening of The Polite Pig in Town Center at Disney Springs, the newest concept for award-winning Orlando Chefs James and Julie Petrakis. The husband-wife team, also owners of The Ravenous Pig and Swine & Sons in Winter Park and Cask & Larder at Orlando International Airport, are opening this newest concept with James Petrakis' brother Brian.
The Polite Pig will feature "modern barbecue" in an open kitchen, with Southern sides like a tomato and watermelon salad, mac and cheese and smoked corn with lime butter. (Sauce fans, there's a bar with seven different ways to top your 'cue, from Layla's Sweet to Fresno Hot Sauce.) Add a solid selection of craft beers and cocktails, and a bourbon bar with more than 50 selections, from small batch bourbons to a Pappy Van Winkle 23-Year Family Reserve.
We talked with Julie, who met James, by the way, while studying at the Culinary Institute of America in Hyde Park, N.Y. Both are Central Florida natives.
Why did you decide to open at restaurant at Disney Springs?
Disney approached us with the idea of opening a fast-casual outpost that would represent the atmosphere and quality of our Winter Park location, The Ravenous Pig. We shared their enthusiasm for bringing a true local restaurant to Disney Springs.
Is the menu similar to The Ravenous Pig and Cask & Larder, your other restaurants in Central Florida?
I would say that the menu is similar in its approach to using quality, seasonal ingredients, with our signature touch. We'll have Cask & Larder Brewery beers, cocktails on tap and also an extensive Bourbon Bar. And this restaurant will focus a bit more on wood-smoked and grilled items.
Anything you'll offer at The Polite Pig that will be a signature, or exclusive to that restaurant?
Most of the menu will be exclusive to The Polite Pig: modern barbecue with The Ravenous Pig twist. Like the Southern Pig Sandwich with pulled pork off the smoker, apple slaw, mustard sauce and Duke's mayo; peel-and-eat shrimp with bourbon-cocktail sauce, and crispy Brussels sprouts with whiskey caramel.
Who will be the chef daily in The Polite Pig kitchen?
We have two of our Ravenous Pig/Cask & Larder veterans at the helm, Jared Thate and Allie Weldon, along with Chef James Petrakis' guidance and inspiration.
Tell us about the craft beer program.
We will feature four of our beloved Cask & Larder Brewery brews on tap, as well as a couple other Florida/domestic craft beers.
Anything special about The Polite Pig cocktails?
We will feature five house cocktails on tap, including some of our crowd favorites from The Ravenous Pig, such as the Gin and Tonic and Old-Fashioned.
How many seats and describe the décor.
We'll have 190 seats, and the décor pays homage to the beloved swine of The Polite Pig, as well as antiquity. Whimsical pigs on various adventures can be seen throughout the space, and rustic touches are used for custom featured art pieces. Large faded graphics also adorn the main wall of the space adding to the feel of the long-time family run business.
What's your favorite dish on The Polite Pig menu?
My favorite appetizer is the Hop Salt Pretzel with beer cheese fondue and IPA mustard. Favorite sandwich: the Salmon BLT with bacon jam, marinated tomato, romaine and aioli. I love that with a side of charred broccoli tossed with herb buttermilk dressing and house granola.
What do you think is the secret to good food?
Using quality seasonal ingredients and taking great care of it by enhancing with smoke/cooking, proper seasoning and passion!
RELATED ARTICLE: Bang For Your Buck – 15 Best Quick Service Restaurants For The Disney Dining Plan
by Ryan Miller
Whether it's breakfast, lunch or dinner, there are an incredible number of quick service restaurants to choose from throughout Walt Disney World. Each one has a unique theme and offers a variety of choices for guests looking to grab a quick bite to eat. While it can be difficult to choose which restaurant to try, guests using the Disney Dining Plan are also typically looking for the locations that will offer the best bang for their buck. From the food to the atmosphere and everything in between, we have put together a list of the 15 best Quick Service Restaurants for the Disney Dining Plan.
15 – ABC Commissary
In Hollywood Studios, the ABC Commissary offers standard American fare like a 1/3 lb Angus Bacon Cheeseburger, Chicken Club and Chicken Nuggets, but it also features an item normally reserved for the table service restaurants. Guests can enjoy a New York Strip Steak with herb butter, green beans and French fries without having to book a reservation.
14 – Earl of Sandwich
The Marketplace at Disney Springs is home to this gem of a quick service restaurant which has a combination of hot sandwiches and soups, salads and wraps for you to choose from. Fan-favorite sandwiches include the Original 1762, piled high with roast beef, cheddar and horseradish, as well as the Holiday Turkey Sandwich, complete with turkey, cornbread stuffing, gravy, cranberry sauce and mayo.
13 – Harambe Market
Located in the heart of Africa in Animal Kingdom, the Harambe Market is a series of 4 walk-up windows offering a number of delicious dishes at each window. From an All-Beef Gyro Flatbread to the Tikki Masala Chicken, you won't be disappointed with your choice, especially after you try the African Milk Tart (coconut custard in a chocolate tart shell) for dessert.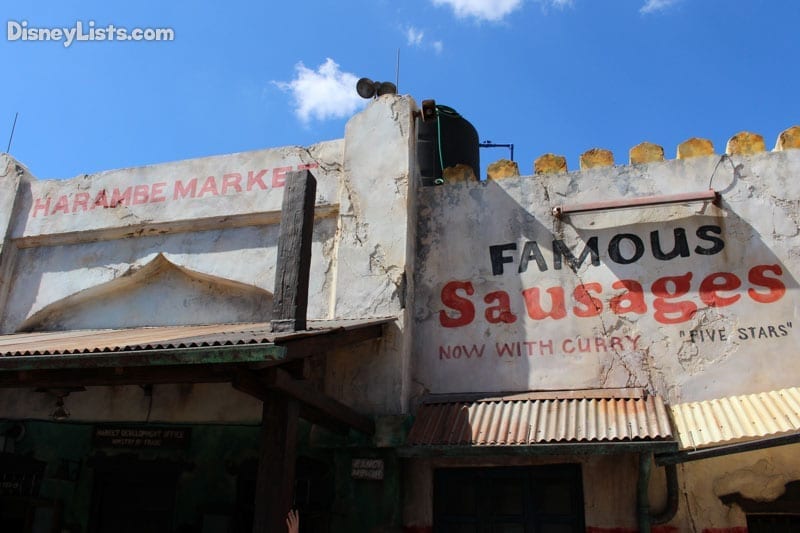 12 – Electric Umbrella
In the Innoventions Courtyard in Epcot, the Electric Umbrella offers prime seating locations to rest and relax while you dine. The menu is full of fresh, vibrant ingredients that will re-energize you, while also providing a healthy break from the more indulgent foods in the park – the Energy Salad with Roasted Chicken is a great choice to power you through the day.
11 – Sunshine Seasons
Also in Epcot, many of the menu items at Sunshine Seasons are made with ingredients grown in the Epcot Greenhouses.  This Food Court has several different stations to choose from with a wide variety of dishes like Spicy Fish Tacos topped with cabbage slaw or Mongolian Beef with Vegetable Fried Rice.
10 – Columbia Harbor House
When it comes to delicious New England Clam Chowder, it's hard to beat the Columbia Harbor House. Combine that with other New England favorites like the Lobster Roll and Grilled Salmon and it's no wonder the restaurant has two floors to accommodate the number of guests who choose to dine there.
For a no obligation, FREE Quote on a Disney vacation package, please contact our travel partner Magical Vacation Planner at 407-442-0227 (407-442-0215 for Spanish). You can also request a FREE quote online by Clicking HERE.
9 – Liberty Inn
Often overlooked as a quick service option the Liberty Inn in the American Adventure Pavilion of Epcot offers a great menu full of American favorites. It's also one of the few quick service restaurants to offer a New York Strip Steak, with demi butter, French fries and steamed broccoli. Add to that a Warm Peach Cobbler for dessert and you can leave the American Adventure Pavilion with a smile on your face.
8 – Pizzafari
While the variety of pizzas offered here are limited to the classics, each pizza can be enough to eat for two people with moderate appetites. There are also lots of places to sit and relax while your eating, making it a great stop for guests who are looking to take their time and rest before heading back into Animal Kingdom.
7 – Yak & Yeti Local Food Cafés
If a sit-down meal at the Yak & Yeti seems too involved for your group, you can grab a quick bite at the quick service location just outside. With items like Korean Stir-Fry Barbecue Chicken, a Roasted Vegetable Couscous Wrap and Honey Chicken, you can get the same Pan-Asian inspired flavors without losing too much of your time in the park.
6 – Tangierine Café
In the Moroccan Pavilion at Epcot, the Tangierine Café offers a change of pace when it comes to dining in Walt Disney World. With its famous Shawarma Platters, Falafel Wrap and delectable Baklava, it is a definite must-do for guests who are looking for a moment of respite in the quiet seating located in the walkways towards the back of the pavilion.
5 – Pecos Bill Tall Tale Inn & Café
After undergoing a revamping, Pecos Bill's menu now features Chicken or Beef Fajitas, Southwest Salads and Nachos. The real bang for your buck here comes from the Fixin's bar where you can add things like tomatoes, guacamole, roasted corn, Monterey jack cheese and salsa to your dish, increasing its size and potentially making it a more shareable portion.
4 – Yorkshire County Fish Shop
In the United Kingdom Pavilion, the Rose & Crown Pub is a great place to dine and grab a pint to go along with their famous Fish & Chips, but at $21, it's an expensive dish to pick. If you are simply looking to enjoy the traditional British fare, the Yorkshire County Fish Shop, located just outside the Rose & Crown offers the exact same fish and chips dish, but at half the cost.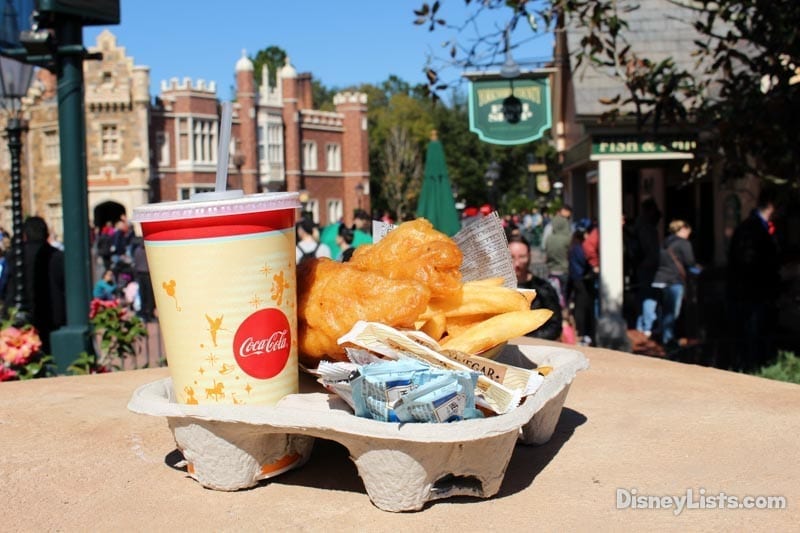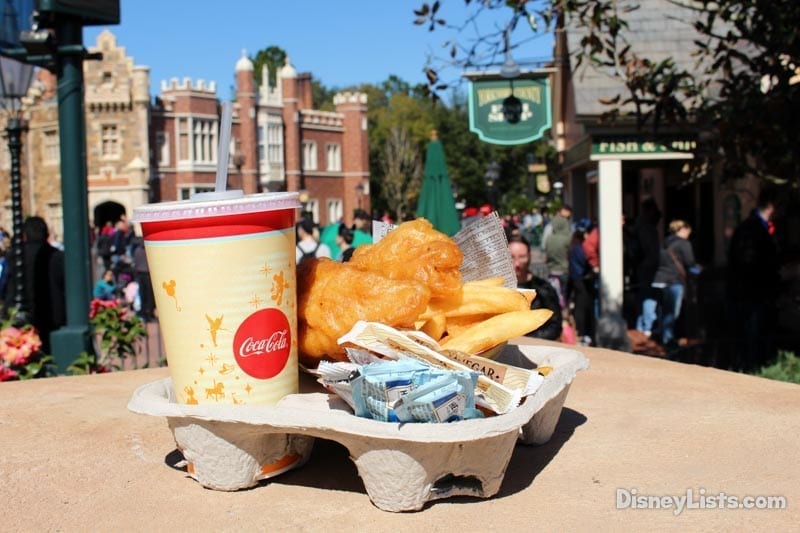 3 – Katsura Grill
With a choice of Sushi, Udon Noodle and Teriyaki dishes, Katsura Grill in the Japan Pavilion is a great spot to escape from the busyness of the World Showcase and relax. Located at the top of a set of stairs, with a koi pond guiding your path, it's a serene location for a quick service restaurant.
2 – Flame Tree Barbecue
When it comes to quick service restaurants, the Flame Tree Barbecue should be on every guests must-try list. This Animal Kingdom icon has a selection of St. Louis Ribs, Chicken and Pulled Pork with a taste so delicious, that Disney has begun to sell the barbecue sauce and spice rubs for guests to take home with them. With generous portions packed with flavor, it's a perennial fan-favorite.
1 – Be Our Guest
While dinner at Be Our Guest is considered table service, the Beast's Castle opens its doors as a quick service restaurant for breakfast and lunch. With an incredibly detailed dining atmosphere, quick service at Be Our Guest is the perfect opportunity for guests to experience the immersive décor even if they weren't able to get a dinner reservation. It's hard to go wrong with any item on the menu, especially when it comes to the desserts – though you might have to try the Master's Cupcake for breakfast or lunch as it has Lumiere's signature "grey stuff".
For a no obligation, FREE Quote on a Disney vacation package, please contact our travel partner Magical Vacation Planner at 407-442-0227 (407-442-0215 for Spanish). You can also request a FREE quote online by Clicking HERE.