Disney's Hollywood Studios is the third of Walt Disney World's four major theme parks to open.  The park is the smallest park in size, but is still full of a lot of great attractions and shows to experience.  This is definitely to the park to visit for thrill riders and Star Wars fans.  Here are our top questions and answers about the park:
8 – What are the usual park hours?
The park hours for Disney's Hollywood Studios definitely vary depending on the season.  The park typically opens by 9 AM and will close anywhere from 7-11PM depending on the time of the year.  There is also the Extra Magic Hours feature for guests staying at a Walt Disney World Resort where the park will open one hour early at 8 AM on a set day each week, and the park will stay open an extra 2-3 hours later on a set day each week.  During the Extra Magic Hours, only guests staying at a Disney resort will be able to access the attractions in the park that remain open.
7 – Is there a nightly fireworks show?
Currently, yes.  Disney's Hollywood Studios didn't always have a full fireworks show every single night.  It was typically reserved for holidays and special events.  Now Star Wars:  A Galactic Spectacular is performed nightly at the park and features music, characters, and scenes from Star Wars.  The show is a mixture of projections, lights and fireworks synced perfectly with Star Wars music for a fantastic show.  There is also a sit-down show at the park called Fantasmic!  This show is a stage show that incorporates pyrotechnics, water projections, characters, puppets, animatronics and some fireworks at the end.  It is a fabulous nighttime show and definitely one that you won't want to miss.
6 – Are there characters at the park?
Absolutely!  There are tons of characters that you can only meet at Disney's Hollywood Studios, too.  Of course, you have many of your classic characters as well.  When you meet Mickey, you are meeting Sorcerer Mickey, which is my personal favorite.  You can also meet characters like Olaf, Chewbacca, Kylo Ren, Darth Vader, Playhouse Disney Characters and more.  There are also other Star Wars characters that roam the streets and march in formation.  It is so much fun and the energy around the characters is amazing.
5 – What dining options are available?
There are numerous options available depending on your budget and eating habits.  There are a few quick-service restaurants where you can get burgers, salads, pizzas and even steak or other options.  These restaurants are locations where you order at the counter, then pick up your food and take it to a table.  There are also various themed table service restaurants where you are seated and your server brings you your food or you enjoy a buffet.  There is a drive-in themed restaurant, a fancy Hollywood themed restaurant, a diner-style restaurant themed to be like eating at your mom's house and a buffet restaurant with character meet and greets.  It is advised to have reservations for any one of these locations to help ensure that you can get in.
4 – What are the must-do attractions?
I would say that all of the attractions are must-dos at least once.  There is a good mix of shows as well as rides.  The park is home to some of the most exciting thrill rides like Aerosmith's Rock 'N' Roller Coaster and the Twilight Zone Tower of Terror.  The park is also home to another extremely popular attraction for Toy Story Fans, Toy Story Midway Mania, as well as the new Slinky Dog Coaster and Alien Swirling Saucers in the new Toy Story Land.  You can also see stage shows that are based on popular films like Frozen, The Little Mermaid, Beauty and the Beast and Indiana Jones.  All of the attractions are worth experiencing at least once and then you can decide which ones are your favorites.  Tower of Terror and Fantasmic! are definitely must-dos for me!
3 – Are alcoholic beverages served at the park?
Yes.  You may have heard that Magic Kingdom has limited alcoholic beverages that are served, and used to serve none up until recent years.  Disney's Hollywood Studios has various locations where you can get alcoholic beverages and you are allowed to carry them with you around the park.  You cannot bring in your own alcoholic beverages, though.  They must be purchased directly from a Disney location.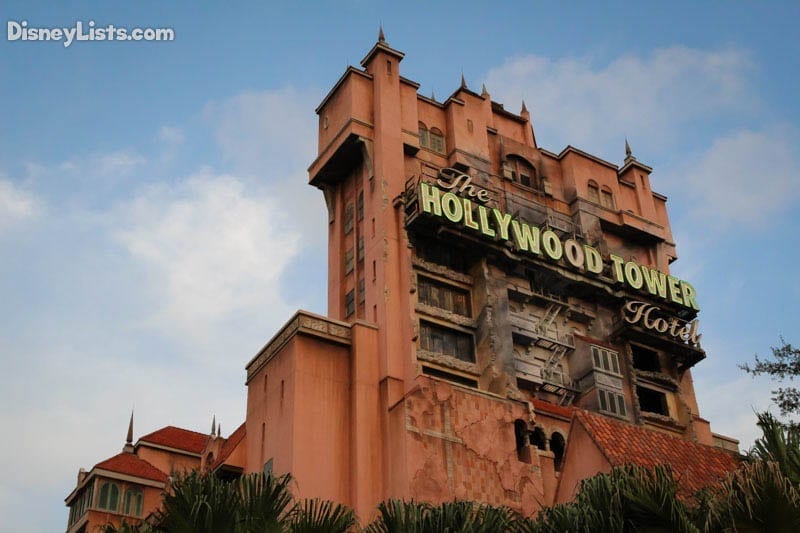 2 – Will I need a full day to visit this park?
You may hear other guests state that they feel that the park is only a "half day park" since there have been numerous closures to prepare for new lands opening in the next few years.  I don't feel that this is true, especially with the opening of Toy Story Land.  To actually experience every attraction in the park would absolutely take a full day, possibley even two days, especially if you want to ride some attractions a couple times.  There are tons of shows, characters and other happenings in the park that you will definitely keep you and your family busy and entertained for the entire day.
1 – Are there special events at the park?
There are typically events that vary from year to year.  It isn't uncommon for there to be a special summer theme/event with additional characters, experiences and maybe even a parade.  It is also not uncommon for Star Wars events to pop up, especially around when a new movie is set to release.  There aren't currently regularly scheduled seasonal events like there are for other parks, but you never know what may happen in the future as the new themed Star Wars and Toy Story lands are opened.
For a no obligation, FREE Quote on a Disney vacation package, please contact our travel partner Magical Vacation Planner at 407-442-0227 (407-442-0215 for Spanish). You can also request a FREE quote online by Clicking HERE.