The Afternoon Tea is a luxurious experience that really makes you feel elegant and classy during your Walt Disney World vacation.  I just adore this experience and can't wait until I get to go again.  If you haven't experienced this one, then you definitely need to check out these details and get a reservation for your next trip.  Here are 7 things you definitely need to know about the experience:
Editor's Note: Disney's Grand Floridian Resort & Spa is scheduled to reopen on September 21, 2020. (You can read everything you need to know about the phased reopening by clicking here).
7 – Some people dress up.
There isn't a formal dress code for the experience, but there are a lot of guests that do dress up for the occasion so that they look their best for afternoon tea.  I would say to go with what you are comfortable in.  If you are one of those people that get concerned about feeling "shabby", then you may want to plan accordingly with your wardrobe, but I would say that casual is totally fine.
6 – Where is the experience located?
The Garden View Tea room is at the Grand Floridian Resort & Spa on the 1st floor.  You can see into the tea room from the lobby.  It is a gorgeous, elegant venue.  The Grand Floridian is the most elegant resort on property with some of the most expensive stays on property.  This makes it the perfect place to have an afternoon tea and enjoy the British ritual.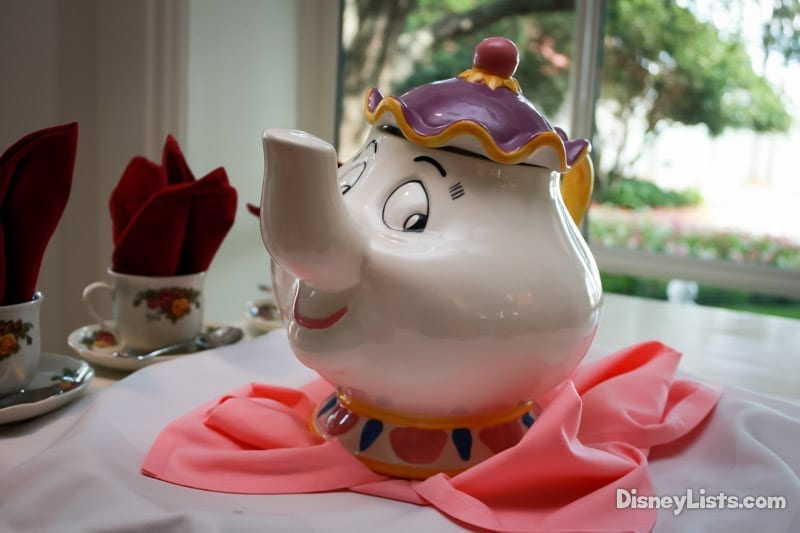 5 – Make an advanced dining reservation.
This experience is extremely popular, so you will want to make an advanced dining reservation as early as possible.  You can try to get in as a walk-in, but you may have to wait for a while and possibly still not get in at all.  A dining reservation will guarantee that you get to enjoy this experience and can plan it into your day.  You can begin making dining reservations 180 days before you arrive, so try to make the reservation as soon as you can and plan early so that you can get the most desirable time to fit into your vacation plans.
Editor's Note: During the phased reopening of Walt Disney World in 2020, the dining reservation window is sixty days.
4 – Prepare to drop quite a few dollars on the experience.
The experience is a lot of fun, but it definitely comes with a price tag.  The tea experiences range from $35 – $175 depending on what all you want to be included, how many courses and if you are interested in alcoholic beverages included in your experience.  There is no doubt that you'd enjoy any one of them, but come prepared to spend a lot of money if you have your sights on the most deluxe of the experiences.
3 – The Perfectly Princess Tea party is a different experience.
There is another experience at the Garden View Tea Room called the Perfectly Princess Tea.   It is held in the mornings at the location. This experience is for young princesses and princes and their families.  You must have a child in your party in order to attend, and the child must be accompanied by an adult.  The event is quite pricey and the children in the party get a lot of goodies to take home.  Princess Aurora also appears at the event to meet and greet with the guests at the tea.  It is a lot of fun and a completely different event and experience than the afternoon tea.
2 – When are the tea times at the venue?
The tea times aren't served all day, so you have to work the event into your plans when the tea is served.  The afternoon tea is served daily from noon until 4:00 pm. You will want to plan your other meals for the day accordingly so that you can fully enjoy your tea experience and won't be too full to eat all of the offerings.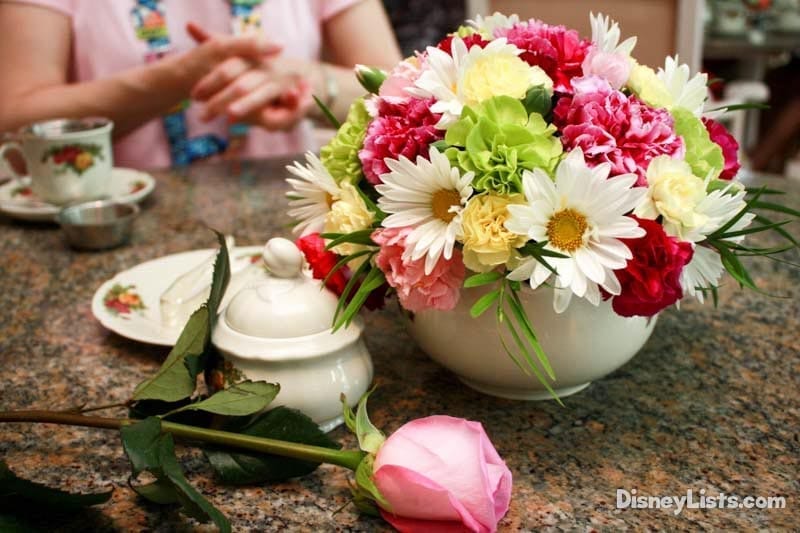 1 – The experience is served in courses.
The number of courses and what is included in each course varies from package to package.  You could have as many as four courses depending on what you pick.  The courses could include things like caviar, sandwiches, cheeses, scones, jam tarts, pastries, etc.  While you enjoy these courses you get to enjoy the tea of your selection and possibly champagne if you selected a purchase that includes it.  The more courses and things included, you can expect the price to go up, so be prepared for that, too.
For a no obligation, FREE Quote on a Disney vacation package, please contact our travel partner Magical Vacation Planner at 407-442-0227 (407-442-0215 for Spanish). You can also request a FREE quote online by Clicking HERE.