It's been over a year since Magic Kingdom's brand new nighttime spectacular, Happily Ever After, debuted. We were there, along with tens of thousands of other guests in a very crowded Magic Kingdom. We've got all the details on this new show including our initial reactions and some thoughts on how it compares to its predecessor, Wishes. Read on below for all the details on this fantastic new show.
1 – Goodbye Wishes
In February 2017, Disney announced that the longtime fan-favorite Wishes Fireworks Spectacular would end on May 11, 2017. Fans were shocked, upset, and some were down right angry. Change can be a tough sell, particularly for attractions and entertainment that have been popular for so long. Wishes had a spectacular 14-year run and was the perfect end to a day in the Magic Kingdom. Beloved by longtime Disney fans as well as first-time visitors, Wishes was a tear jerker that highlighted the wishes and dreams not just of the featured characters, but in all of us who love Disney magic.
However, as hard as it is to say goodbye to attractions and entertainment that we've enjoyed so much, the parks are constantly being reimagined and Disney is moving on to the next chapter of nighttime entertainment.
2 – The Story of Happily Ever After
"Happily Ever After" is an entirely new kind of Disney storytelling; one that takes you on a journey filled with heart, humor, and emotion. Guests become part of the journey themselves as they follow favorite Disney characters on an adventure to seek out their destiny, face adversity and ultimately fulfill their dreams on the road to their happily ever after. The story begins with scenes of fantastic dreams full of hope, wonder, magic, and light. Disney villains soon become part of the story, attempting to quash those beautiful dreams and forcing the heroes to fight for what they believe in. Overcoming their fears, the heroes triumph and are celebrated with spectacular fireworks. Because no Magic Kingdom Park fireworks display is complete without this little bit of magic, Tinker Bell flies across the night sky, reminding guests that with a little faith, trust and pixie dust, everyone can find their own happily ever after. While we heard plenty of grumbling about the storyline, we really enjoyed the story of the show. We followed Disney characters through their journey to find their happy endings, and we were encouraged to find our own throughout.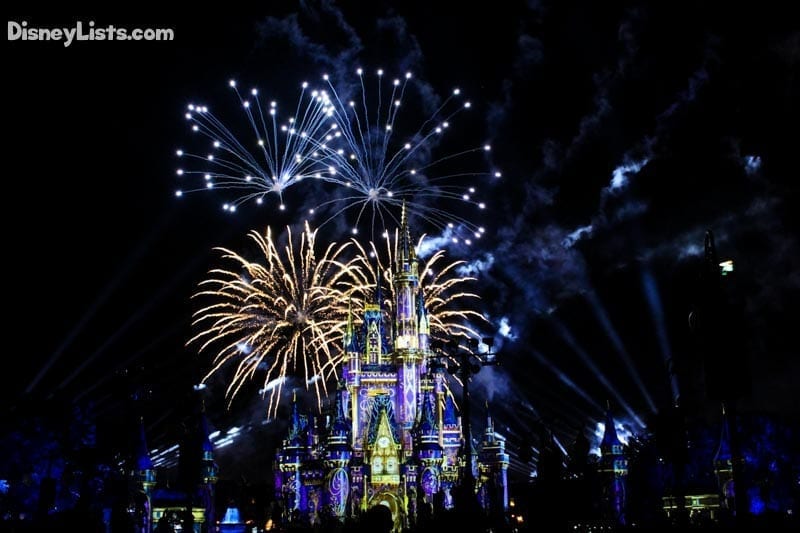 3 – More Than Just Fireworks
In addition to fireworks, the new show features more lasers, lights, and projections than any previous show at the Magic Kingdom. Characters and scenes from more than 25 Disney films are featured through state-of-the-art projections, enhanced by more than 50 choreographed spotlights and brilliant lasers. Disney Cast Member Jennifer Fickley-Baker gives more insight on this amazing technology:
While the "story" of the show is the most important part of "Happily Ever After," how that story is told and choosing the right tools to tell it are essential in creating an unforgettable guest offering. One tool that Disney Parks Live Entertainment is excited to employ in "Happily Ever After" is the latest in projection mapping technology. The team first used projection mapping in 2010 with the launch of "The Magic, The Memories & You," a nighttime show that combined guest-submitted photos with different colorful layouts that were projected onto Cinderella Castle. After more advancements were made in the field of projection mapping, a new show, "Celebrate the Magic," debuted in 2012. Because of its successful use at the Walt Disney World Resort, the use of projection mapping technology then expanded to be used as an entertainment tool at Disney Parks around the world. Today, you can find projections enhancing entertainment must-see shows like "Star Wars: A Galactic Spectacular" and the seasonal "Jingle Bell: Jingle BAM!" show.
According to Show Director James Silson, projections are one of many invaluable storytelling tools used in "Happily Ever After," in addition to new hand-drawn animation, an original score and the latest in fireworks, lasers and pyrotechnics. "With projection mapping technology, you can create an immersive environment for guests, taking them inside the films of Disney," he said. "It enables us to flood the palate and give our guests an opportunity to experience many of our characters' worlds in the same show." To create the most technologically advanced projections for Cinderella Castle, Disney Parks Live Entertainment partnered with experts in the field to bring the show to life. According to Art Director Ryan Kravetz, working with Cinderella Castle as a canvas for these projections has been a dream-come-true project. "It's not paper, it's not a cell. The physical structure of this castle as our starting point is a really powerful medium to be using."
In addition to the projections, the show also features new hand-drawn Disney character animation sequences of Ursala, Alladin, Princess Tiana and more.
There is no other way to describe it, the projections were simply amazing and are central to understanding the story of the show. Because of this, we highly recommend you secure your viewing spot on Main Street U.S.A. early in the evening. Disney Cast Members tape off viewing areas on Main Street and can guide you to viewing locations. With Wishes, you could pretty much enjoy most of the show from multiple locations throughout Magic Kingdom and even along the beaches of resorts on Seven Seas Lagoon. However, with Happily Ever After, while you'll still be able to see the fireworks, you won't really be able to "get" the show without viewing the castle projections.
Simply put, to fully appreciate and enjoy this show you must view it from Main Street U.S.A. or the Hub in front of Cinderella Castle. While we found Happily Ever After to be far superior visually to Wishes, this is certainly one of the negatives of the new show.
4 – Newer Disney Films Have the Spotlight
The 18-minute spectacle features moments from numerous Disney and Pixar films stretching from the very early classics such as Peter Pan and Snow White, many of our childhood favorites including The Little Mermaid and Aladdin to modern blockbusters such as Frozen, Moana, and Zootopia. Cinderella Castle becomes part of the story itself, with dazzling projections bringing heartfelt Disney stories to life on and around the iconic 18-story-tall castle. Quasimodo from "Hunchback of Notre Dame" swings from the turrets. Woody and his pals from Disney Pixar's "Toy Story" recreate the castle entirely out of toys. And Maleficent from "Sleeping Beauty" envelops the castle in her signature green flames.
Without question, this show is intended to include the favorites of the newest generation of Disney fans (which is a good thing) while paying homage to the timeless classics that have defined Disney for generations. While most of the films highlighted have been released in the last 25 years, there are still many scenes from the early days of Disney animation.
Completely absent from the show are the fab five (Mickey, Minnie, Goofy, Pluto, and Donald) and was lighter than most shows on Disney Princesses. No doubt, while some will be disappointed, many who feel there has been way too much of an emphasis on the Princesses the last decade will find this show a refreshing change.
We've heard of a lot of criticism on this point. People want classic Disney characters. While we love the oldies, it was very refreshing to see our new favorites, especially Tianna and Rapunzel. We also enjoyed seeing our favorite Pixar characters.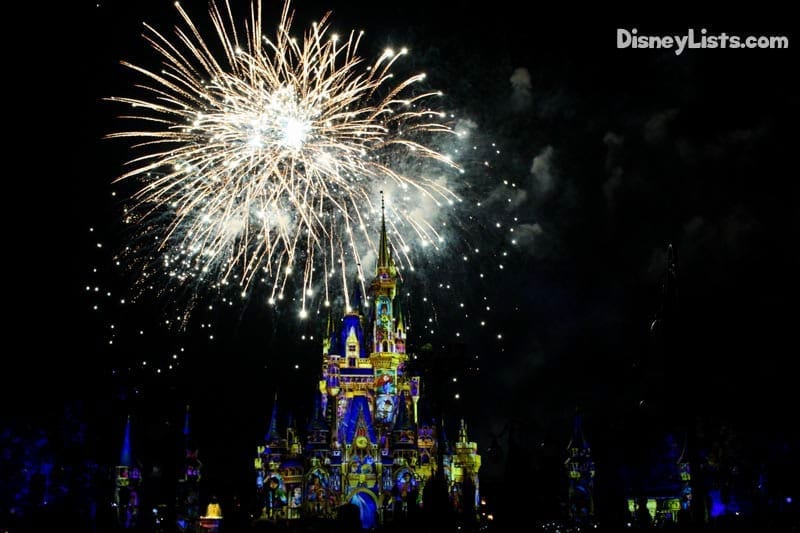 5 – The Music is Top Notch
The score for "Happily Ever After" was recorded by a 75-piece orchestra in London and includes tunes from a multitude of Disney movies, including "Aladdin," "Brave," "Tarzan," "The Lion King," and "The Princess and the Frog." Cast Member Jennifer Fickley-Baker explains that "to help the audience feel the emotional journey of the story, specific pieces of the score were written to inspire feelings of excitement, adversity, friendship, triumph and much more. The show also features plenty of Disney music, which the team says was a fun challenge to take on, since tunes from the Disney music library are incredibly diverse, since they were created by different composers in various styles and genres." The theme song, "Happily Ever After," is sung by country music artist Angie Keilhauer and singer Jordan Fisher. The song encourages people to find the courage to reach for their own "happily every afters" and features a full orchestra and 90-voice gospel choir to create an amazing song.
We really enjoyed the music, particularly some new arrangements of some familiar songs. The "love" section of the show features a fantastic new rendition of "Love is an Open Door," from "Frozen," "You'll Be in My Heart," from "Tarzan" and ends with the beautiful duet of Rapunzel and Flynn Ryder from "Tangled" singing, "I See the Light" while floating lanterns stream up on the castle. Cindy, ever the romantic, got a bit choked up at this point!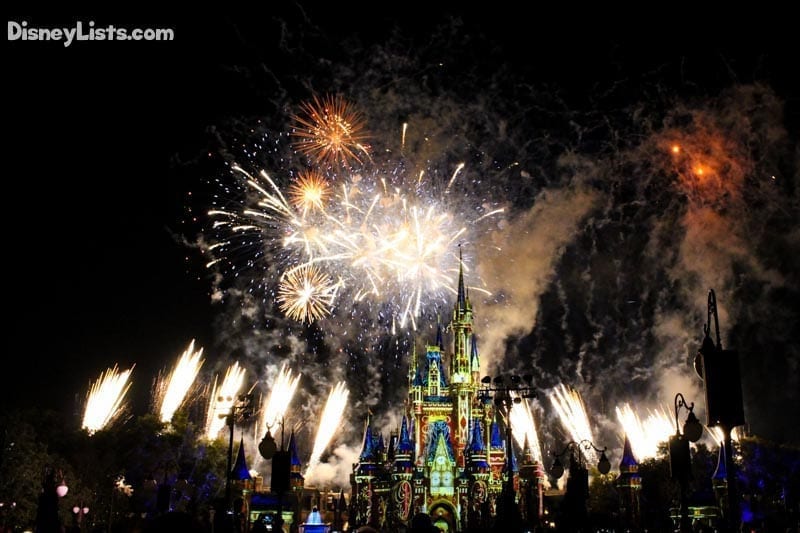 6 – Overall Impressions
Once again, we want to emphasize that we loved Wishes and recognize it will be missed by millions of guests.
However, this new show is fantastic. We loved it. To be honest, Happily Ever After is visually a pretty big upgrade over Wishes and breathes new life into the Magic Kingdom. It was great to see the current generation of kids connecting with the characters and stories they've been enjoying over the last decade and a half.
We absolutely love many of the favorites our family has grown up enjoying and will really miss Wishes. Yet, there is something so fun and refreshing about enjoying something new. The joy of discovery produces a special kind of magic that taps into the imagination. It's at the core of what drove Walt Disney to never stop creating and to declare that the Disney parks would never be complete.




For a no obligation, FREE Quote on a Disney vacation package, please contact our travel partner Magical Vacation Planner at 407-442-0227 (407-442-0215 for Spanish). You can also request a FREE quote online by Clicking HERE.