If you've been following DisneyLists.com, you know great food and drinks are at the very top of the list of things we absolutely love. Any time Disney World starts talking about food we listen. Over the past year Disney Springs has quickly become the center of great dining in Orlando with an impressive line up of celebrity chefs and signature restaurants such as Art Smith's Homecoming, Morimoto Asia from Chef Morimoto of Iron Chef America and STK Steakhouse to name a few.
It's hard to believe the line up could get any better, but five more awesome dining options in the next year including three just announced by Disney World. Among the three newest additions to Disney Springs will be my absolute all time favorite restaurant that up until now has been a once in awhile treat when I'm lucky enough to be in Las Vegas or Washington, DC.
More details below on all the new food options coming to Disney Springs.
From Disney Food Writer Pam Brandon:
Three new dining concepts are expected to open by year's end at Disney Springs at Walt Disney World Resort, with two more on tap for 2018.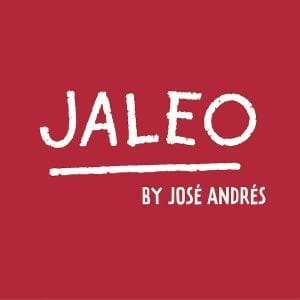 1 – Jaleo
Looking ahead to 2018, Jaleo, a concept by world-renowned Chef José Andrés' ThinkFoodGroup, will open on the West Side, bringing the spirit and flavors of Spain, with an extensive menu of tapas that reflect the rich regional diversity of traditional and contemporary Spanish cuisine. Think paella cooked over a wood fire, hand-carved Jamon Iberico de Bellota and wood-grilled Iberico pork. With five locations in the United States and Mexico City, this will be the first location in Florida. The first floor of the multi-level restaurant will feature a "grab-n-go" storefront with Spanish-style sandwiches.
Chad's note: This is my all-time favorite restaurant. Not only is the food fantastic, the tapas style dining makes this the perfect place for groups to share and explore dozens of small plate options. I have eaten at the Jaleo in Las Vegas on every trip (and sometimes twice) since discovering it. Trust me, you are going to love this place! I'm so excited to be getting a Jaleo in Orlando my mouth is watering!
2 – Wolfgang Puck Bar & Grill
Also in 2018, a new Wolfgang Puck concept will open in a new location in Town Center. Wolfgang Puck Bar & Grill, will modernize the traditional "bar and grill" concept in a setting inspired by traditional farmhouses with a touch of elegance. The restaurant will capture the essence of laid-back California dining made popular by Puck at Spago, his flagship restaurant in Los Angeles. The menu will highlight the best of Puck's signature dishes with Mediterranean influences, innovative takes on comfort food classics and handcrafted specialty cocktails, beer and wine.
3 – Portobello Country Italian
This fall, Chicago-based Levy Restaurants is introducing a new Italian concept at Disney Springs, with James Beard award winner and "Top Chef Master" Chef Tony Mantuano leading development. The new restaurant replaces Levy's Portobello Country Italian Trattoria and will feature dishes inspired by Mantuano's adventures in Italy.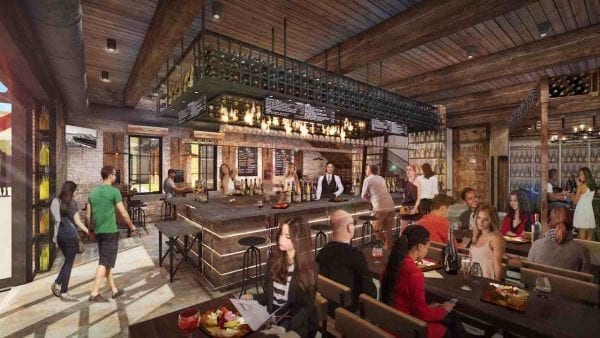 4 – Wine Bar George
Also opening in late 2017 is Wine Bar George, with Master Sommelier George Miliotes bringing his expertise to Disney Springs with an unparalleled wine list including more than 100 selections by the bottle and glass in a range of varietals, vintages and prices. Shareable plates, cheese and charcuterie will complement the wine list, featuring local artisans and seasonally relevant dishes. Look for some fun wine education, including special events and visits from winemakers. Miliotes is widely regarded as one of the industry's foremost wine experts, and is one of only 236 professionals certified by the Court of Master Sommeliers.
5 – The Edison
Finally, The Edison, a lavish "Industrial Gothic" restaurant, bar and nighttime, is expected to open by year's end. A collaboration of Patina Restaurant Group and Kinetescape's Andrew Meieran, The Edison is noted for classic American food, craft cocktails and live entertainment including cabaret. (The Disney Springs location is inspired by its sister location in Los Angeles.) With Old World sophistication and romance, The Edison will be themed to a 1920s-era electric company, recalling an exuberant era of invention and imagination with entertainment that includes contortionists, aerialists, DJs and more.
RELATED ARTICLE: 10 Best Table Service Restaurants at Disney Springs
by Ryan Miller
Disney Springs is a hotspot for guests either coming from the parks and resorts, or driving in to check out all of the fun it has to offer. With tons of shops to browse through and lots of entertainment to take in, guests can sometimes forget just how much of a dining scene Disney Springs has. With everything from snacks and quick service all the way up to signature and fine dining, every guest will surely find something that speaks to them and makes their mouth water.
When it comes to table service restaurants, there is a wide variety in cuisines to explore. While everyone has a different preference when it comes to dining, if you are looking for a place to try, we have put together a list of the 10 best table service restaurants you can experience at Disney Springs.
10 – Crossroads at House of Blues
What better way to spend an evening than by taking in some incredible music and dining on a host of Southern favorites? The House of Blues offers guests a brilliant combination of both with nightly music from talented artists and a mouthwatering menu featuring house favorites like the Voodoo Shrimp sautéed and simmered in an amber beer reduction on top of house made jalapeño cornbread.
9 – Bongos Cuban Café
Heading further South in culinary terms, Bongos Cuban Café was opened by Gloria and Emilio Estefan to bring the delicious flavors of Cuba into Disney Springs. It's hard to go wrong with anything on the menu here, with dishes like the Seared Shredded Beef topped with grilled onions, Paella Valencia for 2 and a traditional Natilla (Cuban-style vanilla custard) for dessert.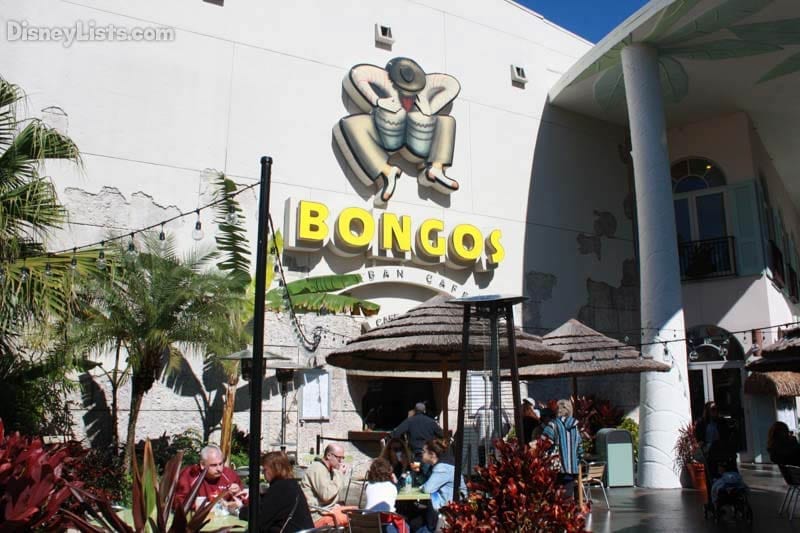 8 – Portobello Country Italian Trattoria
Along the waterfront, the Portobello Country Italian Trattoria is the place for hearty Italian food, made with fresh ingredients and satisfying even the biggest appetite. While the incredible homemade pasta is a real star on the menu, there are also a ton of meat and seafood dishes to choose from. The Portobello is also home to it's own creative dessert 'Biramisu', which is a take on tiramisu, using lady fingers, mascarpone cream and an organic porter (dark beer).
7 – Raglan Road
If you would prefer the feel of a traditional pub, look no further than Raglan Road. Sit down with a pint of Guinness and take in the Irish musicians and dancers as they perform periodically through the night. Each menu item is a take on traditional pub fare, with their famous beer-battered Fish & Chips playing one of the stars. Other great dishes include the Raglan Risotto, Bangers & Booz and the Keen Eye for the Shepherd's Pie to round out an extensive list of classics with a twist.
6 – Paradiso 37
Described as a culinary tour of North, Central and South America, Paradiso 37 offers a combination of great food and a vibrant bar scene at night. Vintage travel posters on the walls remind guests of just how far the recipes have come from to make it on the menu here. Dishes include everything from Baja Fish Tacos and Grilled Chilean Salmon to hearty dishes like the South Carolina Style BBQ Pork Ribs and the Argentinean Skirt Steak.
5 – Wolfgang Puck Grand Café
Whether you choose to dine at the signature Wolfgang Puck Grand Café or opt for the fine dining experience of The Dining Room, you will get a chance to experience the Asian and Californian fusion cuisine crafted by the world famous chef. The fine dining experience includes dishes like the Wild Mushroom Ravioli or Smoked Pork Chop. The Grand Café is a little lighter on the wallet and offers an equally delicious menu including items like the Bacon Wrapped Meatloaf or the Roasted Salmon.
4 – STK
If you're looking for a great steak, amazing sides and desserts that will make you feel like you must be breaking the law, this is the place for you. With a nightclub vibe and chic atmosphere, this is not your old stuffy steakhouse. STK offers prime cuts of meat and great seafood options as well. You can sit inside and enjoy great music mixed by the in-house DJ or head upstairs for great views at the more casual open-air seating on the deck. Either way, STK offers a fine dining experience without be pretentious or uncomfortable. Bottom line, this is without question the best steak on Disney property!
3 – T-REX
Families visiting Disney Springs will love the atmosphere at T-REX. Inside the restaurant are a number of larger than life animatronic creatures, from pterosaurs to wooly mammoths and a 15-foot tall T-Rex. About every 20 minutes, guests find themselves in the middle of a meteor shower where all the creatures come to life amidst the rumbling. While the menu isn't overly complicated, with dishes like the Bronto Burger, Mastodon Chicken and Pork-asaurus Sandwich, it's the immersive setting that makes this one of the best restaurants to visit.
2 – The BOATHOUSE
As one of the newer restaurants to pop up in Disney Springs, the BOATHOUSE restaurant overlooks the waterfront, watching over the amphicars and Italian water taxis as they take guests on tours of the lake. Inside the restaurant, dream boats from the 30's, 40's and 50's sit as centerpieces to the rooms, making this nautical-themed restaurant a perfect place to enjoy seafood dishes like Cedar Plank Salmon or Grilled Mahi Mahi Tacos. The menu also features a number of excellent land-based dishes including several different cuts and styles of steak to choose from.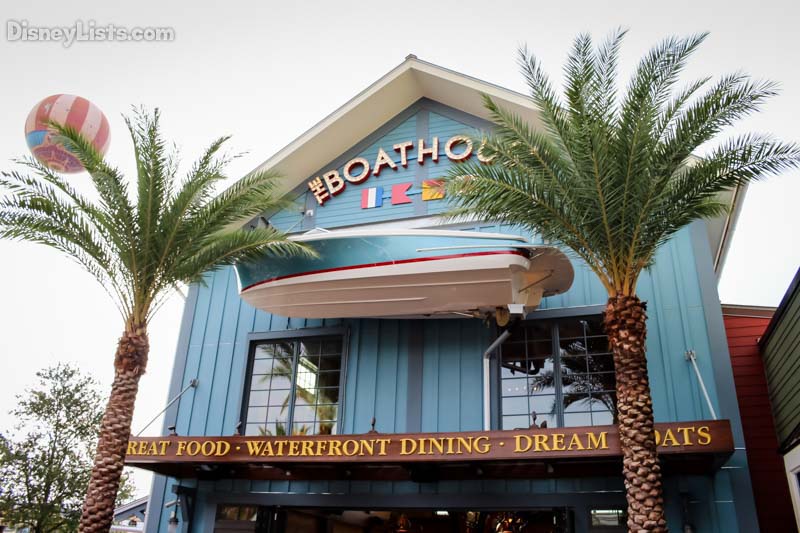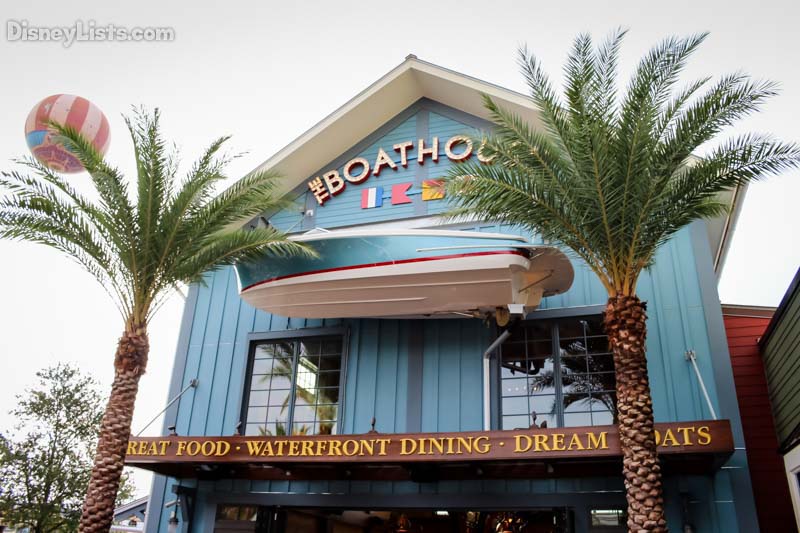 1 – Morimoto Asia
From the Iron Chef himself, Masaharu Morimoto's latest restaurant Morimoto Asia has quickly become one of the most popular places to dine in Disney Springs. Featuring Pan Asian cuisine, the menu includes Dim Sum and Sushi dishes as well as signature items like the Morimoto Peking Duck, Spicy King Crab and several Noodle dishes among a ton of other incredible choices. The atmosphere here is also what sells Morimoto Asia as one of the best restaurants. The kitchens are out in the open, giving guests a view of the preparation from the comfort of the huge 2-story interior filled with chandeliers, lounges, private dining spaces and a second-level sushi bar. If you haven't experienced Morimoto Asia, it should definitely be on your list of must-dos the next time you visit Disney Springs.
For a no obligation, FREE Quote on a Disney vacation package, please contact our travel partner Magical Vacation Planner at 407-442-0227 (407-442-0215 for Spanish). You can also request a FREE quote online by Clicking HERE.