While snacking at Disney World theme parks is part of the whole Disney experience, don't forget to save room for a tasty snack when you get back to your room at one of the Disney Resorts! Here are the top 15 best snacks we've found at Disney Resort. Enjoy!
1 – Dole Whip @ Pineapple Lanai – Polynesian Village Resort
Number one couldn't be anything else but the classic, refreshing Dole Whip. When Pineapple Lanai opened up to serve Dole Whips at the Polynesian Village Resort, our appetites rejoiced! These Dole Whips come in either vanilla, pineapple, or swirl soft serve options. You can also order a Pineapple Float! Don't forget to add the Tiki Bowl souvenir.
2 – Mickey Pretzel @ The Sand Bar – Contemporary Resort
A classic snack at a classic resort. Sit poolside and enjoy your salty, Mickey-shaped pretzel, just as you would find in the park right next door to the Contemporary, Magic Kingdom. Need something gluten-free? We give a special shout out to The Sand Bar's Gluten-Free cookies and brownies as well.
 3 – Conch Fritters @ Gurgling Suitcase – Old Key West Resort
A warm on the stomach snack, you can't pass up the opportunity to snack on these Conch Fritters! Served with Key Lime-Mustard and Remoulade, you'll be asking for a second batch.
4 – Beignet with Dipping Sauce @ Sassagoula Floatworks & Food Factory – Port Orleans French Quarter
Served in orders of 3 or 6, fried dough sprinkled with sugar has never tasted so good. Dipping sauce comes in Chicory Coffee Ganache, Raspberry, or Caramel. We'll take one of each, please!
5 – Cornbread Loaf or Banana Nut Loaf @ P & J's Southern Takeout – Fort Wilderness Resort
The snack that tastes like home! Check out P & J's cornbread loaf or banana nut loaf. The loaf may be big enough to share with another, but you'll likely want to keep it all to yourself.
6 – Piña Colada Cupcake @ Beaches Pool Bar & Grill – Grand Floridian Resort and Spa
This one doesn't need much of an explanation as we are sure just the name of this cupcake has your mouth-watering. Trust us, it's as good as it sounds!
 7 – Caribbean Flair Wings @ Banana Cabana Pool Bar – Caribbean Beach
A perfect meat lovers snack. The Habanero-glazed chicken wings are served up with Mango Chutney and a side of Blue Cheese dressing. You'll get a "kick" out of this Caribbean flair snack.
8 – Malts & Milk Shakes @ Beaches and Cream Soda Shop – Beach Club Resort
Just do yourself a favorite and head over to Beaches and Cream as soon as you arrive on your Disney vacation! Order one of their famous malts or milkshakes that comes with your choice of ice cream, topped with whipped cream, sprinkles, and a cherry.
9 – Mickey Tart @ BoardWalk Bakery – Boardwalk Inn Resort
The greatest thing about BoardWalk Inn snacks is that you have the chance to experience the BoardWalk itself! A wonderful treat as you stroll the BoardWalk is the rich, and creamy Mickey Tart served in the shape of Mickey, of course.
10 – Chili-Cheese Fries @ End Zone Food Court – All Star Resort
So maybe you'll blow your diet on this one – but who cares! These Chili-Cheese Fries at All Star Resort are an excellent choice if you are looking for something filling and absolutely delicious.
11 – Seasonal Cobbler @ Riverside Mill Food Court – Port Orleans Riverside
Head south and enjoy the taste of Port Orleans Riverside while snacking on some seasonal cobbler. If your sweet tooth is maxed out, snack on their breadsticks with marinara sauce… yum!
12 – Quinoa Salad @ Café Rix – Coronado Springs Resort
After that talk about fries and cobbler above, we feel like we must mention this Quino snack salad. Quinoa, lemon juice, and fresh herbs – we love this light snack when looking for a healthy option.
13 – Zebra Domes @ The Mara – Animal Kingdom Lodge
What would this list be without mentioning the beloved Zebra Domes? Beautifully made and tasting as good as they look, the Amarula Cream Liquor mousse and panna cotta white chocolate on top of a cake-type base is heaven. Top it off with drizzled chocolate and chocolate shavings, and you've got yourself a sweet snack that the whole family will love.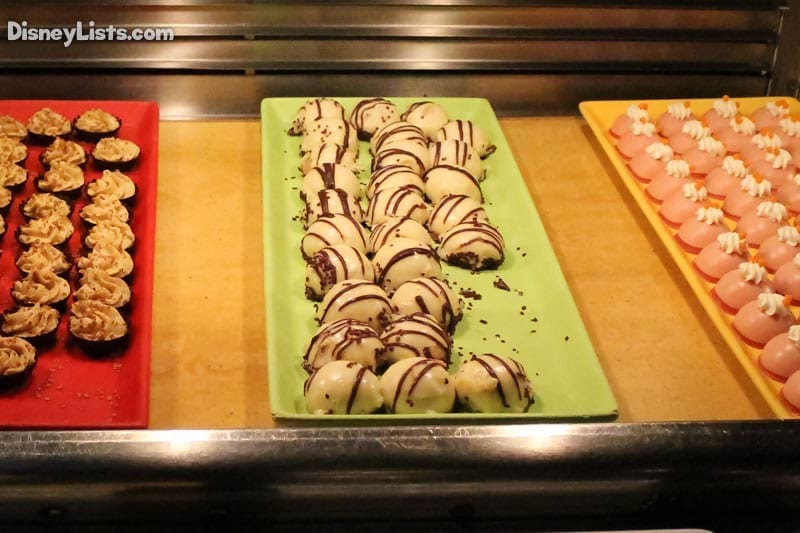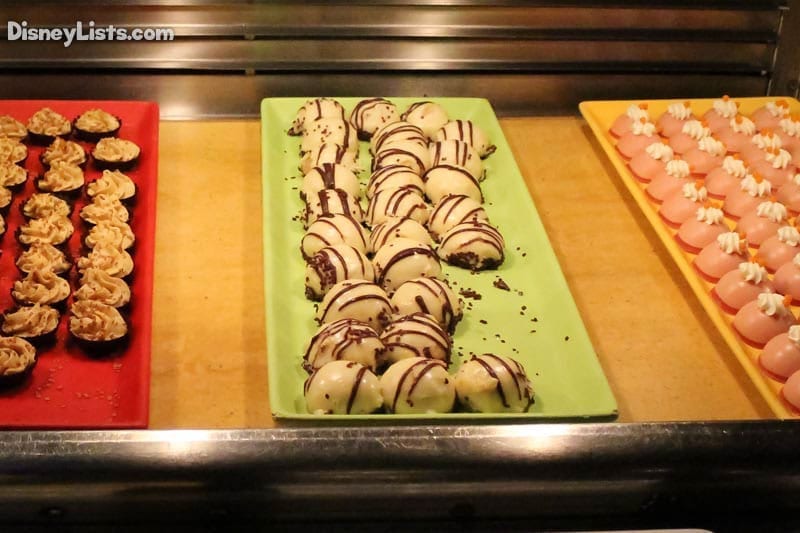 14 – House-made Saratoga Chips @ The Paddock Grill – Saratoga Springs Resort
A simple chip snack, but made especially for Saratoga Springs! Enjoying these house-made Saratoga chips is just a small part of getting the full experience out of a stay at Saratoga Springs Resort.
15 – Popcorn with Truffle @ Territory Lounge – Wilderness Lodge Resort
Sweet and salty fans come running! You'll love this Popcorn with Truffle snack. Not only is the snack something special, but order it with a Territory Lounge specialty beverage, and you won't want to leave!
We could easily add more to this delicious snack list, but we aren't sure our pants will button if we do. You can add to the list, however, by sharing what your favorite Disney Resort snack is!
For a no obligation, FREE Quote on a Disney vacation package, please contact our travel partner Magical Vacation Planner at 407-442-0227 (407-442-0215 for Spanish). You can also request a FREE quote online by Clicking HERE.