Editor's Note: Sadly, Bongos has closed. After a 22 year run, Bongo's closed on August 18, 2019. 
I am a huge fan of Cuban food, and I feel like Bongo's really does it well.  It is a great option when you are visiting Disney Springs at Walt Disney World, especially if you want to try something new while you have a fun experience.  Here are 8 reasons why we absolutely love Bongo's Cuban Café:
8 – Close proximity to parking garages.
The restaurant is actually closely located to parking garages located down at the West Side.  If you want to just drop in for dinner and not have to do a ton of walking, this location is right across form the AMC Theater and in a close proximity to pop in and out for dinner or drinks.
7 – There is indoor and outdoor seating.
Given that the location is in Florida, it is always important to note when there is indoor or outdoor seating.  In the middle of a hot day, you likely prefer to be seated inside away from the sun and heat.  On a more moderate day or in the evenings, sitting outside overlooking the Disney Springs area is quite nice.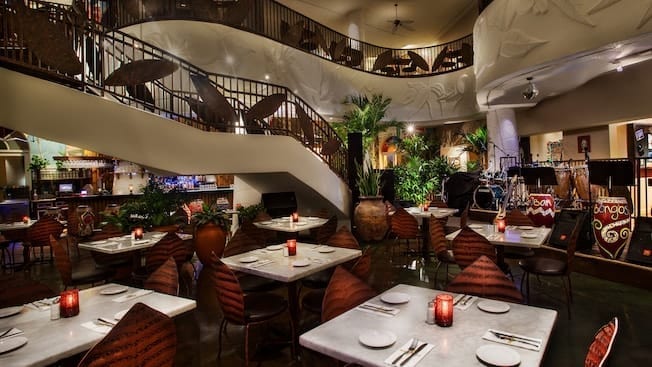 6 – There is a Bongo's Cuban Café Express option.
If you don't have time to stop for a full sit-down meal, you can still experience the delicious Cuban flavors via the Bongo's Cuban Café Express.  There are some of the same menu items and a couple new ones available at this walk-up location right outside the restaurant.  Having an express option is extremely popular for Disney Springs locations, and we love it!
5 – Sit upstairs for amazing views.
The seating upstairs really is amazing.  Depending on which section of the restaurant you are sitting in, you may have views of the Characters in Flight balloon over the water as well as the boats coming and going.  You may also see the hustle and bustle down below of the various guests and performers in the area enjoying the area.  It is definitely our favorite place to sit.
4 – The restaurant really comes alive at night.
The lights from the restaurant are beautiful.  It is all lit up and perfectly accentuates the theme of the restaurant and leaves you feeling like you are in 1940's Cuba.  The beautiful surroundings and the nightlife make the restaurant a perfect location for a date night, a night on the town or even a fun dinner out with the family after a long day in the parks.
3 – You will love the delicious Cuban food.
The food is absolutely amazing here.  It is authentic Cuban-style food, and you won't be able to get enough of it.  The Papas Rellenas (potatoes stuffed with beef) are one of my absolute favorites.  You will also find other dishes like fried plantains, BBQ guava ribs, Cuban Criollo Seafood combo and so much more.  There are tons of dish options and we have never tried anything that we didn't like. Definitely step a little outside of your comfort zone and try something new!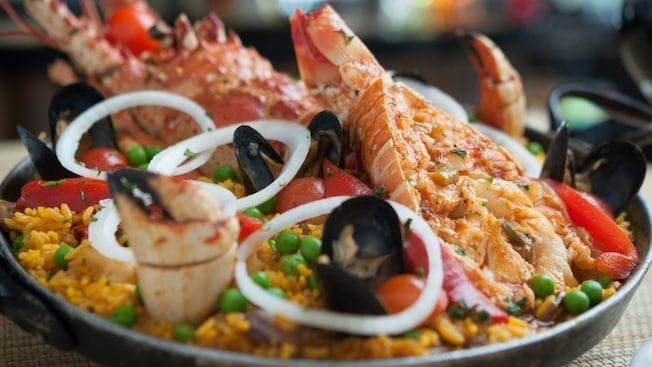 2 – There is live music and entertainment.
There are musical performers that perform right at the restaurant to give you an even stronger Cuban experience.  When they aren't performing, there are usually other performers right outside the restaurant that you can watch.  It is a great place to stop in and have a few drinks and enjoy the evening even if you aren't looking for a full meal.
1 – You don't want to skip drinks and desserts.
What would a trip to a Cuban restaurant be without a mojito or another tropical delicious alcoholic beverage? Not only that, you must be sure to try some of the amazing desserts.  It is so hard to pick just one, so hopefully other members of your party order dessert so you can share.  There is the traditional flan, churros, key lime guava parfait, rice pudding and so many more delicious items.  I always try to save room for dessert when we go to this location!
For a no obligation, FREE Quote on a Disney vacation package, please contact our travel partner Magical Vacation Planner at 407-442-0227 (407-442-0215 for Spanish). You can also request a FREE quote online by Clicking HERE.