Walt Disney World is already an expensive vacation, but if you are able to budget extra indulgences, you won't be sorry.    There are so many amazing things to experience at Disney that you won't want to let the costs scare you away from there.  Here are the top 8 things that are worth the extra money at Walt Disney World:
8 – Staying in one of the deluxe resort accommodations.
There are many guests that feel like the resort is only place to sleep in the evenings.  Our family definitely feels stronger than that about our accommodations.  We definitely notice the difference when we stay at a value resort versus deluxe.  We love the additional dining options, the extra amenities and the extra transportation options the deluxe resorts offer.  If a deluxe resort doesn't work in your budget, that is totally understandable, but if you can get the budget together for it we think it is definitely worth it.
7 – Dinner at Victoria & Albert's (and Signature Dining experiences) 
This is the most expensive dinner that you can have at Walt Disney World, but it is definitely worth it!  It is a world class dining experience and one of the few diamond restaurants in Florida and the United States.  If Victoria & Albert's isn't your thing or is TOO pricey, then you can also try one of the Signature Dining locations across the different resorts and theme parks.  These are also upscale dining locations that are amazing culinary experiences.  If you are a foodie, there are tons of great options to enjoy a delicious meal.
6 – Mickey's Not So Scary Halloween Party or Mickey's Very Merry Christmas Party
The special event parties are a complete blast.  There are only a limited number of tickets sold to the event so there are far fewer lines for the popular attractions.  There are also themed fireworks, parades, character meetings and so much more that are only for the parties.  Magic Kingdom theme park is completely transformed to make it the perfect place to celebrate the respective holiday.  You also get free treats that vary depending on which party.  The tickets can be pricey, but the value is definitely there for the entire family.
5 – Dining at one of the amazing character meals.
Some of the character meals can be quite pricey, but they are well worth it.  The food is definitely much better than your typical buffet style food.  Plus, the type of cuisine varies on which restaurant that you dine at.  You also don't have to wait in line to meet your favorite characters and get their autographs.  They all come right to your table while you enjoy your meal.  This can also save you a lot of time while so that you can enjoy more of what Disney has to offer.
4 – Dessert party events at the theme parks.
There are various dessert party events at Magic Kingdom, Epcot and Hollywood Studios that offer exclusive views of the evening fireworks shows.  The events also include unlimited drinks and desserts for each ticketed guest.  You must also have valid park admission to attend these events, which adds to the price tag on top of the party admission.  Definitely don't eat a big dinner before the event so you can load up on the desserts!
3 – Attend one or more of the behind the scenes tours.
There are tours at most of the theme parks and other areas around Walt Disney World available for an extra price.  The tours are for specific targeted backstage areas and themes.  You can get to see behind the scenes areas of attractions and experiences within the parks.  There are tours of the tunnels at the Magic Kingdom, extensive tours of the aquarium at The Seas in Epcot, a walking safari at Animal Kingdom, plus so much more.  These are the perfect way to get even more out of the Disney experience than what you can normally get in the parks.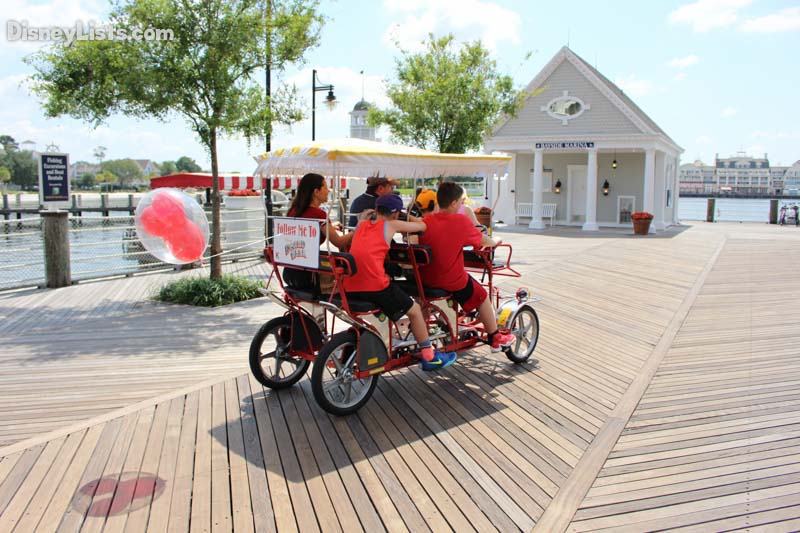 2 – Enjoying the recreational activities.
There are various recreational activities available at the resorts.  You can rent bikes or surrey bikes to explore the resorts, you can rent pontoon boats to go for excursions on the waters or you can even parasail over Bay Lake.  There are so many fun activities that are even more unique when you get to experience them at Walt Disney World.
1 – Go for a round of miniature golf.
There are 2 different miniature golf locations, Winter Summerland and Fantasia Gardens.  Each are themed differently and so much fun.  There are 2 different courses at each location, so you have 4 different courses that can be played.  These are some of the most fun mini golf courses and it is a nice break from the hustle and bustle of the parks.
For a no obligation, FREE Quote on a Disney vacation package, please contact our travel partner Magical Vacation Planner at 407-442-0227 (407-442-0215 for Spanish). You can also request a FREE quote online by Clicking HERE.