A new "Frozen Ever After Dessert Party" will be replacing Illuminations Sparkling Dessert Party at Epcot later this summer. This party will not only provide amazing desserts and viewing of the Illuminations Fireworks at Epcot, but it will also give special after hours access to Frozen Ever After. Nearing in on its one year opening anniversary, Frozen Ever After, is as popular as ever with wait times still posting anywhere from 90-120 minutes. Offering special access to the attraction along with a dessert party is sure to gather up excitement and ticket sales. Read about all the details below.

The party will be similar to the current Illuminations Sparkling Dessert Party. Guests will still go to the designated viewing area for Illuminations: Reflections of Earth next to the FastPass location at the front of World Showcase. A wide variety of desserts and drinks will be offered along with the special viewing of the show. After Illuminations guests will then be able to enjoy a ride on Frozen Ever After, after the attraction has been officially closed for the day.
Here are specific details from Disney Cast Member Rachel Bshero:
The party, which takes place in World Showcase Plaza East, overlooking World Showcase Lagoon, will feature décor, drinks, desserts and snacks inspired by the beloved film, "Frozen." Don't worry about staking out the perfect spot to view the fireworks, because Frozen Ever After Dessert Party guests will have reserved seating. Sip on specialty cotton candy lemonade or "melted snow" and other non-alcoholic beverages, which will delight guests of all ages. Adults 21 years and older can enjoy alcoholic beverages such as a piña colada, margarita or "Summertime Punch," a refreshing blend of prickly pear syrup, vodka, lemonade and ginger ale.
Desserts and snacks will be served on three buffet stations, check out the menus below!
Hot & Cold
Olaf's Warm Double Chocolate S'mores Pudding Cake
Elsa's Warm Cottage Pudding with Salted Caramel Glaze
Hand-dipped Vanilla Bean Ice Cream
Small Bites
Wandering Oaken's Eclairons
Hans' Key Lime Tarts with Red Glitter Glaze
Living Rock Crispy Bonbons
Anna's Blue Velvet Cupcakes
Kristoff's No Sugar Added Lemon Curd with Blueberry
Not So Sweet
Sven's Fresh Fruits & Berries
Grand Pabbie's Winter-spiced Snack Mix
Duke of Weselton's Cheese Fondue served with Country Bread Cubes, Broccoli, and Grilled Flatbread
The cost for the party is $79 per adult and $47 per child. That is a substantial increase from the current Illuminations Sparkling prices of $49 per adult and $29 per child. However, the $79/$47 price tag is what is being currently charged for the Fireworks Dessert Party at Tommorowland Terrace in Magic Kingdom. Considering you're getting after hours access to a very popular ride, some might thing it's well worth it.
The party will take place on various days of the week, but only three times per week. The party will begin on July 17, 2017. Reservations are now open. To make reservations click here.
Here are more details from the Disney Website:
This celebration will be offered on a variety of days depending on the time of year, beginning one hour prior to the start of IllumiNations: Reflections of Earth.
Epcot park admission is also required and is not included in the price of the Frozen Ever After Dessert Party.
An event reservation is required when participating in the Frozen Ever After Dessert Party and can be made up to 180 days prior to your visit.
Guests must be 21 years of age or older to consume alcoholic beverages. A valid form of government identification will be required to verify your age.
To check in for this event, please meet the greeting Cast Member at World Showcase Plaza, located next to Port of Entry and adjacent to the Mexico Pavilion.
The Frozen Ever After Dessert Party venue is held in an uncovered, open-air setting.
In the event of inclement weather, the dessert portion will take place at an alternate indoor location. A Cast Member will direct you to the alternate location at the time of check-in. You may call (407) 560-7377 after 5:30 PM for recorded weather information.
Please note that IllumiNations: Reflections of Earth may be changed or canceled without prior notice due to inclement weather.
RELATED ARTICLE: Facts and Secrets About Illuminations: Reflections of Earth at Disney's Epcot
by Christy Caby
Illuminations is the fireworks show that is performed nightly at Epcot.  This is a show that is very different from Wishes or other Disney shows you might have seen, but is just as incredible.  If you haven't seen it you need to make sure it is a part of your next trip!  Even if you have seen it, here are 8 facts and secrets that you may not already know:
8 – There is a bridge that opens up to let all of the barges through.
Close to the Mexico pavilion is a bridge that completely opens up so that all or barges can make their way through.  The show consists of several barges with fireworks and effects that are perfectly placed in the lagoon.  These barges are stored each night and during the day and have to make their way to take their position hours before the show starts.  If this bridge didn't open, the barges wouldn't be able to clear under the bridge, so it had to be built in to accommodate!
7 – It cost how much?
It has been reported that to put on the show each evening it costs Disney around $25,000 per show.  This means that the cost per year for the show is around $9,125,000.  That is crazy to think that these are the costs for only one show.  It makes you appreciate the show more than we already did!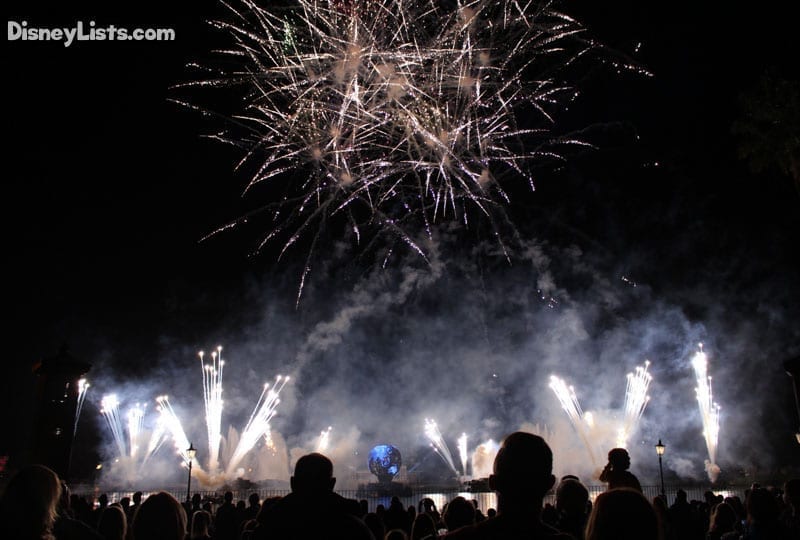 6 – You don't have to watch it from inside the park.
Many guests don't realize that there are other locations to watch Illuminations from than just within the park.  These haven't been as publicized as many of the Magic Kingdom firework viewing locations, but they definitely exist.  You can watch Illuminations from Disney's Boardwalk, which is a great location to watch from.  You can also enjoy one of the fireworks cruises which is a great way to watch the fireworks without actually being around the World Showcase.  You may not get to see the globe and all effects of the show, but the fireworks alone are still amazing!
5 – The globe is 3 stories tall.
I never realized just how tall the globe is that you see as part of the show.  It would make sense since it projects images for thousands of guests to see at once, but I just never realized it.  The globe does actually stand at 3 stories tall, which is exactly why it can't clear any of the bridges in Epcot without the special bridge that was built to get it in place.
4 – There are variations to the show for holidays.
If you happen to be visiting during the 4th of July, Christmas or New Year's then you actually get an extra treat.  There are variations and additions to the show during that time to help add to your holiday celebrations and enjoy themed fireworks for the holidays.  This is extra special and definitely a great way to end your day during these beloved seasons.
3 – The lights that outline the countries would be long enough to stretch the length of the Golden Gate Bridge 6 times.
Crazy, right?  The total length of the lights is around a full 26,000 feet of lights. The lights are turned on during the show to illuminate each of the pavilions during Illuminations one at a time.  That is a TON of lights and more than I would have guessed.  I could make an amazing Christmas display that would put the Griswold's to shame if I could have that many lights!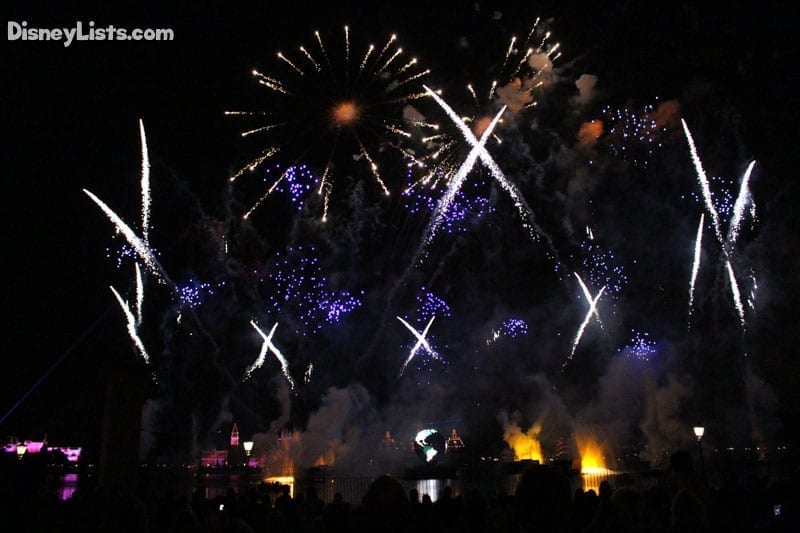 2 – You could see multiple fireworks shows at once.
If you are standing out in the World Showcase, especially where you are facing the direction of Hollywood Studios, you are very likely to see fireworks from that park going on at the same time.  It could be the Star Wars fireworks that are now done nightly or the fireworks from the Fantasmic show that goes on each night.  It is pretty cool to watch a fireworks show and have extra fireworks going on in the background.  It is also very surprising to see just how close Epcot and Disney's Hollywood Studios actually are to each other.
1 – Key facts:
Here are a few key facts about the show:
Opening: October 1999, and been a popular event ever since
Duration: 12 minutes
Experience: Included torches, fire, fireworks, pyrotechnics, images, water and much more.
For a no obligation, FREE Quote on a Disney vacation package, please contact our travel partner Magical Vacation Planner at 407-442-0227 (407-442-0215 for Spanish). You can also request a FREE quote online by Clicking HERE.