At the Orlando D23 event in November, 2016, Disney Parks and Resorts Chairman, Bob Chapek, hinted that major changes would be coming to Epcot as Disney would begin a massive reimagineering of the park that is beginning to show its age (at least in Future World). Now, at the recent D23 event in Anaheim, CA, Disney World unveiled the phase of Epcot development with the announcement of two new attractions coming to the park. More details below.
Epcot at Walt Disney World Resort will receive not one, but two new attractions inspired by popular films.
First, a "Guardians of the Galaxy"-inspired attraction will be added to Future World, adhering to the original vision of Epcot's Future World as the place to experience the excitement and adventure offered by space travel.
This is an addition we're really looking forward to, as a "Guardians of the Galaxy" attraction – Guardians of the Galaxy – Mission: BREAKOUT! – debuted at Disney California Adventure park earlier this year to rave reviews from Guests. Epcot's brand new E-ticket attraction will be based on the rockin' and action-packed world of "Guardians of the Galaxy" and is the next step in how guests can encounter these characters at the Walt Disney World Resort. Note: This new attraction will replace the current Universe of Energy attraction, which will close Aug. 13, 2017.
Second, a Disney•Pixar's "Ratatouille"-inspired attraction will also be added to the France Pavilion in World Showcase. The attraction will expand the pavilion. Similar to the 4-D attraction Ratatouille: The Adventure that opened at the Walt Disney Studios Park in Paris in 2014, guests will be able to shrink to Remy's size and scurry to safety in a dazzling chase across a kitchen with the sights, sounds and smells of Gusteau's legendary Parisian restaurant.
According to Disney leaders, both attractions will open in time for the 50th anniversary of Walt Disney World Resort in 2021.
Check out all the other huge announcements from D23 by clicking here:
RELATED ARTICLE BELOW: Top 7 Things Disney Needs to Do to Fix Epcot
RELATED ARTICLE: Top 7 Things Disney Needs to Do to Fix Epcot
By Mike & Jamie Sylvester
Have you heard the latest Epcot news? It has been confirmed by Bob Chapek (Chairman of Walt Disney Parks and Resorts) that Epcot will be undergoing an overhaul in the foreseen future. Mr. Walt Disney himself had a vision that Epcot would be a utopian inspired functioning city that would serve as an model for change for urban areas around the country. Walt's vision for the city of tomorrow inspired the learning park that became Epcot. While Epcot has been and still is one of our favorite parks, we are excited to hear that it will be getting an overhaul that is said to keep true to the original Epcot vision Walt set in place. So, what's next for this Experimental Prototype Community of Tomorrow (EPCOT)? Check out these 7 things we believe Disney needs to do to fix Epcot.
1 – Cohesive Theme for Future World
Epcot truly feels like two separate theme parks with Future World and the World Showcase. While we love the differences in the two areas of the park, we find that the World Showcase has fluent and obvious theme – representing the 11 countries through entertainment, music, food, and shopping. The World Showcase just makes sense and flows. On the other hand, Future World has become somewhat of a hodge-podge of themes. The attractions seem to jump around from on theme to another, as well as restaurants and shops. Disney prides themselves on cohesiveness, but this has been lacking in Future World and is our first hope of improvement for Epcot's overhaul.
2 – New Headliner Attractions Needed
The newest attraction at Epcot is the Frozen Ever After ride which took the home of Maelstrom. Frozen fans LOVE this attraction and while we feel like it's a fun ride, we don't consider it a headliner attraction. Soarin' has a new film and again is amazing, but not necessarily a headliner. Epcot needs that attraction that folks can't get enough of – such as Hollywood Studio's Rock 'n' Roller Coaster or Toy Story Midway Mania; Animal Kingdom's Expedition Everest or Kilimanjaro Safaris; or Magic Kingdom's Seven Dwarf's Mine Train and Space Mountain. We feel like Epcot needs a timeless attraction in the form of a thrill ride as a headliner as well as a family friendly attraction that keep the guests coming back time and time again.  In July 2016, rumors were flying when test balloons were seen over the Universe of Energy Pavilion. Rumors have been swirling that this new attraction would feature a Guardians of the Galaxy theme and that the attraction will be a roller coaster based on that theme. We'll have to keep waiting to see what is coming! (Surprise, rumor confirmed!)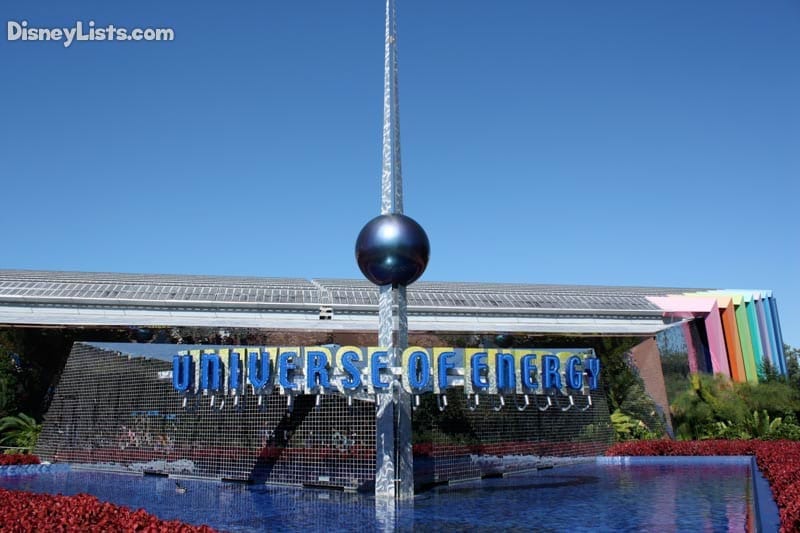 3 – Tech Savvy is a Necessity
If Disney wants to keep Walt's dream alive that Epcot is the "community of tomorrow", then technology needs to play a huge role in this overhaul. The latest technology needs to be present in the attractions, the restaurants, the merchandise, and the entertainment. It would be amazing to walk into Epcot's Future World and truly say – yes, this is the future! A challenging task for Imagineers – but Walt was always trying to accomplish the unimaginable, such as the still incredible Monorail system on Disney property. Bring out the technology!
4 – Updated Spaceship Earth Attraction
We obviously don't want the Epcot icon (the massive "Epcot ball" that holds the family favorite Spaceship Earth attraction) to go away. We love that this is Epcot's symbol but will say it needs an overhaul inside. During this attraction, the sequence of communication stops after the creation of computers. We thought by now Disney would have already adjusted and made updates to follow current forms of the history of communication. We expect this ride is a challenge as communication technology is ever changing – but one Disney would find worth keeping current.
5 – Dining Overhaul in Future World
Chances are if you are dining within Epcot, you are immediately thinking of a restaurant located around the World Showcase. With several cuisines and restaurants available, the World Showcase is the place to dine! Unfortunately, Future World lacks a draw for dining. In addition to a couple of quick service spots, Garden Grill and the Coral Reef are the slim choices that don't always have guests walking away with top reviews. Our recommendation is that better dining options need to be available within the overhaul of Future World.
6 – Embrace the Aquarium
Tucked away to the side in Future World, Epcot offers a massive aquarium known as "Caribbean Coral Reef Aquarium" which holds 4,000 amazing sea creatures within a 5.7-million-gallon aquarium. This is one of the largest man-made ocean environments in the world! With the release of the successful Finding Nemo movie, it was a no brainer for Epcot to bring a family friendly theme to the aquarium by pulling in the attraction, The Seas with Nemo and Friends. Now that Finding Dory is a success, this space could be updated and possibly expanded (much like the Toy Story area at Hollywood Studios). Water family-friendly attractions, character meet and greets, and fun entertainment are just a few ideas. This family friendly area could feature a renovated Coral Reef restaurant with a Finding Nemo / Finding Dory theme. Families would come swimming in "schools"!
7 – Don't Forget About the World Showcase
We may be touching mostly on the need to update Future World, but the World Showcase could also use some fixes during the overhaul. We would suggest some merchandise changes in the 11 countries, filling in the empty land with new countries, and embracing and expanding Disney's unique characters from each country – much like Norway and the Frozen characters.
This is just a few ideas of what we feel like Disney needs to do to fix Epcot. We'd love to hear your thoughts? Go ahead and dream big like a Disney Imagineer would!
For a no obligation, FREE Quote on a Disney vacation package, please contact our travel partner Magical Vacation Planner at 407-442-0227 (407-442-0215 for Spanish). You can also request a FREE quote online by Clicking HERE.