Disney's ultimate fan event, D23 Expo is in full swing, and as expected Disney used the occasion to unveil future plans for Disney World and other Disney parks and resorts around the world. Disney has officially announced two new transportation options, long rumored, coming to Disney World. Check out all the details below.
New "Minnie Van" Transportation Service
Completing the immersion so guests never have to leave the story while on a Disney vacation, Chapek announced plans that will make getting around Walt Disney World Resort even more fun. An all-new Minnie Van service will provide a point-to-point transportation service in a way that only Disney can do, giving guests an even more seamless resort vacation from start to finish. This is Disney's own Uber-liek direct transportation service.
In the image below, the Minnie Van uses Chevrolet Traverse mid-sized SUVs, which seats up to 8 passengers across 3 rows.
Minnie Van will be priced at $20 per trip per vehicle, and the service is planned to begin late July 2017 at Disney's BoardWalk and Yacht Club Resorts. The service will then expand to more locations throughout Walt Disney World.
Skyliner Gondola Transportation System Announced
Chapek also announced that a whole new transportation system of gondolas is planned, called the Disney Skyliner, to give guests a never-before-seen birds-eye view of Walt Disney World and connect the new Disney Vacation Club property, Disney's Art of Animation, Pop Century and Caribbean Beach resorts with Disney's Hollywood Studios and the International Gateway at Epcot. Construction has already begun on the project, but no opening date has been announced.
Check out all the other huge announcements from D23 by

clicking here:
RELATED ARTICLE: Top 10 Q&A About Disney World Transportation
By Christy Caby
Disney transportation is definitely a great perk and amenity at Walt Disney World.  The transportation gets you to just about anywhere you need to get on property if you know how to navigate it.  Here are our top questions and answers about Disney transportation:
10 – What transportation options are offered at Walt Disney World?
There are a wide variety of transportation options available at Walt Disney World.  There are buses, boats and the monorail.  There is even talk of a sky gondola planned for development, which will connect some of the theme parks and resorts together.  The options vary for each individual resort, theme park and location around Walt Disney World.  The transportation is meant to connect guests between their resorts and the different theme parks and attractions around Walt Disney World.
9 – What are the costs associated with Disney transportation?
All of the Disney-operated transportation is free.  (The only exception to this is if you are traveling on the Disney Cruise Line and taking one of the Disney buses to get to the port.)  There are no additional costs associated with using Disney transportation, even if you aren't staying at a Walt Disney World resort.
8 – Who is eligible to use Disney's transportation?
The transportation options are available to everyone.  The only transportation option that is exclusive to Walt Disney World resort guests is Disney's Magical Express, which is transportation from Orlando International Airport.  The bus, boat and monorail transportation is available for everyone to make their way around property.  The transportation is used to help move guests around and help make their transition to different parks and resorts as smooth as possible.  It alleviates the pressure of driving in an unknown area and the need for a rental car.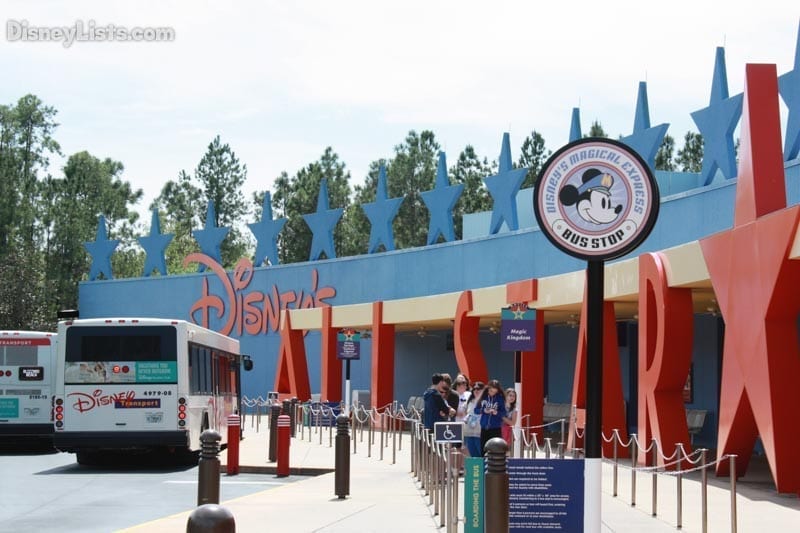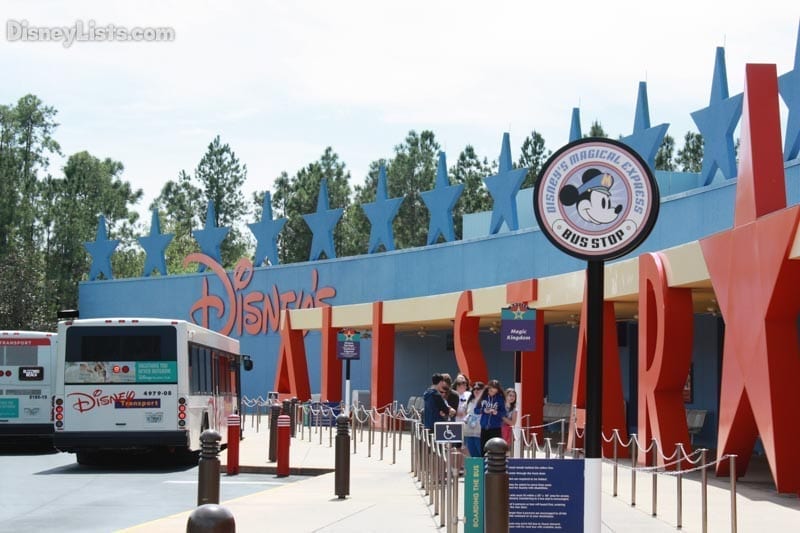 7 – Does the monorail go to all of the parks?
No.  The monorail actually only goes to Magic Kingdom and Epcot.  The monorail also goes to Disney's Grand Floridian Resort & Spa, Disney's Polynesian Village Resort and Disney's Contemporary Resort. The monorail is a classic mode of transportation that is a nostalgic part of the Disney experience.  Guests love riding the monorail, almost as much as many of the attractions on property.  If you want to ride the monorail, you will have to visit one of these parks and resorts or the Ticket and Transportation Center.  The Epcot monorail is probably my favorite, so definitely try to take the monorail to Epcot.
6 – What if I have a stroller, wheelchair or ECV?
All of these items are able to be transported on Disney transportation.  If you take the monorail, guests won't have to fold up or leave any of these transportation devices.  When taking a bus or boat, the guests typically have to transport from what they are riding in so that the stroller, wheelchair or ECV can be safely loaded and stored on the bus.  For ECVs, they are strapped into the bus.  Wheelchairs and strollers are folded and the guests hold onto them or store them if there is a place to do so.  Disney is great about accommodating all of these needs and making it as simple as possible for the guests.
5 – What is Disney's Magical Express?
Disney's Magical Express is the service that takes guests staying at one of Walt Disney World's resorts to and from Orlando International Airport.  When guests arrive at the airport, they make their way to the area of the airport where Magical Express is at.  They scan their Magic Band and are placed in queue to board a bus that will take them to their resort.  At the end of their stay, a time is given to board the Magical Express at the front of their Disney resort and it will take them back to the airport a couple hours before the flight departs.  It is a super convenient way to get to and from Walt Disney World and helps completely eliminate the need for a rental car or to have to drive anywhere once you arrive.
4 – How do I travel from my resort to another resort?
If you need to get to another resort at Walt Disney World, that can be a little trickier.  If you aren't staying at one of the monorail resorts, there isn't a lot of direct transportation from resort to resort.  Typically you would have to determine the closest theme park to where you are trying to go and then take a bus, boat or monorail directly to the resort that you are trying to get to.  The best way to do this can vary greatly depending on which resort you are staying at and which resort you are trying to get to.  Guests can ask the concierge at the resort if they need help determining the quickest way to get to another resort.
3 – Do I have to use Disney transportation?
No.  If you have your own vehicle, you can always drive to and from your locations.  Some guests prefer this since they feel like they have more control over when they leave and go places.  I like the convenience of Disney transportation, but can completely understand how guests would rather not risk waiting around on the Disney transportation.  Guests can also take taxis, Uber or other services get around property at their own expense.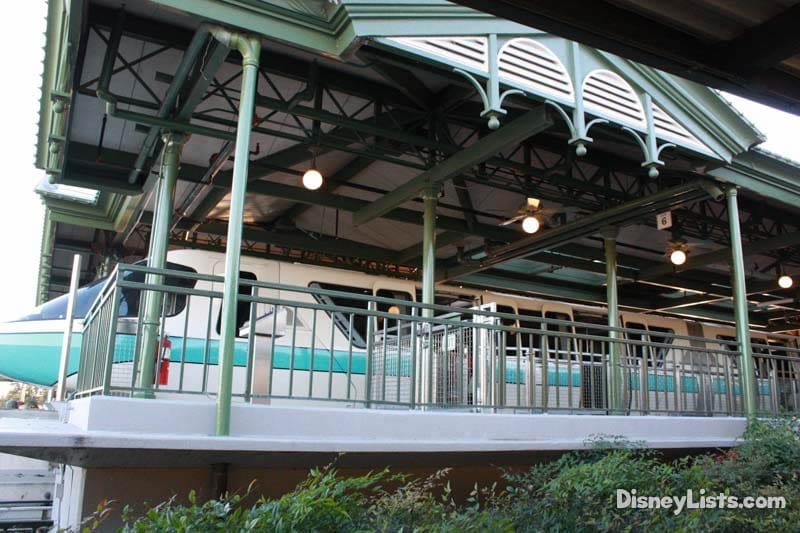 2 – What is the Ticket and Transportation Center?
The Ticket and Transportation Center is the parking lot for Magic Kingdom.  Tickets can be bought there, and guests can take the ferry or the monorail to get to Magic Kingdom.  Guests can also travel to Epcot from the Ticket and Transportation Center or they can park directly at Epcot.  When Walt envisioned Walt Disney World, he didn't want to ruin the magic of Magic Kingdom by guests seeing parked cars and trams when they first arrived, so the secondary location was created for parking so that guests could arrive at Magic Kingdom in grand style.
1 – How long will it take to get to my location using Disney transportation?
That is almost impossible to predict.  There are a ton of variables at play when it comes to Disney transportation.  It really all depends on where you are at and where you are going.  Disney has since installed handy monitors at each of the bus stops at the resorts so that guests can see when the buses will arrive from each of the different theme parks.  This has been a great addition to help set expectations for arrival times and such.
For a no obligation, FREE Quote on a Disney vacation package, please contact our travel partner Magical Vacation Planner at 407-442-0227 (407-442-0215 for Spanish). You can also request a FREE quote online by Clicking HERE.