There are so many amazing restaurants at Walt Disney World.  Included in these amazing restaurants are Disney Signature Dining experiences that are upscale and can be budget busters.  Many of these locations even have dress codes to maintain the upscale class of the atmosphere of the locations.  Here is our list of top 12 restaurants that Disney fans absolutely have on their dining bucket lists:
12 – Morimoto Asia – Disney Springs
Morimoto Asia is a fabulous dining experience located in Disney Springs.  The restaurant is on the pricey side, so it is definitely a great restaurant for a special occasion.  For guests that love sushi and Japanese flavors, they can't wait to give this one a try.
11 – The Hollywood Brown Derby – Disney's Hollywood Studios
This location is a replica of the classic Hollywood location that has since closed.  The restaurant has signature dishes from the original location and offers an opportunity to dine with an Imagineer.  The dining room is spectacular and the food is amazing.  This is definitely one that guests don't want to miss, especially when they can book the Fantasmic Dining Package with their meal.
10 – Jiko – The Cooking Place, Disney's Animal Kingdom Lodge – Jambo House
Jiko is a fantastic signature dining experience with an on-stage kitchen cooking up African-inspired dishes.  The aromas and flavors are impeccable, definitely earning its place on the bucket list for places to go.  This may not be the best spot for super picky eaters, but we absolutely love it!  Be sure to try some of the fantastic African beers and wines.
9 – Tiffins – Disney's Animal Kingdom
Tiffins is an exotic adventure-themed type of signature dining location.  It is a fabulous combination of flavors including tons of amazing seafood dishes.  The Wagyu Strip Loin is a must have when we go, after we have Lobster-Popcorn Thai Curry Soup to start.  The food is amazing and the atmosphere is a lot of fun.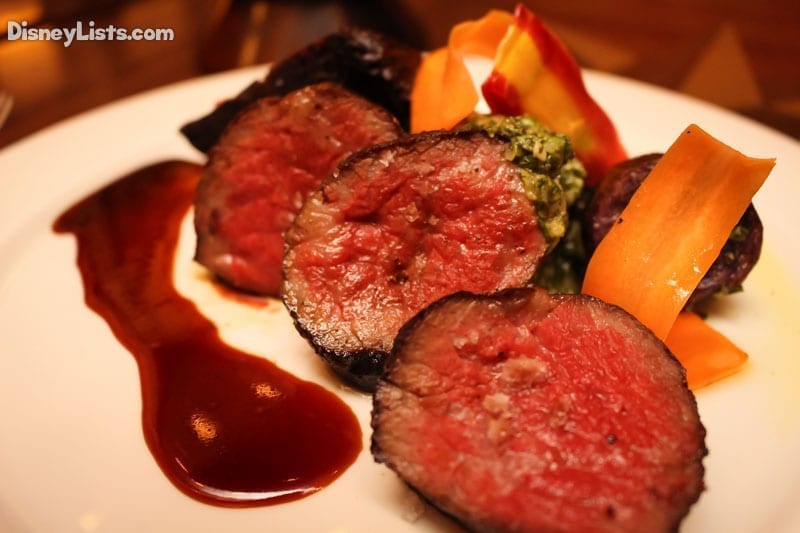 8 – Cinderella's Royal Table – Magic Kingdom
This is a classic Disney restaurant and it is located inside Cinderella Castle.  It is a must experience for Disney fans.  It does come with a hefty price tag, but it is well worth the experience and seeing the inside of the castle.  You also get to meet and greet with characters while you are there, too.
7 – Storybook Dining at Artist Point – Disney's Wilderness Lodge
This is a new dining experience at Artist Point restaurant. Meet Snow White, Dopey, and Grumpy every evening at the restaurant. While they added characters to the meal, the food is still amazing as ever with choices such as Royal Prime Rib Roast, Brother's Grimm Roasted Chicken, Magic Mirror Slow Braised Veal Shank, Seafood Stew and Bashful's Butter Poached Kingklip. Desserts include "Poison" Apple; Fairy Tale Gooseberry Pie; a sponge cake with chocolate gems and buttercream icing called Miner's Treasures; and The Hunter's Gift to the Queen, which features cracked maple popcorn with a ganache heart. This meal has become the favorite of many guests! It's worth checking out!
6 – Le Cellier – Canada Pavilion, Epcot
If you are looking for a steak in Epcot, then you definitely have Le Cellier on your bucket list.  The restaurant has a wide variety of aged steaks to choose from.  The Cheddar Cheese Soup is a must have when you finally get to experience the restaurant.  The wine list is impeccable, making it a perfect lunch or dinner spot to relax and enjoy the meal.
5 – Paddlefish – Disney Springs
This is definitely one of the amazing seafood locations at Walt Disney World.  The restaurant recently re-opened and was originally the home of Fulton's, another popular restaurant in Disney Springs.  If you want a high-end meal out filled with delicious seafood, then this one is absolutely on your restaurant bucket list.
4 – Narcoossee's – Disney's Grand Floridian Resort & Spa
The views are amazing, as well as the food.  This is one of our favorite steak and lobster locations on property.  You can also watch the fireworks at Magic Kingdom from the restaurant location, too.  After dinner, you can take an evening stroll around the resort grounds for the perfect ending to a date night.  You definitely don't want to miss this one.
3 – California Grill – Disney's Contemporary Resort
You have to dine at this location during the fireworks at Magic Kingdom.  This is one of the best views of the fireworks that you can possibly have, and the experience is accompanied by an amazing meal.  The menu is inspired by fresh California flavors with sushi, steaks, seafood and more.  The fireworks experience followed by one of their masterpiece desserts is the perfect way to end an evening at Walt Disney World.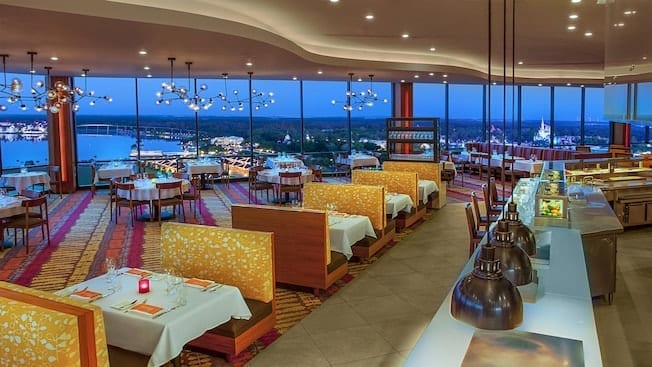 2 – The Yachtsman – Disney's Yacht Club Resort
This is one of the top steak locations in all of Walt Disney World.  The location has a wide selection of perfectly aged steaks and various seafood accompaniments to enhance the meal.  The nautical themed resort is the perfect place to enjoy unique seafood dishes and celebrate any special occasion with your loved ones. This is one you definitely want to come hungry for and plan to splurge!
1 – Victoria & Albert's – Disney's Grand Floridian Resort & Spa
This is probably the top of every dining bucket list for Walt Disney World.  This is the most expensive and most renowned restaurant in all of Walt Disney World.  The restaurant only allows guests to dine in formal attire to preserve the class of the upscale atmosphere.  The restaurant has multiple themed dining rooms with different dining experiences.  The meal is served in multiple courses that were carefully designed and created by world renowned chefs.  The meal will be extremely expensive, but is one of the most amazing culinary experiences that you could experience at Walt Disney World.  This is the top location for special occasions and celebrations.
For a no obligation, FREE Quote on a Disney vacation package, please contact our travel partner Magical Vacation Planner at 407-442-0227 (407-442-0215 for Spanish). You can also request a FREE quote online by Clicking HERE.