As Summer begins to roll out, we can't help but be excited Fall is on the way in! For many, Fall favorites include pumpkin spiced anything, jumping into piles of leaves, and figuring out this year's Halloween costume. While, yes, we too love these… our minds go into Disney-mode! Why you ask?! The Epcot Food and Wine Festival begins of course!
If the Epcot International Food and Wine Festival is new to you, let us give you a brief run down. Every year, Epcot holds a festival celebrating global cuisines through food and wine. Eat your way around Epcot's World Showcase with small bites of different cuisines. Sample different beers, wines, and other specialty drinks. On top of this tasty goodness, Epcot adds music through live performances, hands-on cooking demonstrations, and even Celebrity Chefs get involved! Grab a Festival Passport as a great way to be sure you are hitting all the highlights.
The best part is the Food and Wine Festival is included in your Epcot admission. You do have to pay for your food and drinks however, but much of the entertainment portion is free. The 2017 dates are August 31 through November 13. Let's check out what's new, as well as a few repeat favorites, for Epcot's 22nd International Food and Wine Festival!
1 – Five New Global Marketplace Kiosk
Our stomachs are growling! Spread throughout the World Showcase, visitors have a chance to taste delicious delicacies of International foods and drinks with a record number of 35 kiosks. Our favorite part is that Epcot keeps the kiosks fresh by offering new hot spots yearly. This year, these five new kiosks are on our must-try list:
Active Eats – Boasting "action-packed offerings", snag a plate at Active Eats which includes food such as Loaded Mac 'n' Cheese, Roasted Verlasso Salmon, and Yellow Cake and Tortilla Streusel. Beverages include beer from M.I.A. Beer or wines like Michelle Cold Creek Riesling and Evolution by Sokol Blosser Pinot Noir.
The Almond Orchard – It's time to go "nuts" and try plates here like the Cauliflower Risotto with Pulled Chicken, Fire-roasted Tomato Hummus topped almonds, or a Banana Almond Soft-serve Sundae. Drink up with some bubbling varieties of Champagne or non-alcoholic smoothies featuring Almond milk!
Coastal Eats – Feel that ocean breeze by heading to Coastal Eats featuring bites from the Pacific coastline. Lump Crab Cake, Baked Shrimp Scampi Dip, and Seared Scallops are on the top of our list! Plus, some Oregon Pinot will partner perfectly.
Flavors from Fire – This food is on fire… well, not REALLY, but you get what we mean! Yummy Roasted Pork Wings with Korean BBQ Sauce, Smoked Corned Beef, and Pickled Onions and Blonde Ale Beer Fondue. And don't forget the Sweet Pancake or Chocolate Picante. Wash it down with Orlando Brewery Smokin' Blackwater Porter, Napa Valley Zinfandel, or Evan Williams Bourbon.
Light Lab – If you're trying to keep it light, Light Lab needs to be on your must-try list. Check out their bubbly drafts and spirited concoctions like the "T=CC2" which is a Vanilla Tonic Water and Cotton Candy (Non-Alcoholic), or alcoholic beverages like Founders Brewing Company Green Zebra Watermelon Gose Ale or Elysian Brewing Space Dust IPA. A little bit of mad-scientist stuff happening here, but we're game!
While technically, not "new" kiosks – food and beverages are also on the way back to the festival from India (last available in 2009), Spain (last available in 2010) and Thailand (last available in 2009). For the complete menu be sure to read this article.
2 – Eleven New Acts for The Eat to the Beat Concert Series
Live performances take place daily during the Epcot Food and Wine Festival at 5:30pm, 6:45pm, and 8:00pm on the American Gardens Theatre stage. Each performance lasts roughly 35 minutes. Top recording artists from the past and present encompass a total of 30 awesome acts. This year, 11 new acts are taking the stage including:
The Hooters: Sept. 2 – 3, Known for "And We Danced"
Baha Men: Sept. 4 – 5, "Who Let the Dogs Out"
Lauren Alaina: Sept. 11 – Sept. 12, "Road Less Traveled"
Mark Wills: Sept. 30 – Oct. 1, "19 Somethin'"
American Authors: Oct. 2 – 3, "Best Day of My Life"
The Devon Allman Band: Oct. 6 – 8, "Ragged & Dirty"
Postmodern Jukebox: Oct. 16 – 17, Known for their vintage covers of modern music
10,000 Maniacs: Oct. 18 – 20, "Because the Night"
Kenny G: Oct. 23 – 24, "Songbird"
Blue October: Nov. 2 – 3, "Into the Ocean"
Squeeze: Nov. 12 – 13, "Black Coffee in Bed"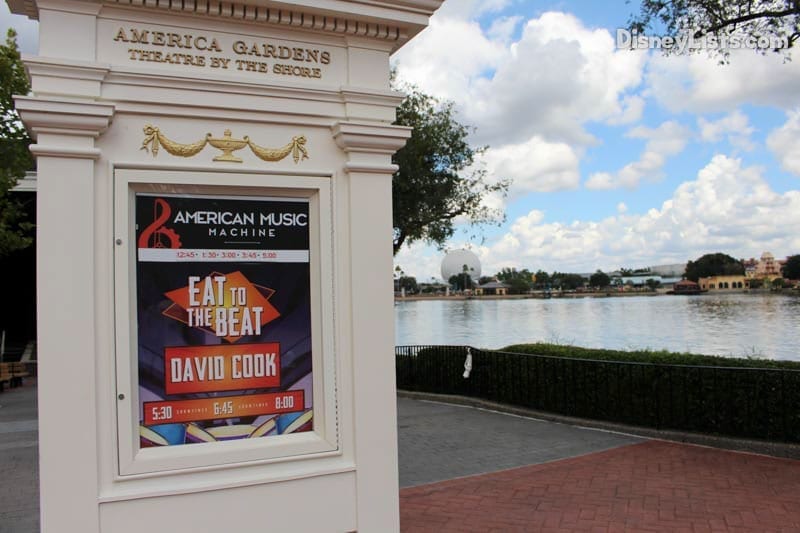 3 – Seven New Celebrity Chefs
Each year, Epcot brings in an extremely impressive batch of World-Renowned Chefs and Personalities, as well as our favorite Walt Disney World Chefs. Catch your favorite Chef in action and send your taste buds soaring while you're at it! Check the festival calendar as Chef demonstrations, book signings, and meet and greets vary. You may catch a Chef creating a signature dish, sharing top-notch tips and tricks, and maybe even have a chance to taste their amazing dishes. These festival events may have an additional cost or require reservations. Information about each event is available to you through the Festival calendar. The line-up of first-time Chefs to the Epcot Food and Wine Festival Include:
Chad Johnson
Daniella Malfitano
Jet Tila
Kim Yelvington
Shaun O'Neale
Stephanie Hersh
Stuart O'Keeffe
4 – Epcot Legacy Showplace
To celebrate Epcot's 35th year, the Food and Wine Festival is featuring a special tribute of the past, present and future of Epcot! Head to the Odyssey Pavilion where many of the Festival events are held. Locate the Epcot Legacy Showplace to re-discover some of our favorite culinary masterpieces including dishes such as a Chilled Scotch Egg wrapped in Sausage, Cheeseburger and Cheddar Cheese Macaroni Handwich, L'Orange Cotton Candy, and a non-alcoholic Bright Horizons: Sprite with Multi-flavored Boba Pearls. A simple, yet sweet way to remember all that makes Epcot so wonderful after 35 years!
5 – New Merchandise with Meaning
Get this… Disney Parks Merchandise team developed more than 75 items for this year's Epcot Food and Wine Festival! Why 75? 75 is the amount of days the Food and Wine Festival is taking place this year. This means, in a dream world you could buy a different piece of merchandise each day of the festival! From apparel, pins, home décor, accessories and more – there is no shortage of items. We especially love that Figment, the lovable purple dragon in Epcot's classic attraction, takes center stage in most of the designs on the merchandise. On top of the beloved Figment, guests will also see much of the merchandise gives a nod to Epcot's 35-year anniversary as mention above. Plus, you may spot Brews Merchandise as well as a Remy Collection. Get ready to get your shopping on!
6 – Repeat Favorites
We are thrilled Disney has kept a few of our favorites around another year! It doesn't matter if you've experience these before, they still offer something new each year that's not to be missed.
Mix It! Make It! Celebrate It! – Back for a second year, "Mix It! Make It! Celebrate It!" is a popular experience at the Food and Wine Festival. Work alongside Chefs to better understand mixology, ingredient combinations, and culinary and beverage skills. The cost is $49 plus tax per guest so be sure to make your reservation in advance before this event fills up. It will take place at the Festival Center's, Chef's Showcase Mondays through Thursdays from 12:15pm – 1:30pm. Get ready to mix it up!
The CHEW – ABC's "The CHEW" is back to the Food and Wine Festival this year! Watch TV celebrities from ABC's "The CHEW" at work right on stage as they stream live from Epcot. Show times this year are October 4 – 6, from 9:00am – 12:00pm. Keep in mind a valid audience ticket is required. You'll want to visit The CHEW to request an audience ticket. Plus, valid Epcot admission is required.
Party for The Senses – Dancing, food, and drinks go together perfectly in the Party for the Senses. Offering 50 gourmet tasting stations, entertainers, and acclaimed Chefs – this is the party to be at! As a perk – guests will also have reserved seating at Eat to the Beat which we mentioned above. The parties this year will take place on September 23, October 7, October 14, October 21, and November 11. The cost is $179-$329 per person plus tax depending on your seat selection. Two "Themed Nights" are also available including a Party for the Senses Featuring Chefs from Disney Springs on September 23 and Party for the Senses Featuring Chefs from Disney Parks on October 21.
Which of these new or repeat favorites are on your must-try list for this year's Epcot Food and Wine Festival? Be on the lookout for us… we'll be the ones decked out in the new merchandise, with a tasty dish and fantastic drink in our hand!
For a no obligation, FREE Quote on a Disney vacation package, please contact our travel partner Magical Vacation Planner at 407-442-0227 (407-442-0215 for Spanish). You can also request a FREE quote online by Clicking HERE.