Even though the fall season at Disney is in full swing with our favorites such as Mickey's Not So Scary Halloween Party and the Epcot Food and Wine Festival, we're already counting down to the holiday season at Disney World. Disney has announced today some exciting new offerings that will bring more holiday cheer and fun to your vacation. Read below for all the details!
Epcot's Holiday's Around the World is now the Epcot International Festival of the Holidays
Holidays Around the World will be transformed into a full fledged festival, making it now the fourth festival to run during the course of the year at Epcot. This festival will run from November 19 to December 30, 2017. That brings the holiday spirit early to Epcot as unlike Magic Kingdom, Epcot did not begin the holiday celebrations until the end of November in years past.  The festival will continue to showcase the holiday traditions of the eleven World Showcase nations. Like last year, there will be Holiday Kitchens that will feature the taste of the holidays around the world. At this time there are four kitchens that we know about. These were the same as last year: the Holiday American Table, the Feast of the Three Kings, Holiday Sweets and Treats, and final the Mexico Holiday Kitchen. We expect additional kitchens to be added since the event has been upgraded to a festival.
What would be an Epcot festival without a scavenger hunt? New this year is the Chip & Dale's Christmas Tree Spree. Here are all the details from the Disney Website:
Chip and Dale are collecting ornaments for their Christmas tree—and they need your help! To get started, simply purchase a map and sticker from select merchandise locations, including Pin Central, Disney Traders and World Traveler at International Gateway.
As you travel around World Showcase, be on the lookout for Chip and Dale as they gather ornaments from holiday decorations in each World Showcase pavilion. Once you spot them, add the corresponding ornament sticker to your map. Then, take your completed map to Disney Traders and exchange it for a festive surprise, courtesy of Chip and Dale!
Maps are $6.99 plus tax, and are available throughout Holidays Around the World at Epcot while supplies last.
Note: Valid theme park admission is required.
Finally, the most popular event at Epcot during the holiday season is the Candlelight Processional. You'll experience the Christmas story with a celebrity narrator, a 50-piece orchestra and a mass choir. This is truly an amazing and moving experience. If you don't want to wait in line for a seat, special Candlelight Processional Dining Packages are available. Read our news article here with the celebrity narrator lineup.
Please note: celebrity narrators, dates and other entertainment are subject to change without notice. Epcot admission is required.
Disney's Hollywood Studios Adds more Holiday Entertainment
Disney is adding more holiday spirit to the lineup at Disney's Hollywood Studios. New this year is the addition of Sunset Seasons Greetings, a new projection show. From November 9-December 31, 2017 Sunset Boulevard will be transformed into a winter wonderland through amazing new projections. Here are all the details from Disney:
As 2017 draws to a close, and night falls on Disney's Hollywood Studios, an unforgettable scene starts to unfold for Guests of all ages. Billboards suddenly begin to move into motion and tell a tale, courtesy of iconic characters sharing their love for the season. All the while, the Hollywood Tower Hotel—a.k.a. The Twilight Zone Tower of Terror—magically transforms, bringing to life the characters' stories.
Disney character moments include:
Mickey and Minnie reminiscing about a hometown Christmas as the scene shifts into a romanticized, Norman Rockwell-inspired town—starting in black and white before slowly changing into color.
The Toy Story characters guessing which new toys are coming this Christmas as the scene becomes covered in holiday wrapping paper.
The Swedish Chef from The Muppets babbling as only he can while the scene turns into giant gingerbread houses.
And finally, Olaf pining over his holiday wish as iconic music plays and the scene freezes over into a Frozen winter wonderland—complete with dancing Aurora Borealis lights and projected falling snow.
Please note: all entertainment is subject to change without notice.
Also, new this year is enhanced decor around Echo Lake featuring extra large ornaments, garlands, and a giant Christmas tree centered on the water of Echo Lake. Finally, for a limited time all-new songs from Disney's new animated short "Olaf's Frozen Adventure," will be added to For the First Time in Forever: A Frozen Sing-Along Celebration. Olaf will also appear in the show. Finally, Jingle Bell, Jingle Bam!, a holiday firework and projection show will run nightly beginning November 9.
RELATED ARTICLE: 10 Tips & Tricks for Celebrating the Holiday Season at Disney World
by Christy Caby
The holiday season is my absolute favorite time at Walt Disney World.  I am a Christmas fiend and no one does quite as well as Disney does.  If you are considering traveling to Disney during this time, then this list is definitely for you.  Here are 10 tips and tricks for celebrating the holiday season at Disney World:
10 – Check out other parks besides the Magic Kingdom.
So many guests think of the Magic Kingdom first when it comes to holiday fun, but really all of the parks decorate and go all out for the holidays.  Each park will have its own Christmas decorations, events and activities.  You won't want to miss all of the holiday fun to be had at each park.
9 – Plan your visit during non-peak dates.
If you visit in early December (and even early November in most cases), you get to experience all of the fun Christmas activities, attractions and events without as many of the crowds.  The closer to the Thanksgiving, Christmas and New Year's holidays that you get, you will notice that the crowds start to get pretty insane.
8 – Prepare to be extremely patient if you plan to visit the week of Christmas.
There is nothing like being at Walt Disney World for Christmas Eve and Christmas Day.  Some folks assume that because it is a theme park that it will be slow, but that couldn't be further from the truth.  These are two of the busiest days of the entire year for Walt Disney World.  The parks will close to capacity (especially the Magic Kingdom which is known to close by 10AM) and will be wall to wall guests.  You can still have a great time; you just should set your expectations and go in with a lot of patience.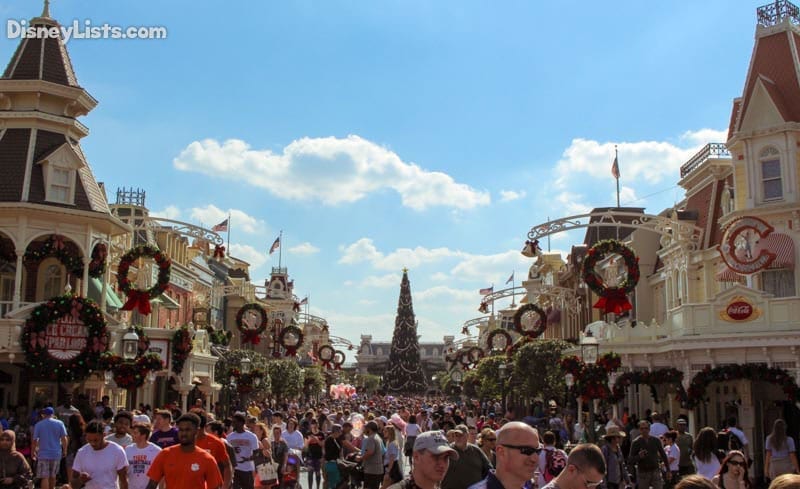 7 – Consider the Candlelight Processional Dining Package.
If you know you want to see the Candlelight Processional, and especially if you there is a particular time or narrator that you want to see, you should consider booking the dining package.  The dining package will guarantee you seating at a certain time for a certain show way you don't have to wait in the standby line.  The standby line can sometimes mean that you still end up standing for the show and/or don't get your desired seating.  We find the dining package to work so much better for us.
6 – The holiday fun isn't limited to the theme parks.
You will definitely want to tour the resorts and Disney Springs.  The resorts are also decorated and go all out for Christmas.  Many of the resorts will have extra activities, character interactions, cookies and more.  Disney Springs has really stepped up its Christmas game.  You can meet Santa, take a walk through a trail of Disney-themed trees, watch a drone holiday light show and so much more.  You definitely won't want to miss all of these new events and they are completely free and don't require any special admission!
5 – Buy tickets to Mickey's Very Merry Christmas Party.
If you aren't visiting the week of Christmas, then you will want to try to work the Christmas party into your budget.  At the Christmas party you get to see the holiday parade, the holiday fireworks show, the snow falling on Main Street USA, unlimited cookies and cocoa and a ton of holiday magic that only Disney can provide.  The tickets are extra outside of regular park admission for the day, but we find that they are well worth it!
4 – Don't miss out on limited character experiences.
The characters get into the holidays, too.  Many of the characters change over to their winter or holiday attire so that they have on festive scarfs, hats, coats, etc. when you meet and greet with them.  There are also characters that come out for limited times and for special events that you don't get to see very often throughout the year.  These are characters like Jack Skellington (dressed as Sandy Claws), The Seven Dwarfs and others.  Of course, don't forget to make time for meeting Santa Claus! The characters vary from year to year, but you'll definitely want to check who is doing meet and greets!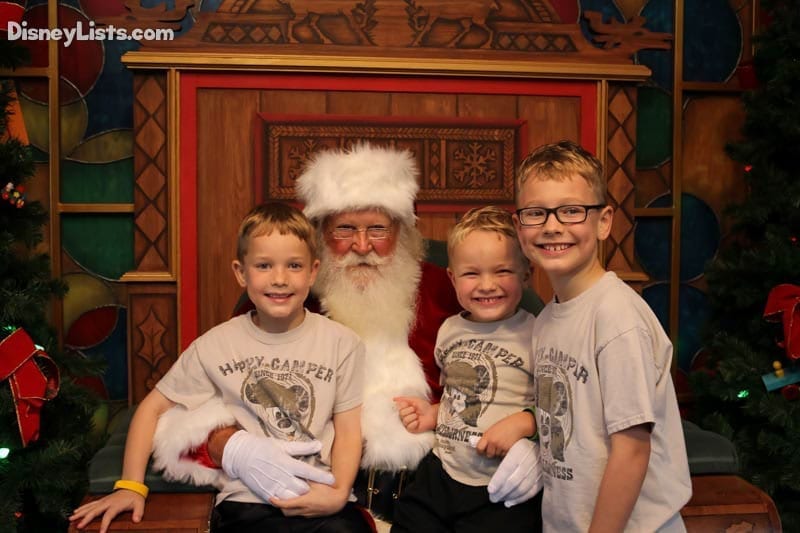 3 – Be sure to wear layers and pack a hoodie or light jacket.
The weather can vary a lot this time of year.  Sometimes it will be warm and sometimes it may be a little chilly.  Usually as the sun sets and it gets dark out, it will be cooler than in the daytime.  It is a good idea to wear layers or come prepared with a hoodie or jacket so that you aren't cold as the sun goes down.  This will make you much more comfortable as you are enjoying the parks!
2 – Decorate your stroller, windows, room, door, etc.
The parks and resorts will be decorated, but that doesn't mean that you can't add your own flare.  There are many guests that will decorate a tree in their rooms.  You can also add battery operated Christmas lights to your stroller.  It makes your stroller festive and makes it easier to see and find it, too.  Many guests like to also decorate their doors and/or windows at their resort, too.  It can be a lot of fun for the whole family!
1 – Check out holiday dining options.
There is also special holiday dining that you can enjoy.  Hollywood & Vine restaurant at Disney's Hollywood Studios changes their dining theme for the season.  During November and December it is a Christmas theme with a themed Christmas dinner for the meal and the characters in their holiday best.  There are many restaurants that are decorated and extremely cozy for Christmas with holiday offerings on their menus.  Be sure to look around and see which themes will help get you into the holiday spirit.
For a no obligation, FREE Quote on a Disney vacation package, please contact our travel partner Magical Vacation Planner at 407-442-0227 (407-442-0215 for Spanish). You can also request a FREE quote online by Clicking HERE.