Whether you are the type of morning person that wakes up brushing your hair with a fork (Ariel), ready to set off for your next great voyage (Prince Eric), excited to have the "best day ever" (Rapunzel), or simply prepping your face for the smolder (Flynn Rider)… we are thrilled to say the Bon Voyage Adventure Breakfast might just be the character breakfast destination you've been waiting for! Check out these 10 points we think you should know before saying "bon voyage."
1 – Finally A Boardwalk Character Dining Experience!
Trattoria al Forno, a gorgeous Italian eatery located on Disney's Boardwalk neighboring Disney's BoardWalk Inn Resort has a character breakfast! Situated right on the Boardwalk between AbracadaBar and Boardwalk's Pizza Window, Trattoria al Forno opens its doors for early risers seeking breakfast – with characters! We especially love the location of Trattoria al Forno because you can quickly gain access from resorts such as BoardWalk Inn Resort, Swan and Dolphin Hotels, and Yacht and Beach Club Resorts.
2 – Plan In Advance For The Best Way To Get There
While staying at the Walt Disney World Swan Hotel, we decided to make our breakfast reservation well in advance to experience Bon Voyage Adventure Breakfast. For us, it was an easy walk from the Swan Hotel to Trattoria al Forno, but if not staying at an Epcot Resort location, transportation may be slightly tricky. If you have your own car, we recommend parking at the BoardWalk Inn Resort, where they will allow you in as long as you have a reservation at Trattoria al Forno. If you are planning on bus transportation, please check with your Disney Resort Guest Services for the best way to reach the Boardwalk as you'll likely have to shift from a park bus to a resort bus since buses don't go from one resort to the other. The Disney Skyliner is a great option. Just go to the Epcot International Gateway and you'll have a short walk to the restaurant. We'd also recommend the Minnie Van Service provided by Lyft. This is an extra fee, but is available at neighboring Disney resorts which would make arriving for breakfast extra easy!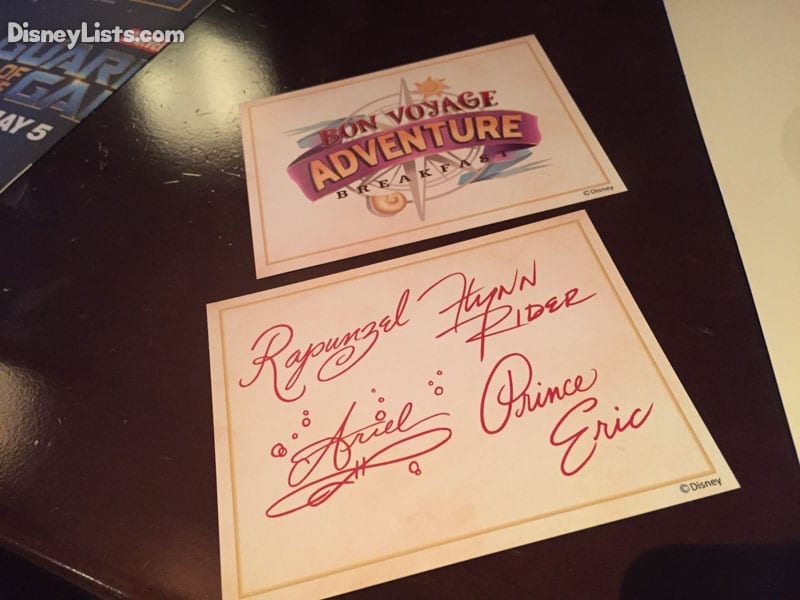 3 – Characters For Breakfast ONLY
Yes, Trattoria al Forno may be open for breakfast and dinner, but please don't let this confuse you when making character dining reservations. Characters can only be found at breakfast, which is from 7:30 am to 11:00 am. The dinner service from 5:00 pm to 10:00 pm is the usual Trattoria al Forno dinner consisting of Italian cuisine goodness!
4 – Arrival and Lobby Atmosphere Was Crowded
We had 9:25 am dining reservations for our family of four. We decided to arrive early (9:05 am) to scope out the place. Welcomed by friendly host and hostess, we checked in early and were told they would announce our name when our table was ready. The host/hostess stand is located in the lobby, which held a few chairs and couches for guests' comfort. There was a feature wall in the lobby with numerous Italian wines as well as Italian family photos. Nothing spoke to the character breakfast except for the small merchandise cart, which had some basic Rapunzel and Ariel gadgets and outfits. The lobby was packed with very little room to navigate through. The crowd actually spilled into the neighboring AbracadaBar, which itself was closed, but they kept the space open. Thankfully, the crowd dwindled down as we got closer to our reservation time at 9:25 am. We were able to welcome characters as they had to walk through the lobby of waiting for guests to enter the dining hall. We were intrigued that the host/hostess never screamed out names of those being seated. They must have made notes of what we were wearing or just had great memories because they approached us (and other families) with a quick call of the last name. Very impressive! We were seated by at 9:35 am, and our voyage began!

5 – Dining Room Atmosphere Was Comfortable
We were thrilled to go from a very crowded lobby to a spread-out dining space! The atmosphere in the dining room was delightful, with a variety of mostly tables with a few booths. We loved seeing the open kitchen, which we were seated close to. The kids especially enjoyed watching the Chefs bustle around and the open flames. The walls near us consisted of more Italian wine, which again is the primary focus of Trattoria al Forno for dinner. There was nothing that would give away that it was character dining experience as far as the atmosphere goes until you look at your table and see a Bon Voyage signature postcard with all four characters' signatures and a Bon Voyage Adventure Guide. The Bon Voyage Adventure Guide was especially cute because it was a fill-in-the-blank type of journey asking for your travel dates, and included the four theme parks you could journal about inside. The real atmosphere change, however, was seeing the characters arrive.
6 – The Characters Were Our Favorite Part!
The characters are introduced in waves, much like you'd experience at Cinderella's Royal Table. First, Flynn Rider made his grand appearance into the dining hall with a special narration provided for each four of the characters over the speaker system. He bowed and began making his table rounds. He was followed by Princess Rapunzel, Prince Eric, and finally, Princess Ariel. Shortly after Eric and Ariel were introduced, special music came on, and a parade with children pursued through the dining hall. It was fun watching Eric and Ariel in our portion of the dining room dance with the children. Despite the autograph card, all four characters do still sign autograph books. We were especially pleased with Flynn Rider as he commented on the frying pans on the table with great fear and even provided us with the smolder!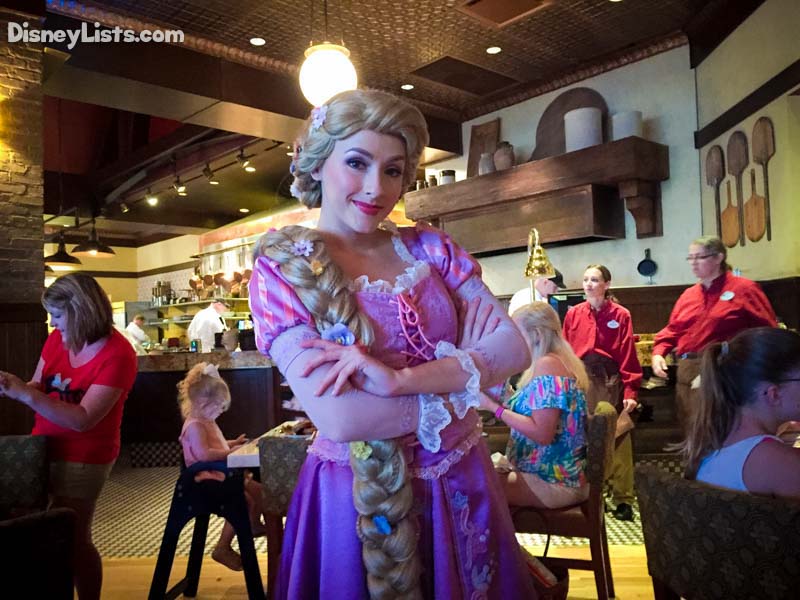 7 – Food Fit For Royalty
Speaking of frying pans… let's chat food! When we arrived, our server greeted us and offered several different breakfast beverages like orange juice, milk, and coffee. While the meal itself and drink are one lump sum, you can add a specialty beverage such as an Espresso, Sangria, Bloody Mary, Mimosa, or Italian Iced Coffee for an extra cost. The server then brought out our drinks as well as a frying pan full of tasty pastries. The assortment was impressive and we had no trouble gobbling them up! We especially liked the pastry that was shaped like Rapunzel's sun emblem. We had one in our party with a gluten allergy, so the server brought out a tiny, super cute, frying pan for him with a couple of gluten-free pastries. After we started in on the pastries, we each selected a "starter" with two choices – a fruit salad or a yogurt parfait with berries and granola. Both were good! It was challenging to settle on which entrée to choose as there were seven main entrees including meals such as the Tangled Eggs (mozzarella, tomato-basil scrambled eggs and Sunday gravy with roasted potatoes and bacon or sausage), King Triton's Shipwreck al Forno (calzone with soppressata, bacon, sausage, blend of cheeses, and Sunday gravy), and the Royale Breakfast (oak-grilled steak, cheesy egg torte, asparagus, crispy onions, and roasted potatoes). Our favorite for this breakfast was the Tangled Eggs! The kids enjoyed the Flounder's Flapjacks and Character Waffles but could have also chosen the Little Royale Breakfast or the Lil' Swimmers Delight. Gluten-free options were available for both adults and children. Our gluten-allergy family members settled on gluten-free waffles, which were brought out, especially for him, separate from the other food. Overall, we were pleased with the variety of food to select from as well as the taste!
8 – Service Still Needs Work
We felt the host/hostess did a great job of greeting us and escorting us to our table despite the crowded lobby. Unfortunately, we weren't as impressed with the server, which is super rare for us to say at Disney World! It could have just been a busy breakfast service and an off day for our server, but we had to ask her a couple of times for different items such as gluten-free pastries she offered and drink refills. She was extremely friendly, which was nice but just seemed very distracted. She also shared a story with us about how she recently went camping and included conversations about drinking way too much. It was an odd conversation, especially with our kiddos at the table. Again, super rare based on our Disney dining experiences – it could have just been an off day, and we all have those.
9 – High-End Taste… High-End Price
With high-end taste, comes a high-end price! The cost per adult was $44, and the cost per child was $26. Add a specialty beverage on top of this, and you walk out spending a pretty penny! Having experienced the Bon Voyage Adventure Breakfast once, we aren't sure that we'd be willing to pay this to experience it again. Yes, the food was excellent, and characters were spot on, but we still feel like it's not one we'd have to do again at this cost. While we visit Cinderella's Royal Table, Chef Mickey's, and Cape May Café almost yearly… Bon Voyage Character Breakfast didn't make the cut for our regular must-do list.
10 – Wrap Up With A Couple Of Tips
Overall, we would recommend this dining experience if Prince Eric, Ariel, Flynn Rider, and/or Rapunzel are your favorite characters. It was awesome seeing the four of them, especially the harder to see characters like Flynn Rider and Prince Eric! Plan budget-wise and review the menu in advance to be sure you pick a heavier plate to make you feel like you get your money's worth. You won't go away hungry if you eat your fill of pastries and a filling entrée. We also discovered while we waited in the neighboring AbracadaBar that characters flow in through this area. So, if you want a special glance at the character before they are in the midst of the crowd, hang out in AbracadaBar, and you'll see them before everyone else does! Lastly, Trattoria al Forno offers breakfast for guests interested in breakfast but not interested in Character Dining. This will save you money, but of course, no characters! Check-in at the host/hostess stand (no reservations needed) and request a non-character breakfast experience. They will offer you seating indoors (in a separate area from the characters) or outdoors with a similar menu to the Bon Voyage Adventure Breakfast.
Have you had a chance to try the Bon Voyage Adventure Breakfast? If so, we'd love to hear about your experience!
For a no obligation, FREE Quote on a Disney vacation package, please contact our travel partner Magical Vacation Planner at 407-442-0227 (407-442-0215 for Spanish). You can also request a FREE quote online by Clicking HERE.