News
NEWS: Disney Springs to Add 3 New Restaurants This Winter
Disney Springs has transformed itself into a food lover's paradise. The dining options here have exploded with the transformation from Downtown Disney to Disney Springs that is just about complete. With all the new dining locations, how could we possibly ask for more? Well, buckle up because Disney has announced three more restaurants that have us drooling already. Catch all the details below.
Here are all the details from Disney Cast Member Alex Dunlap:
Coming this winter, three modern Italian restaurants will be arriving at Disney Springs. These restaurants, all new concepts created by the Patina Restaurant Group, each feature unique menus and authentic Italian food in a beautiful and expansive dining complex. The complex will be located adjacent to The Edison, a lavish "Industrial Gothic"-style destination also being developed by Patina. The new concepts all tie into Disney Springs' storyline of a restored Florida waterfront town, bringing unforgettable food and wine direct from Italy to the Sunshine State, with stunning scenery you can only find at Disney Springs.
The first concept, called Maria & Enzo's, is a trattoria set in the town's abandoned 1930's airline terminal which has now been transformed into an open and airy restaurant. Featuring gorgeous views of Lake Buena Vista and incredible 50-foot ceilings, the interior dining room is adorned with artifacts that reflect air travel of the time such as maps and historic flight paths. Inspired by Sicily, the menu has a delightful range of family-friendly dishes – Arancini di Carne (rice balls stuffed with meat), Melanzane Parmigiana (eggplant parmesan), and handmade pastas including Busiate con Granchio (spiral pasta with crab) and 'Ncasiata al Forno (Sicilian baked pasta) – all served tableside. Other delectable highlights include fresh fish, richly flavored steaks and chops.
The second concept is Enzo's Hideaway – Enzo's own personal speakeasy inspired by Roman aperitivo bars. Located in the storied rum-runner tunnels that adjoin Maria & Enzo's and steeped in Florida's true history of rum-running, Enzo's Hideaway will pour Prohibition-era cocktails at its Tunnel Bar and serve a casual menu of hearty Roman Dishes such as the city's legendary Bucatini alla Carbonara (hollow spaghetti with creamy egg and pancetta sauce) and Tonnarelli Cacio e Pepe(square-cut spaghetti with pecorino and black pepper).
Finally, Pizza Ponte rounds out the group with a fast-casual restaurant serving pizza, pastries, Italian sandwiches and espresso. With the perfect blend of savory and sweet, Pizza Ponte is the ideal place quick bite. On the savory side, the menu features Pizza al Taglio (Sicilian-style pizza served by the slice), signature Tirangolo (stuffed pizza bread) sandwiches, and Porchetta (roast pork). To satisfy your sweet tooth, pastry specialties include Bombolini (Italian donuts), Sfoglia di Riso (pastry with rice cream), and Tiramisu.
Maria & Enzo's, Enzo's Hideaway, and Pizza Ponte are set to open at Disney Springs this winter, and are sure to leave you saying, "Delizioso!" If you want to learn more about the Pantina Restaurant Group and their incredible restaurants such as these, visit www.patinagroup.com
These new concepts are just the beginning of a whole list of new list of exciting food and beverage concepts coming to Disney Springs. Coming soon are new locations such as The Edison, Terralina Crafted Italian, Wine Bar George, Jaleo by José Andrés, and Wolfgang Puck Bar and Grill! Stay tuned for more updates on these amazing new locations.
RELATED ARTICLE: 10 Best Table Service Restaurants at Disney Springs
by Ryan Miller
Disney Springs is a hotspot for guests either coming from the parks and resorts, or driving in to check out all of the fun it has to offer. With tons of shops to browse through and lots of entertainment to take in, guests can sometimes forget just how much of a dining scene Disney Springs has. With everything from snacks and quick service all the way up to signature and fine dining, every guest will surely find something that speaks to them and makes their mouth water.
When it comes to table service restaurants, there is a wide variety in cuisines to explore. While everyone has a different preference when it comes to dining, if you are looking for a place to try, we have put together a list of the 10 best table service restaurants you can experience at Disney Springs.
10 – Crossroads at House of Blues
What better way to spend an evening than by taking in some incredible music and dining on a host of Southern favorites? The House of Blues offers guests a brilliant combination of both with nightly music from talented artists and a mouthwatering menu featuring house favorites like the Voodoo Shrimp sautéed and simmered in an amber beer reduction on top of house made jalapeño cornbread.
9 – Bongos Cuban Café
Heading further South in culinary terms, Bongos Cuban Café was opened by Gloria and Emilio Estefan to bring the delicious flavors of Cuba into Disney Springs. It's hard to go wrong with anything on the menu here, with dishes like the Seared Shredded Beef topped with grilled onions, Paella Valencia for 2 and a traditional Natilla (Cuban-style vanilla custard) for dessert.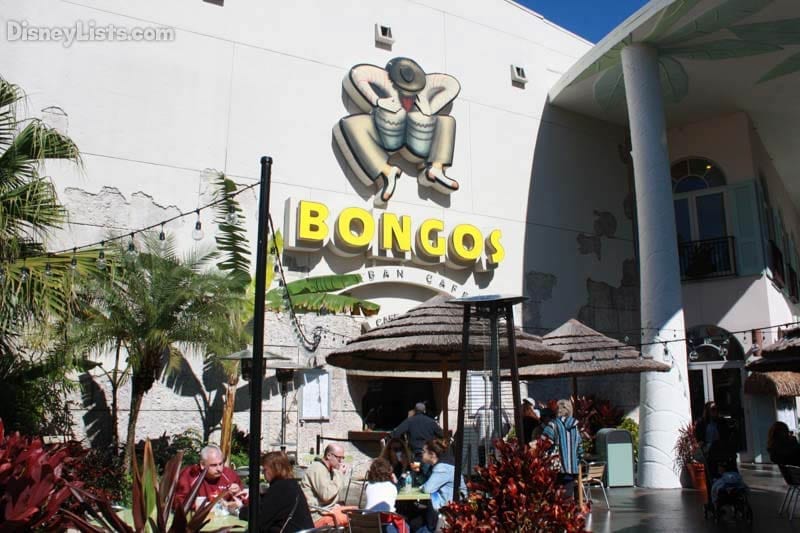 8 – Portobello Country Italian Trattoria
Along the waterfront, the Portobello Country Italian Trattoria is the place for hearty Italian food, made with fresh ingredients and satisfying even the biggest appetite. While the incredible homemade pasta is a real star on the menu, there are also a ton of meat and seafood dishes to choose from. The Portobello is also home to it's own creative dessert 'Biramisu', which is a take on tiramisu, using lady fingers, mascarpone cream and an organic porter (dark beer).
7 – Raglan Road
If you would prefer the feel of a traditional pub, look no further than Raglan Road. Sit down with a pint of Guinness and take in the Irish musicians and dancers as they perform periodically through the night. Each menu item is a take on traditional pub fare, with their famous beer-battered Fish & Chips playing one of the stars. Other great dishes include the Raglan Risotto, Bangers & Booz and the Keen Eye for the Shepherd's Pie to round out an extensive list of classics with a twist.
6 – T-REX
Families visiting Disney Springs will love the atmosphere at T-REX. Inside the restaurant are a number of larger than life animatronic creatures, from pterosaurs to wooly mammoths and a 15-foot tall T-Rex. About every 20 minutes, guests find themselves in the middle of a meteor shower where all the creatures come to life amidst the rumbling. While the menu isn't overly complicated, with dishes like the Bronto Burger, Mastodon Chicken and Pork-asaurus Sandwich, it's the immersive setting that makes this one of the best restaurants to visit.
5 – Paradiso 37
Described as a culinary tour of North, Central and South America, Paradiso 37 offers a combination of great food and a vibrant bar scene at night. Vintage travel posters on the walls remind guests of just how far the recipes have come from to make it on the menu here. Dishes include everything from Baja Fish Tacos and Grilled Chilean Salmon to hearty dishes like the South Carolina Style BBQ Pork Ribs and the Argentinean Skirt Steak.
4 – The BOATHOUSE
As one of the newer restaurants to pop up in Disney Springs, the BOATHOUSE restaurant overlooks the waterfront, watching over the amphicars and Italian water taxis as they take guests on tours of the lake. Inside the restaurant, dream boats from the 30's, 40's and 50's sit as centerpieces to the rooms, making this nautical-themed restaurant a perfect place to enjoy seafood dishes like Cedar Plank Salmon or Grilled Mahi Mahi Tacos. The menu also features a number of excellent land-based dishes including several different cuts and styles of steak to choose from.
3 – Art Smith's Homecoming
One of the best new additions to Disney Springs is Homecoming by celebrity chef Art Smith. The house specialty is the best fried chicken you've ever tasted, but the rest of the menu is full of southern cooking favorites. Fantastic entrees are complimented by a great selection of side dishes including the best macaroni and cheese you'll ever taste and sweet potatoes that are to die for! As great as the main event is, make sure you save room for dessert. Our favorites are the shine cake (a poundcake drenched in moonshine and served with ice cream and the home made sugar donuts with a maple bourbon dipping sauce.
2 – STK
If you're looking for a great steak, amazing sides and desserts that will make you feel like you must be breaking the law, this is the place for you. With a nightclub vibe and chic atmosphere, this is not your old stuffy steakhouse. STK offers prime cuts of meat and great seafood options as well. You can sit inside and enjoy great music mixed by the in-house DJ or head upstairs for great views at the more casual open-air seating on the deck. Either way, STK offers a fine dining experience without be pretentious or uncomfortable. Bottom line, this is without question the best steak on Disney property!
1 – Morimoto Asia
From the Iron Chef himself, Masaharu Morimoto's latest restaurant Morimoto Asia has quickly become one of the most popular places to dine in Disney Springs. Featuring Pan Asian cuisine, the menu includes Dim Sum and Sushi dishes as well as signature items like the Morimoto Peking Duck, Spicy King Crab and several Noodle dishes among a ton of other incredible choices. The atmosphere here is also what sells Morimoto Asia as one of the best restaurants. The kitchens are out in the open, giving guests a view of the preparation from the comfort of the huge 2-story interior filled with chandeliers, lounges, private dining spaces and a second-level sushi bar. If you haven't experienced Morimoto Asia, it should definitely be on your list of must-dos the next time you visit Disney Springs.
For a no obligation, FREE Quote on a Disney vacation package, please contact our travel partner Magical Vacation Planner at 407-442-0227 (407-442-0215 for Spanish). You can also request a FREE quote online by Clicking HERE.