What to do with the dog is a question that many Disney World guests (including us) have had to answer when planning a Disney vacation. Disney World has announced a big change to their pet policy that will allow guests of the Walt Disney World Resort to bring their dogs with them to four resort properties. Read all the details below!
Here are all the details from Disney Cast Member Thomas Smith:
We have exciting news for Disney Parks fans who are also dog lovers. Beginning this Sunday, Oct. 15, for the first time ever, the Walt Disney World Resort will welcome guests – and their dogs – to four of its resort properties!
Four Walt Disney World resort hotels have been designated dog friendly. Each property's per night/per room pet-cleaning rate is:
Disney's Art of Animation Resort $50/night
Disney's Port Orleans Riverside Resort $50/night
Disney's Yacht Club Resort $75/night
Cabins at Disney's Ft. Wilderness Resort $50/night
A maximum of two dogs per guest room can be accommodated. Each guest room will have easy access to outdoor pet walkways for exercise and green spaces with pet relief areas.
Dog lovers will find plenty of Disney amenities and special touches for their four-legged friends.
At check-in, Pluto's Welcome Kit includes mat, bowls, a pet ID tag, courtesy plastic disposable bags, puppy pads and dog walking maps. Also included: a Pluto "Do Not Disturb" door hanger indicating to hotel staff that a pet is in the room.
Disney enjoys a partnership with Best Friends Pet Care, an on-property full-service facility that can provide assistance with pet daycare and other pet services (fees apply).
Pet merchandise is coming soon to participating resorts.
While dogs will be allowed to stay in guest rooms, they will be expected to be well behaved, leashed in public resort areas and properly vaccinated. For more information about the new dog-friendly trial program, including other restrictions and policies, guests may contact 407-W-DISNEY. DVC Members should contact Member Services at 800-800-9800.
This may be a great option for those who wish to travel with their dogs. The $50 per night charge is not that outrageous considering it's in the ballpark of what many kennels charge. The Welcome Kit also offsets the cost a bit. The news has been met with mixed reaction from Disney fans. Some have allergy concerns of staying in a room that might have housed a dog, while others are concerned about the noise from pet staying behind in guest rooms. While not confirmed, the wording of the announcement regarding rooms having easy access to pet relief and exercise areas suggests that there will be specific rooms designated as pet-friendly.
What do you think? Let us know in the comments below.
RELATED ARTICLE: Traveling to Disney World with Pets: What You Need to Know
by Mike and Jamie Sylvester
Bringing your furry friend with you to the most magical place on earth? No problem! Disney has your pet needs covered between Resort Pet Boarding/Kennels, Pet-Friendly Camping, and Service Animal Allowances. It's now wonder Pluto is always so happy with these excellent pet options available! Here's a list of what you need to know before traveling to Disney World with pets.
1 – Resort Pet Boarding/Kennels @ Best Friends Pet Care
With the exception of service dogs, pets are not allowed in theme parks, resorts, or theme park buses. No worries however as Disney does offer a variety of resort accommodations for your pets at the Best Friends Pet Care located on Disney World property. Known as a "A Resort for Pets", Best Friends Pet Care is the perfect place to let your furry friend spend time enjoying their own activities and retreat away from home!
Amenities: The amenities at Best Friends are fascinating with 17,000 Sq. Ft. air-conditioned space, 10,000 Sq. Ft. of covered outdoor areas, and a 25,000 Sq. Ft. dog park. Not only is the space a pet owner and pets' dream come true, but the staff at Best Friends is made up of 45 highly trained pet care providers. The best part is you can drop by and see your pet during the Best Friends hours which are one hour before the theme parks open through one hour after closing.
Overnight Accommodations: Need Best Friends to tuck your pet in for the night? No problem – Best Friends has room for 300 dogs, cats and small pets. Make advanced reservations however as Best Friends does stay busy! Packages are available depending on what your pet's needs might be. For dogs, you might try the "VIP Luxury Suite" which includes a 226 Sq. Ft. suite, 2 potty walks, 2 playgroups, a flat-screen television, webcam, bedtime story and, after a 3-day stay, a bath. There are also Vacation Villas, Indoor/Outdoor Suites, and Indoor Suites for dogs. For cats, there are 2 and 4 level condos. They also have a small pet option – for a bird for example. Packages vary in price so select what works best for your pet.
Day Care: Just looking to get away for a day trip? Pets staying for Day Care will enjoy the same amenities and service as overnight pets. Drop them off in the morning, spend the day at the park, and pick them up on your way out.
Activities: Best Friends has activities, that well, even sound like fun to us! Some examples for dogs are playgroup, cuddle time, bedtime story, and an ice-cream break. Cats can indulge in playtime, cookies and milk, and even tuna on a Ritz!
Grooming: Pedicures, skin treatments, shampoo and cut – your pets can have it all at Best Friends.
Need to Know: Bring documentation along with you from your vet stating that your pet is up-to-date on all their vaccinations. Best Friends Pet Care also does not allow venomous pets, primates, wildlife, or exotic species. For more information, reservations, and prices you can call Best Friends Pet Care at 877-493-9738, or visit the Best Friends Pet Care website: bestfriendspetcare.com.
2 – Pet-Friendly Camping
Did you know Disney's Fort Wilderness is a Pet Friendly Resort? When booking your campsite at Fort Wilderness, let the Cast Member know you would like a to request a pet-friendly loop. Here are some Fort Wilderness Pet Policies you'll want to know before you bring along your furry friend:
Keep your pet on a leash that is 8 ft. or shorter.
When off the leash, pets are to be kept inside a climate-controlled personal RV. They are not allowed in tents or pop-up campers.
Dogs are welcome to play in the off-leash Waggin' Trails Dog Park or walk the many on-leash trails.
Clean up after your pet's droppings.
If there is an interference of surrounding guests (such as a dog that is constantly barking), Guest Services can ask you to remove the pet to a kennel off-site or leave the resort.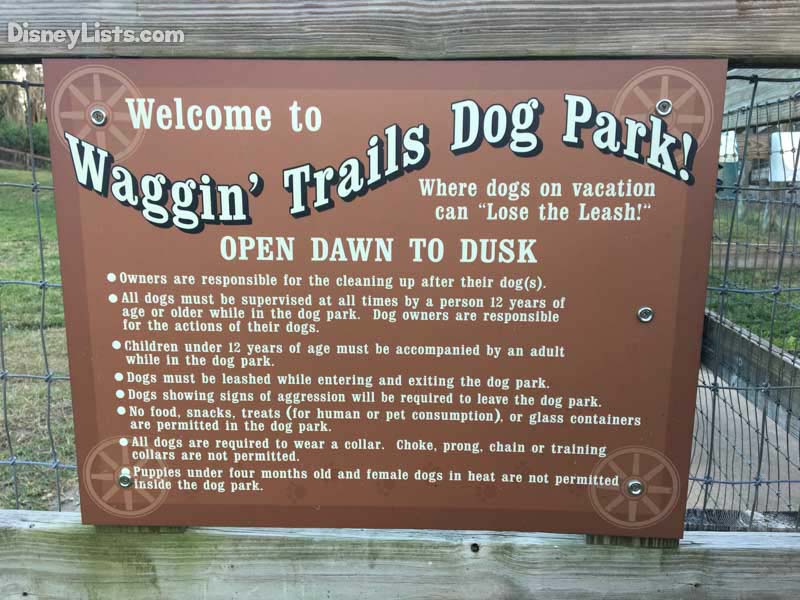 3 – Service Animals
Guests with disabilities and service animals are of course welcome at Disney World resorts and theme parks! Here are a few helpful pieces of information to make your Disney trip more enjoyable for both you and your service animal.
General Policies:
Disney defines a service animal as "a dog or miniature horse trained to do work or perform tasks for the benefit of an individual with a disability".
Service Animals must remain on a leash or harness.
Sorry, but Cast Members cannot handle the service animals for you at any time.
Riding Attractions:
Enter through the same entrance as guests who use wheelchairs.
Service animals are not permitted to ride select attractions. For example, they are not allowed on Expedition Everest at Animal Kingdom or Rock 'N' Roller Coaster at Hollywood Studios. Disney has a fantastic list of which rides service animals are permitted/not permitted to ride on. We suggest you browse this list before making theme park plans.
Take advantage of Rider Switch if you have someone in your group that can handle the service animal while you ride.
If needed, ask a Cast Member if they have a portable kennel available if you are traveling solo and want to ride an attraction.
Service Animal Relief Areas:
Disney World theme parks and resorts have service animal relief areas situated throughout each park. Location and maps are available online or you can ask a Cast Member and they will point you in the right direction.
If unable to make it to a relief area, Disney expects the owner to pick up after the animal and leave the area clean.
We hope you and your sweet pet have a magical time at Disney World!
For a no obligation, FREE Quote on a Disney vacation package, please contact our travel partner Magical Vacation Planner at 407-442-0227 (407-442-0215 for Spanish). You can also request a FREE quote online by Clicking HERE.