The Walt Disney World Marathon Weekend is a celebration of health and running that takes place every January. This is one of the largest running events in the US and draws over 100,000 runners and spectators to Disney World every year. Events include Kids Races, the Walt Disney World 5k, the Walt Disney World 10k, the Walt Disney World Half-Marathon, and culminates with the Walt Disney World Marathon. Those wanting to push themselves even further can tackle the Goofy Challenge (completing the half and full) and/or the Dopey Challenger (5k, 10k, half, and full). With so many options, long and short, there is a way for just about anyone to participate in this amazing weekend.
We have been participating in Marathon Weekend since 2009 and look forward to it every year. This year marked our 6th straight Goofy Challenge and 5th consecutive Dopey Challenge. Yes, we're that dopey over this weekend. With the marathon celebrating its 25 Anniversary run, 2018 was fantastic, even with challenging weather.
Here is Part II of our review of the 2018 Walt Disney World Marathon Weekend. For Part I click here.
1 – Walt Disney World Half Marathon
Last year, the 20th Anniversary of the half-marathon was cancelled due to terrible thunderstorms that went through Central Florida the morning of the race. This year the only weather concern was another cold morning. However, it was a bit warmer than it had been for the 5k and 10k races at around 39 degrees.
As we noted in Part I, runners have an extra 20-minute walk on half-marathon and marathon days to get to the starting line. With over 20,000 runners, more space is needed for the corrals. Casey Ralston, from the runDisneyRun Facebook group, reported that her walk from the bus drop off to the corrals was a total of 1.41 miles! During this time runners go through security bag checks, can get photos taken with characters, drop off any gear at bag check, and use the restroom one last time.
This year's notable change was the way they organized the corrals for the half and full marathon. In previous years, there have been up to 16 corrals. However, this year there were only eight with the last two, G and H, having the most runners in them respectively. Each corral had mini-waves with smaller groups of runners released every two minutes. These mini-waves spread runners out and help alleviate some congestion in the first few miles.
Chad and I both had great half marathon runs. The course had a terrific selection of characters. Lines varied, but I was able to get photos with the Mary Poppins Penguins and Genie relatively quickly. We didn't experience any problems other than the normal crowding at certain points along the course during the race. The course has runners going through Magic Kingdom as well as through some of Epcot (not World Showcase). This race and the Princess Half Marathon are the only two half-marathons to run through Magic Kingdom. If you are not quite ready for the marathon, but want to run on Main Street USA and through Cinderella Castle, then consider Donald's half or the Princess Half Marathon.
Check out photos from the half-marathon in the slideshow below:
[smartslider3 slider=130]
A big thank you to Chris Mel Photography, who photographed all of the races and recorded the character meet and greets. You can check out all of Chris' race photo albums on his Facebook page. Click the link to see the full album for the half-marathon race.
2018 Half-Marathon Stats—
26,000 runners registered
20,801 finishers: 8525 men and 12,276 women
Our schedule for the half-marathon
Woke up at 2:30 am
Left at 3:50 am
Arrived at 4:17 am
Left car at 4:30 am
30 minutes to walk from car, security check and bathroom stop
Left to walk to corral at 5:00 am
In corral area at 5:20 am
Race start at 5:30 am
Mini waves 2 min apart
Characters:
Wreck it Ralph and Vanellope
Jack Skeleton and Sally
Mike and Sully
Queen of Hearts and Rabbit
Goofy as The Great Goofini
Sebastian
Woody and Bullseye
Princesses (Aurora and Phillip/Cinderella and Prince)
Penguins
Genie
and Mrs. Incredible
Jack Sparrow and Barbosa
Fairies
Stitch
2 – Walt Disney World Marathon
The Disney Marathon is a very special marathon. It's the only marathon Disney puts on and it's the only race that goes through each of the four theme parks as well as ESPN Wide World of Sports. Many runners run this for their first marathon. Both Chad and I chose the Disney Marathon for our first marathon races and we've been back almost every year since our start. It's not easy running 26.2 miles, but at Disney it is magical. Brutal, yes, but magical all the same.
Race morning was another cold morning, but the warmest yet at 41 degrees. The temperature rose steadily throughout the morning and the race ended with perfect running weather. We continued to have no issues with driving to Epcot and entering the corrals. There were typical 5-10 minute waits at the portable toilets. Like the half-marathon, there were eight large corrals with mini-waves to spread them out. Each time a wave went off they played an inspirational song from a Disney movie. In between the Disney songs the DJ played other hit songs to keep the energy high. It was fun and did help the time pass as we waited for our turn to start. Soon enough the race was on.
Arriving at Magic Kingdom around mile 5, energy is high, excitement and magic is in the air. Running towards the castle on Main Street USA, running through Fantasyland, through Cinderella Castle and Frontierland are all wonderful to experience early in the race. After Magic Kingdom and a pass by the GrandFloridian Resort, runners take a right onto Bear Island Road. Back again from last year, we ran past retired attraction vehicles from 20,000 Leagues Under the Sea, Mr. Toad's Wild Ride, Snow White's Scary Adventures, Skyway, and Star Jets. Then it's onto Animal Kingdom for the half-way point.
This was my sixth straight Disney marathon and this year I finally did something that many runners have on their bucket list—ride Expedition Everest during the race! It was so much fun. It doesn't work for everyone, but if you can arrive at Animal Kingdom just before 9:00 am you'll be in for a great treat. I got to the attraction at 8:57 am. They had just opened up the queue. After a short ten-minute wait, I was on the train and off to find the elusive Yeti! This is my favorite ride at Disney World, and it was a very special experience to ride it with other marathoners. There was some electricity in the air and we loved the fact that we were doing something like this. Overall riding the attraction took fifteen minutes. I wasn't bothered, for us, running a Disney race isn't about qualifying for Boston. The man I rode next to was off to ride Dinosaur next and then all of the other rides along the rest of the course.
Runner Tip: it will not work for you to make FastPass reservations for attractions during the marathon. You would need to go through the opening gate of the park with your MagicBand being scanned and that isn't possible with the way we enter the parks during the race. While not advertised, we have heard of Disney Cast Members letting runners enter the FastPass entrances for attractions, particularly later in the race, so they do not have to wait in the regular line. If you want to ride an attraction at Hollywood Studios where the regular line waits would likely be too long, it might not hurt to ask to enter the FastPass entrance.
The hardest part of the course is from mile 13-22. From miles 13-17 you run from Animal Kingdom Park to ESPN on Osceola Parkway. While Disney does what they can with course entertainment, it's not all that exciting. Miles 17-22 are what many consider the worst part of the course that runs through ESPN Wide World of Sports. It's not that running through there is terrible, it's just that you weave back and forth and the time there seems never ending. It also coincides with miles 18-20, the dreaded "wall" where some runners struggle to keep going. There were multiple character stops during this section of the race though. Running around the baseball diamond is always fun, but we'll be happy when the two new lands at Hollywood Studios (Toy Story Land and Star Wars Land) are open and will allow for much more exciting scenery during those last tough miles.
The great thing about reaching Hollywood Studios at mile 22 was that you know you're almost there. AND THE CHOCOLATE! We love getting chocolate at this point of the race. In year's past Disney has handed out Hershey Mini Chocolate bars. This year, however, we got small malt balls, plain M&M's and interestingly, M&M candy corn. I passed over the candy corn, but absolutely loved the M&Ms!
After a quick run through the Studios, runners run along the BoardWalk and onto World Showcase in Epcot. This last mile around World Showcase is the most magical of the entire course. You're exhausted, you want to be done and Disney knows it. They ramp up the music—this year it was inspiring Disney songs—the course is lined with cast members and guests cheering runners on through that last tough 1.2 miles. I tear up every year when I get to World Showcase because it's such an amazing experience!
Runner Tip: there are many characters along the World Showcase stretch, mainly Disney Princesses. Runners have priority for photos. So, if you see a line of "regular guests" don't think you have to wait in the line. The character handler will allow you to get your photo before normal park guests.
Runners then run past Spaceship Earth and then it's off to the finish line for a fantastic finish of 26.2 miles. Or more. My watch actually had 27.7 miles. With all of the weaving, character stops, bathroom stops and perhaps ride stops, you'll likely get more than 26.2 miles!
All participants of Marathon Weekend received a special 25th Anniversary Marathon luggage tag. However, those that ran the marathon were treated to a very special surprise. After we received our Mickey medals we turned the corner and were surprised with special 25th Anniversary Marathon Mickey Ears. It was the perfect ending to another great race!
Check out photos from the marathon in the slideshow below:
[smartslider3 slider=131]
Thanks again to Chris Mel Photography. You can check out all of Chris' race photo albums on his Facebook page. Click the link to see the full album for the marathon race.
2018 Marathon Stats—
25,500 runners registered
76 "perfect" marathon runners who have finished every Disney World Marathon since 1994, 45 of them are from Florida
20,050 finishers: 9265 men and 10,785 women
Our marathon morning schedule:
Woke up at 2:30 am
Left Fort Wilderness at 3:47 am
Arrived at 4:16 am
Left car at 4:25 am
In line for bathrooms at 4:45 am
Left for corral at 4:55 am
At corral at 5:15 am
Race start at 5:30 am
Mini waves 2 min apart with hit song from each year starting with 1994 to celebrate 25 years of the marathon
Character stops:
Cars: Lightning McQueen and Mater
Launchpad McQuack
Villians (it was Evil Queen, but was on rotation)
Buzz Lightyear
Queen of Hearts, Tweedle Dee, and Tweedle Dum
Donald Duck
Sebastian
Lady Tremaine and step-sisters
Woody and Jessie
Maleficent guards and Dragon
Penguins (Mary Poppins)
Vacation Genie
Up cast
Hades, Pain, and Panic
Clarabelle Cow
Cast from Lion King
Rafiki and Timon
King Louie
Grave Diggers
Pluto and dinosaur skull
Sports Mickey and Minnie
Sports Goofy
Sports Donald
Joy and Sadness
Green army men
Oswald
Belle and Aurora
Jasmine
Snow White
Mulan
3 – Goofy and Dopey Challenges
In 2006, the Goofy Race and a Half Challenge was introduced. Only runners goofy enough would run a half-marathon on Saturday and a marathon on Sunday! In 2014 an even crazier challenge came along: The Dopey Challenge. To create a challenge that consisted of running a 5k, a 10k, a half-marathon, and a marathon, the 10k race on Friday was added the same year. With the addition of the Dopey Challenge, the Goofy Race and a Half Challenge has become less popular. While the first four years saw Dopey registrations around 7500 runners, this year the cap was increased to 9000 runners. It should be noted that Dopey runners also earn the Goofy Challenge medals since they also complete that challenge. Most Dopey runners go for a "one and done" experience but there are some, including Chad and myself, that have run it ever year. This year we earned "perfect" status and received a special "perfect" lanyard for our accomplishment. Why do we do it year after year? Because, as crazy as it sounds, it's a lot of fun. Disney races are a lot of fun and the Disney Marathon is special. It keeps us coming back. We camp at Disney's Fort Wilderness every year and it makes for a perfect vacation.
 2018 Race Challenge Stats—
9,000 Dopey challengers registered
735 "perfect" Dopey runners who have finished every Dopey challenge since 2014
2,800 Goofy challengers registered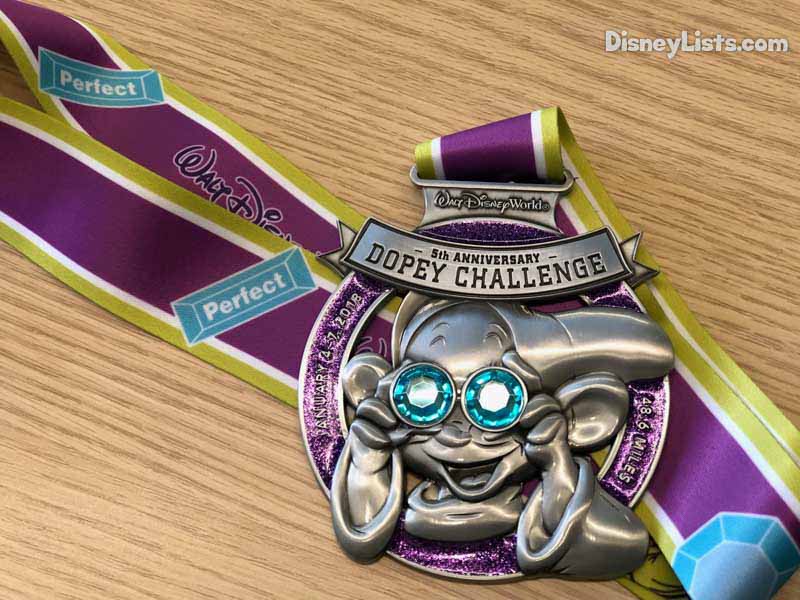 4 – Overall Thoughts and Recommendations
runDisney races are not perfect. There can be problems, less than perfect weather, rude runners, and not so perfect races experiences. But more often than not, there is magic, encouraging runners beating the odds, and inspiring stories. We believe proper expectations about the business and crowding of the races will really help with your experience at a Disney Race. We go in knowing that it will be crowded, knowing that there will be points where we simply can't run because the course is packed with people, and knowing that there will be runners and walkers who don't follow race etiquette. As Elsa says, you've got to let it go. I hear every year complaints about the crowding and how some have terrible races because of it. We find that unfortunate because we enjoy the races overall every year. This year was no exception and we enjoyed this year's marathon weekend very much. If you're looking for an amazing race experience for any of the four distances: 5k, 10k, half, and full or are looking to challenge yourself by either going Goofy (39.3) or Dopey (48.6) then look no further than Disney's Marathon Weekend.
Registration for next year's Marathon Weekend (January 9-13, 2019) opens up on April 17, 2018 at 12:00 pm EST. Typically, the 10k is the first race to sell out. If you want to run the 10k register as early as possible. The other races may take a few days to even weeks to sell out, but don't wait too long to sign up. Once sold out, you can usually find race registrations with Disney charities, but there is a fundraising requirement for those bibs. Most though, find running for a great cause an excellent way to spend the weekend!
For a no obligation, FREE Quote on a Disney vacation package, please contact our travel partner Magical Vacation Planner at 407-442-0227 (407-442-0215 for Spanish). You can also request a FREE quote online by Clicking HERE.