News
NEWS: Disney Releases/Confirms Loads of Details on Star Wars Land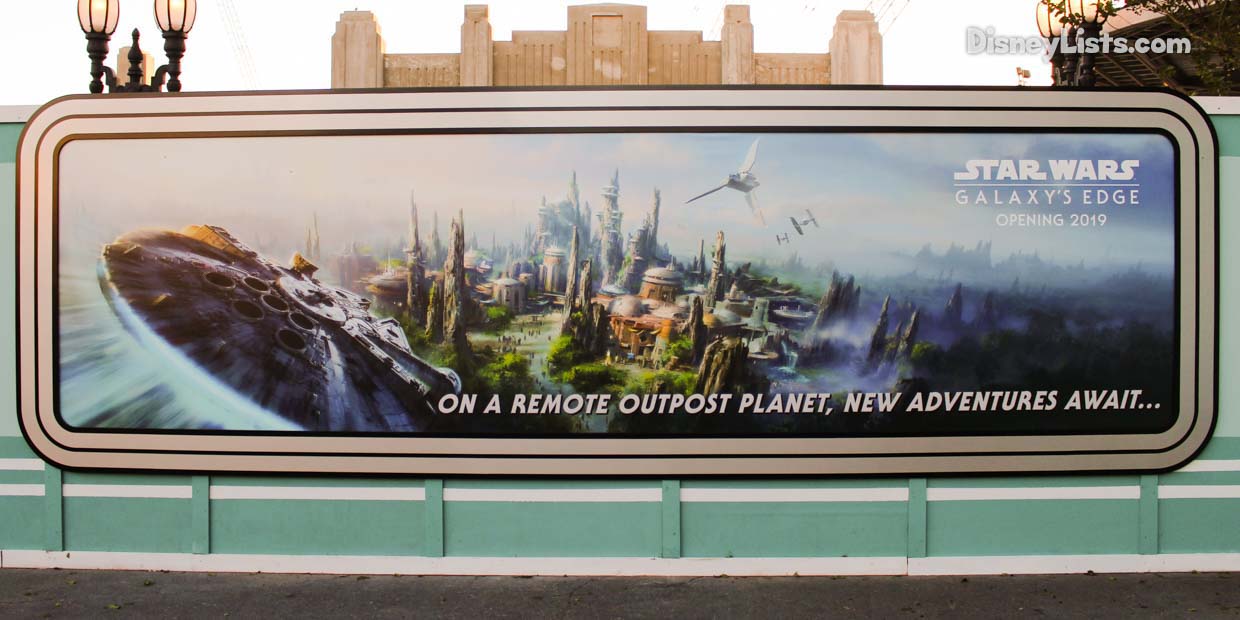 Since the announcement in August 2015 that a Star Wars themed land would be opening at both Disneyland and Walt Disney World, Star Wars fans have been (not-so) patiently waiting for the land to become a reality. Last year, the official name of the land was announced, Star Wars: Galaxy's Edge. While we have at least one  more year of waiting, there are some details of the land that have been revealed. Below you'll get all the details Disney has released or confirmed on Star Wars: Galaxy's Edge so far.
Here are all the details from Disney Cast Member Jennifer-Fickley Baker:
1 – It Opens Next Year!
Opening date is currently set at 2019. Star Wars: Galaxy's Edge at the Disneyland Resort will debut first and the land at the Walt Disney World Resort will debut second.
2 – It's Set On The Planet Batuu
At Star Wars: Galaxy's Edge, guests visit Batuu, a remote outpost on the galaxy's edge was once a busy crossroads along the old sub-lightspeed trade routes, but its prominence was bypassed by the rise of hyperspace travel. Now home to those who prefer to stay out of the mainstream, it has become a thriving port for smugglers, rogue traders and adventurers traveling between the frontier and uncharted space. It's also a convenient safe haven for those intent on avoiding the expanding reach of the First Order.
3 – You'll Be Able To Fly The Millenium Falcon
One of the land's two signature attractions will put you in the cockpit of the Millenium Falcon, piloting the ship, shooting blasters or preparing for hyperspace – all while completing a critical mission. But how you perform on the mission holds even bigger stakes: perform with skill and you may earn extra galactic credits, while bringing the ship back banged up could put you on the list of a bounty hunter. End up on Harkos's list and you may face a problem if you show up at the local cantina.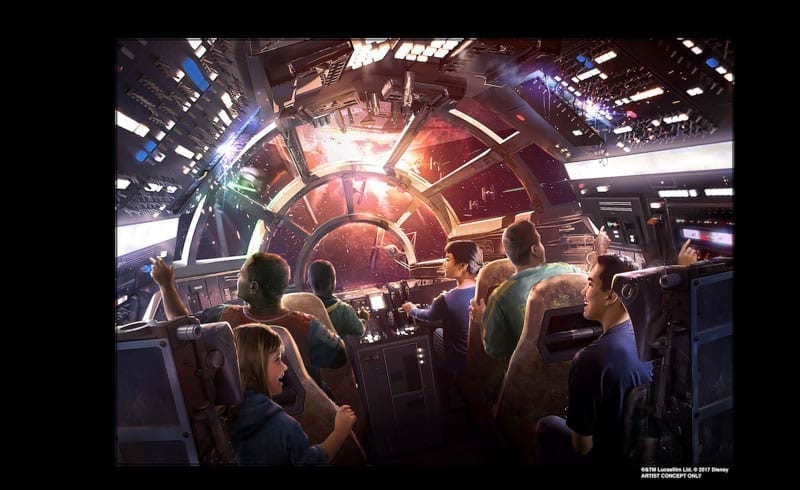 4 – A Second Attraction Planned for Star Wars: Galaxy's Edge Puts You On A Star Destroyer
This attraction, "built on a scale we've never done before," will make guests feel like they're inside a hangar bay in the middle of a battle between the First Order and the Resistance. (The name of this attraction is still yet to be released).
5 – A Cantina Will Serve Up Blue Milk
Only one F&B item has been announced for Star Wars: Galaxy's Edge so far and that's the blue milk Luke Skywalker made famous in "Star Wars IV: A New Hope."
6 – Expect To See Characters From A Galaxy Far, Far Away
Guests will also encounter many familiar faces inside Star Wars: Galaxy's Edge, including BB-8, Chewbacca, members of the First Order and – among many others – Rex, the troublesome pilot you may remember from the previous version of a certain Disney attraction who takes on a new role in this land as the DJ at the cantina.
7 – The Land Will Feature Marketplaces & New Toys
Imagineers looked to the exotic markets of Istanbul and Marrakech for inspiration for the land's marketplace, where guests can explore a rich collection of shops and merchant stalls. One stall will be overseen by a Toydarian, a creatures fans first encountered on Tatooine in "Star Wars: The Phantom Menace." Here, guests will be able to discover all kinds of fun toys straight out of the Star Wars galaxy.
8 – Star Wars: Galaxy's Edge Merchandise Has Already Been Released
The first Star Wars: Galaxy's Edge merchandise, available at select locations at the Disneyland and the Walt Disney World Resort, was released in December. The line currently consists of an assortment of men's and women's T-shirts, hats and more that feature faces and places familiar to Star Wars fans, including the Star Wars: Galaxy's Edge logo, the Millennium Falcon, BB-8, DJ Rex and more.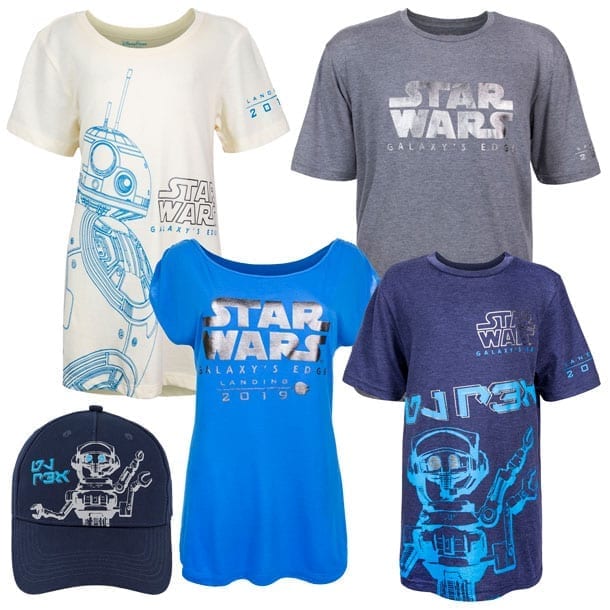 9 – You Can View A Portion Of The Star Wars: Galaxy's Edge Model Right Now
A portion of the Star Wars: Galaxy's Edge model is currently on display at the end of the Walt Disney Presents exhibit at Disney's Hollywood Studios.
RELATED ARTICLE: 9 Ways to Have a "Star Wars" Day at Disney's Hollywood Studios
by Cindy N.
The building excitement around the return of the Star Wars saga to theaters has been palpable. Star Wars mania is back and bigger than ever. Fans of the original series have grown up and can't wait to share their love and excitement of the saga with their kids and grandkids. George Lucas and Disney World have enjoyed a long relationship that has brought the magic of the Indiana Jones and Star Wars movies into the parks. In August of 2015, Disney announced news that fans were waiting for: Star Wars Land would be coming to Hollywood Studios! While construction began in 2016, fans don't need to wait until 2019 to experience a Star Wars themed day. Whether you are a young padawan or master Jedi, here are nine ways to have a Star Wars Day at Disney's Hollywood Studios.
1 – Jedi Training: Trails of the Temple, Next to Star Tours, Echo Lake
First up on the list is signing up your young padawan for Jedi Training. After a brief refurbishment, the very popular Jedi Training Academy is back with double the villains–so double the kids! Young Padawans will receive training on how to use the Force and wield light sabers. After a brief but thorough training in the Force, the young knights get a chance to use their skills and will face either Darth Vader or a new villain, the Seventh Sister (from the popular Disney XD series Star Wars Rebels). There is also an appearance by Darth Maul. With an all new stage and cast this will be sure to delight Star Wars fans from the age of 4-12. This is a very popular twenty-minute show. Sign ups occur on a first come first come basis. If you have a young Padawan, be sure to sign them up early at the Indiana Jones show location. Check your Times Guide for more information. You will be given a return time for your youngling to return for training!
2 – Star Wars: Path of the Jedi, ABC Sound Studio, Echo Lake
Head across the way towards the ABC Sound Studio to set the stage for a Star Wars day! This is must see for any Star Wars fan looking to get even more excited for Force Awakens (if that's even possible). It's also a perfect opportunity to introduce a new generation to the Star Wars movies or to get caught up on the story if you're one of the 10 adults on the planet that didn't see Episodes 1-6. You'll see a ten-minute retelling of the Star Wars saga that includes a sneak peek at the future of the galaxy.
3 – Star Tours: The Adventure Continues, Echo Lake
Stroll on down towards Star Tours where you'll experience an out of this world attraction. On December 15, 1989 the original Star Tours blasted off to Endor to the pleasure of Star Wars fans. In 2011, the power of the Force and Disney magic came together again to create the new Star Tours-The Adventure Continues. This newer edition features 3D technology, unique branching storylines and includes the expanded universe including the original trilogy of films and the prequels. Recently, new scenes from Star Wars: The Last Jedi were also added to the story.
4 – Star Wars Shopping
As you exit Star Tours, you'll enter Tatooine Traders, one of two specialty Star Wars stores at Hollywood Studios. You'll discover action figures, apparel, gadgets, LEGO kits, books and more. Also, don't miss Launch Bay Cargo at Star Wars Launch Bay (#5). There is a wide selection of Star Wars merchandise, including original artwork. The most amazing merchandise are probably the replica costumes!
5 – Star Wars Launch Bay, Animation Courtyard
Star Wars Launch Bay is an exciting attraction that will please Star Wars fans of all ages. First, you'll be treated to a short film that celebrates the Star Wars saga. This film includes commentary from key Star Wars producers, directors, writers, crew and story tellers responsible for bringing the Star Wars galaxy to life. You'll then be treated to an exhibit area that features props, models, costumes and artifacts from Star Wars films. Before you leave make sure you get your cameras ready as this is one of our top recommended locations for photo opportunities! There is so much to see and do in this great new experience-read what you need to know here!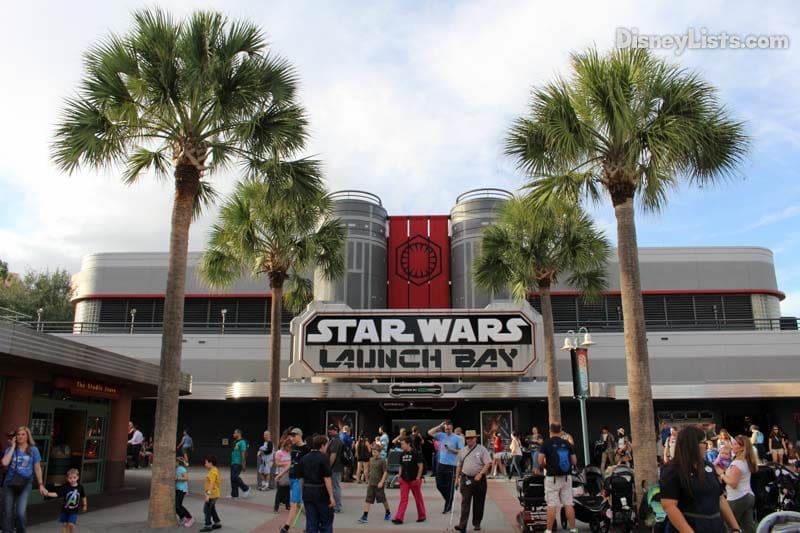 6 – Star Wars: A Galaxy Far, Far Away
Star Wars: A Galaxy Far, Far Away is a fifteen-minute show at Center Stage with multiple showings per day. In an interesting mix of movie vignettes and character appearances, this stage show is all about highlighting what we love about Star Wars—everything! Be sure to read all about this amazing show in our full article.
7 – The Storm Trooper March led by Captain Phasma
The Storm Trooper March led by Captain Phasma begins in the Animation Courtyard, leaving Star Wars Launch Bay with them marching behind Center Stage and then arriving for a short (about 3 minutes) demonstration on stage. It's a real treat to see Captain Phasma up close with her troops! Anyone who loves Storm Troopers will not want to miss this short demonstration. Be sure to check the Times Guide for show time information.
[smartslider3 slider=66]
---
8 – Star Wars Snapshots: May the Photos Be with You
There are many photo opportunities you'll want to take advantage of. Here are 5 different place
AT-AT Walker, Outside of Star Tours: The Adventures Continue-Get your picture under a massive AT-AT walker which looms over an Ewok village.
Speeder Bike, Outside of Tatooine Traders – A must for our family for years. We love getting our kids on this speeder and see how they've grown!
Cantina, Star Wars Launch Bay – Be sure to visit the area reminiscent of the famous Mos Eisley Cantina! Sit at a Sabacc table or stand at the bar and clutch your favorite-a glass of blue bantha milk! This fun area is full of photo opportunities.
Star Wars Characters, Star Wars Launch Bay – You won't want to miss the opportunity to meet fan favorites Chewbacca, Kylo Ren and now BB-8, our favorite droid! Each character has his own meeting area. Also, you may run into a Jawa at the Cantina!
9 – Star Wars: A Galactic Spectacular
Finally, you'll end your amazing Star Wars day with the all new firework and stage show,  Star Wars: A Galactic Spectacular. State-of-the-art projection effects, dynamic lighting, lasers and pyrotechnics light up the night like never before! The music, magic and characters of Star Wars combine with special effects and fireworks to put you inside iconic scenes from the Star Wars saga. The sounds of the amazing John Williams famous Star Wars score fills the air. Note due to the nature of the show your best viewing location is from Hollywood Boulevard in front of the Center Stage area.
For a no obligation, FREE Quote on a Disney vacation package, please contact our travel partner Magical Vacation Planner at 407-442-0227 (407-442-0215 for Spanish). You can also request a FREE quote online by Clicking HERE.