The American Adventure is closed for refurbishment and today Disney has announced details on the work going on to improve the attraction. The refurbishment of American Adventure will go beyond the standard attraction maintenance and will include significant technology upgrades as well as changes to the show itself. Check out all the details below.
Here are all the details from Disney Cast Member Jennifer Fickley-Baker:
Among everything to see and do around the World Showcase Lagoon at Epcot, a guest-favorite that has been there since day one is The American Adventure attraction. This marvel of engineering brings together a moving stage, 35 Audio-Animatronics figures and a giant screen that together shares the story of the United States of America.
Right now, the team at Epcot is busy converting the attraction to an all-digital projection system, and installing a new screen and new speakers so the show will look and sound better than ever before when it reopens later this month.
In addition to the update from film to digital, the show's finale will return with some notable faces from America's recent history. Newly-added American icons include individuals such as music composer John Williams, astrophysicist Neil deGrasse Tyson and noted ballerina Misty Copeland.
And that's not all: the iconic anthem "Golden Dream" has been re-recorded with all-new orchestration that brings the beloved music and lyrics to life in a way that will resonate more than ever. If you're like me, you're already humming along – 'America, spread your golden wings!'
Which scene in The American Adventure are you most excited to see when it returns?
RELATED ARTICLE: 5 Reasons We Love the American Adventure Pavilion at Disney's Epcot
by Mike and Jamie Sylvester
The World Showcase at Epcot is spectacular and one of our favorite parts of Disney World! As we walk through country after country and partake in the endless supply of food, drinks, shops, and cultural settings, we find ourselves drawn to one pavilion specifically – the American Adventure Pavilion. Here are 5 reasons why we love the American Adventure Pavilion at Disney's Epcot!
1 – Patriotic and Proud
The spirit of America comes to life through at the American Adventure Pavilion located in the middle of the World Showcase! We are always in awe of the grand and majestic building that holds the American Adventure show, Liberty Inn, and more. The red, white, and blue flags, the stately columns, the fountain, the clock tower, the golden eagle, and all the special scenery exudes patriotism! Maybe it's just us, but we feel like the sights and sounds at the American Adventure Pavilion provide us with an excellent reminder of how proud we should be to be standing on American soil.
2 – America's Past in the Present
Sometimes in the American Adventure building and other times on stage at the American Gardens Theater, you will hopefully have the opportunity to catch the Voices of Liberty performing. This a cappella group sings patriotic music which echoes beautifully when inside of the American Adventure building underneath the dome. Their attire and their song choices provide a sweet reminder of America's past. Step up your patriotism a notch and visit the theater for the 30-minute American Adventure film which typically follows the Voices of Liberty performance. Outside of the building, fun musical series takes place in the American Gardens Theater and Gallery such as Garden Rocks and Eat to the Beat Concert Series. We were sad to learn that the Spirit of America Fife and Drum Corps no longer performs as of September 2015. Thankfully, with all of these other performances offered, it's easy to find something entertaining and worth the time!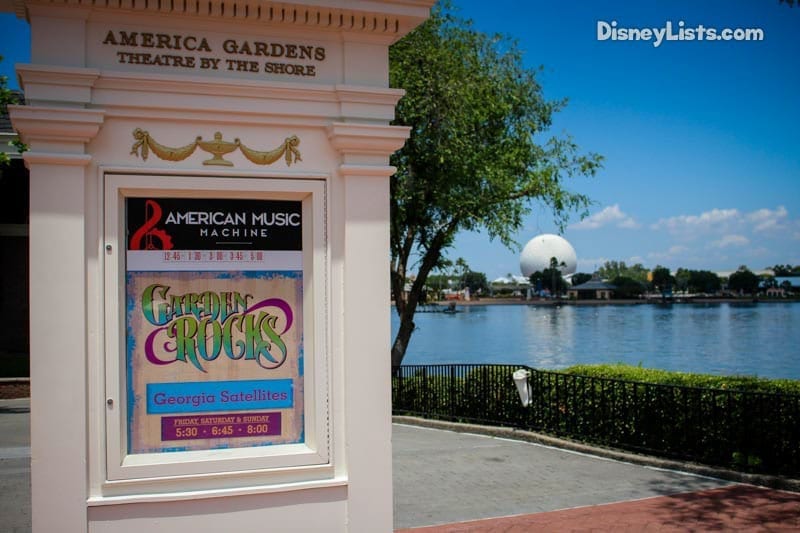 3 –  American Cuisine
Get ready to eat some delicious all-American style food! Check out the Liberty Inn quick service location with indoor and outdoor seating. The menu includes items such as burgers, salads, hot dogs, steaks, shrimp, sandwiches, and more. Of course, we recommend you try the warm peach cobbler on the dessert menu! If looking for a simple and tasty snack, you'll want to stop by the Fife and Drum Tavern which is a snack stand. Fife and Drum offers turkey legs, popcorn, soft-serve ice cream, and slushies. Plus, don't forget the all-American funnel cake at the Funnel Cake cart. Our mouths are watering just thinking about it! Finally, wet your whistles with some refreshing American ale served up at Block and Hans along with a Mickey pretzel.
4 – Souvenir Time!
Something we've noticed about the American Adventure Pavilion is that the gift shop is rather small in comparison to some of the other countries/pavilions around the World Showcase. No worries though, as the small Heritage Manor Gift shop offer a variety of awesome American souvenirs such as red, white, and blue pillows, blankets, clothing, and accessories. We especially love their Mickey themed American patterns! Books, games, ornaments, cards… fun souvenirs for everyone in the family.
5 – And So Much More!
Did you know there is a Chase Card Lounge located on the second floor of the American Adventure building? If you are a Disney Chase Card Member (or any Chase Card Member), there are certain times this special lounge opens for Chase guests. Pop in for a free fountain beverage, rest with a great view out the window in the air conditioned space, and even play a few WII or Xbox games while you're at it! Another fun spot in the American Adventure Pavilion is the Kidcot Spot, located at the exit of Heritage Manor Gift shop (near the restrooms). Let your children (or adults!) enjoy a moment to sit down and color a free Duffy souvenir with that will allow them to collect stamps from each of the 11 countries around the World Showcase. Last but not least… if you've ever dined at the Liberty Inn, you may have noticed a special table for some special diners. Elegant table cloth, dishes, and a centerpiece – this table, when set, sticks out from the others. It is said Liberty Inn Cast Members will choose a family at random to dine in elegance amidst the quick service location. Maybe you'll get lucky and have someone ask you and your family to enjoy a fancy dinner on the house!
With so much to look at, taste, and experience, we find it easy to love all the American Adventure Pavilion has to offer. We'd love to hear about your favorite experiences at the American Pavilion!
For a no obligation, FREE Quote on a Disney vacation package, please contact our travel partner Magical Vacation Planner at 407-442-0227 (407-442-0215 for Spanish). You can also request a FREE quote online by Clicking HERE.