The Epcot International Flower and Garden Festival celebrates its 25th year in 2018. We were able to attend a special event where we learned what goes on behind the scenes at Disney to bring guests this amazing festival year after year. We heard from Disney Cast Members who shared their passion about their various fields. We walked away with a new appreciation of the festival knowing a bit more about what takes place to bring the festival to guests. Keep reading below to find out more about this amazing festival!
1 – Behind the Seeds Tour
Our day began over at The Land with a Behind the Seeds tour with Disney Cast Member, Heather. We visited 4 greenhouses and a fish farm. We learned so much including Disney's method of pest control without using pesticides, the latest plant growing techniques including hydroponics, saw fruits, vegetables and other crops. We tasted fresh cucumbers, smelled various spices, and even had the chance to feed some fishes. The tour was informative and hands-on. These tours are available multiple times a day and are priced reasonably at $25 for adults and $20 for children. If you're looking to learn more about what goes on inside the greenhouses, then we highly recommend this tour!
2 – Purple Martins
Our next stop was over by Test Track and Lightning McQueen to learn about the Purple Martins that make Epcot (and Animal Kingdom) their home each spring. Disney Cast Member Vivian explained how Disney has been tracking these birds and providing nests for them. Surprisingly many return year after year to the same nesting spot. Disney places artificial nesting "gourds" at Epcot and Animal Kingdom for the birds to use. The birds will journey over 3000 miles from Brazil. Tracking methods include special "MagicBands" that are placed on the birds to track movement and if they return. We were able to see the nests and some eggs that were nearly ready to hatch. It was very informative. If you're visiting the Flower and Garden festival this year, stop by learn more about these amazing birds that call Disney World their home for many months of the year!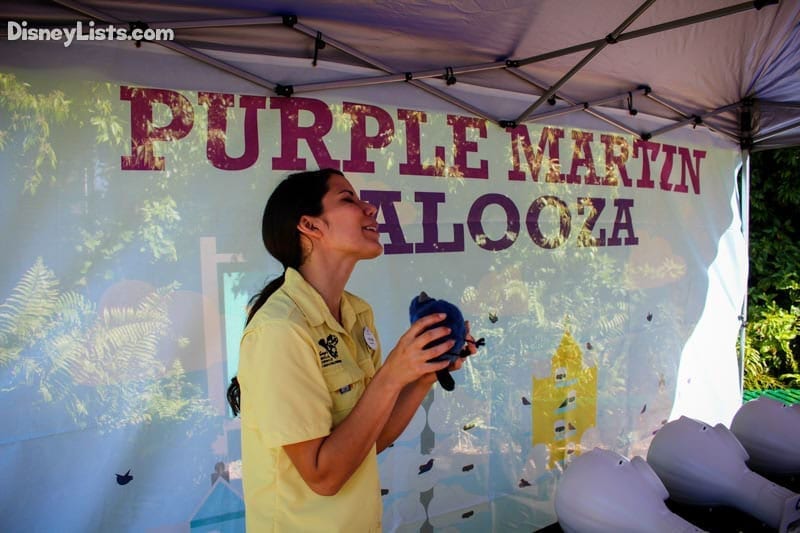 3 – 5 Years of Outdoor Kitchens
We attended a special luncheon where we were able to sample many of the popular dishes that are available at the outdoor kitchens. 2018 is the 5th year of the outdoor kitchens. They have been a wonderful addition to the festival. Over the five years, the chefs aim to perfect dishes while introducing new menu items to keep it fresh.
Gregg Hannon, Culinary Director at Epcot, walked us through the menu and offered some interesting tidbits on a few dishes. Over at the Cider House, the house-made potato and cheddar cheese biscuit with smoked salmon tartare was introduced in 2013. The biscuits are made fresh daily and provide a nice aroma. Also, at the Cider House, is the freshly baked lemon scone with crème fraiche and mixed berries, which was introduced in 2016. This dessert became gluten free by accident but is loved by guests. The Berry Basket offers a field greens with fresh strawberries, crisp quinoa, strawberry vinaigrette, and spiced pecans. This dish was introduced in 2014. This year they have added a tofu cheese topping to provide more protein to the salad. The Pineapple Promenade offers the crowd favorite spicy hot dog with pineapple chutney and plantain chips, first introduced in 2015. At the promenade you can also find the Festival favorite original drink, the frozen desert violet lemonade.
The Smokehouse in the America Pavilion is home to the newly crowned best-selling item: the beef brisket burnt ends and smoked pork belly slider with garlic sausage, chorizo, cheddar fondue and house-made pickle. The Smokehouse is also home to the previous best-selling item: the pulled pig slider with coleslaw, introduced in 2013. At Florida Fresh, the original 2013 spicy blackened shrimp and cheddar cheese grits and local sweet corn relish was updated this year with brown gravy to spice it up and keep the item fresh. Finally, the best-selling dessert can be found at the Honey Bee-stro. The local wildflower honey-mascarpone cheesecake with orange blossom honey ice cream garnished with fennel pollen meringue kisses is absolutely delicious! Introduced this year, the festival team was surprised when guests gobbled these desserts up and are they selling about 500 of these per day!
For the full menus of all of the Outdoor Kitchens at the Flower and Garden Festival: click the link here.
4 – 25 Year of Flowers and Fun
After lunch we had the pleasure of hearing from Eric Darden, who has been a Disney Cast Member for the last thirty-one years and has been a part of all twenty-five Flower and Garden Festivals. He began by sharing the history of the festival and how it got started. In 1993, Katy Moss Warner, Director of Horticulture and Environmental Initiatives, was one who came up with idea of the festival. Unsure of how it would work the team put together a 38 days festival themed opening in April, "The Ultimate Spring Fantasy," that featured topiary gardens featuring twirling hippos, floating gardens and vistas carpeted with annuals. The next year, 1994, they rolled out the "The Lion King" topiaries, which Darden described as their best set of topiaries. That was when some emotion was put in the topiaries. In 1996 the festival expanded to forty-five days and prompted the idea of a fall festival, the Food and Wine Festival.
Darden shared the "real backstory" behind the purple martins coming to Disney World (see #2 above). When they added the conservation garden in the year 2000, they added the bird boxes as props. They never expected birds to come! But they did! He also added that that year is when they began to think of the Festival as a conservation festival because of nature, flowers and the environmental themes that are present in the Festival.
In 2004 the festival expanded to fifty-two days. In 2006 they added edible plants in certain gardens and it quadrupled the number of guests who entered the garden. In 2007 the festival jumped to sixty days, which was a big deal because they knew they would need to plant two crops for the festival. The crops would need to be replaced since they could not stay alive that long and there are two very different weather conditions between the beginning and end of the festival. In 2008 the festival jumped to seventy-five days and finally in 2016 it was expanded to ninety days where it remains today.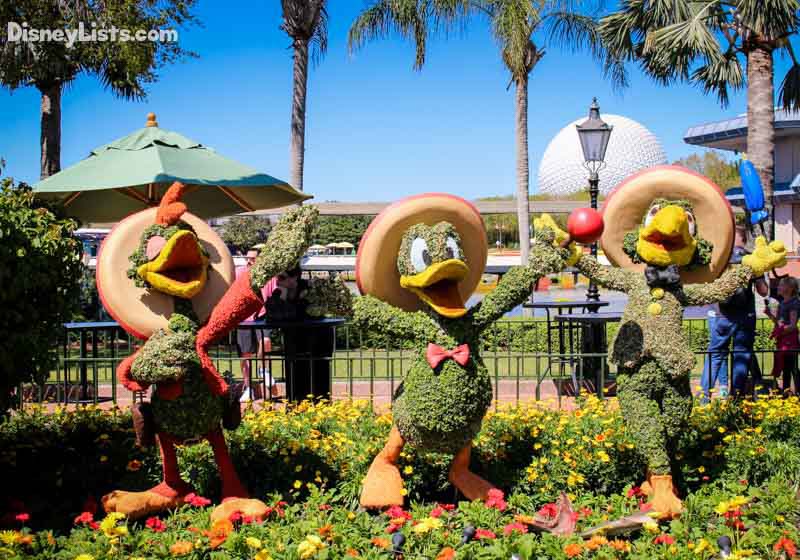 Darden also discussed the evolution of the topiaries as an example of the team's desire to always be improving. Early topiaries were just green representations of the characters. There was a big push to make them better and the horticulture team began working with character artists. Today when you see the topiaries you're not just seeing the horticulture work, you're seeing is an individual piece of Disney artwork that strives to accurately reflect the Disney character. The faces on the topiaries have really improved which was a challenge to the team to improve upon, but they made it happen.
Darden expressed how proud he is of the Horticulture and Festival team for the work they do behind the scenes and the amazing teamwork that happens behind the scenes. It's a diverse group of cast members who really take pride in their work who push each other to do more. When you're in the gardens and you see one of the gardeners take the time to say thank you! These cast members work so hard and we love the way they transform Epcot into an even more beautiful park each spring.
5 – Disney Conservation Works its Magic
We were also treated to a short presentation from Tammy Kaleel, the Environmental Integration Director, whose team focuses on Disney Conservation. Kaleel spoke to us about forest conservation, coffee, and the last twenty-five years of Disney's nature legacy.
In the early 1990s the company entered into an agreement with the Army Corps of Engineers, the South Florida Water Management District, and the Nature Conservancy to purchase 8500 acres in Osceola County and is called the Disney Wilderness Preserve. The area is now expanded to 11,500 acres and is open to the public. The once 8500-acre cattle ranch has been transformed from over-grazed, over-farmed land to its natural habitat.
In 1995 the Disney Conservation Fund was formed to grant fund to different conservation projects worldwide. Kaleel reported that the Fund to date has funded projects in over half the countries in the world, funded over $70 million worth of projects, and has preserved over 400 species.
In 1998, Disney's Animal Kingdom opened where, "we brought nature into an environment where we could showcase the beauty and magic of nature for our guests," explained Kaleel. After that Disney launched the Disney Nature film label. The film label has had six releases and "with each film release there is a partnership with a conservation organization and through this program Disney has planted over 3 million trees, we've restored 60,000 acres in the Savanah in Kenya, and protected over 40,000 acres of marine land through partnership with these films."
In 2009 the Disney company launched its first set of publicly stated environmental impact reduction targets. Those are in the area of water conservation, waste landfill diversion, and reducing the greenhouse gas emissions impact. Kaleel explained that they are now able to have more visible demonstrations of their goals that guests can see. For instance, "the entire fleet of Disney buses run on a blend of regular diesel and renewable diesel, which is a fuel made from used cooking oil and non-consumable food waste that gets combined with the diesel fuel and helps reduce the greenhouse gas emissions from driving the busses around property." The 384-bus fleet at Disney World was the first bus fleet in the nation to do this. Finally, right outside the front door of Epcot is a 5-megawatt Mickey shaped solar facility, which opened in 2016 and is viewable from space. They also have additional plans for more solar facilities.
Even with all of their conservation efforts, Disney still needs to offset their greenhouse gas emissions and they do that through forest conservation. The Walt Disney World company partnered with Conservation International to create a project in the Alto Mayo Forest in Peru. The forest is 450,000 acres and is in the northern part of Peru in the San Martin region. We watched a short video that explained how Disney is working to support fair trade coffee farmers through this project.
The project works to protect trees from being cut down in a protected area. "Protecting the forest conserves wildlife, supports communities, and combats climate change." "Thanks to Disney's support, Conservation International was able to work closely with Peru's protected area service to work with farmers in sustainable agricultural practices: protecting trees and improving the coffee harvest." Some of the farmers of the region in 2014 formed the Alto Mayo Forest Co-op and with the help of Disney have partnered with Joffrey's Coffee and Tea Company to sell their organic and fair-trade product. Disney is proud to serve this coffee at select Walt Disney Resorts and in the parks. Here is a list of the locations you can find this coffee:
The Magic Kingdom: Jungle Skipper Canteen & Tony's Square Kitchen
Epcot: Le Cellier Steakhouse
Disney's Animal Kingdom: Tiffins
Disney's Hollywood Studios: The Hollywood Brown Derby
Disney World Resorts

Disney's Grand Floridian Resort and Spa: Citricos, Narcoossee's, Grand Floridian Café
Disney's Wilderness Lodge: Artists Point, Whispering Canyon Café
Disney's Contemporary Resort: California Grill
Disney's Yacht & Beach Club: Yachtsman Steakhouse, Room Service
Disney's Old Key West: Olivia's Café
Disney's BoardWalk: Flying Fish

Disneyland Resorts

Disney's California Adventure Park: Carthay Circle Restaurant
Disney's Grand Californian Hotel & Spa: Napa Rose
Disneyland Hotel: Steakhouse 55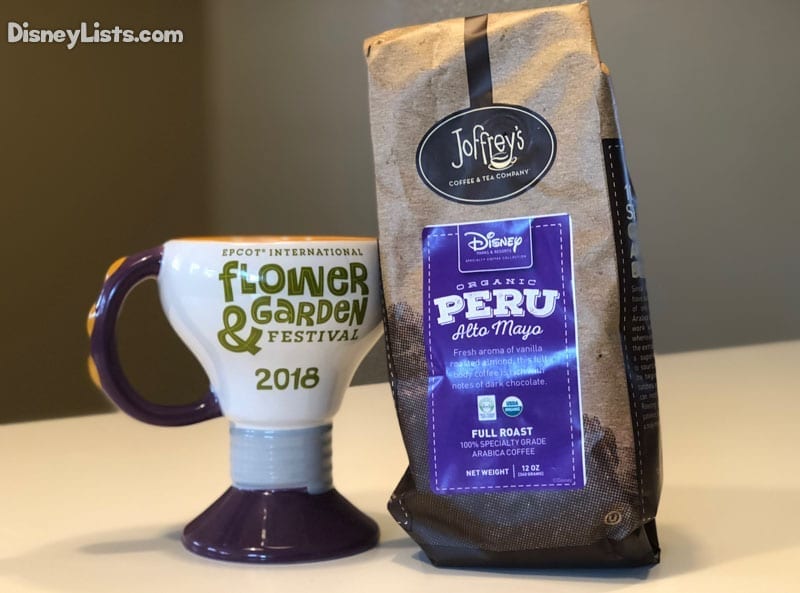 6 – Garden Rocks with Little River Band
After lunch the group was treated to two surprise guests from the Little River Band, Wayne Nelson and Chris Marion who talked about their experience in the band. After that the event ended with the Little River Band performing as part of the Garden Rocks concert series. The thirty-minute show was filled with favorite hits from the band.
7 – Make Time for the Epcot Flower and Garden Festival
While we always enjoyed visiting the festival, this event helped appreciate all the many amazing Disney Cast Members who work so hard to bring amazing creations to life for our enjoyment. We enjoyed learning about all of the many Disney conservation efforts and didn't realize all they have accomplished in that area. If you're able to visit Disney World this spring, we encourage you to take a day or even two to explore all the many beautiful gardens and experiences that can be had during this festival. It's the perfect time to stop during your vacation to smell the flowers and enjoy nature!
For a no obligation, FREE Quote on a Disney vacation package, please contact our travel partner Magical Vacation Planner at 407-442-0227 (407-442-0215 for Spanish). You can also request a FREE quote online by Clicking HERE.