Epcot's International Food and Wine Festival is Disney World's most popular seasonal event. Every year, the Food and Wine Festival features numerous different shows, bands and demonstrations in addition, of course, to food dishes and drinks from scores of countries around the world.  There is so much to see, do and taste at the event and it just keeps growing.  Disney World has announced the lineup of the popular Eat to the Beat Concert Series including five new artists and bands. Catch all of the details below!
Here are all the details from Disney Cast Member Charles Stovall:
We're excited to give you an update on the "Eat to the Beat" concert series for this year's Epcot International Food and Wine Festival, coming this fall.
New to this year's concert series will be percussionist extraordinaire and singer Sheila E and '80s Canadian rockers Glass Tiger. 98 Degrees – featuring brothers and "Dancing With the Stars" alums Nick and Drew Lachey – also bring their smooth harmonies to the festival. Maybe they'll sing "True To Your Heart" from Disney's "Mulan"? And, if that weren't enough, entertainer Jim Belushi brings his rhythm-and-blues band The Sacred Hearts to the festival this year.
This year's lineup also will include two Contemporary Christian music artists: MercyMe, who successfully branched out from music this year with the hit film based on lead singer Bart Mallard's life called "I Can Only Imagine"; and former "Royal Tailor" front man Tauren Wells, who has found mainstream success this year, touring with Mariah Carey and Lionel Richie.
Returning favorites include '80s pop stars Tiffany and Billy Ocean, '90s hit makers like Hanson and Everclear; and swing-meisters Big Bad Voodoo Daddy, who close out the festival as they have for the last couple of years.
The lineup so far is:
8/30-31 – Blue October – "Into the Ocean"
9/1-3 – Tiffany – "I Think We're Alone Now"
9/4-5 – MercyMe – "I Can Only Imagine" NEW
9/6-7 – Glass Tiger – "Don't Forget Me (When I'm Gone) NEW
9/8-9 – Tauren Wells – "Hills and Valleys" NEW
9/10-11 – Postmodern Jukebox
9/12-13 – TBD
9/14-16 – Baha Men – "Who Let The Dogs Out"
9/17-19 – TBD
9/20-21 – Living Color – "Cult of Personality"
9/22-23 – Sheila E – "The Glamorous Life" NEW
9/24-26 – Sugar Ray – "Every Morning"
9/27-28 – David Cook – "Light On"
9/29-30 – Jeffrey Osbourne – "On The Wings of Love"
10/1-2 – Jim Belushi & The Sacred Hearts – Various Hits
10/3-4 – Everclear – "Santa Monica"
10/5-7 – Mark Wills – "19 Somethin'"
10/8-10 – Air Supply – "All Out Of Love"
10/11-12 – TBD
10/13-14 – TBD
10/15-16 – 98 Degrees – "Give Me Just One Night (Una Noche)" NEW
10/17-18 – 38 Special – "Hold On Loosely"
10/19-21 – Devon Allman Project – "Ragged and Dirty"
10/22-23 – TBD
10/24-25 – Billy Ocean – "Get Outta My Dreams"
10/26-28 – Starship featuring Mickey Thomas – "We Built This City"
10/29-31 – Hanson – "MMMBop"
11/1-2 – TBD
11/3-4 – Taylor Dayne – "Prove Your Love"
11/5-7 – Boyz II Men – "End Of The Road"
11/8-9 – The Hooters – "And We Danced"
11/10-12 – Big Bad Voodoo Daddy – "Go Daddy-O"
The festival's 23rd year runs from August 30 to November 12, 2018.
RELATED ARTICLE: 9 Reasons Why We Love the Epcot Food & Wine Festival
by Mike and Jamie Sylvester
When we see the month of September appear on the calendar it's not because of our anniversary, birthdays, or any other big family celebration… it's simply because that means the Epcot International Food and Wine Festival is about to begin! Count down with us for our top 9 reasons why we love the Epcot Food and Wine Festival and why we are sure you will too!
9 – Fall in Florida
Disney World Imagineers surely had all of us in mind when they planned for the Epcot Food and Wine Festival because they picked the most amazing time of year – the Florida fall season. With the festival taking place from August 31 – November 13 this year, we all have an opportunity to leisurely explore Epcot and the many festival happenings without the humid summer heat. This fall time really is perfect because it's not chilly but it's not typically steaming hot, especially in late October and November festival days. Yay for enjoying the festivities without melting!
8 – Beautiful Scenery
Other than Epcot's Flower and Garden Festival, the Food and Wine Festival is one of our favorite times to catch Epcot's scenery at its' best. Among the specially shaped shrubs, romantic lighting, and unique artworks displayed, we also enjoy that there are so many more countries represented. As you travel around the World Showcase, you'll spot the usual 11 countries – but take a look at the special kiosks that represent diverse countries from all around the world. Get that camera ready to snap photos!
7 – Special Merchandise
Let's go shopping! Food and Wine Festival merchandise is available throughout many of the typical Epcot gift shops – especially around the World Showcase. Don't forget to head to the Festival Center to explore the merchandise available there! They have many more unique items to select from including specialty gift shops such as the Wine Shop and the Stockpot Shop. Maybe it's a good thing they don't have shopping carts!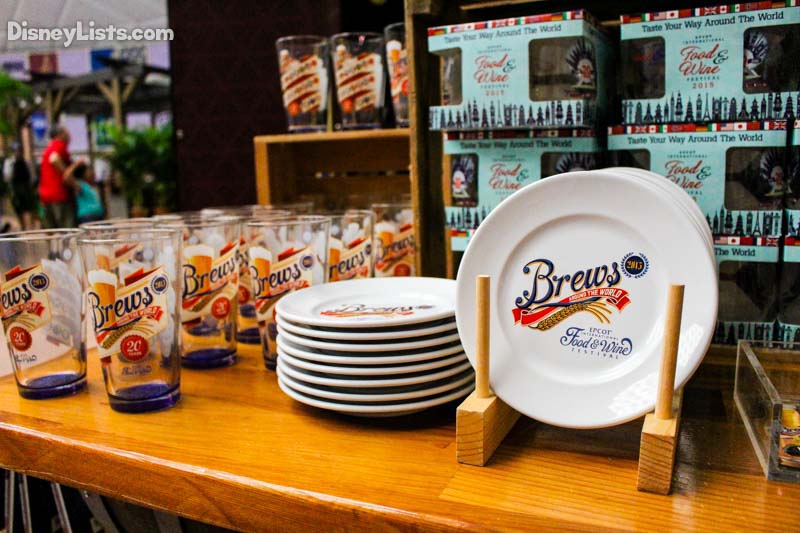 6 – Scavenger Hunt
The inner child in us has great love for the Epcot Food and Wine Festival Passport. This baby gives you the location of where all the different kiosks are and provides you with the ability to sort of "check off" where you've been. It's a fun way to be sure you are hitting all the booths you want to and to look back a few months down the road and retrace your steps down memory lane. Kids in tow? Get them involved! Better yet – check out the Remy's Ratatouille Hide and Squeak. Purchase a special map and stickers and let the scavenger hunt begin.
5 – Celebrity Spotting
Did you know the Food and Wine Festival is an excellent place to spot celebrities from all over?! We aren't just talking about our favorites like Mickey and Minnie, but celebrity artists like Blue October, Dennis DeYoung, The Hooters, Hanson, Boyz II Men… and so much more! But – wait, that's not all. The festival also has TV celebrities from ABC's "The Chew", world-renowned Chefs, authors, and even the world's top beverage experts. This is one trip where you might end up with some autographs besides the usual Disney characters!
4 – Festival Center
Mistakenly overlooked at times is the Festival Center which located near Universe of Energy. Different demonstrations, seminars, taste testing, culinary masterpieces at work, and even beginner's sessions are available in the Festival Center. Be sure to check the activities calendar for what is to come on the Festival Center Stage. Some of these special events are an extra ticket cost so be sure to check this out in advance so you can plan for it.
3 – More Bang for Your Buck
So, you've always wanted to visit Epcot but you think the park admission might be a little steep? The Food and Wine Festival is the perfect way to get more bang for your buck. Most of the festival activities are included in your park ticket. Plus, you have to eat anyway – so why not pick and choose what you'd like to eat around the World Showcase? Make it easy on yourself and purchase a gift card upon arrival so you can go around the world cash free! Visiting Epcot during the Food and Wine Festival is the perfect way to get more of an "experience" out of your park admission.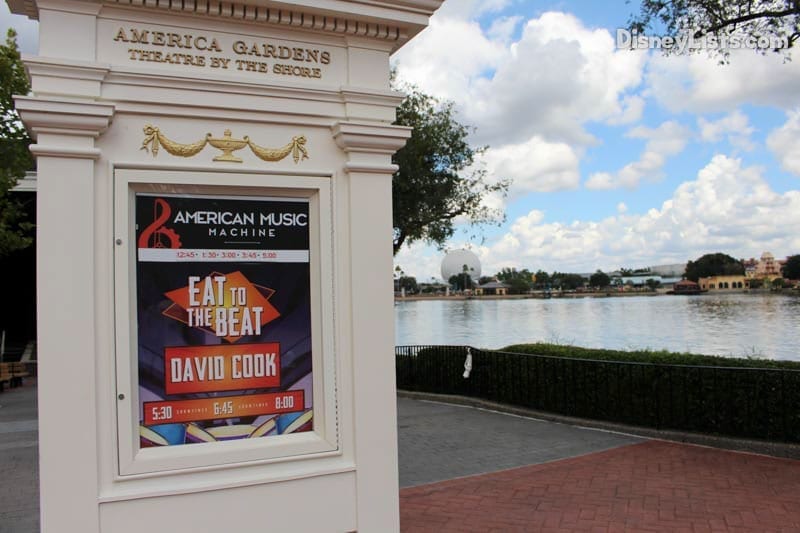 2 – The Music
Have you heard about the Eat to the Beat Concert Series? Well, it's just more to add to your experience with your standard park admission! Eat and drink with musicians performing in a concert setting in the American Gardens Theater. This live music isn't performed by just anyone – but instead, they are well known artists that most of us have downloaded their songs at one point in time or another (some named above). Don't forget to check out the Eat to the Beat Dining Packages for reserved seating.
1 – FOOD and WINE
Well of course – one of our favorite reasons why we love the Epcot Food and Wine Festival is because of just that – the food and the wine! The FOOD… oh my goodness, the food is unbelievable. Known as the "celebration of global cuisines" it's hard not to try a little bit of something from as many of the roughly 35 kiosks as possible. The different flavors of wine are out of this world and fun to delight in the small (or large) tastings. It's ok, you're at a festival – have another!
These are our top 9 reasons why we love the Epcot Food and Wine Festival. Why do you love this incredible festival? We'd love to hear from you!
For a no obligation, FREE Quote on a Disney vacation package, please contact our travel partner Magical Vacation Planner at 407-442-0227 (407-442-0215 for Spanish). You can also request a FREE quote online by Clicking HERE.