Stop for a moment and think of your absolute favorite Walt Disney World character. Maybe you're thinking of the tall and awkward Goofy, the sweet and timeless Snow White, or even the ever so cruel Maleficent. Whoever your favorite may be, chances are you can picture what they are wearing, their mannerisms, and can hear their unforgettable voice. Walt Disney World allows memorable characters to come to life, right out of a film or book, to stand among us! It's no wonder Disney fans (young and old) wait in lengthy lines to see characters. So, before you head out for a character hug and selfie… here are the top ten most popular characters you'll currently find at Walt Disney World so you can be prepared for that magical meet and greet!
Keep in mind – character meet and greet locations are subject to change. Check your Times Guide and My Disney Experience App to confirm location and appearance times before firming up plans.
10 – Special Ticketed Event Characters
If you're looking for that super unique character, your best bet is to visit Magic Kingdom during Mickey's Not-So-Scary Halloween Party (MNSSHP) or Mickey's Very Merry Christmas Party (MVMCP). During these special ticketed events, guests have a chance to meet and greet characters – some of which are not available on a daily basis to the general admission guest. The only negative is that you can plan to wait in LONG lines during the parties to see these popular characters. The most popular we've seen recently at both MNSSHP and MVMCP include the Seven Dwarfs (and we mean ALL seven together) and Moana. At both parties, you can expect to find that Jack Skellington and Sally from The Nightmare Before Christmas, which is a very popular meet and greet. We especially love seeing Mickey and his pals dressed in their holiday best for these parties!
9 – Joy from Inside Out
Joy from Inside Out is available for a meet and greet at Epcot! There is no FastPass option, so the wait tends to get lengthy. The key here is to arrive early to move through the lines quickly! Joy recently moved to a new area in the Imagination! pavilion and is greeting without Sadness.
8 – Lilo and Stitch
Lilo and Stitch are a dynamic duo that seems to appeal to the masses! While Lilo has a spunk about her, she is that perfect friend to her crazy but cute alien buddy, Stitch. If you've seen the movie, chances are you remember the quote, "Ohana means family." So, join the family at Disney's Polynesian Village Resort for a memorable Best Friends Breakfast featuring Lilo & Stitch at the Ohana Restaurant. This is the one place on property to see both Lilo and Stitch during your meal. If you need a Stitch fix, however, without a meal, you can head over to Magic Kingdom's Stitch's Great Escape, where he is currently available for a meet and greet.
7 – Chip and Dale
Which is your favorite… Chip or Dale? Well, you don't have to pick just one because these two are together for meet and greets! Our favorite place to spend time with Chip and Dale is at Chip' n' Dale's Campfire Sing-A-Long at Disney's Fort Wilderness Resort. A great character meal with Chip and Dale is located at the Garden Grill Restaurant at Epcot. Outside of these two options, you can usually spot Chip and Dale at the occasional meet and greet at Hollywood Studios near Sci-Fi Dine-In Theater. They've been known to show up on Main Street U.S.A. in Magic Kingdom as well as at Epcot outside of the Character Spot heading towards The Land.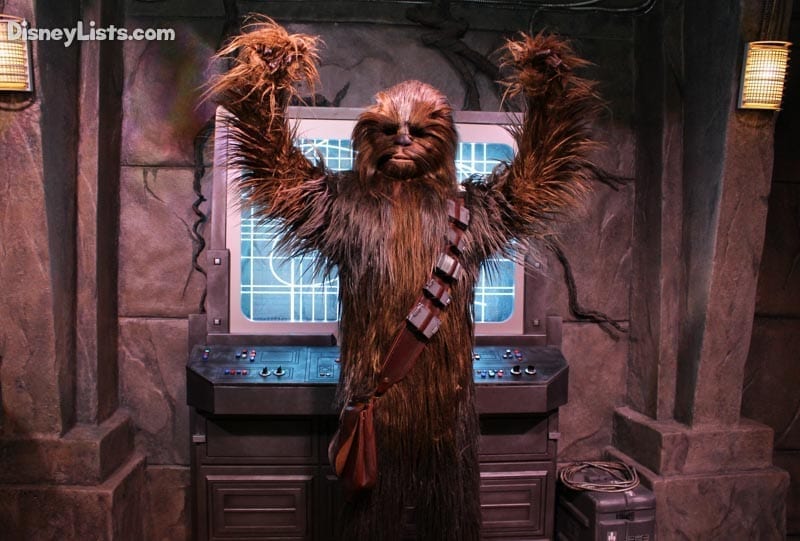 6 – Chewbacca
Chewbacca from Star Wars is fairly new to the meet and greet scene, but wow, is he an awesome one! He's as tall as you'd imagine, and his full body of hair is super soft for a big squeeze! The best part however is how he talks to guests. With all his "grrrwaaaaaarggggh", "aaararrrgwwwh", and "wwwrrrrrgwwwrrrr"… you can't help but walk out of his meet and greet wishing you could bring him home with you! Wear a Han Solo or Princess Leia shirt, and he's sure to notice. The only place at the moment to meet Chewbacca is at the Star Wars Launch Bay in Hollywood Studios. The line might seem lengthy but it does move quickly. Don't forget to meet Darth Vader and BB-8 while you're there.
5 – Cinderella
Of all the Disney Princesses, Cinderella is probably the most well-known. She has a sweet heart, beautiful blonde hair, a gorgeous blue gown, and a couple of pet mice that we've all grown to love. Plus, Walt Disney World's most iconic symbol is the Cinderella Castle! The most amazing place to meet Cinderella is at Cinderella's Royal Table, located inside Cinderella Castle at Magic Kingdom. If you aren't able to snag a reservation to this extremely popular restaurant, you can meet Cinderella at the Princess Fairytale Hall near the Castle. At this location, Cinderella has a meet and greet with Princess Elena from the Disney Channel series, Elena of Avalor. FastPasses are available for the Princess Fairytale Hall! Outside of Magic Kingdom, a popular place to find Cinderella is at Cinderella's Happily Ever After Dinner at 1900 Park Fare inside Disney's Grand Floridian Resort. In Epcot, you can find Cinderella at Akershus Royal Banquet Hall for another character dining experience. As you can see, she's one busy Princess!

4 – Belle and Beast
If there's any Disney couple to fall in love with, it's this one. Beauty and the Beast's relationship may have started off rocky in the film… but thankfully, they work things out! Their relationship blossoms, and it shows love goes way beyond appearances. Unfortunately, the only time you will SEE Belle and Beast together is during the Festival of Fantasy Parade at Magic Kingdom. This is just seeing them go on a float… no, meet and greets with both of them together. Aside from that, you can say hello to these two individually. The best place to spend time with Belle is at her own attraction called Enchanted Tales with Belle at Magic Kingdom. Join her in her cottage for a fun, interactive experience where she is wearing her yellow gown. Belle is also available in her yellow gown at Akershus Royal Banquet Hall in Epcot. Another location to meet Belle in Epcot is in France, where she holds a meet and greet in her blue, town dress. The Beast is available in one spot only! He resides in his castle, which holds the popular Be Our Guest Restaurant. The Beast is in the library awaiting meet and greets during dinner only. You must have a dinner reservation to see him.
3 – Anna & Elsa
What would a most popular character list be without Elsa and Anna?! These sisters have been popular since the movie, Frozen, debuted in 2013. With Frozen 2, their popularity is better than ever. Disney Imagineers reworked the Norway Pavilion at Epcot from the Maelstrom attraction to a Frozen Ever After attraction. Plus, they added a special meet and greet location for Anna and Elsa called Royal Sommerhus. There are no FastPasses for this meet and greet, so arrive early to avoid lengthy lines! You can also spot Anna and Elsa at Magic Kingdom's Festival of Fantasy Parade, but no character meet and greet is available for them at Magic Kingdom.
2 – Gaston
It slightly irritates us that a Villain gets second place as what we feel is the most popular character list. With that being said, meeting Gaston is a highlight of any visit to Magic Kingdom! Gaston greets guests just outside of Gaston's Tavern, near the restrooms. He's somewhat tucked away and can be missed by passerby's that usually only notice him because they notice the crowd of onlookers. He speaks the truth as you would suspect and still thinks of himself as the greatest gift to this world. Muscles flexed, perfect jet-black hair, and a ridiculous smile – it's hard to decide if he's one you want to roll your eyes at or wrap your arms around. Nevertheless, Gaston is popular! He's a blast to see in action and totally worth the lengthy wait. No FastPass here, so be prepared to block out some time for this not-so-humble Villain!
1 – Mickey Mouse
No surprise here, right?! THE Mickey Mouse takes the number one spot on the most popular characters at Walt Disney World. While there is no shortage of places to meet Mickey, he still has long lines of people waiting to get that memorable photo and Mickey Mouse autograph. At Magic Kingdom in Town Square Theater, you can meet him in a magician's outfit. At Epcot, guests can see Mickey at the exit of the Pixar Film Festival in his normal wardrobe or join him for a character meal at the Garden Grill Restaurant as Farmer Mickey. At Hollywood Studios, meet Sorcerer Mickey at his finest at Red Carpet Dreams near Sci-Fi Dine-In Theater. Mickey is also available at Hollywood and Vine Restaurant for a character meal. Animal Kingdom's Adventurers Outpost is a fun place to see Mickey with Minnie in their adventurer gear. Mickey is also available at Tusker House Restaurant in Animal Kingdom for a character meal there. Outside of the four theme parks, Mickey puts on his chef hat at Disney's Contemporary Resort at Chef Mickey's. You can also see him relaxed in a Hawaiian shirt at Ohana's breakfast. Finally, catch Mickey as a painter at the Topolino's Terrace for breakfast! As you can see, there is no shortage of places to spend time with Mickey… and he shows up in more places than listed here!
Which of these popular characters is your must-see? We'd love to hear from you!
For a no obligation, FREE Quote on a Disney vacation package, please contact our travel partner Magical Vacation Planner at 407-442-0227 (407-442-0215 for Spanish). You can also request a FREE quote online by Clicking HERE.