No germaphobes here – but let's be real… with so many people traveling in and out of Disney World, germs are inevitably going to be passed around. Some Disney guests have been planning their visit to this magical place for 499 days now! This usually means that when bad luck strikes and they get sick just before their vacation, chances are they are going to push through and make it happen anyway. The healthy and the unhealthy arrive, and the germ sharing begins! Don't start showering in hand sanitizer just yet. Check out these 10 tips that just might help you NOT get sick on your Disney World vacation.
1 – "R & R" (Rest and Relaxation)
You have your Disney itinerary, and you're ready to go, go, GO! We totally expect that and do a little hustling around the parks ourselves from time to time. But, as you may have already learned – doing everything isn't possible with Disney World's massive size and limitless experiences. Instead, plan a must-do list. Knock out these must-dos and count the rest as the cherry on top! This will give you time to rest in between parks and experiences. Let your body relax and take a mid-day nap if you feel the urge, or stop to put your feet up out of the sun.
2 – Sunscreen and Shade 
Speaking of the sun… did you know it absolutely loves Florida?! It feels like the sun is hugging Disney World, particularly in the summer months. We can't stress enough the importance of sunscreen and shade while vacationing at Disney. Slather yourself in sunscreen and repeat as regularly as needed. Wear sunglasses to protect your eyes, your Aunt Petunia's humongous Easter hat… whatever it takes to get some of the sun off of you. Then keep #1 in mind and rest when needed – in the SHADE. Your body will thank you!
3 – Hydrate, Hydrate, Hydrate
If you aren't drinking large sums of water at Disney, you may start to feel your body screaming for it in many ways, such as headaches and fatigue. Visit water fountains or ask for a free cup of water at the quick-service restaurants if you want to save the $3 it costs to buy a bottle of water. Just don't forget to keep your kids hydrated as well – especially if they've had a lot of sugary goodness! If you're enjoying an alcoholic beverage or soda, this is particularly important.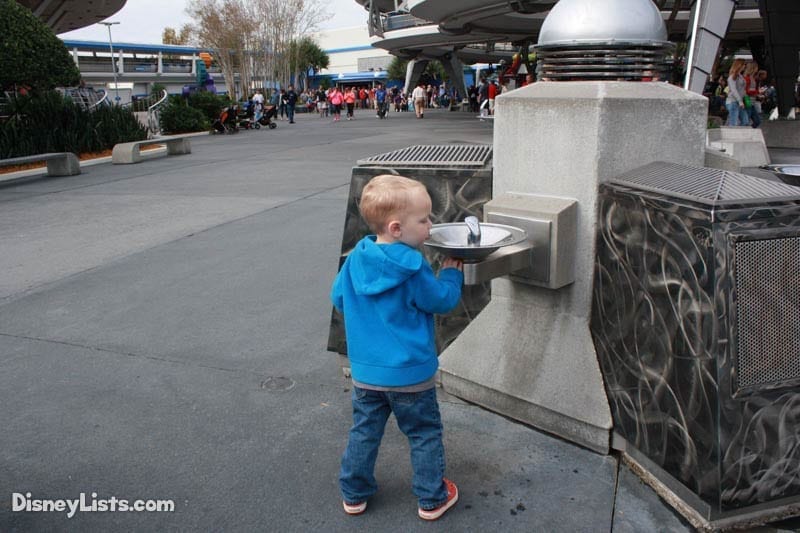 4 – Eat Well
While it is our favorite – Disney dessert is not the only thing you can eat at Disney! Both quick-service and table-service restaurants, as well as food kiosks and booths, always offer amazing sweet stuff but have an odd number of nutritious meals and snack options. We aren't saying skip the desserts, but instead of a Mickey Ice Cream Bar around every corner, try for a bag of pretzels and hummus or even fruit to balance out the sweet stuff. This will keep your energy up and your body moving.
5 – "Bluddle-Uddle-Um-Dum"
Remember this song from Snow White and the Seven Dwarfs? Snow White insists that the dwarfs wash up before supper and as you can likely remember, Grumpy ain't havin' it! So, the other dwarfs get into action and give him a good scrub while Dopey accidentally swallows the soap. Washing hands is especially important after using the restroom and before eating. If you aren't using the preferred soap and water method, be sure to have some hand sanitizer with you. We'd also recommend taking a shower or bath each day! No matter how late it is when we get back to our resort, we try to be sure we give the kids a quick bath and shower ourselves to hit the bed clean from the days, uh… pixie dust.
6 – Stop Touching Everything!
We can't tell you how many times we've told our children this in the parks. If there is a railing, chances are the kids are touching it or trying to swing on it. If there is a button, they want to push it. If there is a handle, they will hold it with both hands. While there are numerous safety features throughout Disney World to help guests navigate ramps, stairs, attractions, etc.… it isn't always necessary to touch them unless you physically need the support. If you don't need to touch it – don't, because everyone else in the park already has! Less touching of objects makes for less chance to spread the glorious germs.
7 – Resort Room Attention
While the Mousekeeping at Disney World does a fantastic job cleaning the resort rooms and amenities, it's impossible to catch everything with the load of places they have and the amount of time they have to clean them. We like to bring some Lysol wipes along with us and wipes down main areas – especially if we are putting our food on it, such as the table. Another trick is to bring a large Ziploc bag to put the TV remote control in… which has been proven time and time again to be the most germ-filled item in a resort/hotel room. With a baggy around the remote, you can still use it correctly to navigate the channels. Lastly, don't wear your shoes in the resort room. Take them off as soon as you enter. Your shoes tromping through the resort room only brings along all the germs you've collected throughout the day.
8 – Stay on your Vitamins/Medications
If you take vitamins and medications regularly, don't go off of them just because you are on a Disney vacation unless instructed by a doctor to do so. This is why it's especially important to remember to pack your vitamins and medications for your trip as they are sometimes harder to get at the store, especially if you have a prescription medication. First Aid (mentioned below) can also store refrigerated medications that a guest brings with them if needed throughout the day in the park. Keeping your body in tune with what it's used to is essential!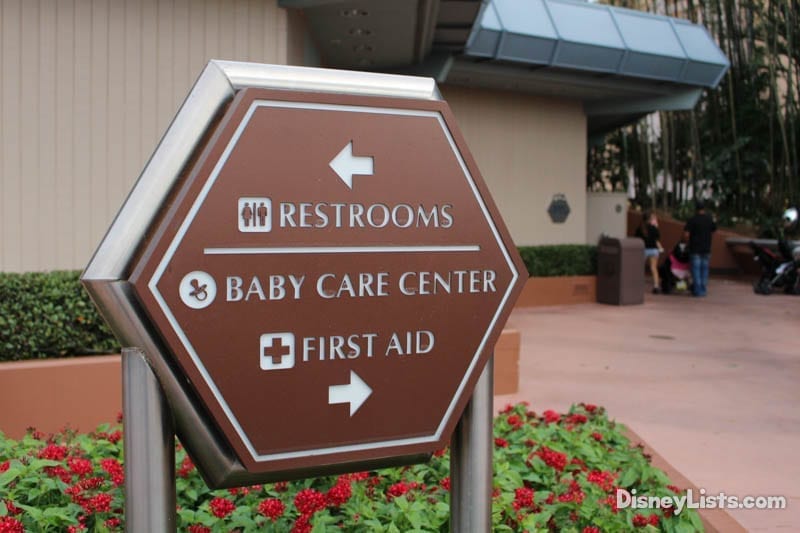 9 – Visit First Aid if Needed
We bring a small pack of First Aid style items that we may need with us in the park. This includes things like band-aids, Tylenol, Pepto, Cold medicine, etc. The good news, however, is that all four Disney theme parks and the two water parks have a First Aid location. You can get simple things like band-aids here. You can even be seen by a nurse for other remedies that are needed beyond a scraped knee. Listen to your body and get help before a sickness or injury gets worse.
10 – Stay at your Resort if Sick
We know! The thought of this is just terrible! You've planned and planned and have waited for this dream vacation. But, if you do get an illness while on your Disney vacation and travel plans aren't over yet, you may want to cancel your dining reservations and save your tickets for another time. Stay at your Disney Resort and in bed if possible to let your body fight the virus, bacteria, and/or crud it's working against! Not only will this allow you to rest, but it will keep from spreading the lovely illness you're fighting to other Disney vacationers.
Stay well, friends!
For a no obligation, FREE Quote on a Disney vacation package, please contact our travel partner Magical Vacation Planner at 407-442-0227 (407-442-0215 for Spanish). You can also request a FREE quote online by Clicking HERE.