This summer, Disney's Animal Kingdom is celebrating its 20th Anniversary with a super new experience: A "dino-tastic" celebration where Donald Duck takes over Dinoland U.S.A. with prehistoric elements in a new and exciting character celebration. We were there for the opening day and enjoyed the new overlay to the land very much. Catch all the details below!
Donald is a Dinosaur!?!
The story behind the transformation of Dinoland USA into Donald's Dino Bash is a good one. Donald was doing some research and found out that his ancestors are actually dinosaurs! To mark this amazing discovery, he transformed the land into a celebration like no other! He first consulted his girlfriend, Daisy, and she went straight to work. She designed the truck they arrived in and all the outfits for themselves and their friends! Now Chip and Dale, having a troubled past with Donald, stowed away and are there for the party! Donald doesn't know they are there! So don't spoil it for him!
The entire land has been decorated for the party! You'll see colorful signage and decorations, bold colors, and fun upbeat music playing in the area. There are plaques throughout the land that connect the dinosaurs and ducks together.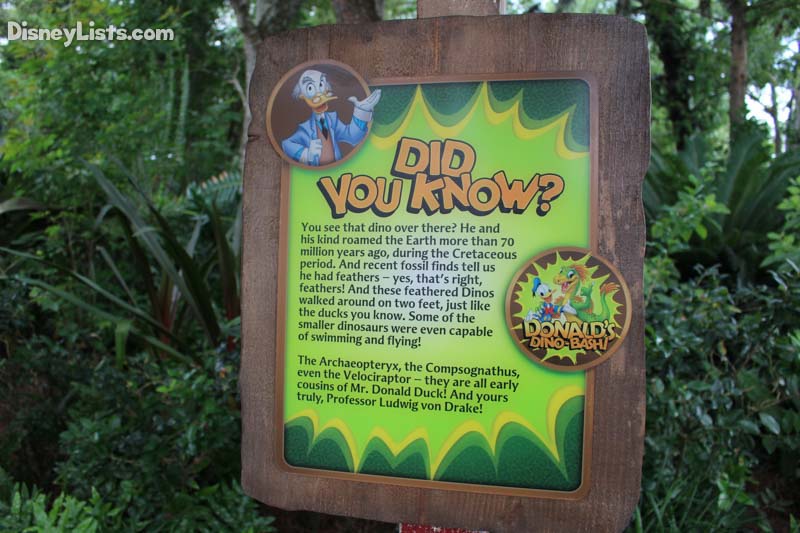 8 Character Meet and Greets
Since Camp Minnie Mickey was retired there hasn't been a dedicated area to meet a lot of characters in one spot. With the addition of Donald's Dino Bash, that problem is solved. The area now boasts eight character interactions with unique costumes you won't find anywhere else! These character meet and greets currently have daytime hours only, so you'll want to make sure you get to the area before 5:30. (Chip 'n' Dale leave at 4:00 for their dance party).
Here are the characters you can meet: Donald Duck, Daisy Duck, Goofy, Pluto, Chip 'n' Dale, Launchpad McQuack, and Scrooge. For specifics on where to find the characters be sure to read our Animal Kingdom – Ultimate Character Checklist.
Click through the slideshow below to see some of the different meet and greet areas.
[smartslider3 slider=132]
Photo Credit for Lauchpad McQuack and Scrooge: Disney/Matt Stroshane
Evening Dance Party
The evening boasts a dino-riffic dance party with Chip 'n' Dale! They'll get you dancing and grooving! You won't want to miss it!
Overall we think Donald's Dino Bash is an excellent addition to the land. It's a fresh update that brings the characters we love together with the dinosaur theme of the existing land. The addition of the rare characters, Launchpad and Scrooge, will thrill Duck Tales fans. No matter what your age, you'll want to stop by and explore this updated land in Disney's Animal Kingdom.
RELATED: 9 Reasons We Love DinoLand U.S.A in Animal Kingdom at Disney World
by Lauren Repei
The ideas at the heart of Animal Kingdom are focused on conservation, education, exploration, and discovery and in order for Animal Kingdom to fully encompass all those ideas they don't just look at the present and the future, but also at the past. A big part of earth's past are the dinosaurs, and Animal Kingdom celebrates those prehistoric beasts with DinoLand U.S.A. Here are 9 reasons why we love DinoLand U.S.A at Animal Kingdom.
9 – Dino-Sue
Dino-Sue is a reproduction of the most complete T-Rex skeleton ever found, with paleontologists uncovering more than 90% of the skeleton. Dino-Sue is 13 feet high and 40 feet long. Dino-Sue reminds guests that these massive creatures really did roam the earth at one point and that this area of Animal Kingdoms is dedicated to the creatures that once were here but no longer are.
8 – The Boneyard
This is an amazing playground where young kids can run around, play in the shade and dig up some fossils. There are ropes to climb, crevices and corners to explore and dinosaur bridges to cross. It's the perfect spot for adults to stop and rest while kids can run around and discover all there is to do in The Boneyard.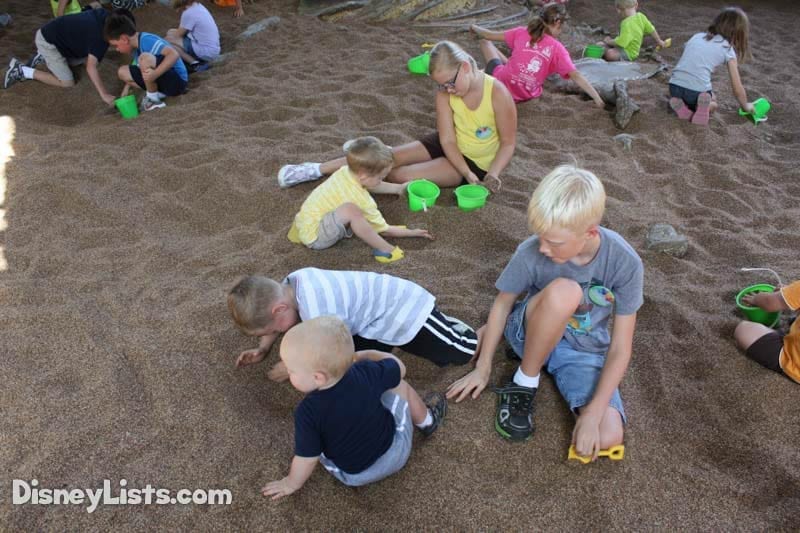 7 -Trilo-Bites
This little counter serves up some delicious sweet and savory snacks. On your way into DinoLand U.S.A indulge in a Waffle Sundae, or go for their specialty the Buffalo Chicken Waffle Slider. Trilo-Bites is the perfect place to grab a little something to refuel, be it a quick snack, a float or a beer to cool you down. It's one of the little gems tucked into the corners in Disney that's easy to walk right by, but do yourself a favor and stop at Trilo-Bites.
6 – Chester & Hester's Dinosaur Treasures
This souvenir shop is loads of fun to shop around in. It's a retro-themed dinosaur store, with Animal Kingdom, Disney and dinosaur merchandise. There's a dinosaur at the center of the store (who is known to wear a Santa hat at the holidays) and all kinds of toys hanging from the ceiling. If you're in DinoLand, this is the place to stop and shop.
5 – Carnotaurus
Carnotaurus is the meat-eating dinosaur pursuing guests in the attraction Dinosaur. He's the big red scaly horned dinosaur with sharp teeth, but tiny arms. Carnotaurus has gained a bit of a fan following, and guests can buy t-shirts with this fearsome dino on them, among other Carnotaurus merchandise like picture frames, toys, and even pressed pennies. Disney dino fans love Carnotaurus and we love that Disney has given those fans more of what they love!
4 – Restaurantosaurus
This is a great and fun place to stop for a quick-service meal while in DinoLand. The story goes that it was home to student paleontologists who turned their dorm into a restaurant. There are a lot of inside jokes, some interesting décor to check out and a good amount of indoor seating, which is very appealing in the middle of a hot day at the park. The menu features American cuisine, like burgers and hot dogs and chicken nuggets. This is a great place to dine for guests who are less adventurous eaters.
3 – Primeval Whirl
Primeval Whirl takes people back in time on this coaster that spins, whips and twirls guests around. The ride is located in Chester & Hester's Dino-Rama area and has that same whimsical, carnival theming of the area. Fun cartoon style dinosaurs and gadgets, clocks and meteors surround guests as they are whipped around the track and spin back in time. It's an exciting ride, but be warned, if you don't like rides that spin, this may be one you want to sit out.
2 – Theming
The theming here is not just dinosaurs, it's more than that. The Imagineers have created a world that feels very different from the other lands in Animal Kingdom. DinoLand feels very man-made as it focuses less on the natural world than the other areas of the park, which is a nice change of pace and scenery. Guests are surrounded by bright colors, and kitschy décor at Chester & Hester's Dino-Rama carnival mid-way, and it creates a fun and whimsical atmosphere that's fun for the whole family. Donald's Dino Bash also adds color and freshness to the land.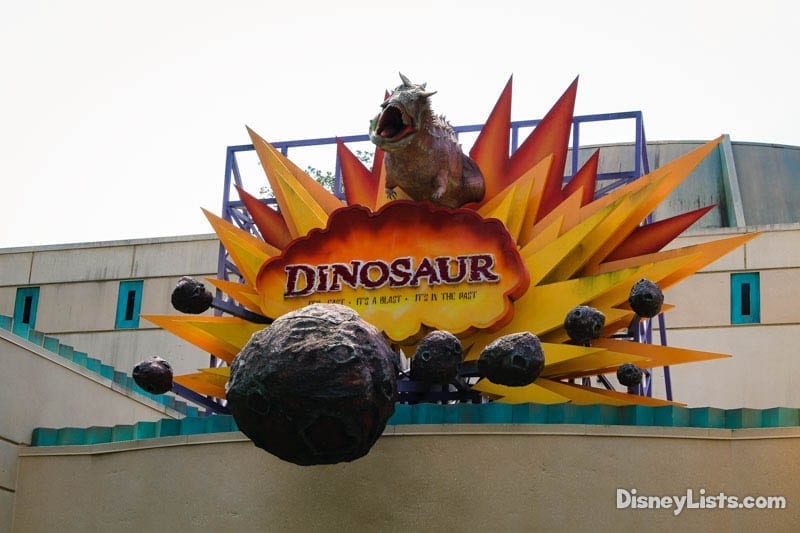 1 – Dinosaur
Dinosaur is the main attraction in DinoLand and for good reason. It offers big thrills and an immersive experience. Dinosaur brings guests face to face with both docile dinosaurs, and massive, frightening dinosaurs, and there are even a few laughs to be had in there too, like the Alioramus snacking on a smaller dinosaur or the Sauropod who burps as he munches away on some leafy greens. Dinosaur delivers in story, thrills, excitement, and fun, and that's why it's the number one thing we love about DinoLand U.S.A.
For a no obligation, FREE Quote on a Disney vacation package, please contact our travel partner Magical Vacation Planner at 407-442-0227 (407-442-0215 for Spanish). You can also request a FREE quote online by Clicking HERE.