Walt Disney World offers so many amazing tours and experiences that you may not even be aware of many of them.  The Epcot Seas Adventures-Aqua Tour is offered at Epcot for guests to get a backstage view and experience of The Seas with Nemo & Friends pavilion.  If you are curious about this one, we have all of the key information and details for you below:
8 – The cost.
This experience is definitely on the pricier side. It costs $145 per person, not including applicable taxes. Walt Disney World Annual Passholders and Disney Vacation Club Members may be eligible for an additional discount on the cost of the experience.
7 – There is an age limit.
The experience is limited to guests who are ages 8 and older. All guests who are under the age of 12 must be accompanied by a paying adult to participate in the experience.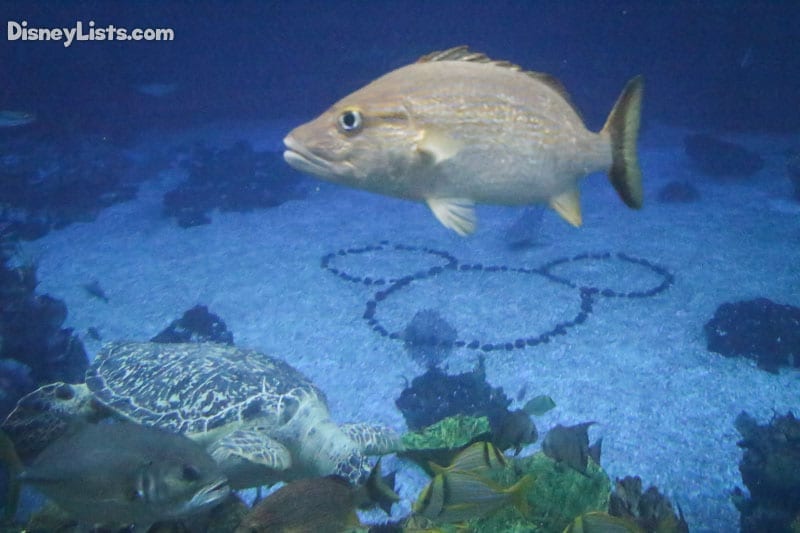 6 – No cameras allowed backstage.
Once guests are taken backstage, there will be no photography allowed. No cameras, cell phones, or other similar equipment will be allowed to be used backstage. Photography is only permitted in on-stage areas. This is true for any backstage area at Walt Disney World, not just for this experience.
5 – Bring a swimsuit.
All guests participating in the experience will need to bring a swimsuit with them. There will be a point in the experience where guests get suited up to enjoy the snorkeling portion of the experience. You will be able to dry off and change afterward. There are also showers available for use if you want to shower off, too.
4 – This is a snorkeling experience. 
The experience will include a portion where you are snorkeling at The Seas with Nemo & Friends pavilion. The snorkeling portion will last around 30 minutes. There is no SCUBA-certification needed since this experience keeps guests on the surface of the water with a scuba-assisted snorkel unit, which provides piped air to you the entire time. You get terrific views while snorkeling from the surface! All of the gear is included in the experience, and no personal gear will be allowed to be used (other than a snorkel mask if desired).
3 – The tour lasts 2.5 hours and includes multiple experiences. 
Guests will first get to tour the massive infrastructure that filters and maintains the habitat for the animals. You will be given a lot of great info about the inhabitants of the area and given time to ask all of the questions that you have. There will be a video presentation where you will get to learn even more about all of the animal creatures. You get all suited up in a wetsuit where a picture is taken of you to commemorate the experience before you enjoy the snorkeling portion of the experience. When you leave, you get to take home a special souvenir from the experience.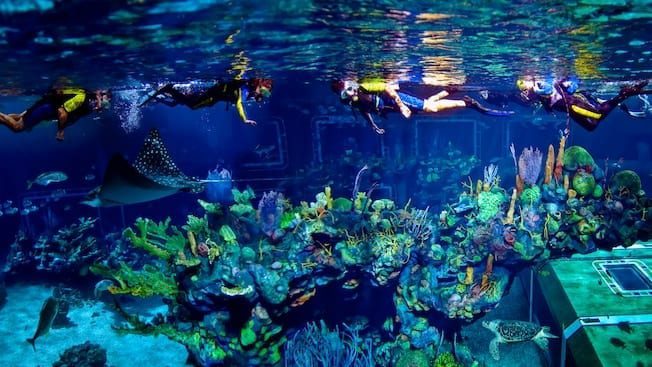 2 – Must cancel at least 2 days in advance to receive a refund.
The full cost of the experience is required at the time of booking. You can cancel if needed for a full refund, but only if the cancellation is completed two days in advance. After 2 days, you will forfeit the entire cost of the experience. Given how pricey this experience is, you will definitely want to keep an eye on that and make sure you either cancel in time or show up!
1 – Is it worth the cost?
The value of a dollar (or $145 per person in this case) is definitely subject to individual preferences and expectations, but in my opinion, this experience is definitely worth the cost. The experience to see backstage and get inside the tank is definitely something that ever aquatics lover should get to do. It is isn't an experience that you would necessarily come back multiple times to experience, but definitely worth it to experience once. I would maybe not take the kids on this one unless you feel like they will be really into it. It wouldn't be worth the cost for them if they won't truly enjoy this kind of experience.
For a no obligation, FREE Quote on a Disney vacation package, please contact our travel partner Magical Vacation Planner at 407-442-0227 (407-442-0215 for Spanish). You can also request a FREE quote online by Clicking HERE.