To make our headliner list, we feel an attraction must remain entertaining, exciting, and memorable no matter the age of the attraction or how relevant it is to the current trends. It's that attraction that keeps guests coming back time and time again. Sure, headliners may have long lines and you have to dodge crowds to get to them, but the attraction experience makes it all worth your wild! While Hollywood Studios has fantastic shows, entertainment, and characters – sometimes it's the rides we're after. So, strap in and experience what we feel are the 6 best attractions at Disney's Hollywood Studios that leave us shouting, "one more time"!
6 – Star Tours – The Adventures Continue
Location: Echo Lake
Height Requirement: 40in or taller
FastPass: Tier 2
Toy Story Land isn't the only buzz happening around Disney's Hollywood Studios. Another new land, Star Wars: Galaxy's Edge, is a set to open late 2019… and us Star Wars fans are impatiently waiting to explore this land! In the meantime, we find a perfect way to get our Star Wars fix is to visit the attraction, Star Tours – The Adventures Continue. Star Tours began sending guests into space in 2011 and has been making space flights possible since. Have a seat aboard a motion simulation vehicle with 39 other guests, buckle up, put on your 3D glasses, and get ready to blast off. Your adventure will take you on a 4 minute, 30 second trip to some of the most popular and mysterious Star Wars destinations. You'll see Star Wars characters (good and bad!) along the way, but trust that your audio-animatronic pilot will bring you to a landing safety. The greatest thing about Star Tours is it is rare to have the exact same experience. The 288 different possible ride combinations offer different lands and characters each trip into space!
5 – Alien Swirling Saucers
Location: Toy Story Land
Height Requirement: 32in or taller
FastPass: Tier 1
"Ooooooo! The Claw!" Our favorite little green aliens from the Toy Story films are stirring up some trouble – well, SPINNING up some trouble actually! Let these alien friends take you for a spin in their space saucers while you and a friend hold on tight in your two seated vehicle attached to your alien pilot's vehicle. With an opening date of June 30, 2018 – you can expect this short but animated attraction to be a popular one to visit for some time! Much like Mater's Junkyard Jamboree in Disney's California Adventure, you will need to hold on tight but not with the same degree of spinning you can experience on the teacups at the Mad Tea Party in Magic Kingdom. The lights and music are something to be remembered on Alien Swirling Saucers… as is "The Claw"! Whether or not you're "chosen", you can trust this will be a fun, light-hearted attraction perfect for the family.
4 – Toy Story Mania
Location: Toy Story Land
Height Requirement: Any Height
FastPass: Tier 1
Toy Story Mania is SO fun! This attraction was previously THEToy Story themed attraction in the park, but with the addition of Toy Story Land it has taken a back seat to the popularity of Slinky Dog Dash and Alien Swirling Saucers. Don't let this fool you, however, as it remains an incredible headliner attraction at Hollywood Studios! With the addition of a third track in 2016 and a relocated entrance to Toy Story Land in 2018, the changes to Toy Story Mania have only helped the flow of crowds flocking to ride along. Grab a buddy, shrink down to the size of a toy, and get ready to use a blaster to hit targets as your vehicle moves briskly from one 4D game to the next. As the points build up with each of the 5 games, your competitive side is bound to come out! We especially love that Toy Story Mania is a 5-6 minute attraction which never seems long enough – but makes the wait well worth it.
3 – The Twilight Zone Tower of Terror
Location: Sunset Boulevard
Height Requirement: 40in or taller
FastPass: Tier 2
If we were thinking of just ourselves, we would rank the Tower of Terror as our number one choice in headliners at Hollywood Studios. With that being said, we totally understand that it doesn't appeal to everyone… so we place it at number three on this list of headliners. Whatever form of transportation you take to arrive at the park, chances are you won't miss the daunting Tower of Terror towering into the sky. It's eerie appearance just gets better as you enter the tower into a dust-filled hotel lobby. Checking in here may be a mistake for those that are scared of heights (or elevators!) as you can expect some haunting activity to take over while seated in an elevator with 20 other brave guests. Your elevator ride will take you up and down 13 stories with outside views mixed with total darkness. Just as nothing ever went right in the Twilight Zone films, don't expect them to go right on the Tower of Terror either! From the creepy bellhop Cast Members to the exhilarating and ever-changing ride… this attraction will leave you happy to have your feet back on the ground.
2 – Rock 'n' Roller Coaster Starring Aerosmith
Location: Sunset Boulevard
Height Requirement: 48in or taller
FastPass: Tier 2
Are you ready to ROCK?! Aerosmith is a headliner star, so it's only appropriate that an attraction themed after them be considered a headliner attraction too! Summon up the courage to go 0 to 57 mph in 2.8 seconds while riding along in a stretch limousine Aerosmith has so nicely arranged for you! Speed along on this indoor roller coaster with flips, corkscrews and turns amidst the dark streets and bright signs of Los Angeles. It may only be a minute and 22-second ride, but the intensity is epic! The pre-show, however, makes the attraction feel longer as you get to see and hear the Aerosmith crew before they head out for their next gig. The soundtrack is exactly as awesome as you'd expect it to be, so sit back and get ready for a rock 'n' roll!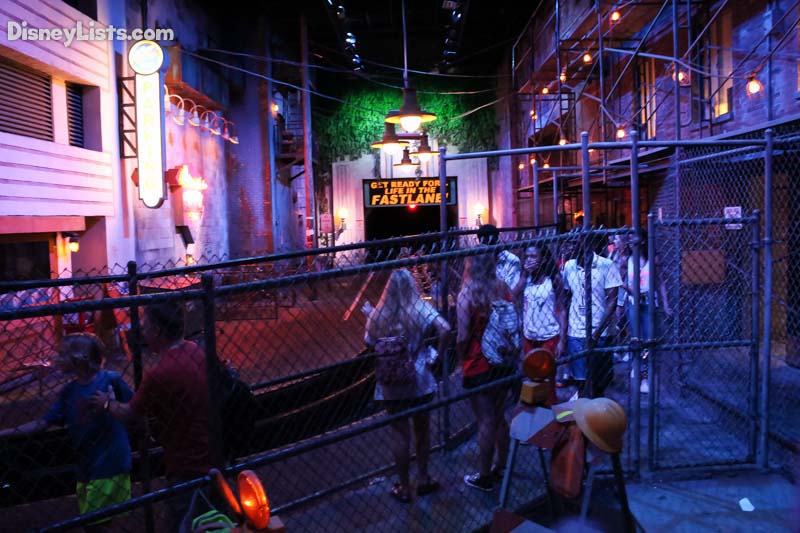 1 – Slinky Dog Dash
Location: Toy Story Land
Height Requirement: 38in or taller
FastPass: Tier 1
And finally, the headliner among headliners! Slinky Dog Dash is Hollywood Studios' second coaster, but it's not nearly as intense as the Rock 'n' Roller Coaster we mentioned above. This attraction isn't only the headliner in all of Hollywood Studios right now, but it's the headliner in Toy Story Land as well. It's a perfect family coaster to sit back and feel the breeze while riding along on the ever-lovable and dependable Slinky Dog from Toy Story films. Small dips and turns await on the outdoor coaster that's a happy medium between Magic Kingdom's Seven Dwarfs Mine Train and Big Thunder Mountain. Enjoy the sights across Andy's toy-filled backyard along the way. Wrap up your ride with an audio-animatronic of Wheezy the Penguin singing his heart out!
Which of these Hollywood Studios headliners is your MUST-DO?
For a no obligation, FREE Quote on a Disney vacation package, please contact our travel partner Magical Vacation Planner at 407-442-0227 (407-442-0215 for Spanish). You can also request a FREE quote online by Clicking HERE.