Disney has released details on the Fourth of July celebrations taking place at Disney World on July 3 and 4, 2018. It looks like it will be a very exciting two days! Catch all the details below:
Fireworks are synonymous with the Fourth of July and Walt Disney World Resort, and on Independence Day 2018, Disney theme parks will offer guests a bevy of booming delights.
Nighttime "wows" for the holiday include:
Disney's Celebrate America! A Fourth of July Concert in the Sky
Fireworks will soar above Magic Kingdom Park while the air swells with patriotic melodies. The two-nights-only show starts at 9:15 p.m. on July 3 and July 4.
Also at Magic Kingdom Park:
DJs will host dance parties in Frontierland and Tomorrowland on July 3 and July 4.
The Muppets Present…Great Moments in American History: Miss Piggy, Kermit, Fozzie Bear and friends reenact famous moments in American history – as only they can. The live show is performed daily in Liberty Square.
FUN FACT: The Liberty Bell in Liberty Square is a replica cast from the same mold of the original in Philadelphia; it was placed in Magic Kingdom Park in recognition of the bicentennial of the United States Constitution in 1987.
IllumiNations: Reflections of Earth
The perennial "kiss goodnight" at Epcot will include a special fireworks finale that paints the sky red, white and blue. The spectacular begins at 9 p.m. on July 4.
Also at Epcot:
The Voices of Liberty a cappella group will perform traditional Americana songs on the America Gardens Theatre stage at 5:30, 6:45 and 8 p.m.
Disney Characters dressed in Independence Day attire will meet guests during the day at The American Adventure.
FUN FACT: More than 26,000 feet of lights outline the Epcot World Showcase pavilions that play a role in "IllumiNations: Reflections of Earth."
Star Wars: A Galactic Spectacular
Fireworks are just one portion of this immersive nighttime experience at Disney's Hollywood Studios. Adding state-of-the-art projection effects, dynamic lighting and lasers, the show transports guests to a galaxy far, far away and into iconic scenes from the Star Wars saga. This one-of-a-kind "wow" begins at 10 p.m. on July 4.
FUN FACT: The show now includes an all-new sequence from "Solo: A Star Wars Story."
Patriotic Treats
Select theme parks and resorts will offer exclusive dessert items in honor of Independence Day. Examples include:
A Fourth of July cupcake featuring an apple-pie filling at Creature Comforts and Isles of Java at Disney's Animal Kingdom.
A sparkly red-white-and-blue coconut macaroon dipped in white chocolate at BoardWalk Bakery at Disney's BoardWalk Resort.
Patriotic dipped strawberries and Mickey Mouse and Minnie Mouse mini-domes at Amorette's at Disney Springs.
The Fourth at the Fort
Disney's Fort Wilderness Resort & Campground will offer several special events around the Fourth of July holiday:
The Fourth of July 5K Run will take place Tuesday, July 3. Pre-registration is available June 24-30 from 9 a.m.-5 p.m. at the Fort Wilderness Bike Barn. On-site registration begins at 7 a.m. in the field next to Mickey's Backyard BBQ; the run begins from that location at 7:30 a.m.
The Fourth of July Golf Cart Parade begins at 4 p.m. on July 4. Registration will be open June 24-30 from 9 a.m.-5 p.m. at the Fort Wilderness Bike Barn.
The Fourth of July Beach Bash at Clementine's Beach will take place from 6-11 p.m. on July 4. Guests will enjoy a live DJ, dancing, games, contests, a movie, and more. In addition, the Fort Wilderness food truck will be available in the settlement area with delicious items for purchase.
RELATED ARTICLE: 5 Things to Know about The Muppets Present…Great Moments in American History
by Mike and Jamie Sylvester
The Muppets have officially arrived at Magic Kingdom to bring a couple of American history lessons to the streets of Liberty Square… all while keeping the tone light, silly and fun! So, in the words of Kermit, let's keep "movin' right along."
1 – Muppets at Disney World
Since Kermit the Frog was introduced to the world in 1955, he's been spreading happiness with a sense of humor around the world! Kermit and the Muppets are no strangers to Disney World with their Muppet Courtyard at Hollywood Studios boasting the fun attraction, Muppet Vision 3D which opened in 1991. New to the scene as of Fall 2016 in Muppet Courtyard is the quick service restaurant, PizzeRizzo, featuring Rizzo the Rat. So, while Muppets may not be new to Disney World, they are new to Magic Kingdom – and we happy they have arrived!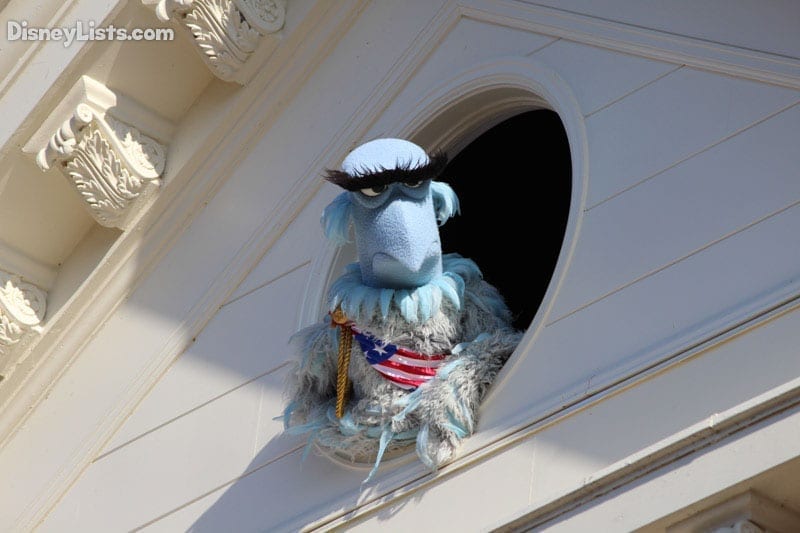 2 – Look Up in Liberty Square
In October 2016, the Muppets made their way to Magic Kingdom for a live show called The Muppets Present…Great Moments in American History. Now, before you go looking for a specific building for this new entertainment, you might be surprised to find out they actually aren't located in one building. Instead, head to Liberty Square's The Hall of Presidents attraction. The Muppet performance is spread between the top of The Hall of Presidents and the building located to the right of The Hall of Presidents (The Heritage House). To spot the Muppets, stay outside of the buildings and look up to the windows during one of the show times. There are roughly 8 shows stretching between the morning hours and early afternoon with only a 10-minute duration for the full show.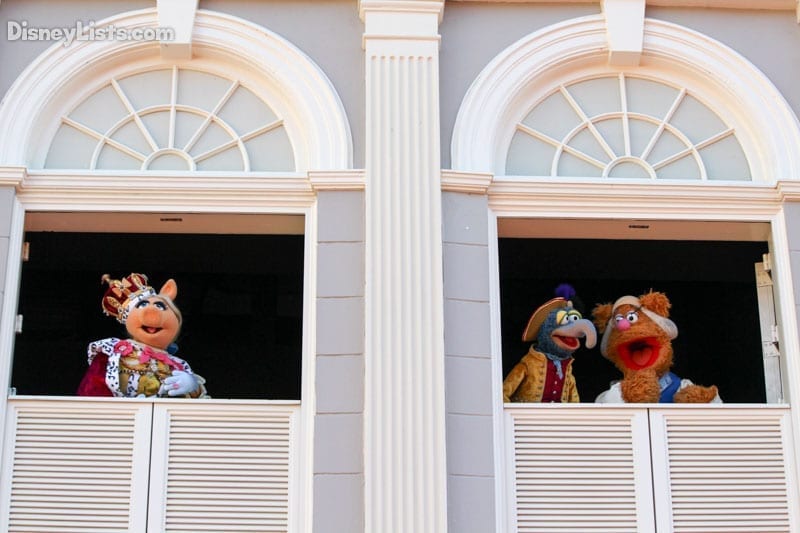 3 – A Muppet Filled Cast
At the present time, The Muppets Present…Great Moments in American History offer two different shows. One features the Declaration of Independence while the other is all about the midnight ride of Paul Revere. For the Declaration of Independence show, a Cast Member dressed in his historically patriotic best makes his appearance as James Jefferson (aka "JJ"), the Town Crier of Liberty Square. He walks out ringing a bell and shouting "Hear ye, Hear ye" to summons guests to gather around for a lesson in American history. He breaks into a song which is interrupted by the very patriotic American eagle Muppet – Sam Eagle. Sam appears in the small circular window above The Hall of Presidents. With more singing about "The Great Moments in History", a classic cast of Muppets appear in the windows above the Heritage House, including Kermit the Frog, Miss Piggy, Fozzie Bear, and The Great Gonzo. The midnight ride of Paul Revere show features all Muppets, including Sam Eagle, above the Heritage House. There is no Town Crier in the Paul Revere show. We personally prefer the Declaration of Independence show, but you never know which show will be presented at the specific show time.
4 – Humorous History Lessons
While Sam Eagle tries his best to keep the history lesson as serious as possible, Kermit shows Sam Eagle that history can be entertaining with dignity! Historical figures from the Declaration of Independence and the midnight ride of Paul Revere are reenacted by these silly and entertaining Muppets. Costume changes for the Muppets, silly jokes, songs, crowd involvement, and knowledge of history in a discreet way that the kids won't know they are learning – this entertaining Great Moments in American History provides a patriotic message with a pop of humor to keep it light.
5 – A Few Tips
We've discovered this slice of entertainment doesn't get very crowded. Yes, a crowd does gather but it's not extremely large and there is still room for guests to walk along the path in Liberty Square. We recommend stepping back away from the crowd, as you can see better since the Muppets are located on the second floor of the Heritage House. As we stated above, the show is only 10 minutes at the most, so it's an easy one to catch and move on to your next adventure!
What are your thoughts on the new Muppet Great Moments in History at Magic Kingdom? We'd love to hear from you!
For a no obligation, FREE Quote on a Disney vacation package, please contact our travel partner Magical Vacation Planner at 407-442-0227 (407-442-0215 for Spanish). You can also request a FREE quote online by Clicking HERE.