Toy Story Land in Hollywood Studios, the most recent expansion project at Disney World, isn't even officially open yet and Disney World is already announcing further expansion at the park. Following the Toy Story Land dedication event on Friday, June 29, 2018, Disney officials announce the addition of a Lightning McQueen themed attraction coming to Hollywood Studios in 2019 More details below.
From Disney writer Shawn Slater:
Calling aspiring racers of all ages! I feel a big ol' Ka-Chow coming on, because beginning in early 2019, there's going to be another exciting reason to get revved up about a visit to Disney's Hollywood Studios. It's Lightning McQueen's Racing Academy, a high-octane first-of-its-kind new show that'll put you right in the middle of the world of Disney•Pixar's "Cars."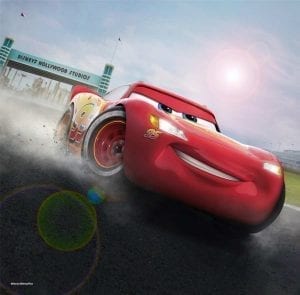 At Lightning McQueen's Racing Academy, located near Rock 'n' Roller Coaster, you'll come face-to-face with racing legend Lightning McQueen, who is excited to showcase what he's learned over the years with you – the next generation of rookie racers. Of course, as Lightning McQueen has discovered throughout his career, things don't always go according to plan, and he has to think fast to get back on course. With friends Tow Mater, Cruz Ramirez and the gang from Radiator Springs on his side, Lightning gears up for the challenge.
What will happen? You'll have to speed on over to find out when Lightning McQueen's Racing Academy opens early next year!
RELATED ARTICLE: Star Wars: Galaxy's Edge – What We Know Now About Hollywood Studios New Land
By Mike and Jamie Sylvester
As the days creep by, we're feeling more like Darth Vader in Star Wars Episode IV – A New Hope, when he says, "I've been waiting for you, Obi Wan." Except, our heavy breathes and eagerness are replaced with "I've been waiting for you, STAR WARS: GALAXY'S EDGE." Disney keeps building our great anticipation, as they slowly release details and tidbits about the new Star Wars Land currently under construction at Disney's Hollywood Studios. While we wait, we've gathered up what we know so far about Star Wars: Galaxy's Edge.
1 – A Massive Expansion
Disney's Hollywood Studios has been and will continue to be under massive construction. Imagineers have been busy with the recent addition of the 11-acre Toy Story Land opening June 30. While we have no doubt this land will be extraordinary, our highest of hopes is holding out for the 14-acre Star Wars Land known as Star Wars: Galaxy's Edge that is set to open late fall 2019. This is the largest expansion ever at a Disney Park! This massive undertaking is sure to leave us in awe of our surroundings from unique architecture to the two full-sized AT-AT Walkers you'll spot in the land.
2 – Exploring a Village
When stepping foot into Star Wars: Galaxy's Edge, you'll be transformed to a large village called Black Spire Outpost on the planet Batuu. This village is the last stop before reaching the galaxy's edge into open space (hence the "Galaxy's Edge" namesake). Black Spire Outpost Village is an ideal outpost for all the galaxy's explorers (both good and bad) to trade, purchase, smuggle, and unwind before heading into the wild space.
3 – The Marketplace
One of the best ways to get the full feel of Black Spire Outpost is said to be within the land's marketplace. Disney Imagineers did research of exotic markets from locations such as Marrakech and Istanbul to get their creative juices flowing for the creation of the Black Spire marketplace. With an emphasis on the visiting travelers, it is said to be a market filled with sights, sounds, smells, and even tastes of unique items. We know that one shopping stall will consist of the sale of creatures and be overseen by a Toydarian vendor. The creatures for sale will be able to interact with their owner and will range from cute to creepy. The oddly cute Loth-cat is one confirmed creature you can expect to find at this location! We suspect (and hope) the souvenir interaction will be similar to what can be experienced with a Banshee souvenir at Pandora – World of Avatar. What other shopping stalls will be available has yet to be revealed but we suspect a few to fill the marketplace. Fingers crossed there will be more characters as vendors, like the Toydarian vendor at the creature stall.
4 – Two Signature Attractions
Since Black Spire Outpost is a hot spot for travelers, it only makes sense that it should have an impressive spaceport for spaceships to travel in and out of. It is possible this spaceport may be the location of the two signature attractions available in Star Wars: Galaxy's Edge since both attractions are ship related.
Millennium Falcon Attraction: The most anticipated attraction is the Millennium Falcon attraction. We aren't quite sure how Han would feel about just anyone driving his spaceship, but we will say we are up for the challenge! This attraction puts guests in the actual cockpit of the Millennium Falcon. You'll have a chance to pilot the ship, shoot blasters, and prepare for hyperspace while completing your mission. Your performance skills will be evaluated by earning extra galactic credits if you bring the ship back in one piece! If you struggle, you may end up on Harkos's list (a bounty hunter) and encounter problems at the local Cantina we mention below. Yikes… sounds like we need to practice our piloting skills!
Resistance Troop Transport Attraction (official name not yet released): The second attraction is said to be just as thrilling at the Millennium Falcon except now you can encounter being in the middle of a battle between the Resistance and the First Order. This attraction consists of boarding a large scale ship that's built on a scale that Disney says has "never been done before".
5 – Character Encounters
What would a Star Wars land be without some of our favorite Star Wars characters?! Disney has confirmed we'll be able to meet characters such as BB-8, Chewbacca, and members of the First Order. We are curious what this means for the current set up at Star Wars Launch Bay, but moving the characters to the land just makes sense. The memorable pilot, Rex, is said to take on the role as a DJ at the Cantina! Plus, Nien Nunb (Lando's co-pilot) is a new character addition we recently learned about that will be added to the land.
6 – Dining Options
We are aware of two dining options that will be available in Star Wars: Galaxy's Edge for guests to dine on the local delicacies. It seems like one dining option will be a quick-service feel. The second dining option will be possibly more of a lounge/table service restaurant that we suspect will require reservations.
Quick Service – Cantina: We mentioned above that you may encounter problems at the Cantina if your Millennium Falcon piloting doesn't go well. Second, we suspect DJ Rex to be the entertainment here! We also know that the Cantina will serve up what's known as "Blue Milk" which Luke Skywalker drank in A New Hope. We aren't sure how this will taste, but knowing Disney – they'll make it exceptionally well!
Possible Table Service – Dinner Club: There is very little information on the second dining choice that we know about so far. The images we've seen include what looks like an upscale dinner club with lounge style seating and even an exotic stage band for entertainment. If this dining location is going to be anything like it looks, you can trust it will be super popular.
7 – Star Wars Immersive Resort
You've likely heard of the new Star Wars Resort on its way to Disney World. It's going to be a totally immersive resort to the point of even allowing guests to dress in Star Wars attire. While this resort will be separate from Star Wars: Galaxy's Edge, the location of the two partners beautifully to allow guests to move right from this luxury resort to Galaxy's Edge with little interruption to the Star Wars world created around them. We have yet to hear of an opening date or time period for this resort, but we do recommend you start saving those pennies for a night here!
8 – Merchandise Is Already Available
As we await the coming of this galaxy, Disney has already released some merchandise to get us all ready for what's to come. You can now purchase t-shirts and hats that offer the Star Wars: Galaxy's Edge logo, DJ Rex, and even the Millennium Falcon on them. Shop at various gift shops throughout Hollywood Studios to snag the perfect merchandise to prepare for the opening of this one-of-a-kind land.
Star Wars fans, we'll keep you updated as we learn more! In the meantime, "May the Force be with you."
For a no obligation, FREE Quote on a Disney vacation package, please contact our travel partner Magical Vacation Planner at 407-442-0227 (407-442-0215 for Spanish). You can also request a FREE quote online by Clicking HERE.