Walt Disney World Resort has launched the Incredible Summer for 2018 with guests being immersed in their favorite Disney films, entering the worlds of their beloved characters and experiencing exciting new attractions and entertainment. It's looking like this summer really will be incredible. At Magic Kingdom, favorite Disney•Pixar superheroes have taken over Tomorrowland – celebrating all things super. The Incredible Tomorrowland Expo runs through September 3. Catch all the details about this event below!
1 – The Incredible Tomorrowland Expo
We had the chance to meet with James Silson, Show Director for Disney Parks & Resorts, about the Expo and he shared with us some insight into the Expo. The Incredible Tomorrowland Expo is celebrating the fact that the Supers are now out in the open and back better than ever thanks to the Incredibles. Tomorrowland is hosting its first ever Expo to celebrate. Throughout the land, you'll be immersed in the world of the Incredibles! Themed decor, sound effects, and music from the movie set the stage for an incredible celebration.
2 – Super Super Fans
Intermittently from 10am-6:30 pm you'll have the chance to meet some Super Super Fans! What would an expo be without some super fans who love the Supers so much that they want to be like them? They are a big hit. There are a few specific opportunities throughout the day to interact with them. First, you can be initiated into the fan club. Second, there is a coaching opportunity where they coach people on how to be Supers. Feel free to talk and interact with these fans to learn more about why they are such huge fans of the Supers.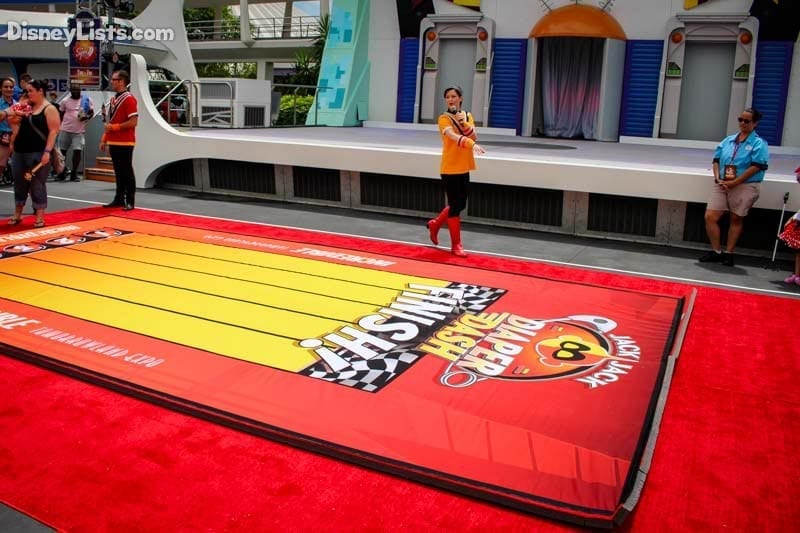 3 – Jack-Jack Diaper Dash
The Jack-Jack Diaper Dash occurs at 12 pm daily. If you have a young one who is still crawling, register to participate in the babies crawling race at the stage starting at 10:30 am. Space is limited. We observed the Dash and it was very cute. There were about four heats of babies, some of whom were more inspired to crawl than others. They were all adorable though, and all took home Jack Jack bibs for participating! The Diaper Dash has been a hit with the crowds.
4 – Super Party Time
Super Party Time is a dance party at the Rockettower Plaza Stage featuring characters, variety acts, and your favorite tunes that runs from 2-7 pm daily. Party with Mr. Incredible, Elastigirl, and Frozone from Disney•Pixar's 'The Incredibles' and upcoming 'Incredibles 2',  and for the first time ever, guests will get to see Edna Mode, the greatest superhero costume designer. The characters appear on stage and also walk through the crowd at some points. (There is no formal meet and greet with Edna Mode). Also appearing during the Super Party Time are up and coming Supers who are showing off their skills. We had the chance to see Whipper Snapper who had some amazing skills with a whip! There are three acts all together that you can catch throughout the afternoon.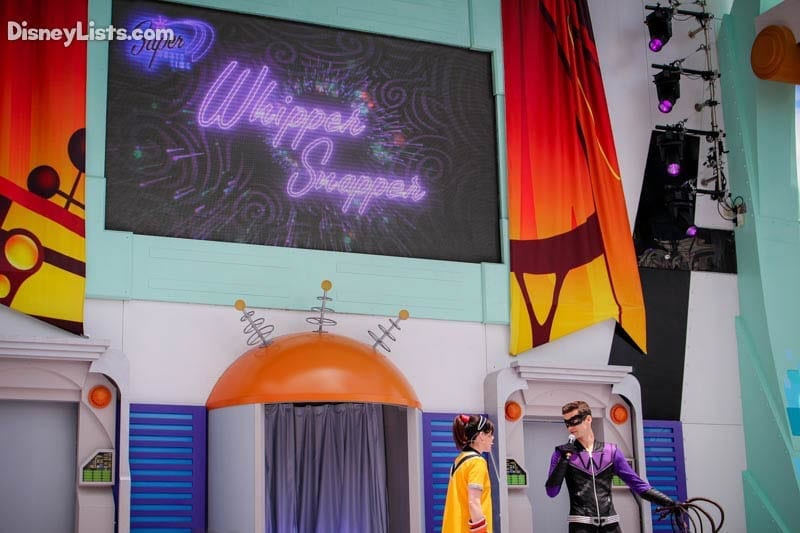 5 – Moments in Super History
Throughout Tommowland there are three photo backdrops near Carousel of Progress, Space Mountain, and Cool Ship. First, near Carousel of Progress, you'll face the Omnidroid. "The villainous Syndrome built this giant battle robot – The Omnidroid – to make himself look like a hero. Instead, the Omnidroid turned on Syndrome and went on an unstoppable rampage through Metroville." Next, near Space Mountain, you'll get ready to slide like Frozone! Finally, near Cool Ship, you'll have a chance to face down the Underminder! "This mole-like bad guy brought his Tunneler crashing up out of Metroville a parking lot, declaring "war on peace and happiness" and wreaking havoc on the city."
[smartslider3 slider=135]
6 – Special Food and Drink
Here are all the details on the incredible food selection during the Expo from Disney Cast Member Alex Dunlap:
In addition to exciting entertainment and merchandise, there are some pretty SUPER food offerings (hang on tight, these INCREDIBLE puns aren't ending anytime soon)!
Let's get this started by DASHing to Tomorrowland Terrace Restaurant, where you can find the Dash Pizza (Sicilian-style cheese or pepperoni pizza), as well as tasty burgers, chicken tenders, sandwiches, and salads.
Cosmic Ray's Starlight Café already has a pretty INCREDIBLE menu with burgers, chicken nuggets, rotisserie chicken, sandwiches, and salads, but they've STRETCHED out their menu even more to include a Super Foods Salad and a Super Stretchy Burger inspired by Mrs. Incredible! The Super Foods Salad is a kale and spinach salad with quinoa, avocado, blueberries, and pico de gallo. The Super Stretchy Burger has flame-grilled angus beef that's piled high with deep-fried mozzarella sticks, American cheese, bacon, and garlic ranch sauce.
At The Lunching Pad, you definitely won't be able to DISGUISE your excitement for the Mrs. Incredible Pretzel Mask – this soft pretzel comes topped with black salt and is INCREDIBLE with cheese sauce or some yellow mustard! And for those little-super heroes, they'll love the Jack-Jack Cookies, freshly baked mini-chocolate chip cookies that are perfect for an on-the-go snack.
If you're in the mood for some sweets, then Auntie Gravity's Galactic Goodie's is the place to go. Here you'll find ice cream, smoothies, sundaes, and some fashion advice? That's right, we're cooking up Edna Mode's "No Capes, Just Crêpes" Crêpe Sundae! Make sure to leave your capes at home, because these sundaes are SUPER and you won't want to miss them. The first is a chocolate-hazelnut crêpe topped with ice cream and berries, and the second is a blackberry-lavender jam crêpe topped with ice cream and fruit-flavored cereal.
And at the Snack Carts around Tomorrowland, in addition to Mickey Pretzels, popcorn, and churros, there's also a new sno-cone that will have you FROZEN in your tracks! Frozone's Sno-Cones are blue raspberry-flavored and are sure to cool you down on those warm summer days.
We tasted the Mrs. Incredible Pretzel Mask and it was really good. I thought it was better than the regular Mickey pretzels that you can find throughout the park. We also enjoyed Edna Mode's "No Capes, Just Crêpes" Crêpe Sundae – the chocolate-hazelnut crêpe topped with ice cream and berries. It was delicious.
We really enjoyed our afternoon in Tomorrowland. The Expo has a lot for the whole family: interactions with characters, fun photo spots, new food to try, and a fun enhanced dance party. If you have a chance to stop by, it's well worth a visit. It's certainly a must-do if you have Incredible fans in your family!
RELATED ARTICLE: 6 Reasons Summer is the Best Time to Visit Disney World
by Christy Caby
Summertime really is one of the most exciting times to visit Disney World.  It may be in the heat of summer and draw in some crowds, but it is still an amazing time to visit with your family and enjoy everything that Disney has to offer!  Here are 7 reasons why we love to visit Disney World in the summer:
6 – Kids are on vacation, so no missed school (while still learning).
Parents are always concerned about pulling their kids out of school mid-year and what impacts that will cause at the school and their grades.  Well, this makes visiting in the summer absolutely perfect since the kids are already on break.  No messing with the school and catching up on homework, plus they still get a vacation that can be extremely educational.  Many of the attractions have educational components in the areas of history, science, media, etc.  For our young kids we even work on reading and word recognition everywhere we go so that they are practicing reading the entire time.  They are learning and don't even realize it because it's so much fun!
5 – The parks are open later.
This is definitely a great benefit.  The normal hours for the Magic Kingdom, not including Extra Magic Hours, is usually around 1 or 2 AM during the summer months.  This gives even more time to enjoy the parks without being out in the sun the entire time so you get more bang for your buck on park admission.  During fall/winter months, these hours are much shorter closing as early as 7, 9 or 11 PM on most nights.  You get a lot more out of your days!
4 – Shows are shown more frequently.
In the summer months many of the shows, including evening shows, are shown more frequently.  This is partly due to the longer park hours since there is more availability in the day for the volume of shows to increase.  This is also due to the popularity of the shows, especially the evening shows so that more guests can experience all that the parks have to offer and not miss out on any of the attractions.
3 – Planning makes wait times more bearable.
With FastPass+, you have more control of your day and when you wait. While the summer months can be hot, if you use your FastPass+ wisely, you can minimize the time you are spent waiting in the heat.  You can select FastPass+ options during the heat of the day so that you can get right on attractions and it won't feel as hot.  You really have a lot of control over your day and can make it work for you so that the heat and crowds won't be an issue during your vacation.
2 – The water parks are at their best.
Disney water parks are so much fun!  They are some of the best-themed water parks you will ever visit with awesome, thrilling attractions to enjoy.  You can swim with sharks, ride a water coaster, ride the tallest water slide in the world (with no raft) and so much more!  They are perfect for beating the Florida heat while enjoying the sun.  If you visit during other months, it is very possible one of the water parks could be closed for annual refurbishment since they tend to do this in non-summer months.  It is a great time to make sure you can experience both Typhoon Lagoon and Blizzard Beach!  Both water parks also have character meet and greets and more excitement that they discontinue in the less busy months!  So you get more out of your visit.
1 – The pools at the resorts are amazing.
We can't forget the amazing pools and all the fun activities.  During the heat of the day, you can come back to your resort and swim in an amazing pool!  Many of them even have water slides and water playground features that make the pool areas almost like a mini water park right at your resort.  Playing in the Florida sun feels like the ultimate vacation and is a great way to relax in between the excitement of the theme parks.  It rounds out the perfect summer vacation!
For a no obligation, FREE Quote on a Disney vacation package, please contact our travel partner Magical Vacation Planner at 407-442-0227 (407-442-0215 for Spanish). You can also request a FREE quote online by Clicking HERE.