We may have just celebrated a hot, humid 4th of July, but that doesn't mean we can't be thinking of the holiday season, right? If you're already counting down to Christmas or just love celebrating the holiday season at Disney World, you'll be pleased that Disney has released the narrator list for Epcot's Candlelight Processional and the dinner packages are now on sale. See all the details below.
Here are all the details from Disney Cast Member Charles Stovall:
Even though summer is in full swing here at Walt Disney World, we're excited to bring you information about this year's holiday events at Epcot.
Part of the Epcot International Festival of the Holidays, the Candlelight Processional is one of the most beloved events at Walt Disney World. Many of our guests plan their holiday vacations around their favorite celebrity narrators. This year's event starts on Thanksgiving Day, November 22, for the first time ever.
The Candlelight Processional presents the traditional story of Christmas in a truly spectacular fashion – with a 50-piece orchestra, a massed choir, and a celebrity narrator. The processional is performed three times per night (5:00, 6:45 and 8:15 p.m.) during the holiday season at the America Gardens Theatre. Also available, on select days and evenings, Candlelight Processional Dining Packages which include a delicious meal and a guaranteed seat for one of the Candlelight Processional performances. Availability is limited.
Candlelight Processional Dining Packages go on sale Wednesday, July 11.
We have a couple of names to share on the celebrity narrator front. Returning favorites include actress/host Whoopi Goldberg; entertainer Pat Sajak; actors Neil Patrick Harris, Chita Rivera, Gary Sinise, Blair Underwood, and Edward James Olmos; and Jodi Benson, who voices Ariel in Disney's animated classic "The Little Mermaid."
11/22 – 11/23 – Chita Rivera
11/24 – 11/25 – Helen Hunt *NEW
11/26 – 11/27 – Alfonso Ribeiro *NEW
11/28 – 12/2 – Robbie Benson
12/3 – 12/6 – Neil Patrick Harris
12/7 – 12/9 – Whoopi Goldberg
12/10 – 12/12 – Bart Millard *NEW
12/13 – 12/14 – Blair Underwood
12/15 – 12/17 – Gary Sinise
12/18 – 12/20 – Pat Sajak
12/21 – 12/23 – Auli'i Cravalho *NEW
12/24 – 12/25 – Joey Fatone
12/26 – 12/27 – Jodi Benson
12/28 – 12/30 – Cal Ripken Jr.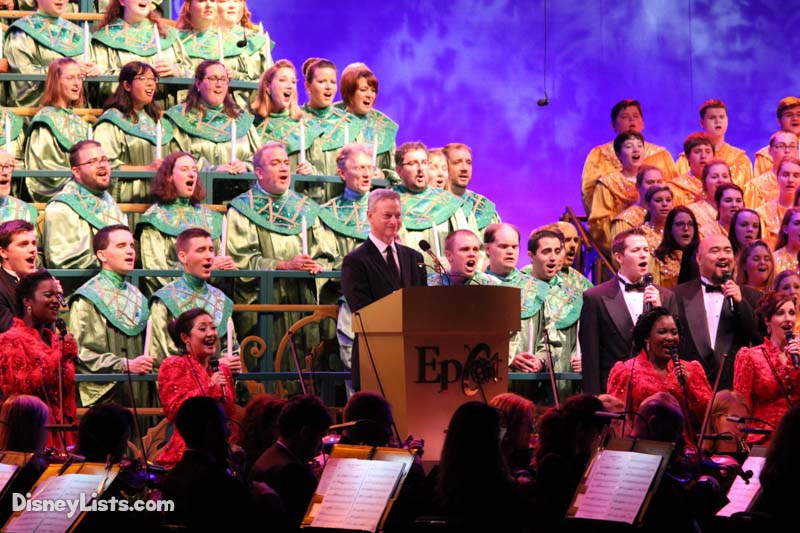 Lunch and dinner packages are available at some favorite Epcot restaurants like Akershus Royal Banquet Hall (Norway pavilion); Biergarten Restaurant (Germany pavilion); Chefs de France (France pavilion); Coral Reef Restaurant (The Seas pavilion); The Garden Grill Restaurant (The Land pavilion); La Hacienda de San Angel** and San Angel Inn Restaurante (Mexico pavilion); Nine Dragons Restaurant (China pavilion); Restaurant Marrakesh and Spice Road Table (Morocco pavilion); Rose & Crown Pub & Dining Room (United Kingdom pavilion); Teppan Edo and Tokyo Dining (Japan pavilion); and Tutto Italia Ristorante and Via Napoli Ristorante e Pizzeria (Italy pavilion).
Breakfast, lunch, and dinner options are also available this year at Epcot-area resort restaurants at Ale & Compass at Disney's Yacht Club Resort, with breakfast and dinner options being offered at Trattoria Al Forno at Disney's BoardWalk.
Candlelight Processional Dining Packages start at:
For Breakfast: $38 plus tax per person for adults and $22 plus tax per person for children, ages 3-9.
For Lunch: $50 plus tax per person for adults and $16.99 plus tax per person for children, ages 3.
For Dinner: $55 plus tax per person for adults and $16.99 plus tax per person for children, ages 3-9.
Epcot provides an extravaganza of holiday entertainment, merchandise, food, beverages and festivities where guests can celebrate at Epcot throughout the holiday season. Time-honored traditions come alive through the sights and sounds of the countries of World Showcase, and live performances enliven the park throughout the day.
Book a Candlelight Processional dining package or find out more information here.
*Narrators and entertainment are subject to change without notice. Epcot admission is required and not included in the dining package price.
** Candlelight Processional Dining Packages are available for dinner only.
RELATED ARTICLE: Epcot International Festival of the Holidays – What You Need to Know
by Chad and Cindy Nykamp
Epcot is a great park that celebrates many different cultures year-round. However, the Festival of the Holidays, formerly Holidays Around the World, is a special opportunity to explore Holiday customs and traditions from around the globe. The Epcot International Festival of the Holidays runs from November 18 through December 30, 2018, and immerses guests in the wondrous sights, sounds and flavors of the season. Read below to discover everything this newly expanded holiday festival has to offer.
7 – Chip & Dale's Christmas Tree Spree
Chip and Dale are collecting ornaments for their Christmas tree. To get started, simply purchase a map and sticker book from select merchandise locations including Pin Central, Disney Traders and World Traveler at International Gateway. As you travel around World Showcase, be on the lookout for Chip and Dale as they gather ornaments from holiday decorations in each World Showcase pavilion. Once you spot them, add the corresponding ornament sticker to your map. Then, take your completed map to Disney Traders and exchange it for a festive surprise, courtesy of Chip and Dale!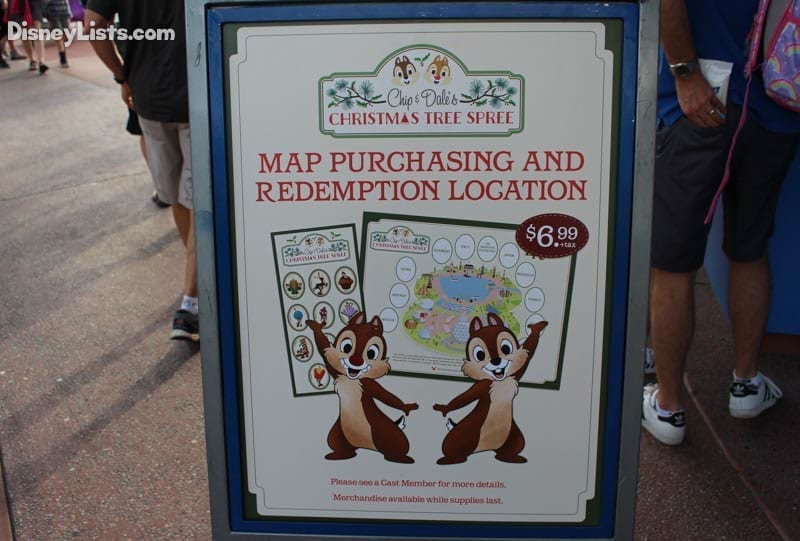 6 – Holiday Kitchens
Over the past few years, Epcot has expanded its culinary holiday offerings during Holidays Around the World from single dishes to holiday kitchens with multiple choices of food and drink. In 2017, the number of holiday kitchens doubled in size to a total of 15, each bringing the flavors of the season to life. Kitchens are open daily during the festival, from noon to 8:00 pm. You can indulge in cookies and desserts at the Cookie Nook located inside the Odyssey complex. Sweet treats include snowflake sugar cookies and a warm apple fritter with cinnamon ice cream and caramel sauce. We highly recommend stopping by the new Yukon Holiday Kitchen in Canada. We really enjoyed the Maple Buche de Noel (maple mousse rolled in gingerbread chiffon cake with cranberry sauce and pecan crumble) and the Traditional French Canadian Tourtiere. Please note that the availability of some holiday kitchen offerings may be limited. All menu items are subject to change without notice.
5 – Holiday Storytellers
Epcot's Holiday Storytellers are a wonderful way to learn about holiday customs and stories from around the world. In Norway, you can meet Sigrid as she tells the Christmas story, but is interrupted by Julenlssen, a sneaky and mischievous Christmas gnome. Italy presents La Befana, a witch who comes on the Eve of epiphany to give gifts to good children. In Japan, you will learn the customs of the Japanese New Year and the story of the Daruma doll. France's Storyteller is Père Noël who shares the joy of Christmas with a story from a child. In the United Kingdom, you will meet Father Christmas who shares the traditions of the United Kingdom. Storytellers appear throughout the day and performance times can be found on the times guide.
4 – Holiday Entertainment
Enjoy the sights and sounds of the nations of World Showcase, as each country's holiday heritage comes to life amid joyful music and time-honored traditions. New this year, you can discover an entertaining celebration of Hanukkah in a new location along World Showcase promenade, where a fun and interactive band interweaves the music of Hanukkah with jazz, Latin, rock, and even hip-hop influences. Also returning is JOYFUL! A Celebration of the Season. This performance features a blend of soul, Gospel, Jazz, and R&B Music to celebrate the holiday season like no other! Located at the Fountains of Nations Stage between Mouse Gear and Club Cool, there are several show times daily, check your times guide for performance times. In Germany, you'll enjoy a German Christmas with yodeling and a live band featuring Margret Almer and the Bavarian Band. In Mexico, you'll find Las Posadas Celebration featuring dancers, piñata, and the music of Mariachi Cobre. New this year is Mostly Kosher, which celebrates the joy of Hanukkah and Klezmer music. You'll find this unique band in between Morocco and France. Finally, The Voices of Liberty is an a cappella group that has been performing at the American Adventure pavilion for decades. Join them as they sing holiday favorites while dressed in their Dickens costumes. Check your times guide for exact performance times.
3 – Santa and Mrs. Claus
Children and adults alike have the chance to visit with Santa and Mrs. Claus at the American Adventure pavilion. They are available throughout the day at specific times so be sure to check your times guide for when they will be appearing. This is a very popular spot, so be sure to line up early!
2 – Candlelight Processional
One of the most popular Epcot traditions returns with new celebrity narrators in 2017. Pat Sajak, Jodi Benson, and Edward James Olmos join the lineup of returning favorites like Neil Patrick Harris, Whoopi Goldberg, and Gary Sinise. The Candlelight Processional is a retelling of the Christmas story as told by a celebrity narrator accompanied by 50-piece orchestra and a mass choir. The show takes place at the America Gardens Theatre each evening at 5:00 p.m., 6:45 p.m. and 8:15 p.m. Nov. 22-December 30.
1 – A Magical Holiday Finale to IllumiNations: Reflections of Earth
Don't miss a special seasonal conclusion to IllumiNations! Featuring holiday greetings in native languages from the countries of World Showcase, along with the beloved sounds of the classic song "Let There Be Peace on Earth," this festive finish is sure to fill your heart with comfort and joy—and leave you with a message of "peace on earth and goodwill to men."
Whether you are interested in learning about the customs and traditions of another country or trying out some traditional holiday foods from around the world, Epcot's Holidays Around the World has something for everyone. With so many great storytellers, entertainment offerings, food, and the Candlelight Processional, you might need to visit more than once to fit in everything you want to see and do!
DisneyLists author Jenn S. also contributed to this article.
For a no obligation, FREE Quote on a Disney vacation package, please contact our travel partner Magical Vacation Planner at 407-442-0227 (407-442-0215 for Spanish). You can also request a FREE quote online by Clicking HERE.